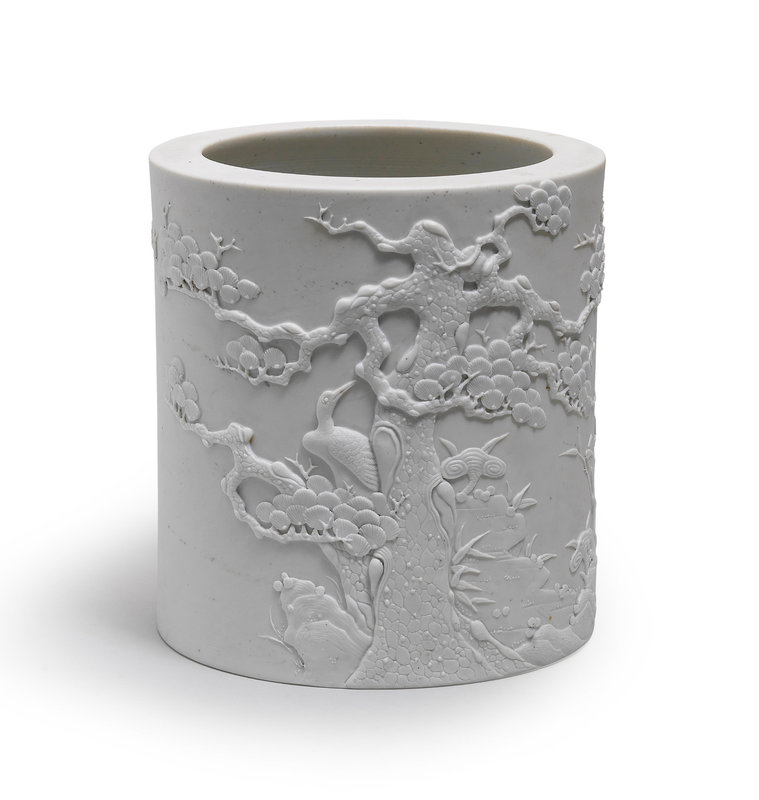 Lot 29. A fine white biscuit porcelain 'cranes and pine' brushpot, bitong, 19th century; 13.8cm (5 3/8in) high. Sold for £7,650 (Est: £6,000 - £8,000). © Bonhams 2001-2022
Exquisitely carved around the exterior with a large gnarled pine tree with fine pine needles and a crane perched among the branches, beside it a rocky outcrop issuing auspicious lingzhi fungus and bamboo with a flittering butterfly above.
Provenance: Belfont Company (Hong Kong) Ltd., 28 June 1994.
Published and Illustrated: S.Marsh, Brushpots: A Collector's View, Hong Kong, 2020, pp.200-201.
Note: The elaborate yet delicate carving style on white biscuit porcelain, as exemplified by the present brushpot, suggests it was carved by a contemporary of one of the great craftsmen of the time, such as Chen Guozhi 陳國治 (circa 1820-1860). Chen was a native of Qimen, Anhui Province, and was renowned for his ability to carve designs on porcelain with the intricacy and elegance of those found on paintings. See H.Moss, V.Graham, and K.B.Tsang, A Treasury of Chinese Snuff Bottles. The Mary and George Bloch Collection. Vol.6. Part 3. Arts of the Fire, Hong Kong, 2008, pp.759-762. According to Jin Wuxiang in Fragrant Corn Casual Jottings (Suxiang suibi 粟香隨筆), Chen Guozhi was 'of great renown...every piece [of his work] being valued at ten pieces of gold.'

Another famous potter, Wang Bingrong 王炳荣 (circa 1820-1875), was also well known for his relief-carved porcelain. Wang Bingrong was the most commercially successful of the Daoguang period porcelain carvers and was active through at least the Xianfeng reign as well. This success enabled the family kiln to re-establish production relatively quickly even after the destruction caused by the Taiping rebellion. Wang Bingrong also produced several series of desk sets which would have included scholar's accessories such as the present brushpot, of exceedingly high quality. See T.Miller and H.Hui, Elegance in Relief: Carved Porcelain from Jingdezhen of the 19th to Early 20th Centuries, Hong Kong, 2006, p.344. See also a snuff bottle, Wang Bingrong four-character mark, illustrated ibid., no.81.
Compare with a related white biscuit porcelain 'cranes and pine' brushpot, Wang Bingrong impressed four-character seal mark, Daoguang/Xianfeng, which was sold at Bonhams London, 12 May 2022, lot 168.
Bonhams. THE MARSH COLLECTION ART FOR THE LITERATI, 3 November 2022, London, New Bond Street