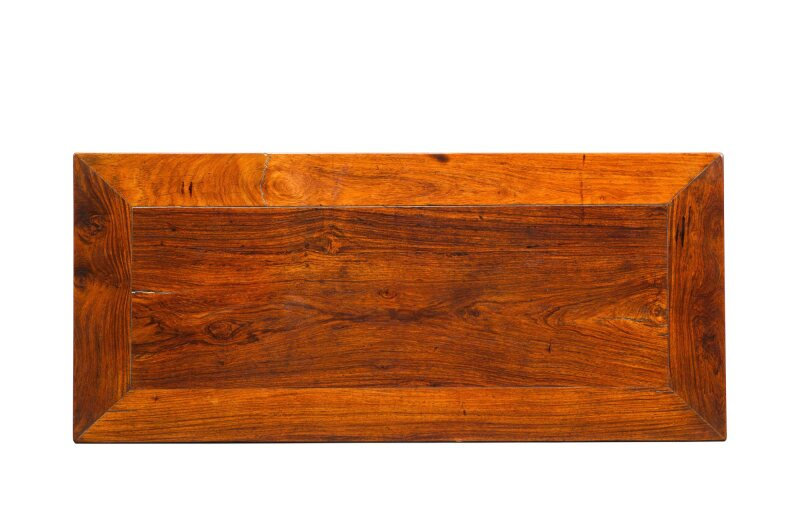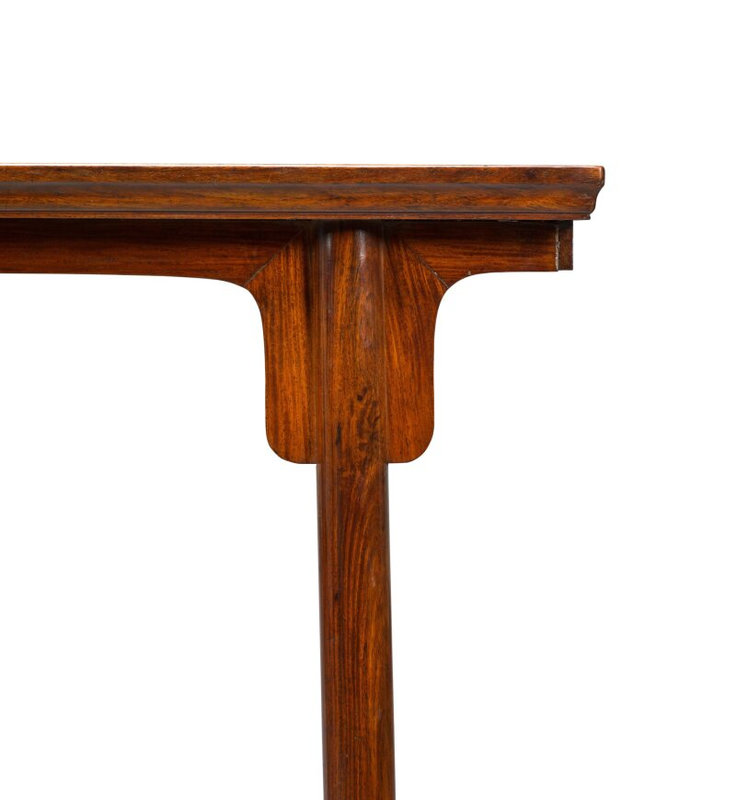 Lot 129. A huanghuali side table, pingtou'an, 17th century; 95.8 by 42.7 by h. 83.4 cm. Lot sold: 1,134,000 HKD (Estimate: 600,000 - 800,000 HKD). © Sotheby's 2022
the rectangular top secured within a mitred frame with moulded edges, supported on paired recessed legs of circular section secured by parallel stretchers and cut to house the shaped spandrelled apron, the wood of an attractive reddish-brown tone.
Provenance: Collection of George N. Kates (1895-1990).
R.H. Ellsworth Ltd, New York, 21st October 2003.
Note: Drawing inspiration from ancient Chinese wooden architecture, the enduring elegance of this classical table is evident in its constant popularity through the generations with no changes made other than variations in dimensions to suit the household.
For tables of this form, see a larger example illustrated in Wang Shixiang, Mingshi jiaju yanjiu / Connoisseurship of Chinese Furniture, Ming and Early Qing Dynasties, Hong Kong, 1990, pl. B81; and a painting table illustrated in Grace Wu Bruce, Dreams of Chu Tan Chamber and the Romance with Huanghuali Wood, The Dr. S. Y. Yip Collection of Classic Chinese Furniture, Hong Kong, 1991, cat. no. 22 and sold in these rooms, 7th October 2015, lot 130.
George N. Kates (1895-1990), best known for his memoir of 1930s life in Beijing, The Years That Were Fat, Peking 1933-1940, was a leading American scholar on Chinese culture and decorative arts. He wrote the influential first Western study of Chinese classical furniture, Chinese Household Furniture, and amassed an impressive collection of Chinese furniture, which formed a solo exhibition in the Brooklyn Museum, New York, in 1946, where he later acted as the Asian Curator from 1947 to 1949.
Sotheby's. HOTUNG The Personal Collection of the late Sir Joseph Hotung: Part 1, Hong Kong, 9 October 2022