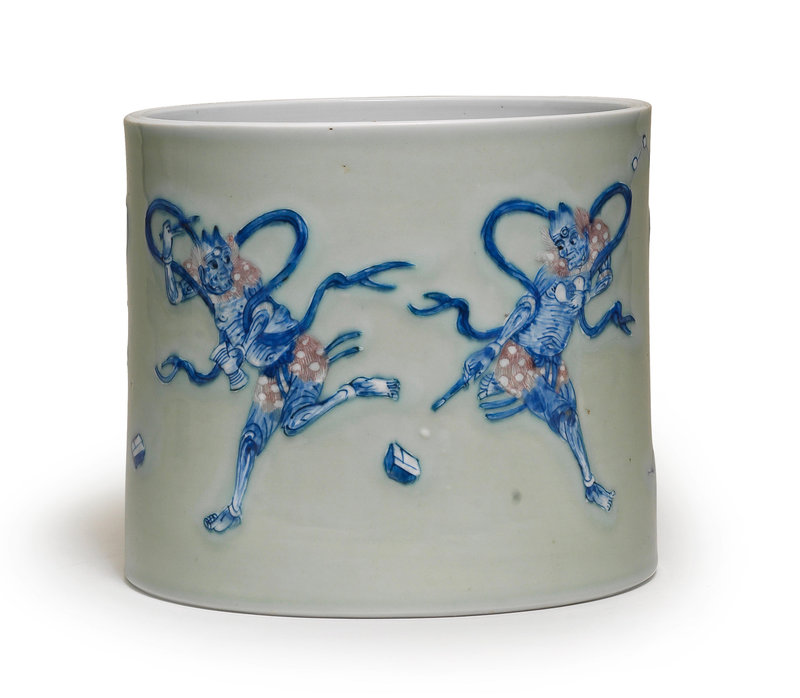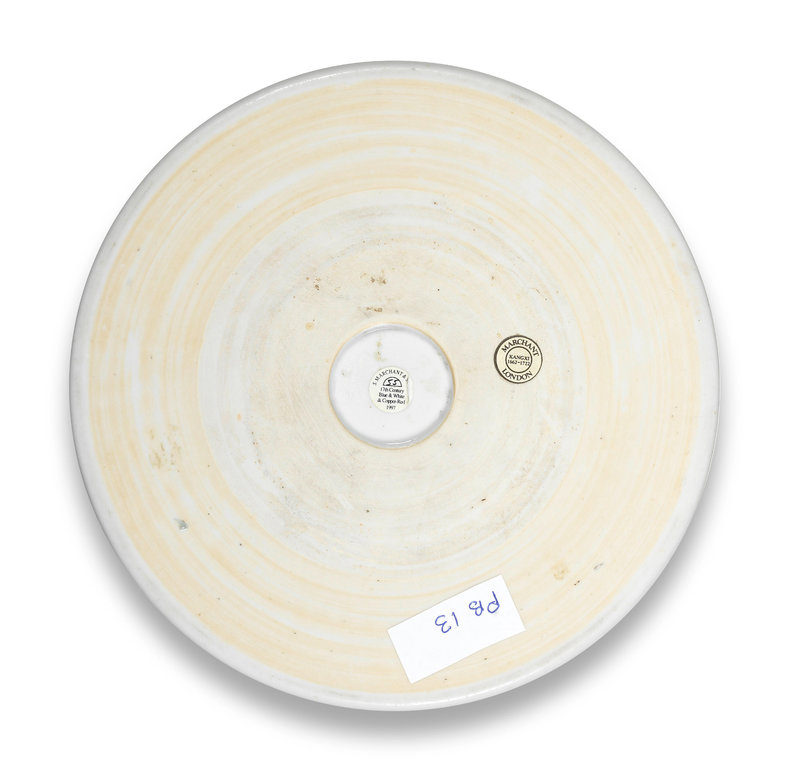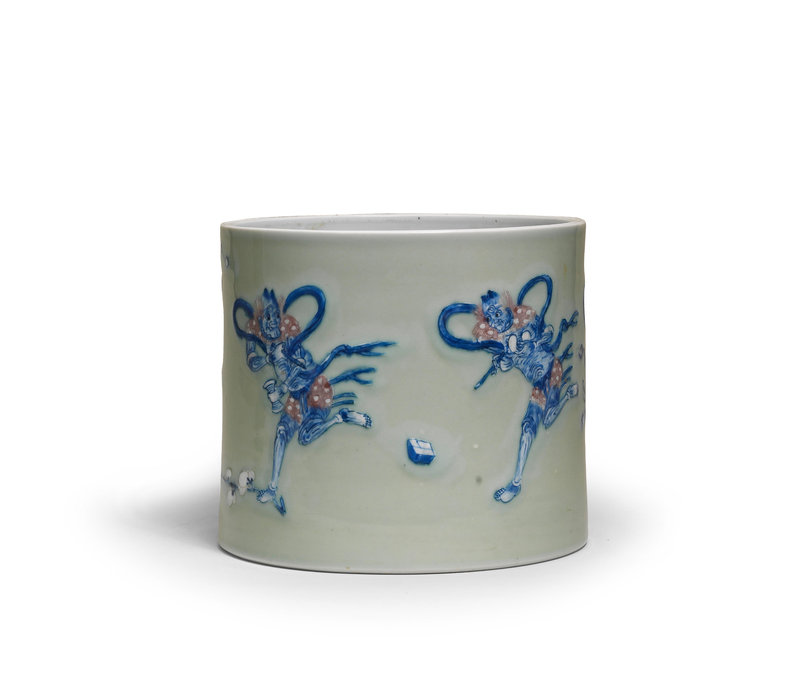 Lot 34. A rare celadon-ground blue and white and copper-red glazed 'Kui Xing' brushpot, bitong, Kangxi period (1662-1722); 18.2cm (7 1/4in) diam. Sold for £58,260 (Est: £15,000 - £20,000). © Bonhams 2001-2022
Finely potted with straight sides rising to a grooved mouth-rim, meticulously painted around the exterior with a continuous scene of Kui Xing the Star Lord five times interspersed between square measuring vessels, twice Kui Xing is depicted in one direction and thrice in the opposite, holding a brush in one hand and a silver ingot in the other, his sinewy body clad in copper-red deer-skin garments and cobalt-blue billowing scarves, in two representations he stands on a sprig of prunus in white raised slip, all against a celadon-green glaze background, the base unglazed save a recessed circle glazed white.
Provenance: The Wheatley collection, London
S. Marchant & Son, London, 2 June 1999.
Published, Illustrated and Exhibited: S Marchant & Son, Seventeenth-Century Blue and White and Copper-Red and Their Predecessors, London, 1997, p.58, no.55
S.Marsh, Brushpots: A Collector's View, Hong Kong, 2020, pp.190-191
Note: Identified by the writing brush held in his raised hand and his iconic 'back-kick' posture, Kui Xing 魁星 ('Chief Star') is a Daoist deity worshipped to obtain academic success. It would therefore, have been extremely auspicious for a scholar to have his brushpot decorated with this figure, to inspire him in his writing and achieve examination success.

The Chinese character Kui (魁) is composed of the ideograph for 'demon' (鬼) and the ideograph for 'ladle' (斗). The ladle or 'dipper' (as Kui Xing is also associated with the North Star) is depicted on the present lot in the form of a square vessel. Kui Xing is often portrayed with a demonic appearance, a hideous face, a horn-like protuberance on his head, and a sinewy body. According to legend, he was once a mortal scholar with outstanding literary skills but was repeatedly failed in the civil service examinations due to his repulsive appearance. Out of frustration and humiliation, Kui Xing threw himself into a river, where he was saved by a mythical monster called an ao. He then ascended to the Big Dipper and became the stellar patron of the literati and the God of Literature.

Dreaming of Kui Xing the night before the exams was considered an auspicious sign and the candidate who obtained the highest results, known as the First Scholar (zhangyuan), would walk first on a staircase decorated with the ao mythical beast. Representations of Kui Xing and Ao are thus a symbol of literary success and highest achievement at the Imperial examinations.

A blue and white and copper-red brushpot with related design of Kui Xing, Kangxi, is in the Victoria and Albert Museum, London (acc.no.C.976-1910). See also a doucai brushpot with Kui Xing and prunus, Kangxi, illustrated in The Complete Collection of Treasures of the Palace Museum: Small Refined Articles of the Study, Shenzhen, 2009, p.95, no.65.

Compare with a smaller but related underglaze blue and white-decorated celadon-ground brushpot, Kangxi, which was sold at Christie's New York, 21 March 2014, lot 2141.
Bonhams. THE MARSH COLLECTION ART FOR THE LITERATI, 3 November 2022, London, New Bond Street