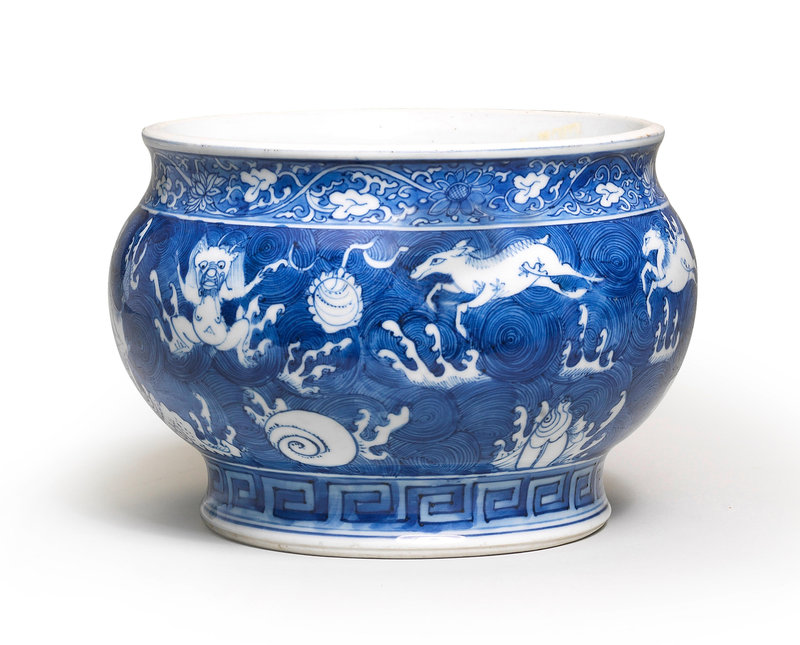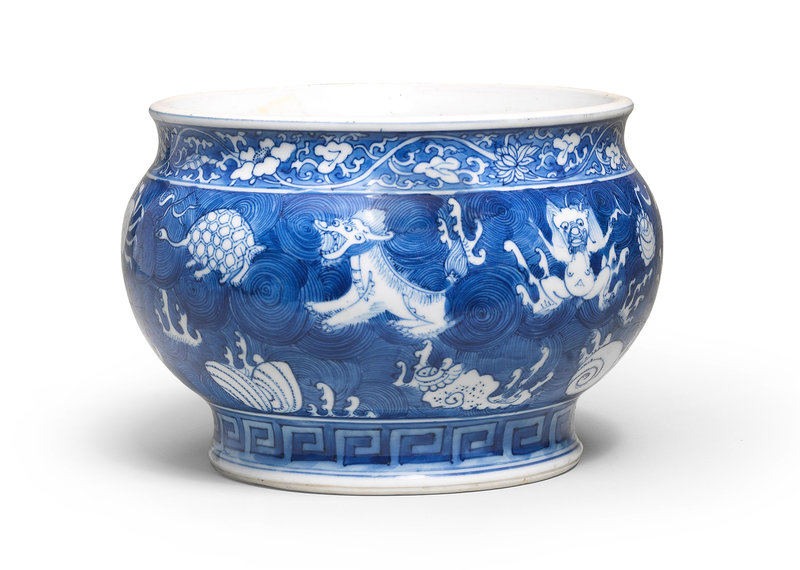 Lot 34. A fine and large blue and white 'mythical creatures' incense burner, Chongzhen period (1627-1644); 21cm (8 1/4in) diam. Sold for £40,620 (Est: £20,000 - £30,000). © Bonhams 2001-2022
Heavily potted with a compressed globular body rising from a tall spreading foot to a waisted mouth, painted in vibrant tones of cobalt-blue with swirling waves from which emerge various mythical creatures including qilin, tortoise, crab, dragon, sea-horse as well as various shells, all between a lotus scroll border at mouth and key-fret border at the foot.
Provenance: Sotheby's Hong Kong, 28 April 1998, lot 774
Sotheby's London, 15 May 2007, lot 70.
Note: The present lot is remarkable for the range and diversity of the mythical creatures depicted. The design harks back to earlier related depictions during the Ming dynasty: see a blue and white bowl, Xuande, with similar decoration of mythical creatures over waves, illustrated by Chen Ching-kuang, 'Sea Creatures on Ming Imperial Porcelain', The Porcelains of Jingdezhen, London, 1993, pl.1, where it is suggested that this motif may be related to the auspicious creatures described in the Shanhai jing (山海經), a mythical geography of China and the known-world, dated to the Eastern Zhou/Han dynasty. It is possible that such designs were inspired by woodblock illustrations from this classic. See also a blue and white jar decorated with winged animals over waves, mid 15th century, showing a horse, an elephant, a mongoose, a fish, a rabbit and two cervids, in the Metropolitan Museum of Art, New York (acc.no.2010.220). A related blue and white bowl, Wanli mark and of the period, in the National Palace Museum, Taipei, is illustrated in Porcelain of the National Palace Museum: Blue and White Ware of the Ming Dynasty, vol.6, Hong Kong, 1963, pl.18; another related blue and white bowl, Wanli, is in the Shanghai Museum and illustrated by Lu Minghua, Qingdai guanyao ciqi, Shanghai 2007, pl.1-83, together with a smaller underglaze-blue and iron red version, pl.3-57.

A related blue and white censer with mythical beasts but not on waves, dated to the sixteenth year of Shunzhi, 1659, in the Palace Museum, Beijing, is illustrated in Qing Shunzhi Kangxi chao qinghua ci, Beijing, 2005, pp.52-53, no.25.
Bonhams. THE MARSH COLLECTION ART FOR THE LITERATI, 3 November 2022, London, New Bond Street