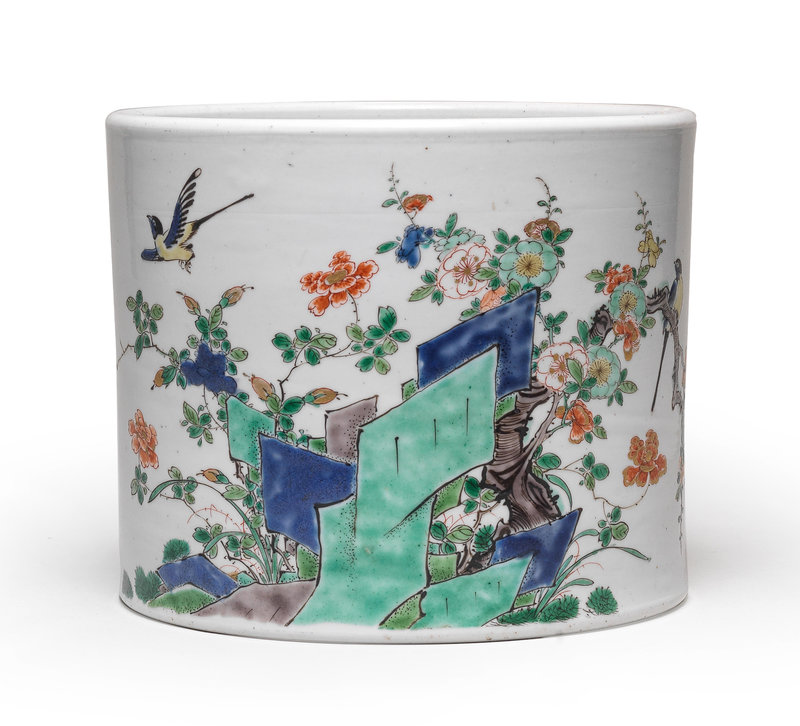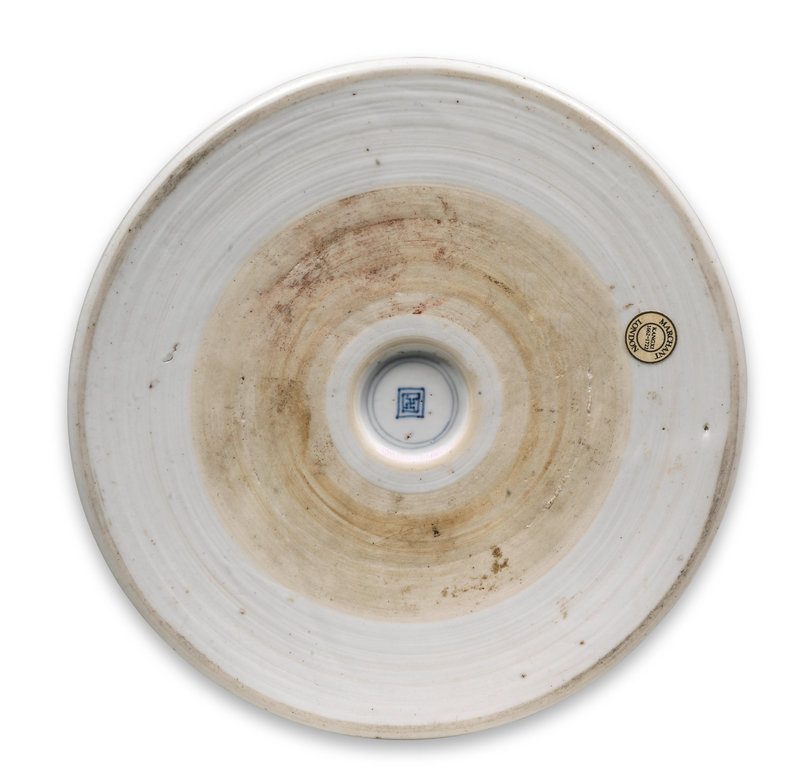 Lot 37. A rare and large famille verte 'magpies and prunus' brushpot, bitong, Kangxi period (1662-1722); 18.2cm (7 1/4in) diam. Sold for £60,780 (Est: £30,000 - £50,000). © Bonhams 2001-2022
The cylindrical vessel exquisitely decorated around the exterior with angular blue and green rocks and gnarled branches issuing sprays of red, green and blue prunus with gilt stamens, a magpie rests on one branch with four others in flight, the base with small recessed circular section and maker's mark forming a wan-character in underglaze blue.
Provenance: S. Marchant & Son, London, 13 November 2000.
Published and Illustrated: S.Marsh, Brushpots: A Collector's View, Hong Kong, 2020, pp.230-231.
Note: The present lot is laden with auspicious symbolism and wordplay. The theme of magpies (xique 喜鵲), a homophone for 'happiness' (xi 喜), on top (shang 上) of prunus branches (meishao 梅梢), which puns with 'eyebrows' (meishao 眉梢) forms a rebus for the blessing, 'May happiness reach up to your eyebrows' (喜上眉梢).
The decoration on the present lot is rare for its gilding, which is a most unusual feature to survive to the present day. The design also appears to be related to woodblock prints of flowers and birds, such as the Shizhuzhai shuhua pu (Ten Bamboo Studio Manual of Calligraphy and Painting), published by Hu Zhengyan (1584-1674) and printed between 1619 and 1633. The increasing availability of illustrated woodblock printed books, including pharmaceutical literature dealing with plants and their medicinal properties helped facilitate their design on porcelain. See for example, a blue and white brushpot, cyclically dated to 1638, with similar design of flowers and birds, and its source from the Ten Bamboo Studio Manual of Calligraphy and Painting, illustrated by T.Canepa and K.Butler, Leaping the Dragon Gate: The Sir Michael Butler Collection of Seventeenth-Century Chinese Porcelain, London, 2021, p.231.
Compare with a related but narrower famille verte brushpot, decorated with flowers and birds, Kangxi, illustrated in The Complete Collection of the Treasures of the Palace Museum: Porcelains and Contrasting Colours, Shenzhen, 2007, p.97, no.89. Another related famille verte brushpot with lotus and kingfisher and calligraphic inscription, Kangxi, is also illustrated in ibid., no.91.
Bonhams. THE MARSH COLLECTION ART FOR THE LITERATI, 3 November 2022, London, New Bond Street