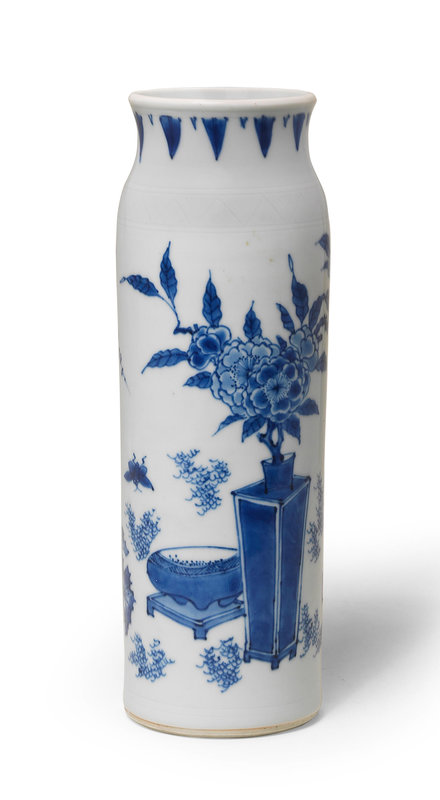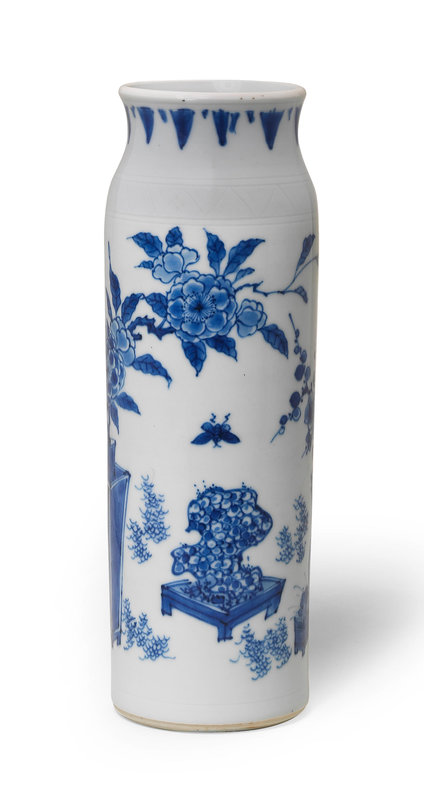 Lot 38. A fine small blue and white rouleau vase, Chongzhen period (1627-1644); 21.8cm (8 3/4in) high. Sold for £60,780 (Est: £30,000 - £50,000). © Bonhams 2001-2022
The tall cylindrical vessel rising to a waisted neck, painted around the exterior painted in vibrant underglaze blue with a continuous scene of vases and trays with various flowers amidst flittering butterflies, all between incised borders, the neck with pendant leaves.
Provenance: John R. Berwald, London, November 2017.
Note: The depiction of antiques and flowers, as seen on the present lot, a design sometimes known as bogu or 'various antiquities' reflected the growing scholarly interest of the literati in collecting antiques, works of art and flowers. In the late 16th century, the writer Fan Chao from Songjiang pondered on his contemporaries who sought to emulate the lifetsyle of the scholar class:
The particularly strange thing is that even officials' lictors and runners...would set up a small place...with a goldfish and various pots of flowers in the courtyard. with a hardwood table and a flywhisk, and call it a 'study'. I have no idea what books officials' lictors and runner studied.

Nevertheless, during the late Ming dynasty, when urban populations, literacy and the merchant class with access to education and positions at court expanded, the collecting of artefacts and their pictorial record became increasingly popular. See also a woodblock print of the various antiquities and flowers, early Qing dynasty, illustrated by C.Von Spee, The Printed Image in China: from the 8th to the 21st centuries, London, 2010, p.91, no.29.

Compare with a similar blue and white vase, Shunzhi, also decorated with flowers and the Hundred Antiques and of similar height (20.4cm high), in the Palace Museum, Beijing, illustrated by T.Canepa and K.Butler, Leaping The Dragon Gate: The Sir Michael Butler Collection of Seventeenth-Century Chinese Porcelain, London, 2021, p.449.
Bonhams. THE MARSH COLLECTION ART FOR THE LITERATI, 3 November 2022, London, New Bond Street