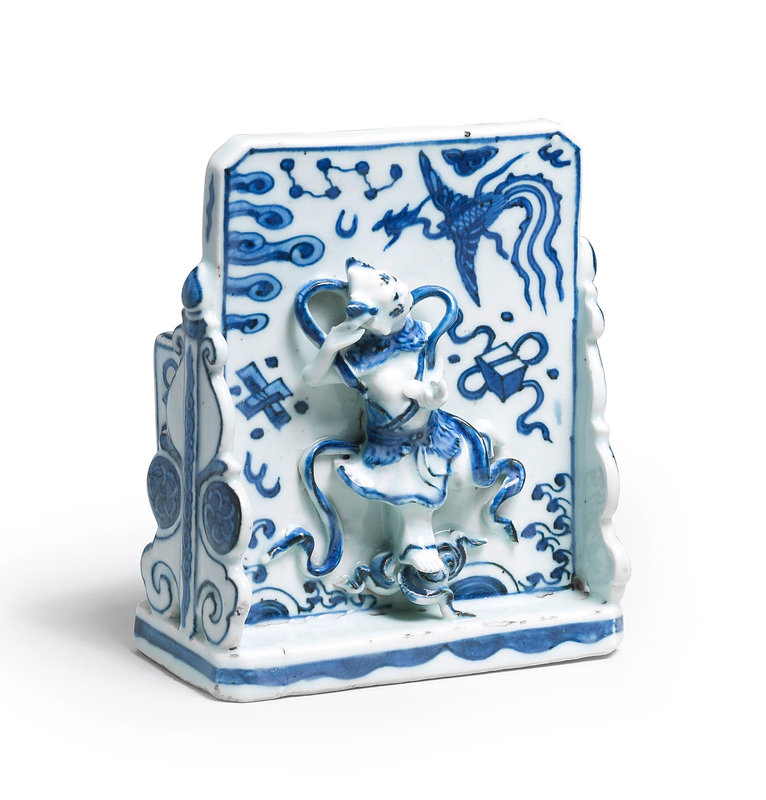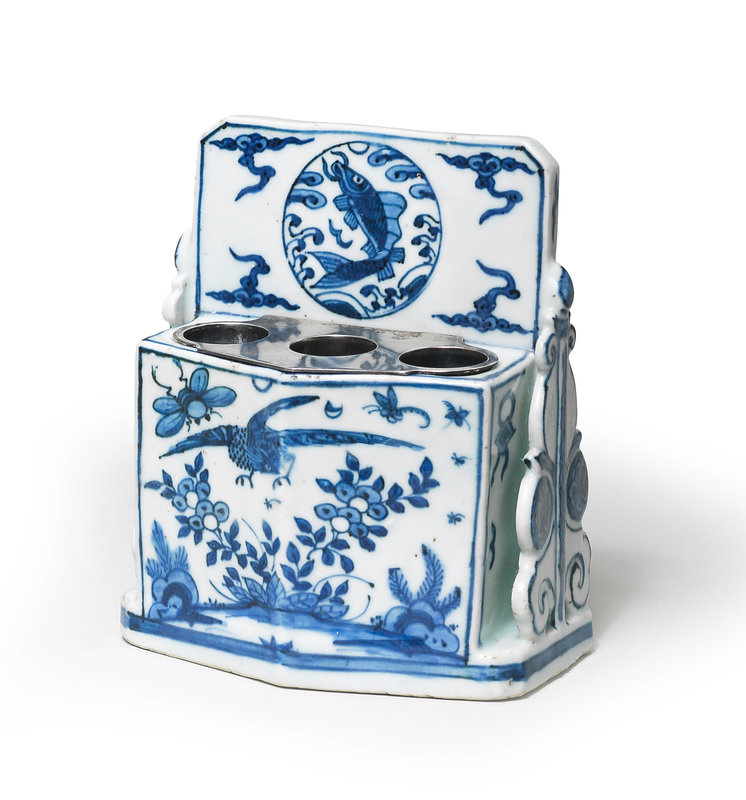 Lot 39. A rare blue and white 'Kui Xing' brush stand, Wanli period (1573-1620); 16cm (6 1/4in) high. Sold for £10,200 (Est: £10,000 - £15,000). © Bonhams 2001-2022
Finely moulded as a standing screen applied with a figure of Kui Xing riding a cloud, his scarves billowing in the wind and clad in deer-skin, the screen decorated in cobalt-blue with phoenix, the north-star constellation, and a dou measure, behind the screen a container with later liner, painted with a pheasant above floral sprays, the screen with a roundel containing a leaping carp.
Provenance: Sotheby's London (according to S.Marsh, Brushpots: A Collector's View, Hong Kong, 2020, p.28).
Published and Illustrated: S.Marsh, Brushpots: A Collector's View, Hong Kong, 2020, p.29.
Note: On the reverse of the screen is Kui Xing, the God of Examinations worshipped by scholar-officials and candidates in the Imperial Examinations. For more infomation on Kui Xing see the footnote to Lot 3 in this catalogue.
See a similar blue and white brush stand, Wanli, illustrated by John da Silva, 'Three Types of Chinese Brush Stand', Oriental Art, vol.XXIV, no.3, autumn 1978, p.327, figs.3-5.

Compare also with a related blue and white 'Kui Xing' table screen, Ming dynasty 16th century, which was sold at Sotheby's London, 4 November 2021, lot 347.
Bonhams. THE MARSH COLLECTION ART FOR THE LITERATI, 3 November 2022, London, New Bond Street