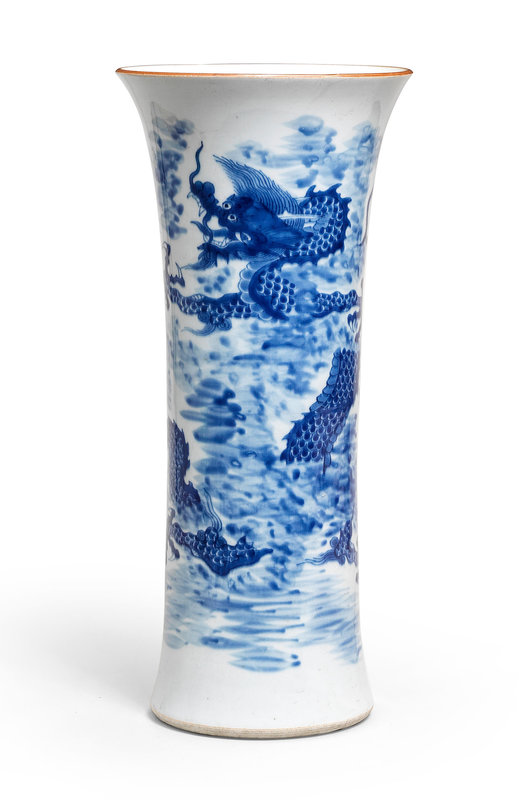 Lot 40. A rare blue and white 'dragon amidst clouds' beaker vase, Shunzhi period (1644-1661); 16cm (6 1/4in) high. Sold for £48,180 (Est: £18,000 - £24,000). © Bonhams 2001-2022
The cylindrical vessel with waisted central section tapering to a flaring rim from a spreading foot, painted in vibrant tones of cobalt-blue with a large four-clawed scaly dragon writhing amidst blue washes of misty cloud chasing the flaming pearl of wisdom.
Provenance: A & J Speelman Oriental Art, London, 3 November 2009.
Note: The dragon was the most important of the mythical animals. Essentially a gentle creature, despite its often fierce appearance, the dragon represents the male principle of nature (yang). It was the god of rain and also, in certain manifestations, the emperor's special symbol - he sat on the dragon throne and was borne aloft by dragons when he died. Many different dragons are portrayed in Chinese art, often chasing a pearl and almost always surrounded by flames. The present lot is more unusual in showing a dragon in the clouds, and shows a sophisticated, playful hand at work, with blurred and painterly edges of the clouds reminiscent of wet ink on paper. The cottony cloud forms, the almost whimsical expression on the dragon's face, and the vivid plasticity of the beast's form, show the influence of the Southern Song dragon painter Chen Rong (陳容 ca.1200–1266). See a painting of nine dragons by Chen Rong, illustrated in Masterpieces of Chinese Painting, 700-1900, London, 2013, pp.198-199, no.38.
Similarly treatment of clouds around dragons is seen also on a blue and white vase, decorated with animals of the four directions, circa 1640-1655, illustrated by M.Butler, J.B.Curtis and S.Little in Shunzhi Porcelain: Treasures from an Unknown Reign, 1644-1661, Alexandria, VA, 2002, p.99, no.7.

Compare with a related blue and white beaker vase, Shunzhi, also decorated with a dragon amidst clouds, in the Palace Museum, Beijing, illustrated in Qing Shunzhi Kangxi chao qinghuaci, Beijing, 2005, pp.98-99, no.52. A related blue and white beaker vase, dated to 1670, with the upper register similarly decorated with a dragon amidst clouds, is illustrated in Kangxi Porcelain Wares from the Shanghai Museum Collection, Hong Kong, 1998, p.98, no.64.
Bonhams. THE MARSH COLLECTION ART FOR THE LITERATI, 3 November 2022, London, New Bond Street