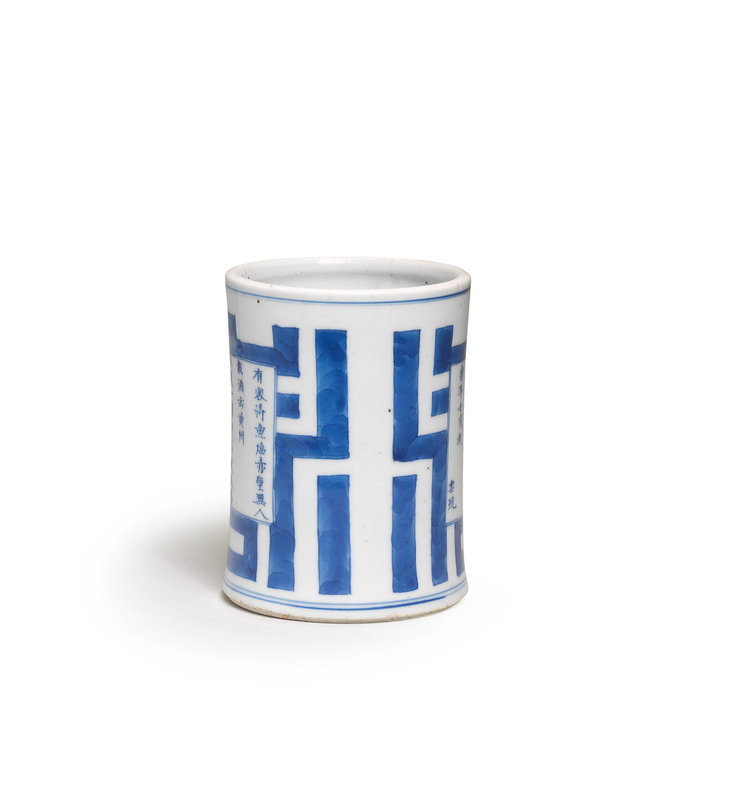 Lot 43. A blue and white 'Ode to the Red Cliffs' brushpot, bitong, Kangxi period (1662-1722); 14cm (5 1/2in) high. Sold for £28,020 (Est: £3,000 - £5,000). © Bonhams 2001-2022
The tall cylindrical vessel finely potted with slightly curved sides, painted around the exterior in vibrant tones of cobalt-blue with two large stylised Shou characters each containing two large cartouches containing calligraphic inscriptions of Su Dongpo's poem 'Ode to Red Cliffs', with seals, one reading 'Dragon West', and signed Yun Wan ('Cloud Play').
Provenance: John R. Berwald Oriental Ceramics & Works Art, London, 18 April 1995.
Published and Illustrated: S.Marsh, Brushpots: A Collector's View, Hong Kong, 2020, pp.146-147.
Note: When the Song dynasty litterateur Su Dongpo (1037-1101) was first sent to Huangzhou in exile for opposing reformist policies at court, he passed by the supposed site of the naval battle of the Red Cliffs (AD208). Su wrote the two poems on the Red Cliffs commemorating the valour and bravery of the historical heroes that fought in the battle long past, while also voicing his own sense of nostalgia, loss and receding into the pages of history. His poems have since entered into the Chinese literary canon and are a continuously popular motif for artists and poets. See R.Egan, Word, Image, and Deed in the Life of Su Shi, Cambridge MA, 1994, pp.221-228. The present lot has extracts from Su's poems. The inscription reads:

五百年前續此遊,水光依舊接天浮,徘徊今夜東山月,恍惚當年王戌秋。
雲玩

Which may be translated as:

'Continuing the journey from five hundred years ago, the scenery of old with water stretching to the horizon, tonight the moon lingers by the Eastern Mountain, as if it were the same autumn moon that shone on the battle.
Yun Wan.'

The second reads:

有客得魚臨赤壁,無人載酒出黃州,吟成一浦千山寂,
孤鶴橫江涼小舟。

Which may be translated as:

'A visitor arrives at the Red Cliff with freshly caught fish, yet no one brought wine from Huangzhou, our poetry contrasts the silence that fills the riverbank and the thousand mountains a lonely crane crosses the river and passes over our boat.'
Bonhams. THE MARSH COLLECTION ART FOR THE LITERATI, 3 November 2022, London, New Bond Street