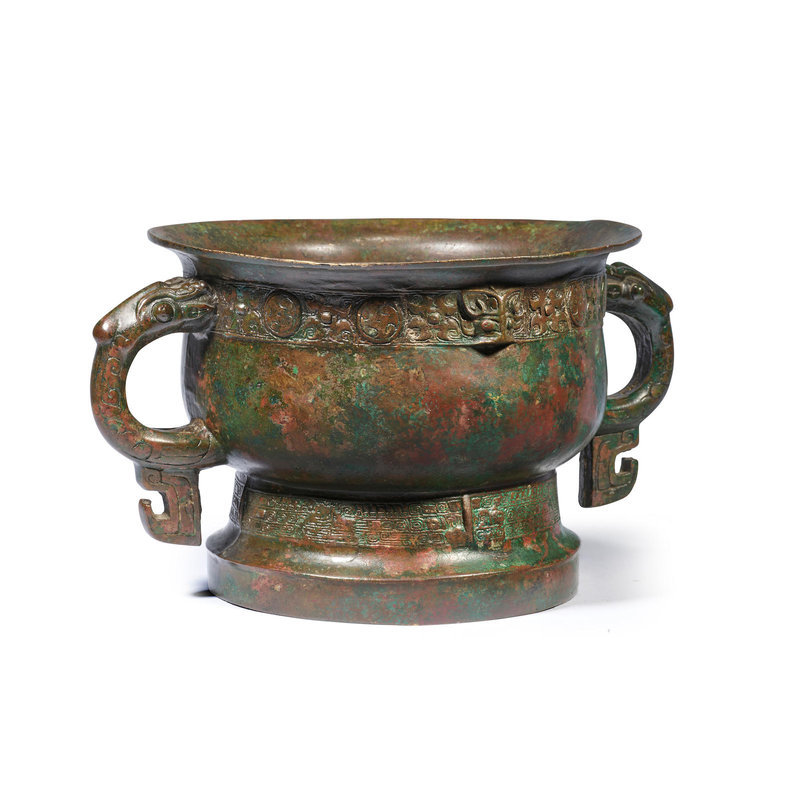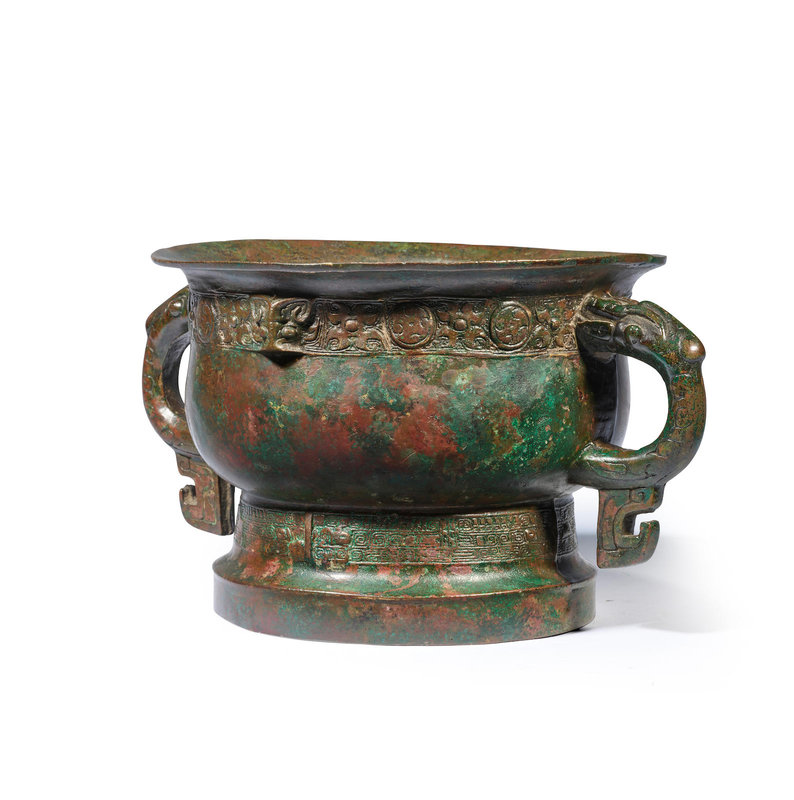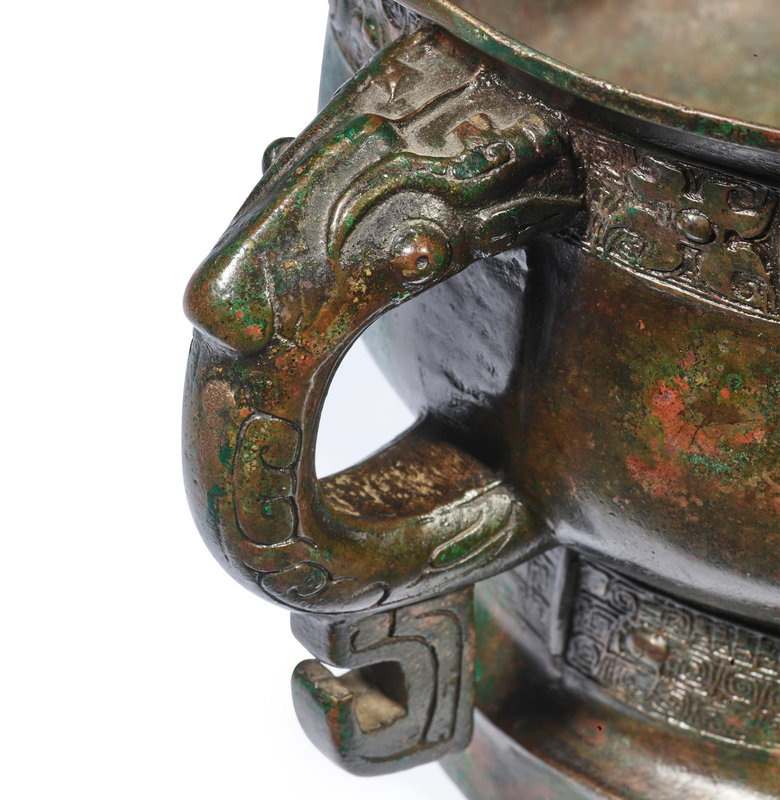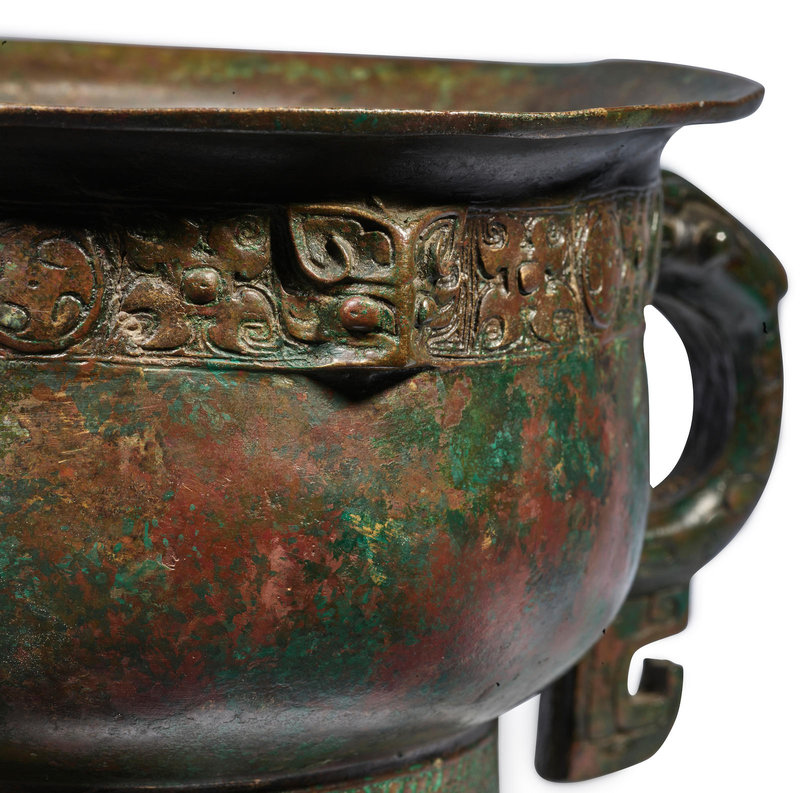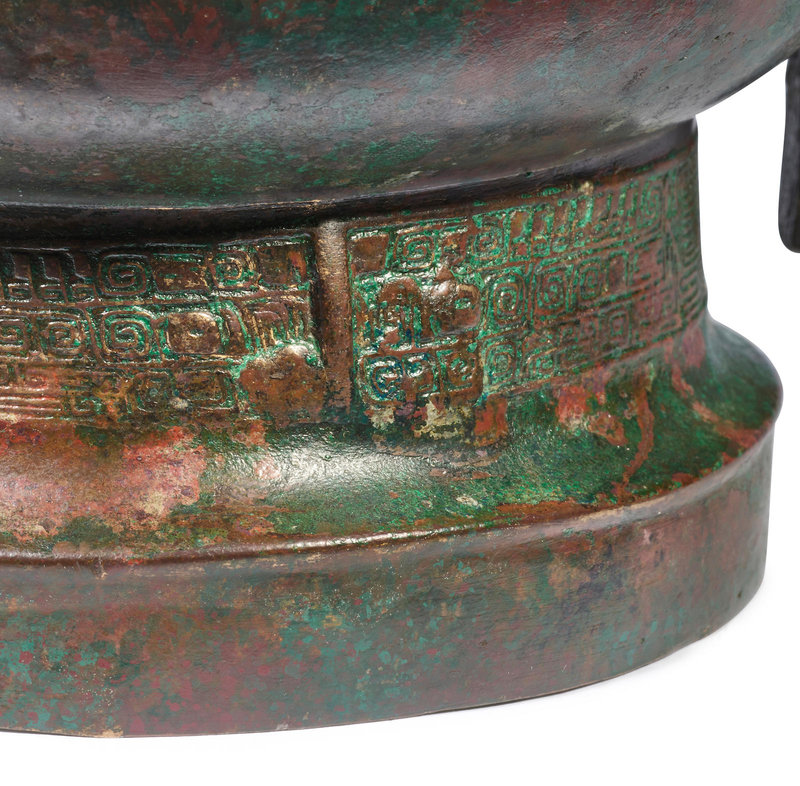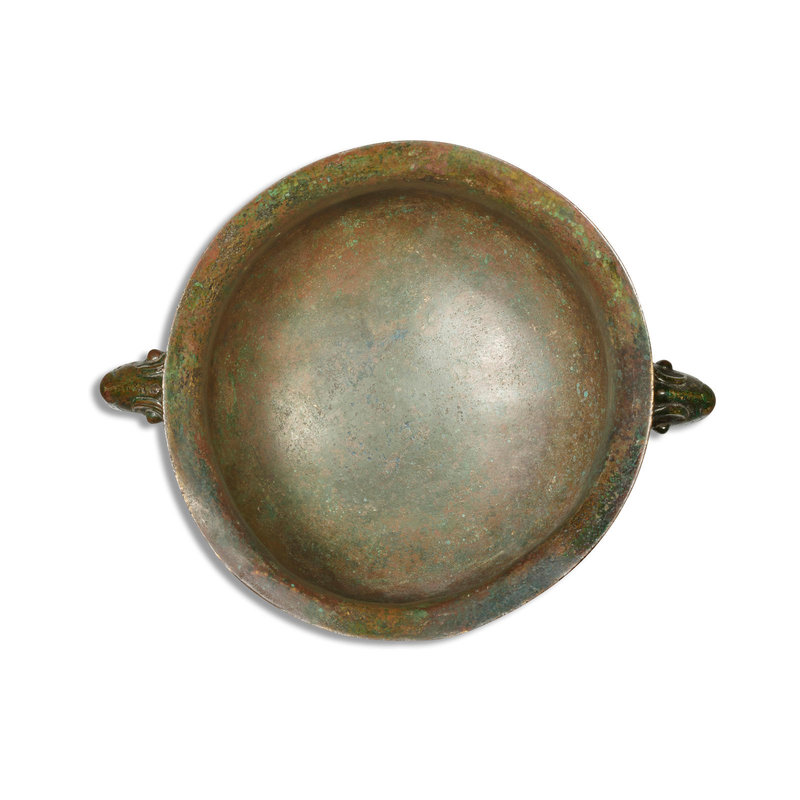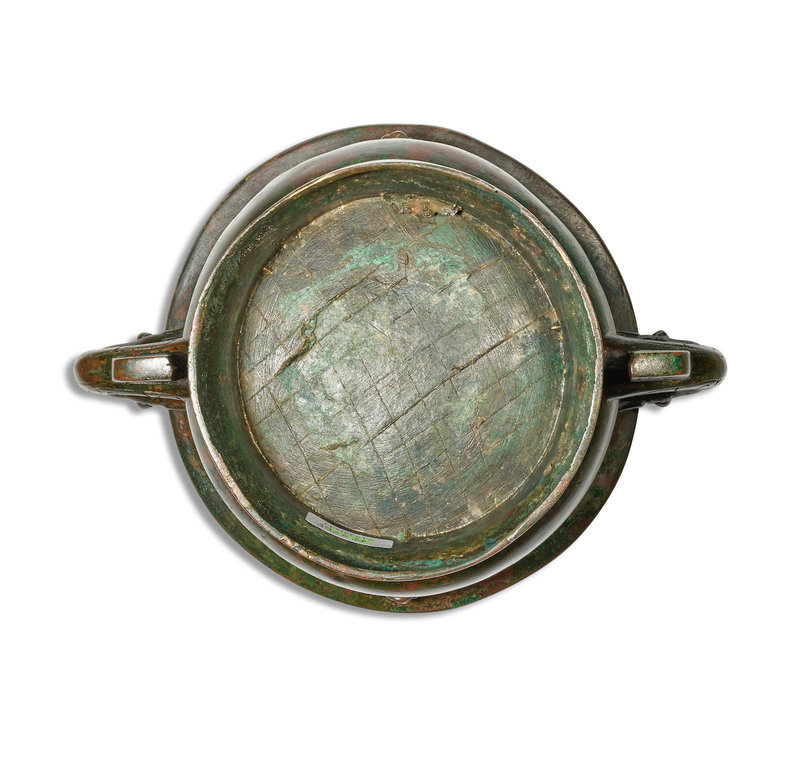 Lot 13. A bronze food vessel, gui, Western Zhou Dynasty (1050-771 BC); 14.3cm (5 3/4in) high; 24.5cm (9 1/2in) wide. (2). Sold for HKD 255,000 (Estimate HKD 200,000 - HKD 300,000). © Bonhams 2001-2022
The rounded body raised on a hollow pedestal foot terminating in a straight footrim, cast below the gently everted rim with a border filled with fire and four-petal leaves patterns bisected by animal-masks in high relief on two sides, interrupted on the other sides by two loop handles cast with C-scrolls, springing from stylized beast-masks terminating with hooked tabs, the foot decorated with leiwen divided by four low flanges, the patina of dark greenish-brown tone, box.
Provenance: Gottfreid (1925-2019) and Helga Hertel (1928-2013) Collection, Cologne
An American private collection.
Note: Gottfried Hertel (1925–2019), the late Executive Director of Deutsche Kernreaktor-Versicherungsgemeinschaft (German Nuclear Reactor Insurance Pool, DKVG) based in Cologne, together with his wife, Helga (1928 – 2013), formed the Hertel Collection with their shared passion for collecting classical antiquities, Old Master paintings, Egyptian and Asian art since 1970. Part of the classical antiquities and Egyptian art items were sold in our London rooms, Antiquities, 3 July 2019.

The cast decoration seen on the present gui vessel belongs to a distinctive type of designs appeared first in the Western Zhou dynasty resembling fire and four-petal leaves, for a related discussion and study carried by the Shanghai Museum Bronze Research Group on this, see Shang Zhou qingtongqi wenshi [Decorative Patterns on Shang and Zhou dynasties Bronzes], Beijing, 1984, p.248, pl.703-708. Compare also to a related early Western Zhou dynasty gui vessel with similar shape as the present vessel, illustrated by Wu Zhenfeng, Shangzhou qingtongqi mingwen ji tuxiang jicheng [Compendium of Inscriptions and Images of Bronzes from the Shang and Zhou Dynasties], Shanghai, 2012, pl.3862.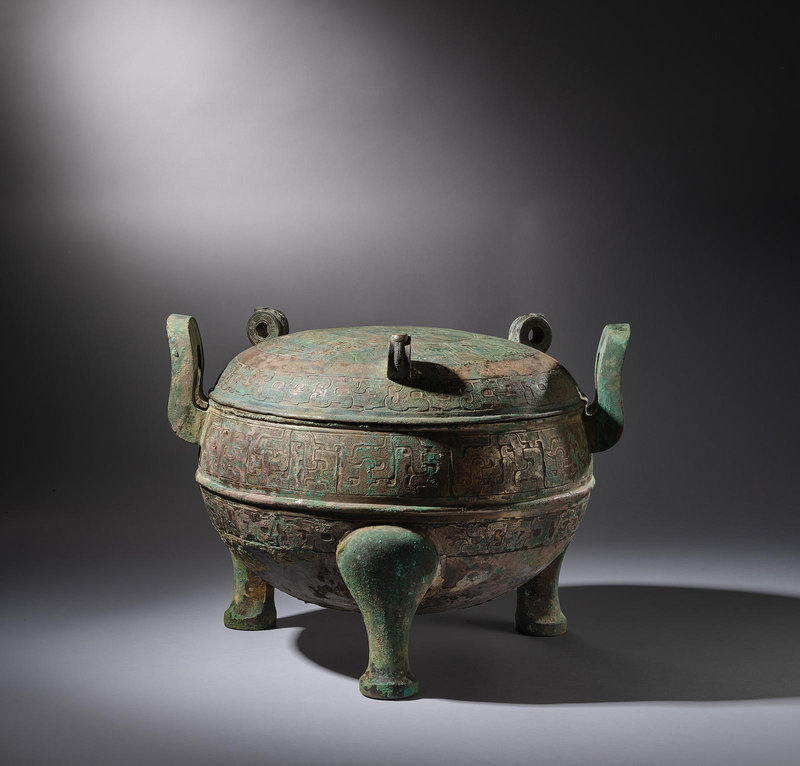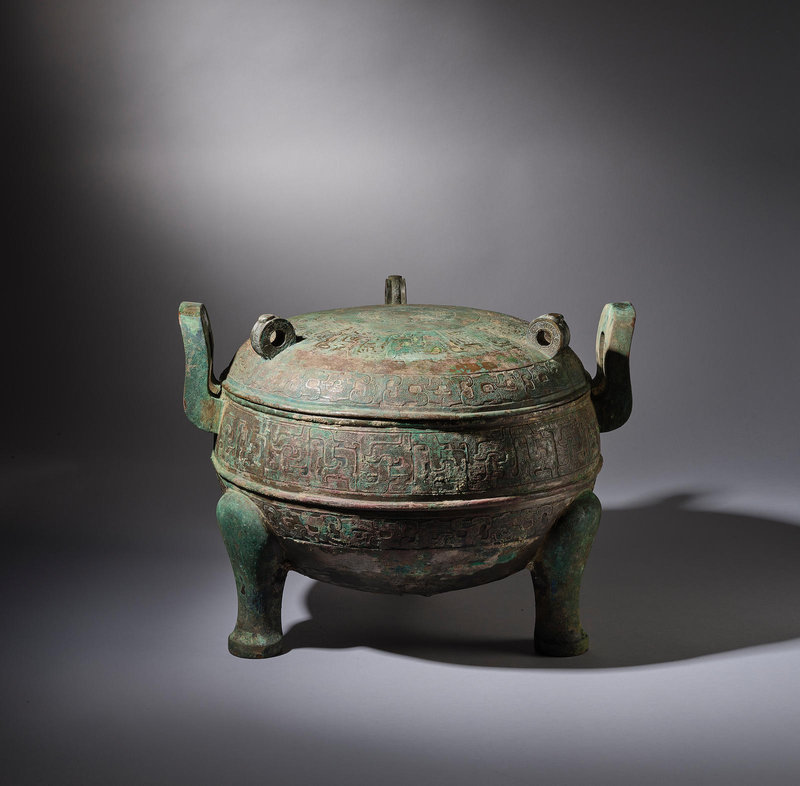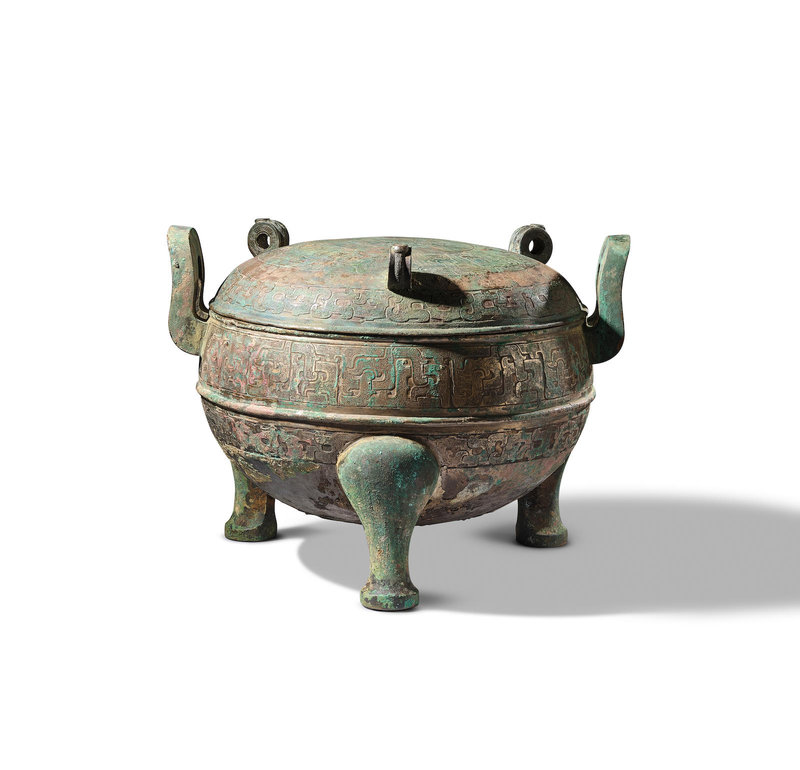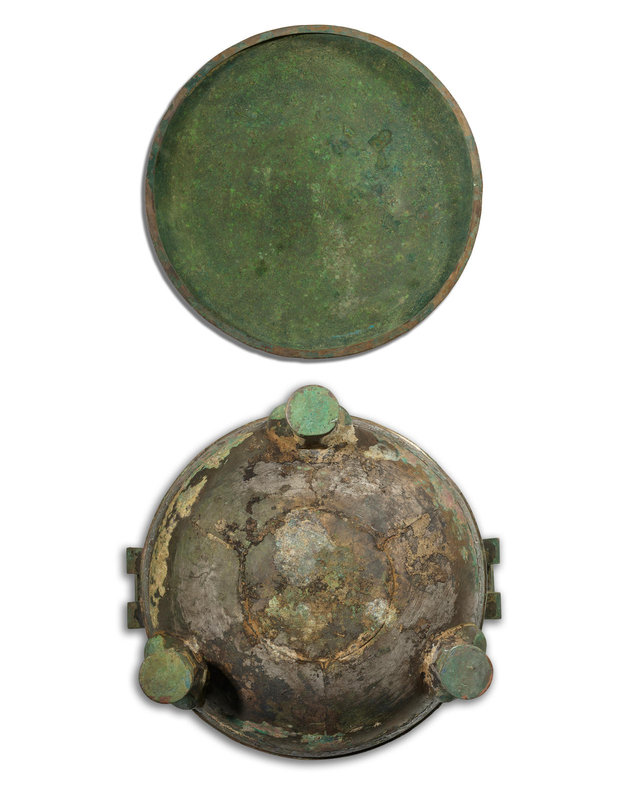 Lot 14. An archaic bronze ritual food vessel and cover, ding, Spring and Autumn Period (770-475 BC); 42cm (16 1/2in) wide. (2). Sold for HKD 985,800 (Estimate HKD 400,000 - HKD 500,000). © Bonhams 2001-2022
The deep rounded sides cast with a dragon band and a phoenix band divided by a raised fillet and set at the rim with a pair of large loop handles, all supported on three waisted legs, the low domed cover similarly decorated with two bands of dragon and phoenix centered by three evenly-spaced small loop handles, box.
Provenance: Warren King, Hong Kong
Meiyintang Collection, Switzerland
An American private collection.
Published and illustrated: T.Wang, Chinese Bronzes from the Meiyintang Collection, London, 2009, p.176-177, no.81
C.Deydier, Chinese Bronzes from the Meiyintang Collection, Hong Kong, 2013, vol.1, p.138, no.81.
Note: The present ding vessel resembles designs on a set of 7 ritual bronzes which were excavated in a Spring and Autumn period tomb in Shanxi Province, supported on three bovine-headed waisted legs, illustrated in Zhongguo qingtongqi quanji, Beijing, 1998, vol.8, nos.19-20; see also a closely related late Spring and Autumn period ritual bronze ding vessel in the Shanghai Museum collection, illustrated in ibid., no.23.
Bonhams. FINE CHINESE CERAMICS AND WORKS OF ART, Hong Kong, 30 November 2022