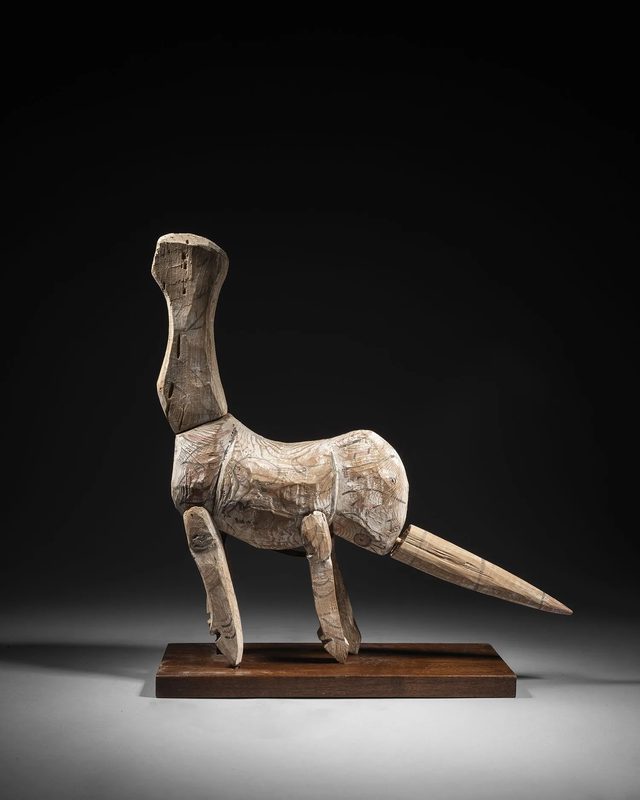 Lot n°8. Licorne, Chine, dynastie des Han orientaux (206 av. JC - 220 ap. JC), Gansu, district de Wuwei. H. 41 cm - L. 41 cm. Bois (épicéa), traces de polychromie. Estimation : 4 000 € - 5 000 €. Résultat : 5 200 EUR. Courtesy Giquello & Associés.
Les différents éléments du corps ont été sculptés séparément et assemblés. Un décor peint a été également apporté en noir, rouge et blanc et indique le pelage de la licorne. Cet animal fabuleux avait pour rôle de garder et de protéger la tombe des défunts.
La posture du corps, corne baissée et queue levée, donne dynamisme et férocité à l animal sur le point de charger.
Provenance : 2001-2022. Collection Liliane et Michel Durand-Dessert, Paris
Acquis auprès de la galerie Jacques Barrère, Paris.
Publication : Lise Gotfredsen, The Unicorn, The Harvill Press London, 1999. Illustration de la quatrième de couverture.
Liliane et Michel Durand-Dessert, L art au futur antérieur, un autre regard, Musée de Grenoble, Actes Sud, 2004. P66.
Exposition : Musée de Grenoble, L Art au Futur Antérieur, Liliane et Michel Durand-Dessert, Un Autre Regard. 2004.
Giquello & Associés. ARTS D'ASIE : COLLECTION DE LILIANE ET MICHEL DURAND-DESSERT ET À DIVERS AMATEURS, Vendredi 09 Décembre 2022 14:00. Salle 16 - 9, rue Drouot - 75009 Paris