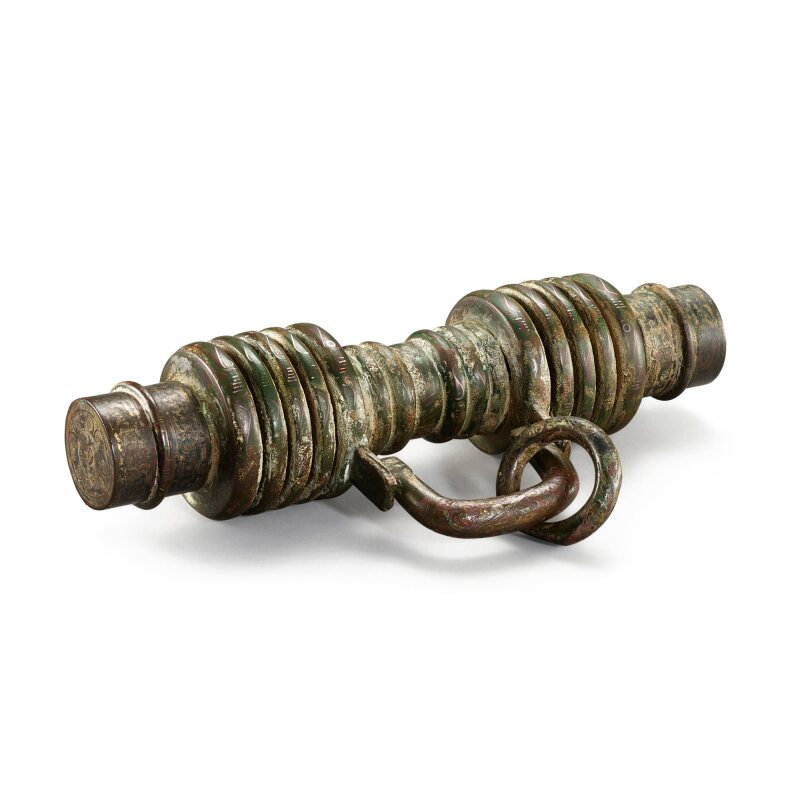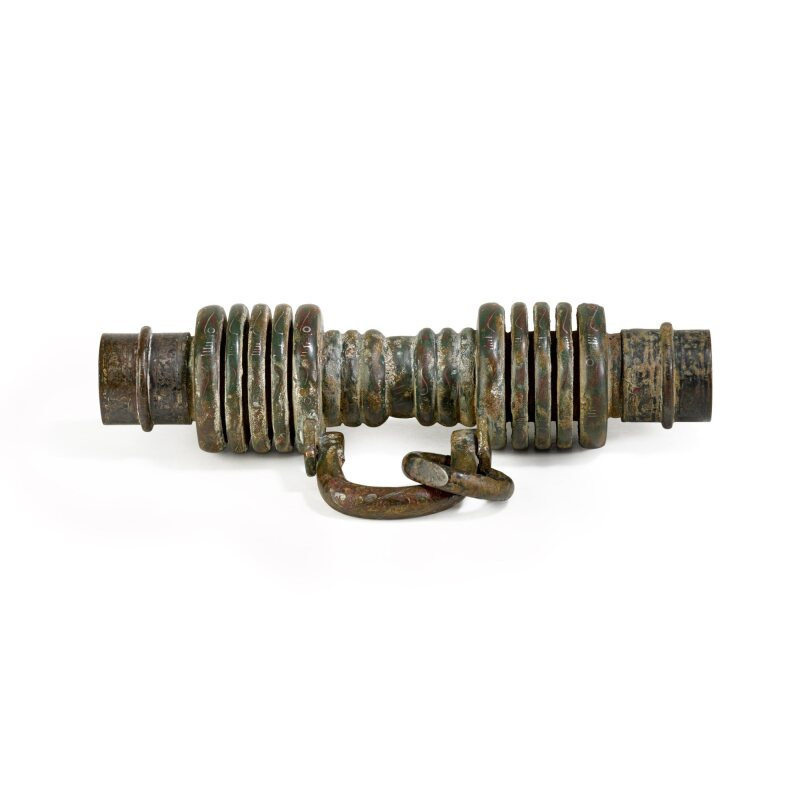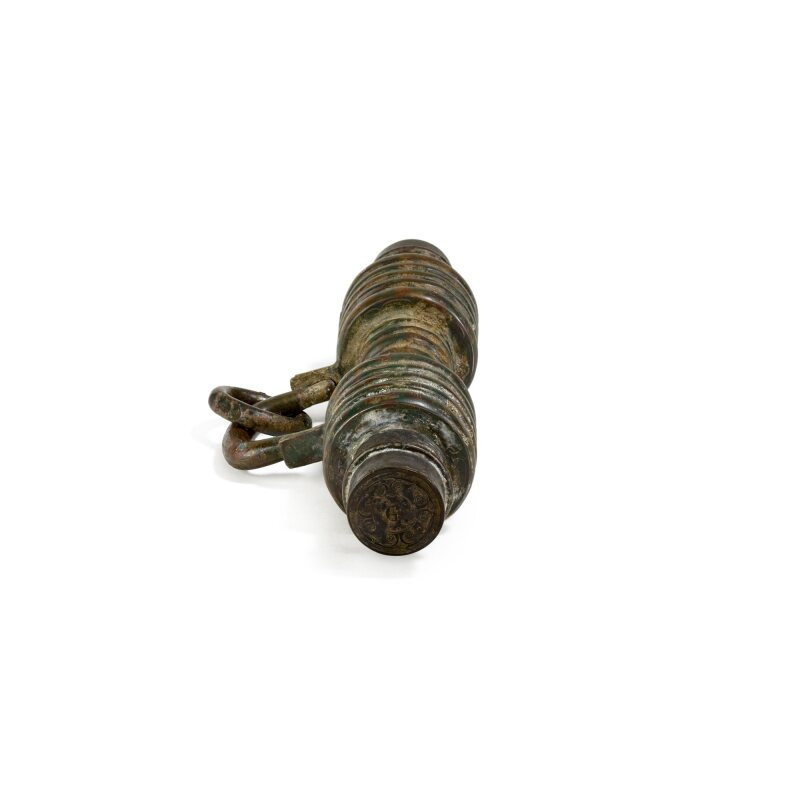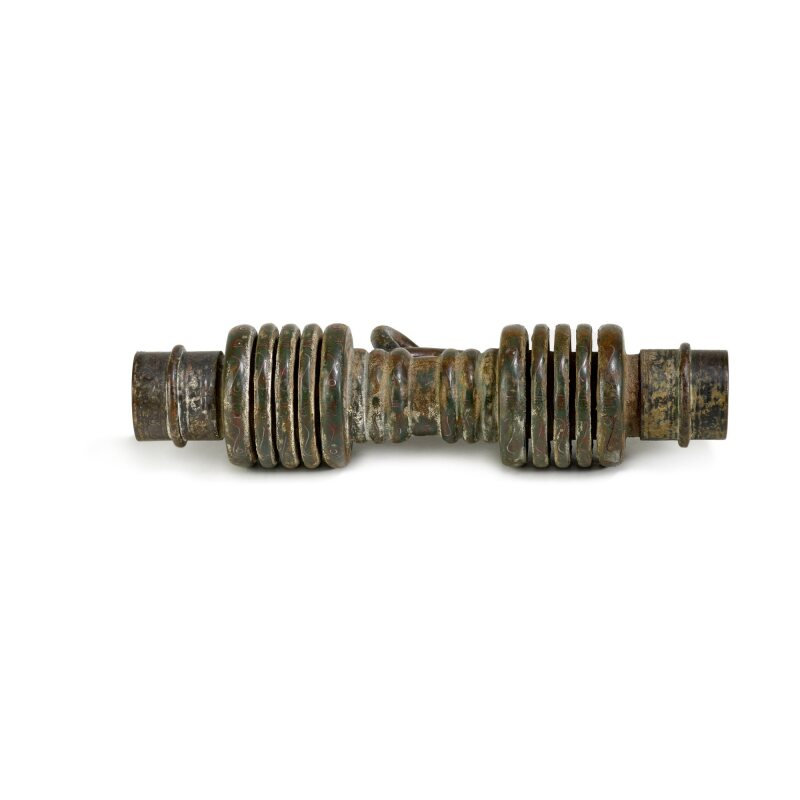 Lot 165. A pair of inscribed silver-inlaid bronze chariot fittings, Eastern Zhou dynasty, Warring States period - Western Han dynasty (770 BC-9 AD); 27.1 cm. Lot sold: 378,000 HKD (Estimate: 40,000 - 60,000 HKD). © Sotheby's 2022
flanked by two tubular fittings on both ends, the flat top of each fitting with a symmetrical quatrefoil design inlaid in silver and inscribed with two characters reading Lingli, the body with additional scrollwork and encircled with a projecting ring decorated with groups of short vertical lines alternating with S-scrolls, the central fitting set with two sets of five large rings and a hoop suspending another ring.
Provenance: Galaxie Art & Gift Co., Hong Kong, 14th February 1987.
Literature: Jessica Rawson and Emma C. Bunker, Ancient Chinese and Ordos Bronzes, Hong Kong, 1990, cat. no. 101.
Thomas Lawton, 'Some Inscribed Chinese Bronze Fittings in the Singer Collection', New Frontiers in Global Archaeology: Defining China's Ancient Traditions. Proceedings of the International Symposium Celebrating the Tenth Anniversary of the Arthur M. Sackler Museum of Art and Archaeology at Peking University, New York, 2008, pp. 357-85, fig. 22.
Exhibited: Ancient Chinese and Ordos Bronzes, Oriental Ceramic Society of Hong Kong, Hong Kong Museum of Art, Hong Kong, 1990.
British Museum, London, on loan, 1992-2004.
Note: Possibly once used as finial caps crowning the yoke of a chariot, the two tubular fittings in the present lot are impressive not only for their intricate design and remarkable preservation of original silver inlays, but more importantly, the inscription they bear. The meaning of the two-character inscription Lingli has come to light with Dr Thomas Lawton's research article 'Some Inscribed Chinese Bronze Fittings in the Singer Collection', where the present pair of fittings were also featured in.
Dr Lawton mentioned the earliest reference to Lingli appeared in the biography of a Western Han dynasty official, Shi Fen (d. 124 BC), who retired to Lingli after a long and illustrious official career. The annotator of the biography identified Lingli as a village near Maoling County, located in the present-day Xingping City, Shaanxi province. Maoling County was allegedly established to the southeast of the mausoleum of Han Emperor Wudi and developed into a residential area known for its extravagant lifestyle, with a population of over 270,000 housing many wealthy elites.
Besides the present pair of fittings, only thirteen other 'Lingli' examples have been identified and located, all attributed to the Western Han dynasty:
five silver-inlaid fittings in the Dr Paul Singer Collection, now preserved in the Arthur M. Sackler Gallery, Smithsonian Institution, accession nos

S2012.9.1728.1-3

,

S2012.9.2333

and

S2012.9.1861

;
a gold-and-silver-inlaid toothed fitting in the Newark Museum of Art, New Jersey;
a pair of silver-inlaid tongmao with the inscription to the side exhibited in Spink & Son, London, 1994, cat. no. 3;
another pair of tongmao in the collection of Julius Eberhardt, illustrated in Regina Krahl, Sammlung Julius Eberhardt, Hong Kong, 1999, pl. 58;
another pair of tongmao included in the exhibition

Bronze and Gold in Ancient China

, J.J. Lally & Co., New York, 2003, cat. no. 15

; and
a gold-and-silver-inlaid axle cap included in the exhibition Inlaid Bronzes and Related Material from Pre-Tang China, Eskenazi Ltd, London, 1991, cat. no. 19.
See also three fittings with a related four-character inscription reading Lingli Guo shi (Guo family of Lingli): one inlaid with silver, formerly in the collection of King Gustav VI Adolf and now preserved in the Museum of Far Eastern Antiquities, Stockholm; the other pair, of similar form and design but inlaid with gold and silver, in a private Hong Kong collection, illustrated in Li Xueqin, The Glorious Traditions of Chinese Bronzes, Singapore, 2000, cat. nos 93 d and e.
Sotheby's. HOTUNG The Personal Collection of the late Sir Joseph Hotung: Part 1, Hong Kong, 9 October 2022