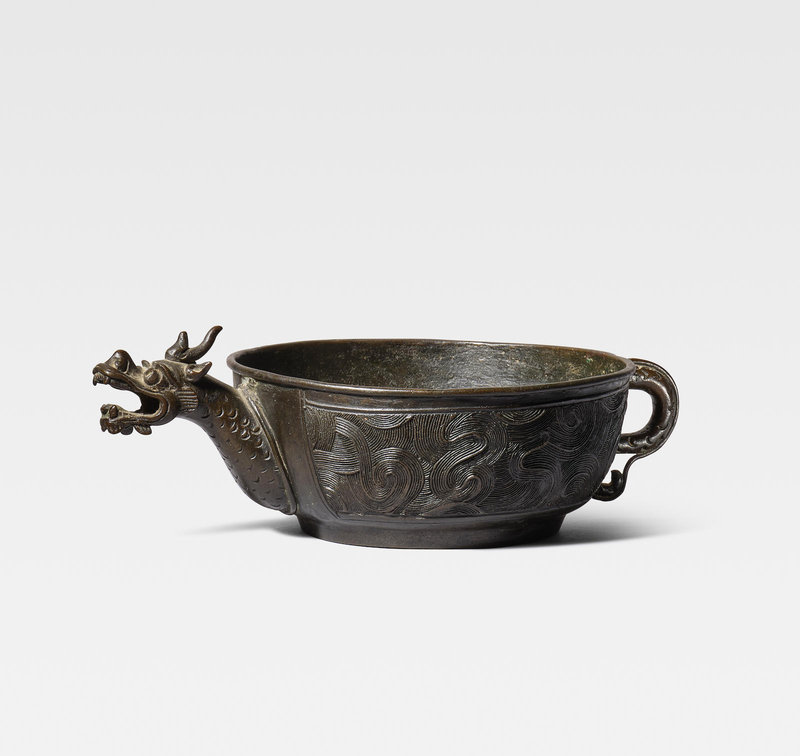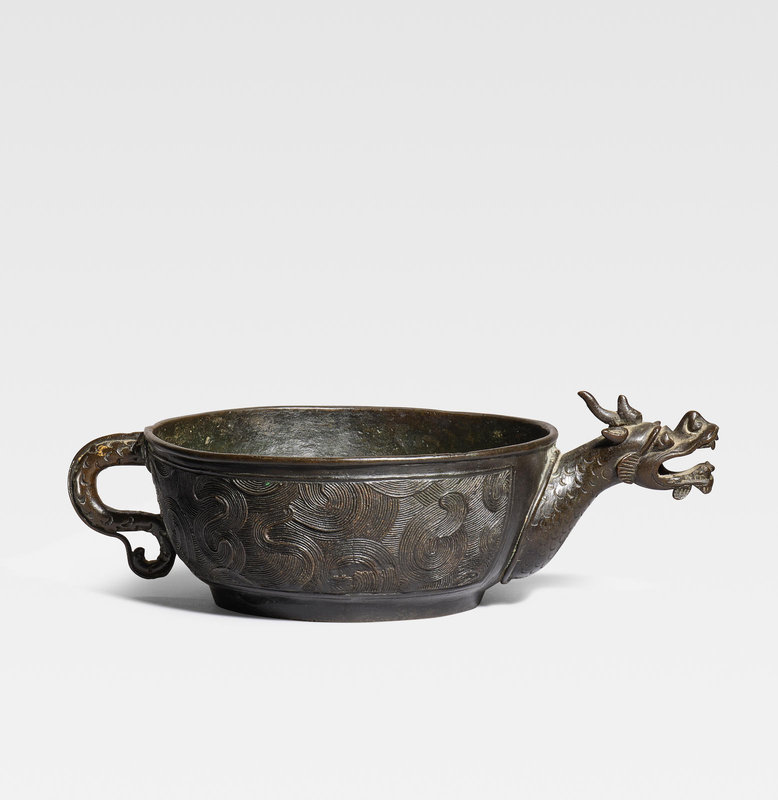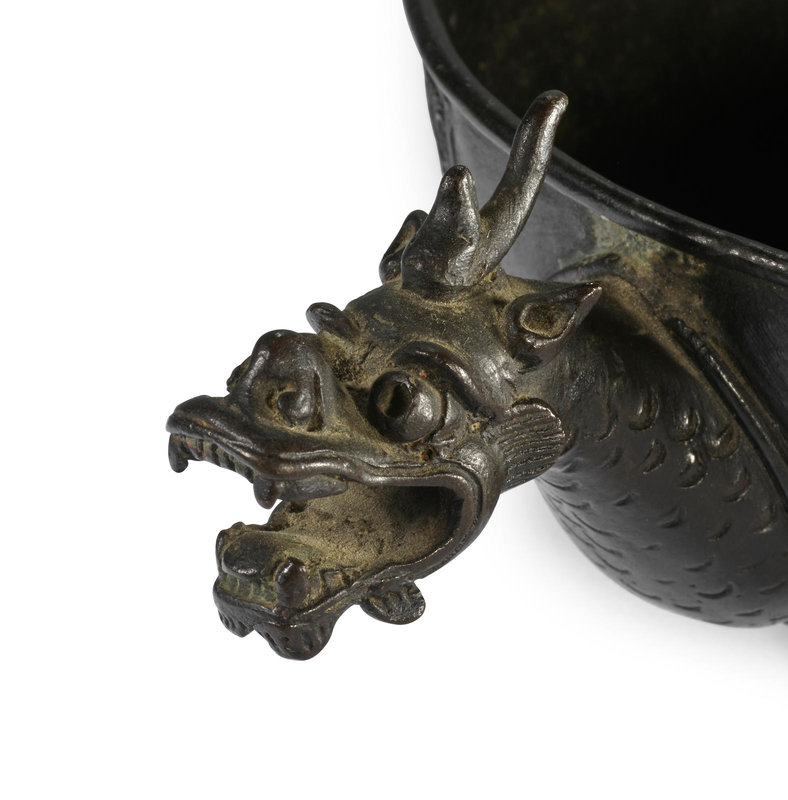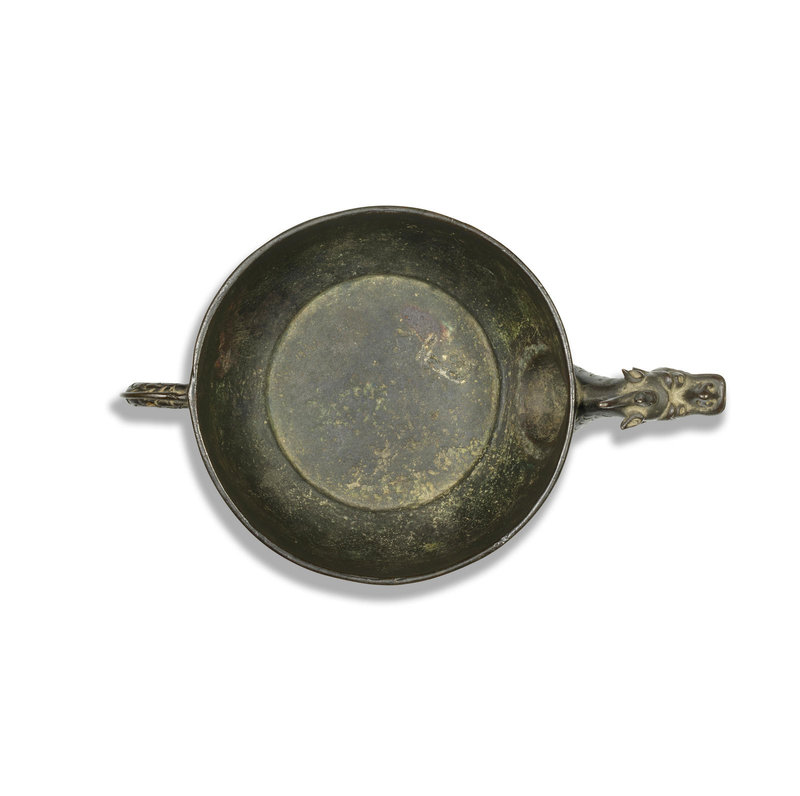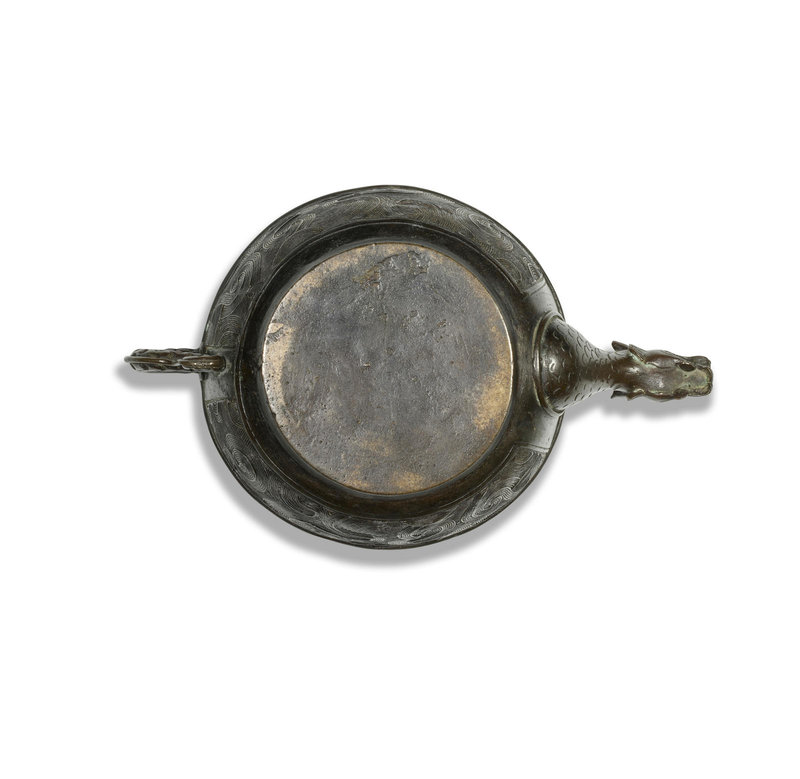 Lot 109. A bronze dragon-head wine vessel, yi, Yuan Dynasty (1279-1368); 24.5cm (9 5/8in) wide. Sold for HKD 127,500 (Est: HKD 100,000 - HKD 150,000). © Bonhams 2001-2022
The vessel raised on a flat base rising to a lipped rim, the S-shaped loop handle formed by the tail of a dragon incised with scales with its head on the opposite side as a spout, the body decorated with wave pattern.
Provenance: A Portuguese private collection, acquired in the first half of the 20th century and thence by descent.
Note: See a related Yuan dynasty bronze dragon-head vessel in the Saint Louis Art Museum, illustrated by Philip K. Hu, Later Chinese Bronzes: The Saint Louis Art Museum and Robert E. Kresko Collections, Saint Louis, 2008, pl.11.

Originated from bronze water vessel in the Eastern Zhou dynasty, yi vessels had been used as wine vessels since the Song and Yuan dynasties pairing with cups and stands, later more commonly made with gold, silver and jade but without a handle. See a Yuan dynasty silver dragon-head yi vessel and a gold dragon-head yi vessel, illustrated by Z.S. Yang, Shehua zhise: Song Yuan Ming jinyinqi yanjiu (The Study of Gold and Silver Wares of Song, Yuan Ming Dynasties), Beijing, 2011, vol.3, pp.98-99. The wave patterns on the body is characteristic of Song and Yuan dynasties bronzes, see the pattern on a Yuan dynasty square hu in the Edoardo Chiossone Museum of Oriental Art, illustrated by D. Failla in Food for the Ancestors Flowers for the Gods, Genoa, 2017, pl.7.10.
Bonhams. GANBEI A TOAST TO CHINESE WINE CULTURE, 30 November 2022, Hong Kong, Admiralty