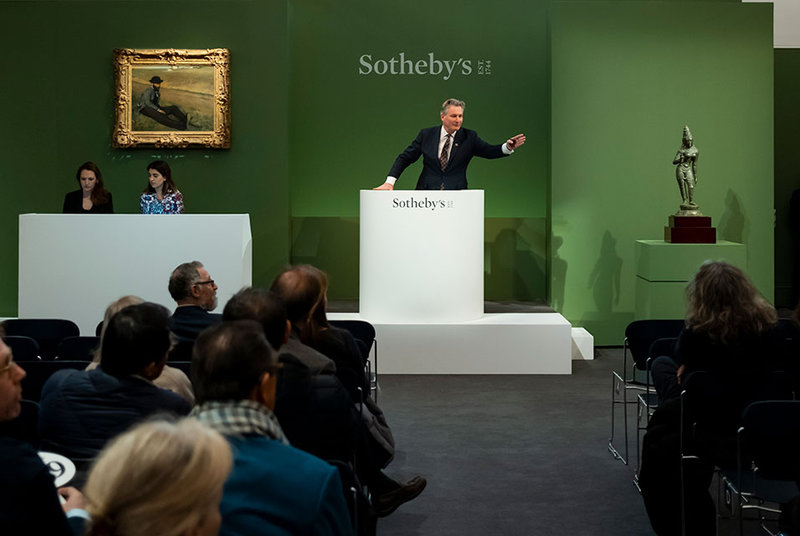 Auction scene. Courtesy Sotheby's.
LONDON.- Following an auction series that began with sales in Hong Kong this October, today, the final hammer came down on the extraordinary personal collection of Sir Joseph Hotung. Sir Joseph's home brought together remarkable Asian works – from jewel-like jades and classical Chinese huanghuali furniture to works by titans of Western painting and rarities of French silver and superlative examples of 18th-century English craftsmanship.

Over the course of four live sales and an online sale, 475 lots sold to bring a total of £103.3m / HK$931.6m / US$119.2m (est. £40.5-59.7m) – more than doubling pre-sale expectations. Across the auctions, 93% of the lots offered found new homes, with 70% selling for sums in excess of their high-estimates and 22 lots breaking the £1 million mark. The series saw over 1,000 participants hail from 44 countries.

"Sir Joseph Hotung is a name that has long resonated in the sphere of collectors and museums, and it has been a real career highlight to open the doors to the hitherto unseen personal collection behind this great figure. Testament to Sir Joseph's exacting taste and unique eye, we saw spirited bidding across all of the auctions, with the final result eclipsing any pre-sale expectations." --Henry Howard-Sneyd, Sotheby's Chairman of Asian Arts

Prior to the sale, Sir Joseph bequeathed almost the entirety of his outstanding collections of early Chinese blue-and-white porcelains and of Jades to the British Museum – in what marks one of the most significant bequests in the British Museum's recent history.

Top Lots

London:
• Edgar Degas' portrait of Eugène Manet (Lot 13), sold for £6.3m (est. £4-6m). Painted in 1874 and epitomising the artist's distinctive approach to portraiture, the work is one of the hidden gems of Degas' art.
Lot 13. Edgar Degas (1834 - 1917), Eugène Manet, signed Degas (lower left), oil on paper laid down on board, 63 by 79.5cm., 24¾ by 31¼in. Painted in 1874. Lot sold: 6,338,200 GBP (Estimate: 4,000,000 - 6,000,000 GBP). © 2022 Sotheby's.
• Gentlemen in Black by Édouard Vuillard (Lot 7), an enigmatic and sophisticated painting that had remained unseen since 1983, made its auction debut at £4m (est. £1.5-2m). A further six paintings by the Parisian painter were sold, representing the finest offering to be presented at auction from a single collection for decades.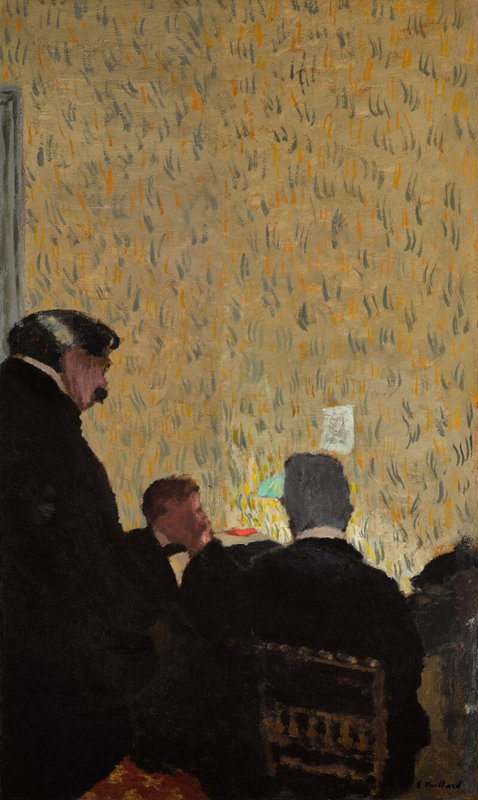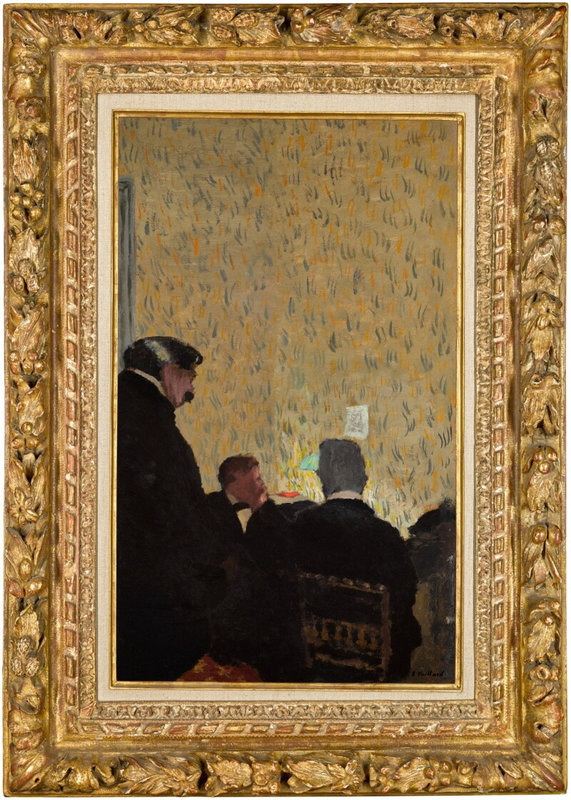 Lot 7. Édouard Vuillard (1868 - 1940), Les messieurs en noir, stamped E. Vuillard and indistinctly numbered (lower right), oil on board laid down on panel, 57.8 by 34.7cm., 22¾ by 13⅝in. Painted circa 1895-99. Lot sold: 4,028,000 GBP (Estimate: 1,500,000 - 2,000,000 GBP). © 2022 Sotheby's.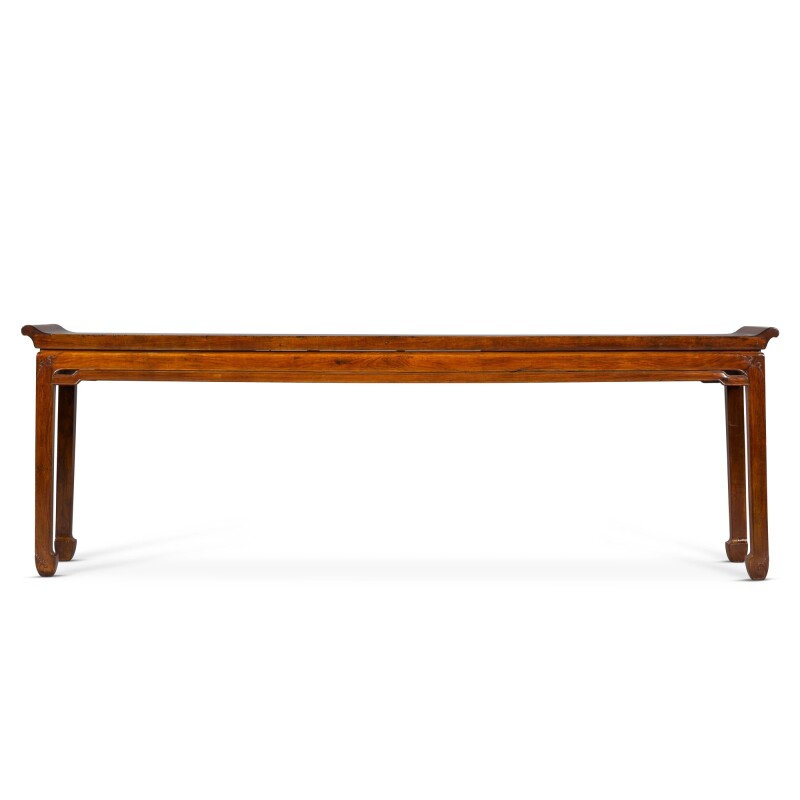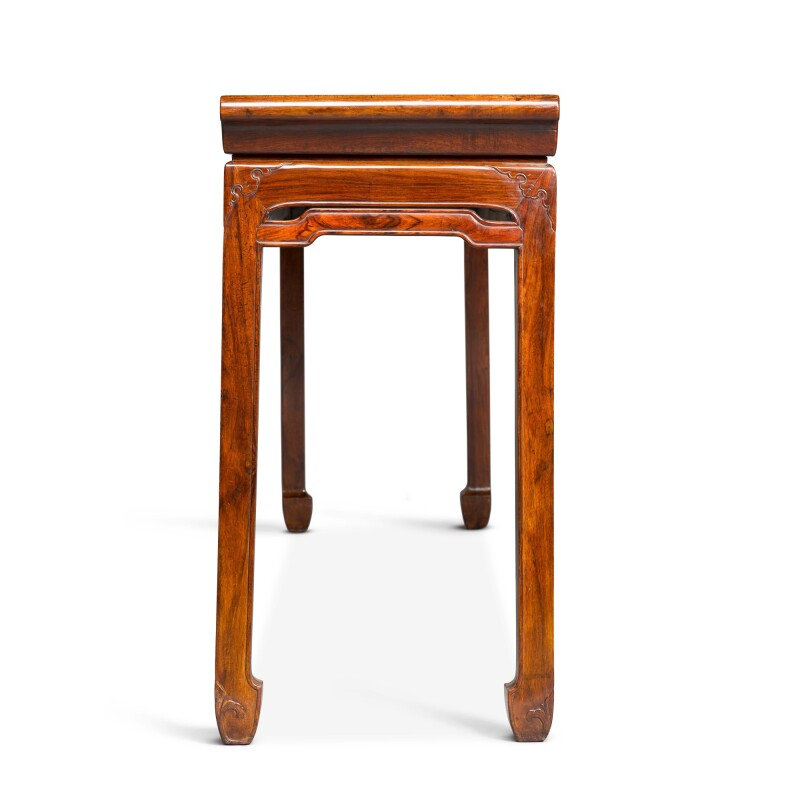 Lot 2. An exceptional huanghuali altar table (Qiaotouan), Late Ming dynasty; 269 by 46 by 89 cm, 105⅞ by 18⅛ by 35 in. Lot sold: 1,608,000 GBP (Estimate: 200,000 - 300,000 GBP). © 2022 Sotheby's.
the long rectangular single-board floating panel top of well-figured wood set with everted ends, the moulded-edge frame over a recessed waist and straight beaded-edge apron, the square-section beaded-edge legs terminating in hoof feet and joined by arched and beaded-edge stretchers mortised and tenoned into the legs below the apron.
Provenance: Eastern Pacific Co. (Hei Hung-Lu), Hong Kong, 30th March 1988.
Note: With its large, single-plank surface, this monumental table is designed to display the natural beauty of the highly prized huanghuali wood. The form of this table is known in Chinese as qiaotou ('upturned end'). In his Zhang wu zhi jiao zhu (Treaties on Superfluous Things), the Ming scholar Wen Zhenheng (1585-1645) notes that in elegant examples of such tables 'the end flanges must not be too sharp, but smooth and rounded which is the antique pattern' (Craig Clunas, Chinese Furniture, London, 1988, p. 54), as exemplified by the present piece.
Despite the name 'altar table' in English, such tables, as contemporary illustrations indicate, were often used as side tables. They were usually placed against a wall, hence are sometimes also called bi zhuo ('wall table'), in the main hall of family compounds where important visitors were received and family ceremonies were held. Displaying flower vases, treasured antiques or contemporary art objects, tables of this type became representative of their owner's status and level of refinement.
For a related example, see a smaller huanghuali table (185cm) with everted flanges at the ends, but with a frame-and-panel top, lacking the horizontal stretchers and carved decorations at the corners, formerly in the Museum of Classical Chinese Furniture, Renaissance, California, subsequently sold at Christie's New York, 19th September 1996, lot 22.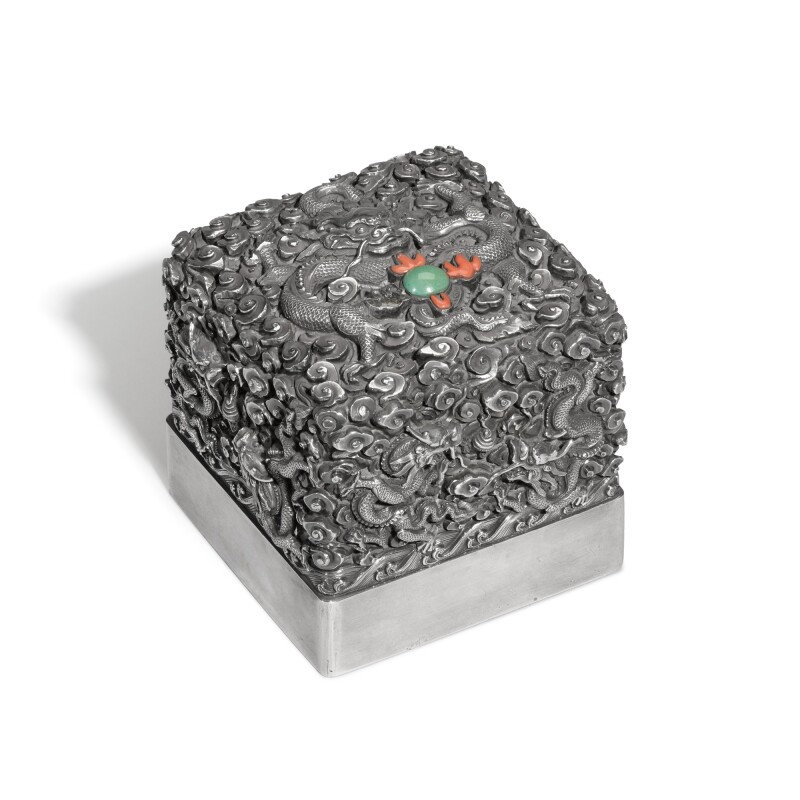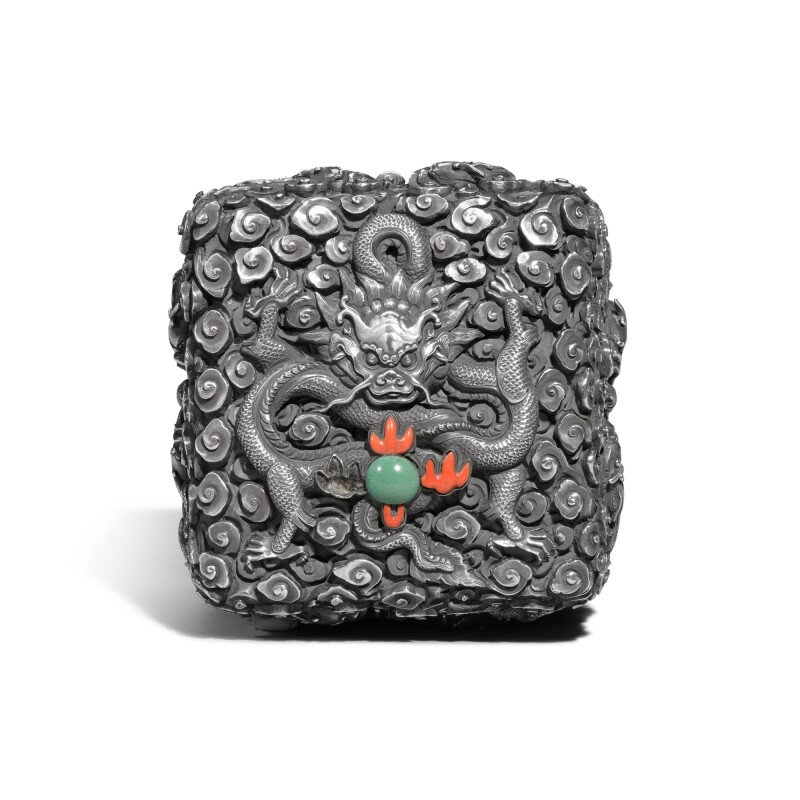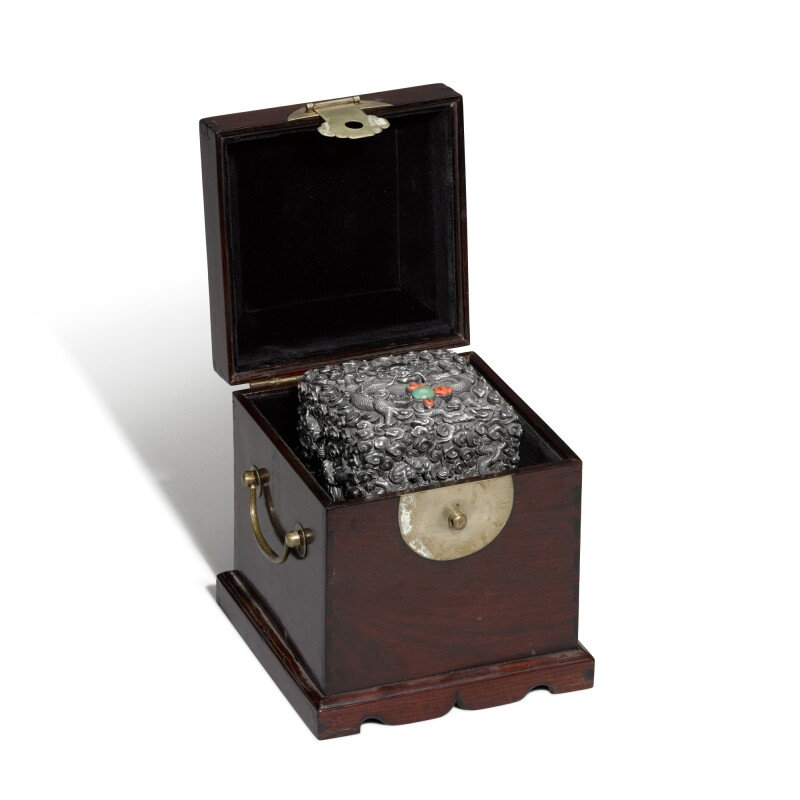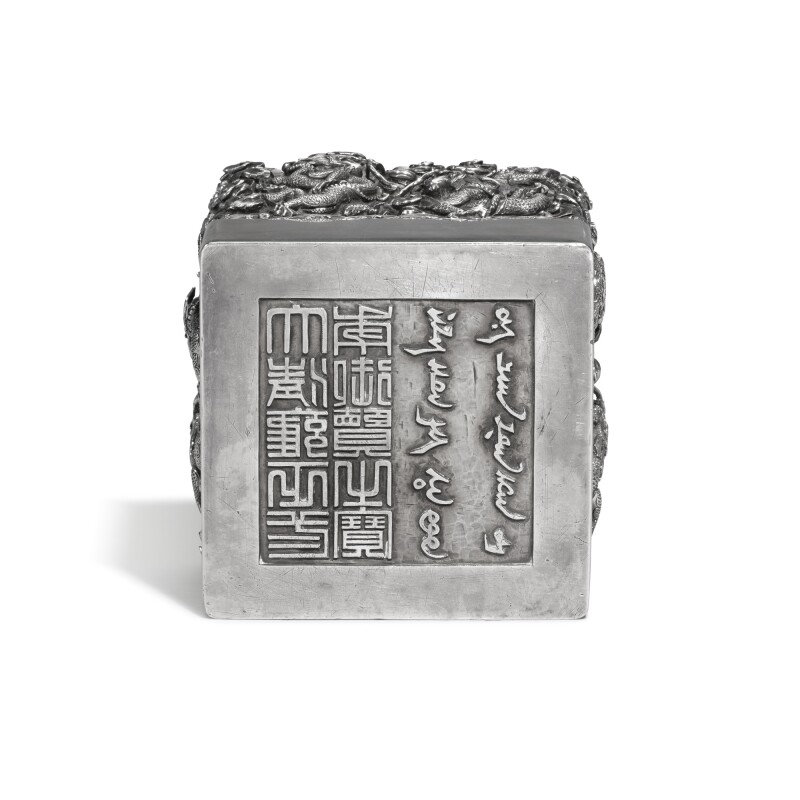 Lot 212. A turquoise and coral-inlaid silver 'Nine Dragons' seal; 8.9 by 8.6 by 8.6 cm, 3½by 3⅜ by 3⅜ in. Lot sold: 1,003,000 GBP (Estimate: 10,000 - 15,000 GBP). © 2022 Sotheby's.
of square form, each side cast in high relief with two ferocious dragons contesting a 'flaming pearl', the top with a full-frontal five-clawed dragon, the coiled body cast with fine scales and centered by a turquoise 'pearl' and coral 'flames', the seal face with two lines of archaic characters and two lines of Manchu characters.
Provenance: Sotheby's New York, 8th November 1980, lot 67 (as Yongzheng period).
Douglas J.K. Wright Ltd., London, 1st December 1980.
Exhibited: Anthology of Chinese Art: Min Chiu Society Silver Jubilee Exhibition, Hong Kong Museum of Art, Hong Kong, 1985-86, cat. no. 254.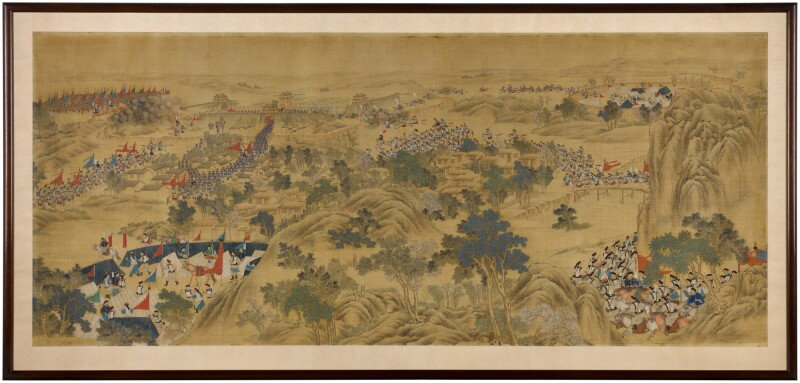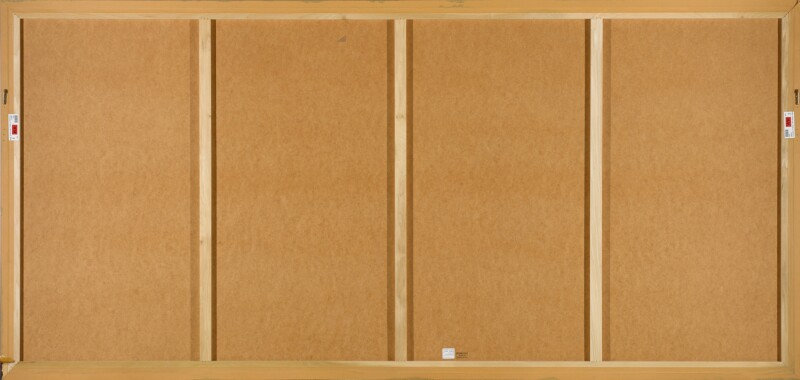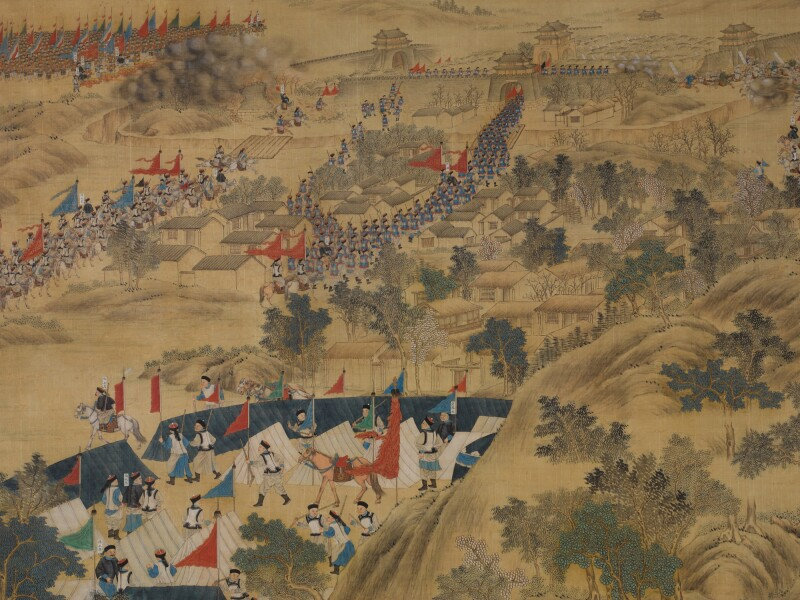 Lot 195. An Imperial battle painting from the set of seventeen paintings commemorating the campaign victories in the northwestern region, 1862-1877, Qing dynasty, Guangxu period, ink and colour on silk, framed and glazed, framed 311 by 148cm.; 10ft. 5¼in. by 4ft. 10¼in. Lot sold: 630,000 GBP (Estimate: 60,000 - 80,000 GBP). © 2022 Sotheby's.
Provenance: Phillips London, 9th June 2000, lot 517.
Note: This impressive painting belongs to a set of seventeen paintings depicting commemorative battle scenes between the Qing Imperial Army and the rebel forces of the Muslim Rebellion in the northwest of China from 1862 to 1877. In 1875, the first year of Guangxu's reign, Zuo Zongtang was appointed as imperial commissioner to supervise military operations in Xinjiang. At the end of spring 1876, Zuo rode out towards Suzhou, leading his army towards Xinjiang. His military strategy was to 'seize the north then take the south', first recapturing northern Xinjiang before moving south. At the end of spring 1877, the Qing general Liu Jintang led his forces from Urumqi and mounted an assault on Turfan, thus destroying Agbor's royal power. General Liu's detachment entered the hinterland of southern Xinjiang, recapturing the four towns of Korla, Baicheng (Bay), Aksu and Wushi (Uqturpan) at the end of the summer of 1877, and by the beginning of February 1878, the Qing army had reoccupied all of Kashghar, Yerqiang (Kargilik), Yengi Hisar and Khotan (see Chahryay Adle et. al. (eds), Towards the Contemporary Period: From the Mid-Nineteenth to the End of the Twentieth Century, Paris, 2005, pp 381-82). This painting appears to depict the fifteenth scene of this series, in which General Liu Jintang (1844-94) led his troops across southern Xinjiang and drove the Muslim rebels westward while taking thousands of prisoners.
Only a small number of paintings from the series of the Muslim Rebellion in the Northwest are known to be held in collections. Among them is one thought to depict the battle at the Wei River, now in the Royal Collection at Sandringham House, Norfolk, United Kingdom, illustrated in Hongxing Zhang, 'Studies in Late Qing Dynasty Battle Paintings', Artibus Asiae, Vol. LX, no. 2, fig. 4; a scene possibly illustrating the Pingliangfu battle, from the Mactaggart Art collection, in the University of Alberta Museums, Alberta, accession no. 2004.19.92; and another painting portraying either the Pingliangfu or Heichengze battle, sold in these rooms, 15th September 2010, lot 367.
According to Hongxing Zhang, Towards the Contemporary Period: From the Mid-Nineteenth to the End of the Twentieth Century, op. cit., in 1885 the Guangxu emperor initiated a painting project to commemorate the government victory over the three major rebellions of the nineteenth century, the Taiping Rebellion, the Nian Rebellion and the Muslim Rebellions. Qingkuan (1848-1927), Director of the Three Agencies in the Neiwufu (Imperial Household Department), was appointed as director of this major imperial art project. A total of sixty-seven paintings were created, comprising twenty for the Taiping War, eighteen for the Nian Rebellion, twelve for the Muslim rebellion in Yunnan and Guizhou, and seventeen for the Muslim rebellion in the northwestern regions. The project was completed in 1890 and the paintings were displayed in the Ziguangge ('Hall of Purple Splendor'), located west of the Forbidden City in Beijing, where under the Qianlong emperor, banners and portraits of meritorious officers as well as battle scenes were shown.
Of the original set of sixty-seven paintings, only a few have survived. The only complete set of twelve paintings depicting scenes of the Muslim Rebellion in Yunnan and Guizhou are in the Palace Museum in Beijing, of which only one is published, see Hongxing Zhang, op.cit., fig. 5. Three other paintings from the series commemorating victorious battle scenes between the Imperial army and the forces of the Taiping Heavenly Army are known, one sold at Christie's London, 22nd April 1991, lot 101, two in our Hong Kong rooms, 9th October 2007, lot 1312, and 8th October 2009, lot 1660, and another was sold in these rooms 23rd March 2011, lot 637, also lot 225 from our New York sale, 17th March 2015.
Hong Kong:
A very rare and outstanding huanghuali folding horseshoe-back armchair, jiaoyi, Late Ming dynasty (Lot 11), sold for HK$124.6m / £14.2m (est. HK$10-15m), following 15 minutes of heated bidding, with 60 bids placed - auction record for a Chinese chair, and third highest price for any chair at auction.
Cf. my post: A very rare and outstanding huanghuali folding horseshoe-back armchair, jiaoyi, Late Ming dynasty
• Flowers and Fruits by Qi Baishi (Lot 9), sold for HK$78.7m / £9m (est. HK$18-30m) - the largest known multi-panel work by the artist, spanning more than nine feet in height.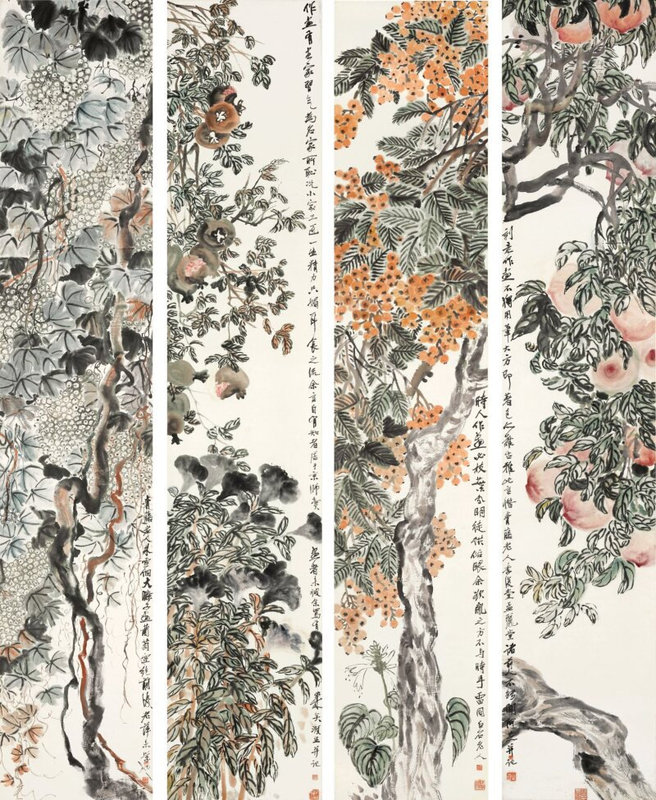 Cf. my post: Qi Baishi, Flowers and Fruits
• A highly important gilt-bronze seated figure of Avalokiteshvara, Dali Kingdom, 11th - 12th century (Lot 10), made HK$48.8m / £5.6m (est. HK$15-20m.)
Cf. my post: A highly important gilt-bronze seated figure of Avalokiteshvara, Acuoye Guanyin, Dali Kingdom, 11th - 12th century
• An important and exceptionally painted blue and white 'fish' jar, guan, Yuan dynasty (Lot 6), sold for HK$39.7m / £4.5m (est. HK$20-25m).
Cf. my post: An important and exceptionally painted blue and white 'fish' jar, guan, Yuan dynasty
• A jade animal-shaped plaque, Late Eastern Zhou - Western Han dynasty, 3rd - 2nd century BC (Lot 17), sold for HK$16.1m / £1.8m (est. HK$800,000-1.2m).