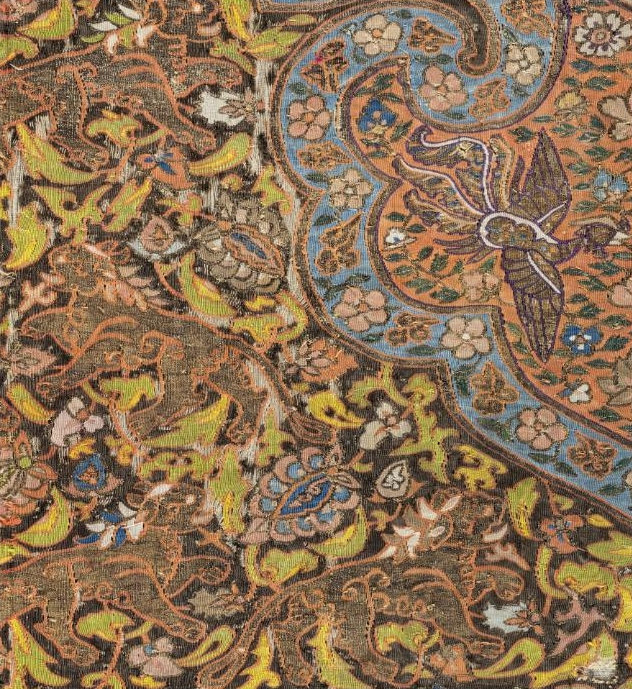 Lot 114. Lions et phénix, Asie Centrale, c. 1200 ou antérieur, 56 x 32 cm. Tapisserie de soie et fil d'or, kesi. Résultat : 49 400 EUR (Estimation 10 000 - 15 000 EUR). Courtesy Giquello & Associés
Une suite de félins sont représentés juxtaposés, allant deux par deux dans la même direction et les suivants dans la direction opposée. Ils sont disposés au milieu de rinceaux et de grandes fleurs. Sur un fond brun, les corps des félins sont tissés de fil d'or et soulignés de fil rouge. Les rinceaux sont traités par deux verts et un jaune pale eux même soulignés de fil rouge. Les grandes fleurs sont parées de bleus, roses, blanc et crème.
La partie haute à droite dessine une accolade à la bordure bleue et fond rose qui accueille un phénix en plein vol. Le parti pris de couleurs et de motifs est différent : petites fleurs et feuillage vert et bleu. Le phénix, crème ou or, blanc et violet.
Ce type de fragment était utilisé en Chine pour recouvrir des rouleaux de peinture précieux ou des livres sacrés.
Provenance : Collection parisienne acquis dans les années 1990.
Publication : James C.Y. Watt, Anne E. Wardwell When Silk Was Gold, Central Asian Textiles. The Metropolitan Museum of Art 1998. P80, fig.28
Un autre fragment provenant du même textile est conservé au Cleveland Museum of Art : https://www.clevelandart.org/art/1991.3
James C.Y. Watt, Anne E. Wardwell When Silk Was Gold, Central Asian Textiles. The Metropolitan Museum of Art 1998. P80, Cat.19.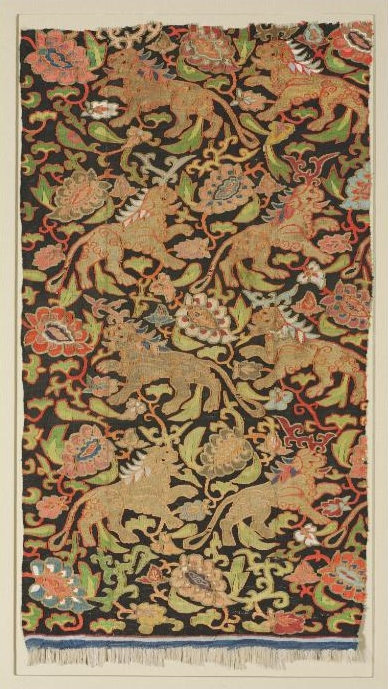 Tapestry with golden lions and palmettes, 1200s or earlier, Central Asia. Silk, gold thread; tapestry weave. Overall: 63.5 x 34.7 cm (25 x 13 11/16 in.); Mounted: 73.7 x 45.7 cm (29 x 18 in.). The Cleveland Museum of Art. Purchase from the J. H. Wade Fund 1991.3.
This colorful, robust pattern features spirited Iranian golden lions, traditional symbols of royalty, amid large palmette leaves on vines that repeat, facing alternate directions in an asymmetrical Chinese-inspired layout. The regular repetition of the design indicates that it was influenced by silk patterns that were preset on large drawlooms, whereas variations in the motifs and colors confirm it was woven by hand in the tapestry technique. The pattern was created with silk thread in 13 rich colors and gold thread on parchment strips wrapped around a yellow core for increased visibility. This luxury fabric served as a container, most likely for imperial correspondence, a forerunner of paper envelopes today.
Giquello & Associés. ARTS D'ASIE : COLLECTION DE LILIANE ET MICHEL DURAND-DESSERT ET À DIVERS AMATEURS, Vendredi 09 Décembre 2022 14:00. Salle 16 - 9, rue Drouot - 75009 Paris.