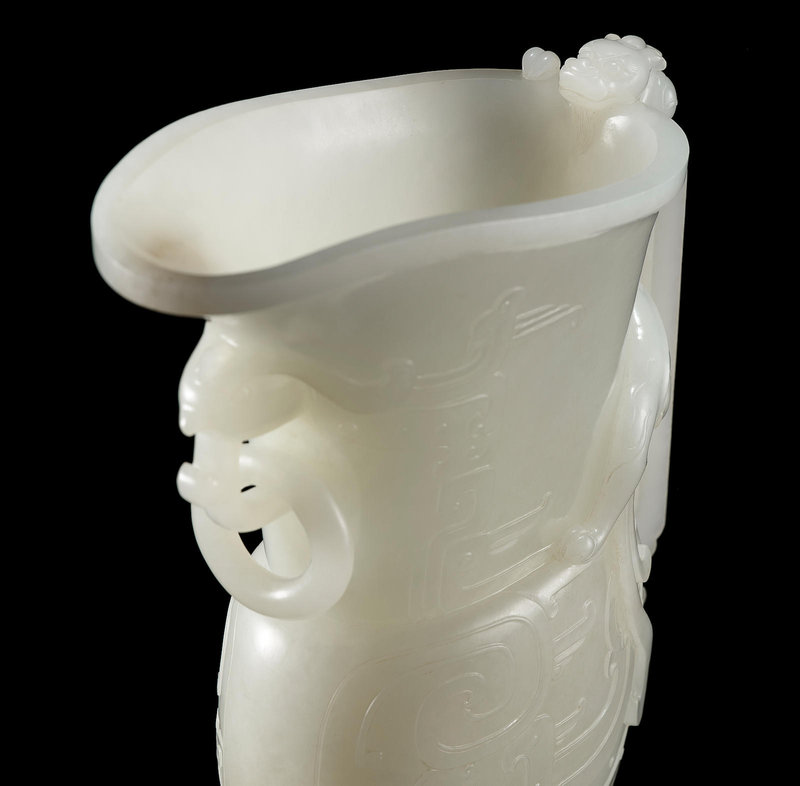 Lot 118. A fine and rare imperial white jade archaistic 'phoenix' vessel, gong, Qianlong period (1736-1795); 20.2cm (8in) high. (2). Sold for HKD 2,775,000 (Est: HKD 3,000,000 - HKD 5,000,000). © Bonhams 2001-2022
In imitation of an archaistic bronze gong, finely carved with stylised phoenix panels on both sides, standing on a slightly splayed foot, carved below the lipped rim with a phoenix head suspending a loose ring, the faceted handle well carved with a playful chi dragon with its head and a paw resting on the rim, its sinuous body coiled through the handle, the translucent stone of an attractive milky-white tone with an area of amber inclusion below the lipped rim, box.
Provenance: Hartman Rare Art, New York, 8 February 1993 (invoice)
Note: The present jade vessel is most impressive for its size and the attractive milky-white tone. It belongs to a small group of jade vessels made in the Qianlong period imitating Shang and Zhou dynasty bronze wine vessels, gong, made only for the nobility to use. A few closely related jade vessels are preserved, see a Qing dynasty 'dragon and phoenix' jade gong in the Beijing Palace Museum with similar phoenix head suspending a loose ring and the archaistic style of the phoenix feathers, illustrated in Compendium of Collections in the Palace Museum. Jade, Beijing, 2011, vol.10, p.119, pl.86; a mid Qing jade 'phoenix and dragon handle' gong and a mid Qing jade 'kui dragon' gong, illustrated by Yang Boda, Zhongzhongguo yuqi quanji, Shijiazhuang, 2005, nos.37 and 40; a Qing dynasty white jade 'dragon handle' gong in the Asian Art Museum of San Francisco, illustrated in Later Chinese Jades: Ming Dynasty to Early Twentieth Century, San Francisco, 2007, p.183, pl.186; and another two white jade 'dragon' gong similarly decorated with phoenix head suspending a loose ring and a dragon handle, included in the 1934 Yamanaka & Co. exhibition, illustrated by Yamanaka Yuzuru and Jin Liyan in the Compilation of Chinese Works of Art through the Dealings of Yamanaka & Co. Ltd., Shanghai, 2020, vol.2, pp.682 and 692, nos.844 and 845.
Bronze gong vessels were recorded in Imperial Archives as bronze yi vessels. The original form and design for the present jade gong vessel would have been an archaic bronze wine vessel known as the Zhou li yi, illustrated in Xiqing gujian [Catalogue of Chinese ritual bronzes in the collection of the Qianlong Emperor], compiled by Imperial decree in the 16th year of Qianlong period (1751), vol.33, p.12; it is recorded in the Imperial Archives that in the 19th year of the Qianlong period (1754), there was a white jade archaistic 'dragon and phoenix' yi vessel consistent to the present lot sent to the Palace as a tribute, mentioned in Qinggong ciqi dangan quanji [Complete archives on porcelains for the Qing palace], Beijing, 2004, vol.4, p.180.

Compare also with a related Qianlong Imperial white jade 'phoenix' gong vessel, which was sold in these rooms, 29 May 2018, lot 27.
Bonhams. GANBEI A TOAST TO CHINESE WINE CULTURE, 30 November 2022, Hong Kong, Admiralty