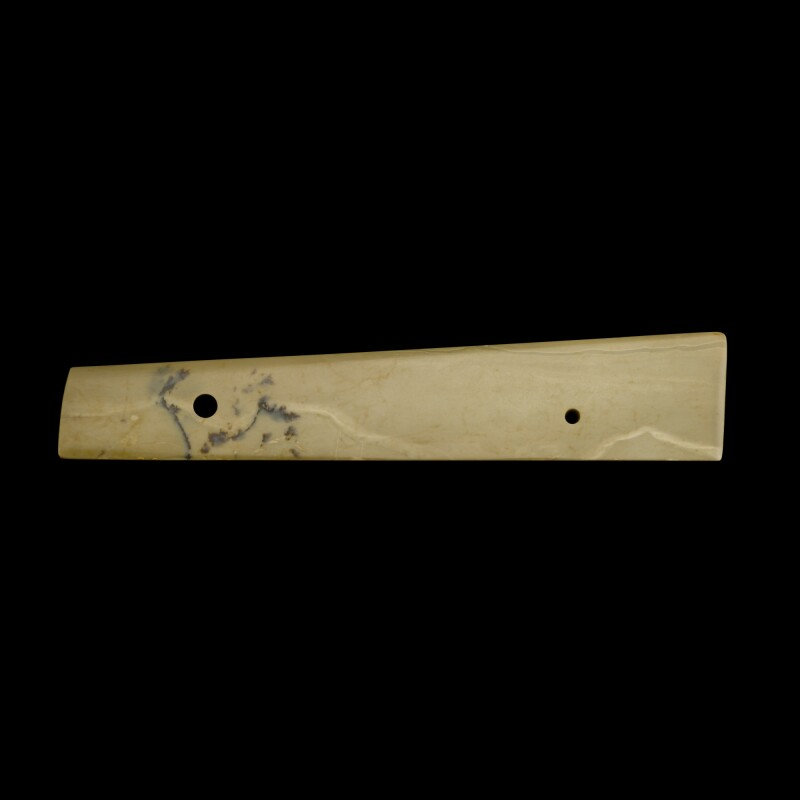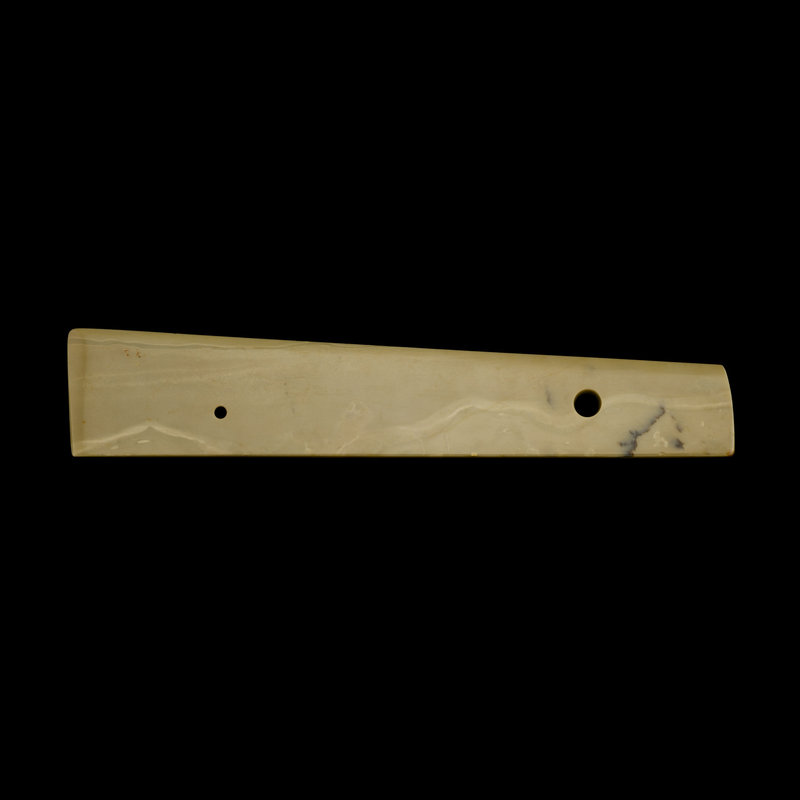 Lot 153. A ceremonial jade blade, Neolithic period, ca. 2500-2000 BC. Length 34 cm, 13⅜ in. Lot sold: 37,800 GBP (Estimate: 20,000 - 30,000 GBP). © 2022 Sotheby's.
carved from caramel-coloured stone with lighter and darker veins, with a large hole towards the narrow end and smaller hole near the upper edge.
Provenance: R.H. Ellsworth, New York, 1April 1988.
Literature: Jessica Rawson, Chinese Jade from the Neolithic to the Qing, London, 1995, pl. 10:20.
Note: This large jade blade, combining the forms of a knife and a tablet, has a fine soft polish. Related ceremonial blades with subtle differences in shape and in their pierced holes have been discovered in various jade-working Neolithic cultures. See, for example, one from the Longshan culture, excavated from Lushanmao site, Yan'an, Shaanxi province, now in the Yan'an Institute of Cultural Relics and Archaeology, with a slightly curved cutting edge, four complete and three half holes, published in The Complete Collection of Jades Unearthed in China, vol. 14: Shaanxi, Beijing, 2005, pl. 8. Two blades from other cultures are in the collection of the Harvard Art Museums, Cambridge, Massachusetts, both illustrated in Jenny F. So, Early Chinese Jades in the Harvard Art Museums, New Haven, 2019, cat. nos 6B and 6C. The former (accession no. 1943.50.47), attributed to the Shenmu culture, has a dark amber brown tone and three similarly sized holes in a linear arrangement. The latter (accession no. 1943.50.32), attributed to the Qijia culture, drilled with four holes and a fifth one close to the short side, has an opaque, light and dark grey colour.
Sotheby's. HOTUNG | 何東 The Personal Collection of the late Sir Joseph Hotung | Part II: Day. London, 8 December 2022