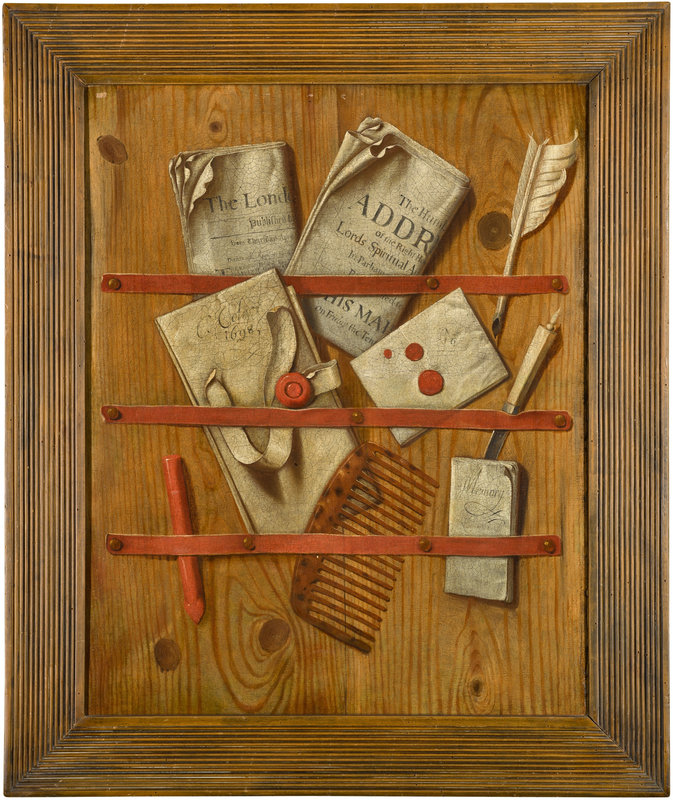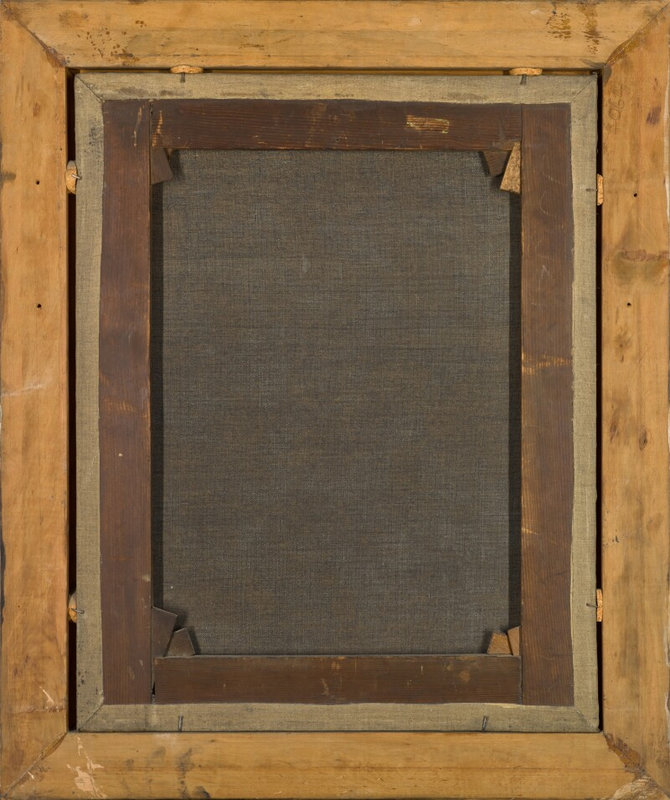 Lot 177. Edwaert Collier (Breda 1642 - 1708 London), A trompe l'œil of newspapers, letters and writing implements on a wooden board, signed and dated centre left: E. Colier / 1698, oil on canvas; unframed: 60 x 47.5 cm.; framed: 73.2 x 61.5 cm. Lot sold: 63,000 GBP (Estimate: 10,000 - 15,000 GBP). © 2022 Sotheby's.
Provenance: With Rafael Valls, London;
From whom acquired by the present owner in 1986.
Note: This trompe l'œil still life by the Dutch-born Edwaert Collier might be interpreted as a playful contemplation on the worldly pursuits of man. Firstly, this painting presents the extraordinary skill of the artist in his ability to trick and deceive the eye. The composition, featuring writing implements and papers attached to mock wooden boards by red leather straps, is rendered to entice the viewer to reach out and pick up these objects. Aside from these visual jokes, a second and more deeper look at the objects contained here reveals a far more serious interpretation. Following from the tradition of vanitas still lifes, where the transience of worldly pursuits were emphasized, the objects here are suggestive of man's ambitions in the realms of politics and celebrity. A copy of 'The London Newspaper' in the top left corner may represent the cares of the state, public renown and temporal actions. The large paper in the middle, which contains a printed Address of the right honourable the Lords Spiritual & Temporal in Parliament, is suggestive of man's pursuits in the theatre of politics and statecraft. In the bottom right a small folded booklet entitled 'Memory' is dramatically impaled upon a bone-handled knife. In the centre are papers bearing wax seals, undoubtedly containing some important contents, that remain neglected and unopened. In comparison to the writing quill and red sealing wax, a tortoiseshell comb might be suggestive of vanity connected to personal appearance.
Several surviving versions of this composition, with minor additions, attests to the format's popularity in late seventeenth-century England. The closest comparative work, in terms of arrangement of objects, is preserved in Tate Britain.1 Several other examples with similar arrangements of papers and letters, most often including a pair of scissors on the left, have sold on the art market in recent decades.2
1 https://www.tate.org.uk/art/artworks/collier-a-trompe-loeil-of-newspapers-letters-and-writing-implements-on-a-wooden-board-t03853
2 Christie's, New York, 9 June 1978, lot 61; Sotheby's, New York, 7 November 1984, lot 16; Bonhams, London, 9 July 2003, lot 53; and Sotheby's, New York, 28 January 2010, lot 262.
Sotheby's. HOTUNG | 何東 The Personal Collection of the late Sir Joseph Hotung | Part II: Day. London, 8 December 2022