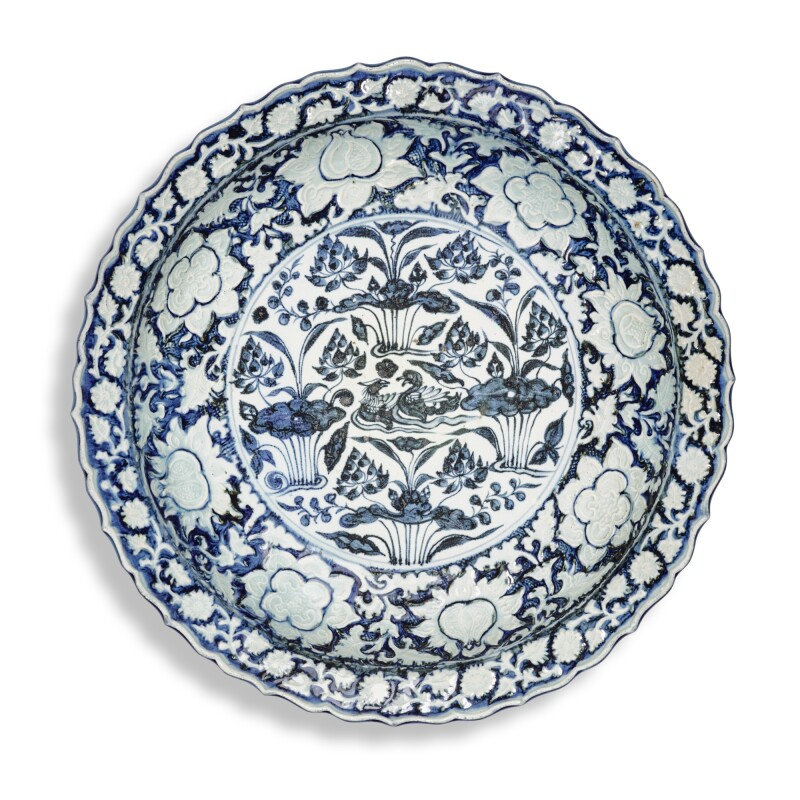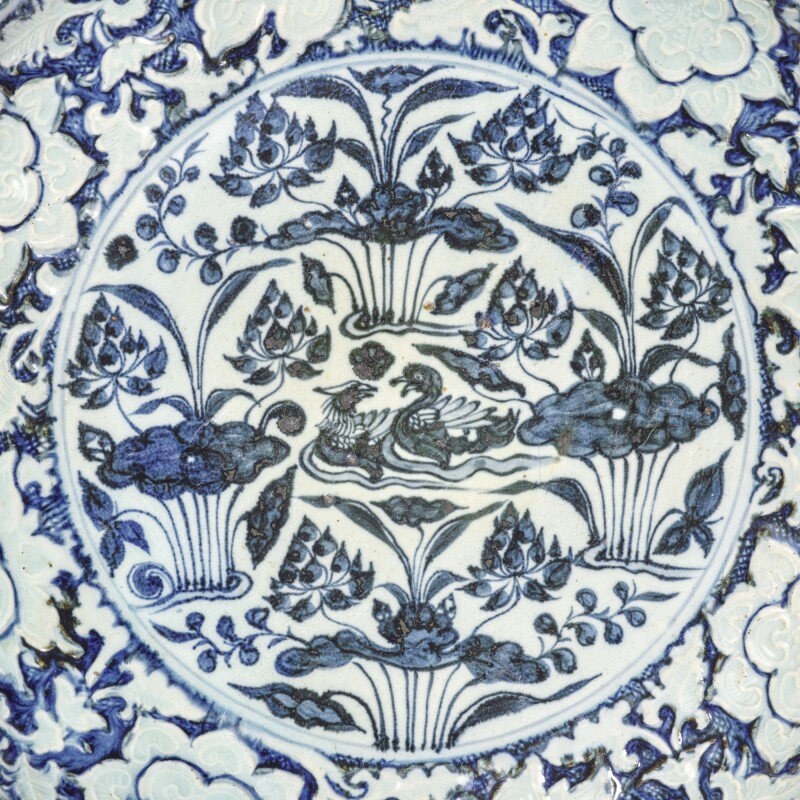 Lot 8. A rare large blue and white moulded 'mandarin duck and lotus pond' dish, Yuan dynasty (1279-1368). Diameter 41 cm, 16⅛ in. Lot sold: 1,003,000 GBP (Estimate: 700,000 - 1,000,000 GBP). © 2022 Sotheby's.
potted with shallow rounded sides rising from a straight foot to a foliate rim, the central medallion finely painted in rich cobalt-blue tones with a serene lotus pond harbouring a pair of mandarin ducks, the deep well moulded in low relief with flowers depicted full-face and in profile issuing from leafy branches with superbly detailed veins and petals, the reverse with a continuous lotus scroll, the unglazed base fired to a pale orange.
Oxford Authentication Ltd. Thermoluminescence Test No. P107D18.
Provenance: Private Collection, Europe.
Christie's London, 15th May 2007, lot 211
Eskenazi Ltd., London, 2007, no. C4071.
Literature: Regina Krahl, Early Chinese Blue-and-White Porcelain. The Mingzhitang Collection of Sir Joseph Hotung, Hong Kong, 2022, pl. 3.
Exhibited: Collectors, Curators, Connoisseurs: A Century of the Oriental Ceramic Society, 1921-2021, Oriental Ceramic Society, London, 2021, cat. no. 76.
Note: This large, exquisite dish is a cornucopia of decorative motifs and techniques, representing a triumph of craftsmanship achieved during the Yuan dynasty (1279-1368). The centre is carefully painted with a lively depiction of two mandarin ducks looking at each other, swimming in a pond with dense clumps of lotus. Moulding technique is applied to the cavetto and rim, where wreaths of flowers in white are reserved on a blue wash ground, with intricate details of the veining and stamens delicately moulded beneath the glaze. The rim is shaped in bracket foliations, giving this large dish an unusually elegant silhouette. This meticulously executed vessel, sumptuously decorated with an array of designs, is not only a feast for the eyes but also a sophisticated work of art with a tactile quality.
The lotus pond design became popular on large blue-and-white ware, such as dishes and bowls, during the Yuan dynasty - some depicting only the pond, while others include ducks or egrets. Such motifs were however not new to the Yuan. Related designs can be seen on earlier Ding ware; see, for example, the Northern Song (960-1127) Ding bowls carved with two ducks among water plants, in the collection of the National Palace Museum, Taipei, included in the Catalogue of the Special Exhibition of Ting Ware White Porcelain, National Palace Museum, Taipei, 1987, nos 43-6.
The Palace Museum, Beijing has a slightly larger Yuan dish (accession no. xin-101908), similarly decorated with a pair of mandarin ducks swimming side by side on a densely filled lotus pond, but without the moulded decoration and cross-hatched ground on the cavetto and blue ground on the rim. The Museum suggests that this kind of 'pond scene' was also popular on textiles since at least the Southern Song dynasty (1127-1279), as evidenced by the book Mengliang lu (夢粱錄) written by Wu Zimu (吳自牧), which describes the society of the Southern Song capital Linan (臨安). In chapter 13 of his book, Wu states that among the goods for sale in the night market were vests with lotus pond designs. In the Yuan dynasty, the motif even appeared on the imperial costumes during the reign of the Wenzong Emperor (r. 1328-31), demonstrating the pond design was highly appreciated even by the court at the time.
Although there are a few surviving examples of such dishes decorated with a pond scene, those with moulded decoration are extremely rare. It is interesting to note that while these dishes share many motifs, their combinations tend to be unique, underscoring the importance of each individual dish. During the Yuan period, potters of the Jingdezhen kilns discovered a new recipe for porcelain that could not only increase the firing temperature, but also minimise deformation during the firing process, making the production of larger vessels, such as the present piece, possible. Their large size and bold decoration therefore represent not only the taste of the Yuan court, but also the technical developments achieved by craftsmen working at the imperial kilns at that time.
While the lotus pond decoration and the floral patterns around it are characteristics of Chinese ware, the form and size of this dish is, however, not typically Chinese and perhaps an imitation of Islamic metalwork. Impressive dishes of this type might have been made for accommodating communal feasting practices popular in the Middle East or other parts of Asia, where these dishes would have been objects of great admiration and demand. Compare a closely related large moulded dish, but lacking the pair of waterfowls in the composition, from the Ardabil Collection in the Iran Bastan Museum, Tehran (accession no. 8736), illustrated in Oriental Ceramics, The World's Great Collections, vol. 4, Tokyo, New York and San Francisco, 1981, pl. 52, where it is suggested that 'of the many large dishes in the Ardebil Collection, the example shown here is one of those with the most complex and heavy decoration'. A large moulded blue-and-white dish, with an Arabic or Persian inscription on the base, the centre decorated with a pair of confronting ducks swimming in a lotus pond, surrounded by lotus blooms alternately upright and pendent on stems all in white reserved on a blue ground, but the foliate rim decorated with a band of breaking waves, was sold in these rooms, 15th December 1981, lot 195. John Carswell notes, in 'A Fourteenth Century Chinese Porcelain Dish from Damascus', American University of Beirut Centennial Publication 1866-1966, Beirut, 1966, pl. 1, that the inscription of this dish appears to be an owner's or merchant's mark, although it has also been suggested that it reads mali (sir) or Khatm (stamped).
Sotheby's. HOTUNG | 何東 The Personal Collection of the late Sir Joseph Hotung | Part II: Evening. London, 8 December 2022