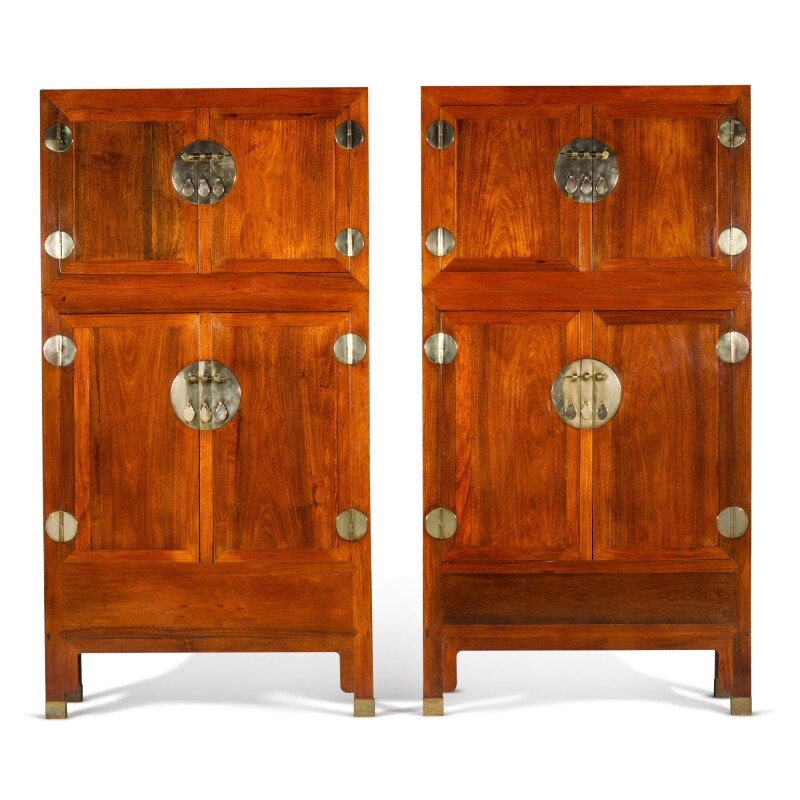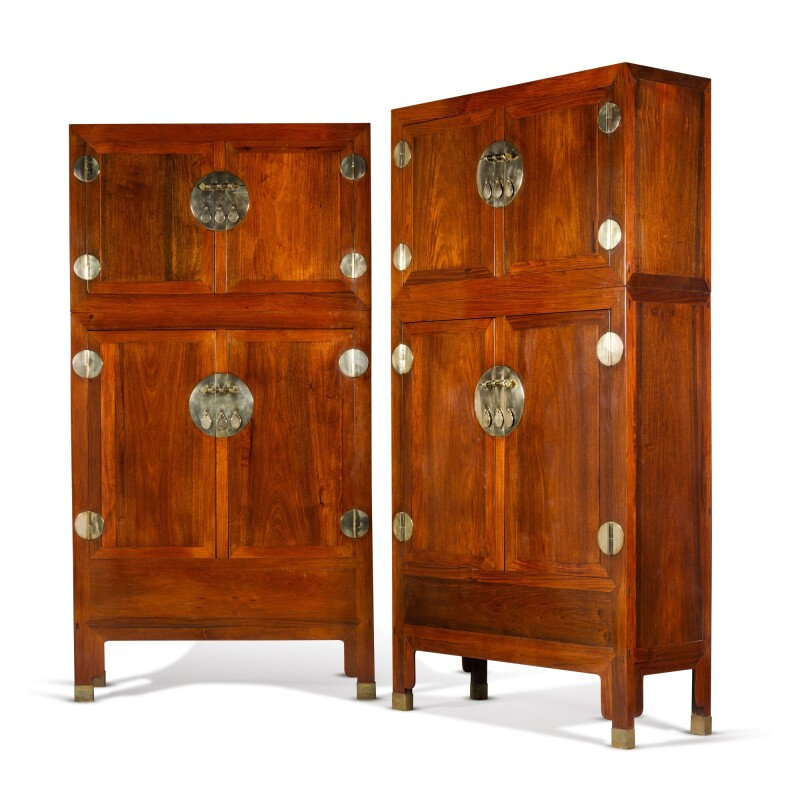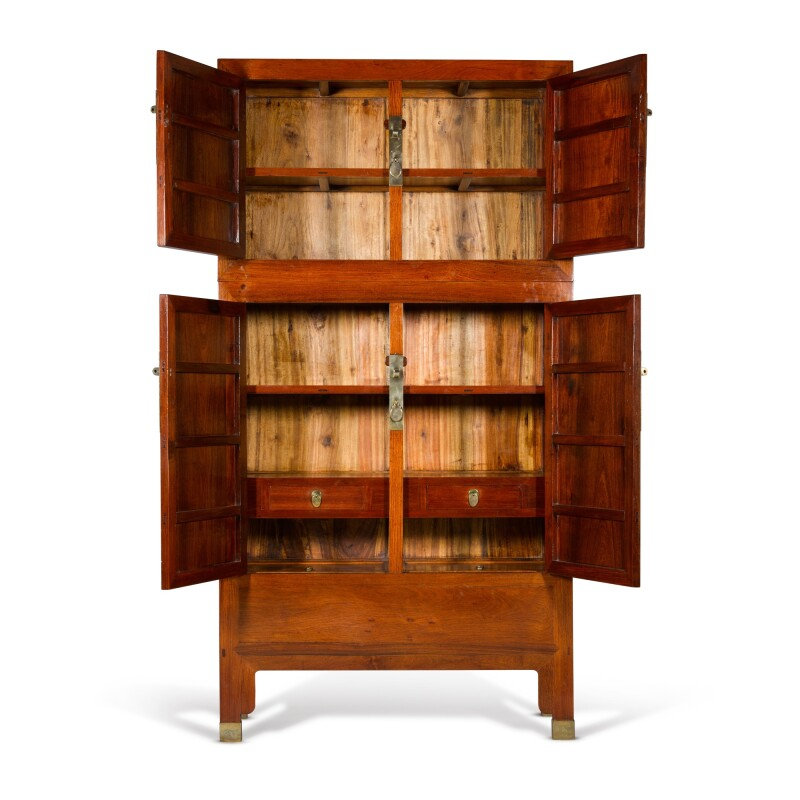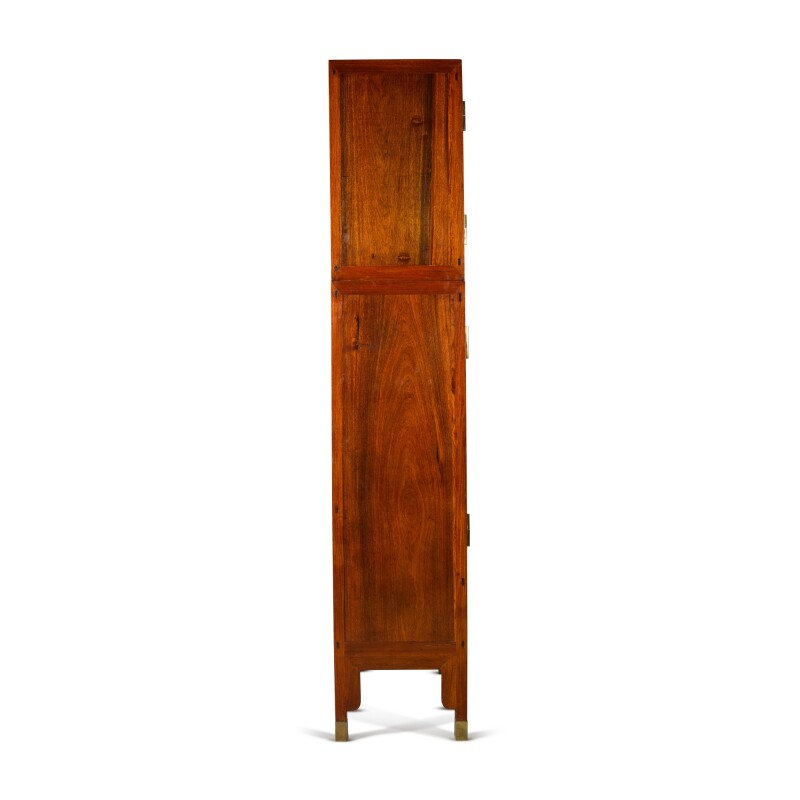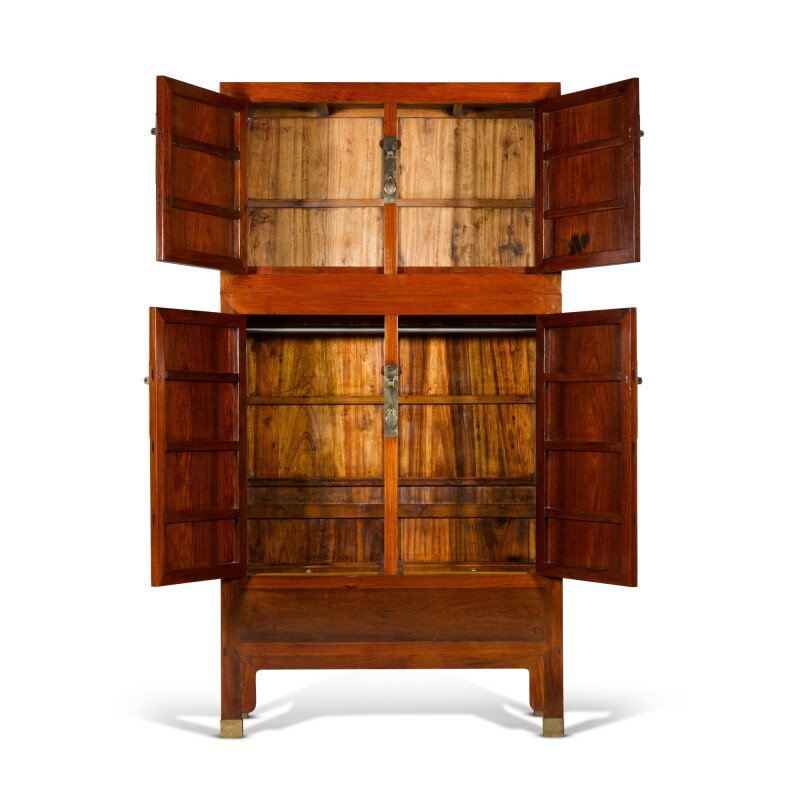 Lot 11. An impressive pair of large huanghuali and camphor wood compound cabinets (Sijiangui), Late Ming dynasty; 268.5 by 52.2 by 139.5 cm, 105¾ and 20½ by 54⅞ in. (4). Lot sold: 567,000 GBP (Estimate: 200,000 - 300,000 GBP). © 2022 Sotheby's.
each cabinet of rectangular form, comprising a smaller top cabinet resting on a larger bottom one, the top cabinet of miter, mortise, tenon, tongue-and-grooved flush floating-panel construction with four square uprights, the bottom cabinet similarly constructed with rectangular floating panels set within a narrow frame, the side panels on both the top and bottom cabinets of the same miter, mortise, tenon, tongue-and-grooved, flush, floating-panel construction, below the doors of the main cabinet a wide rectangular panel above plain aprons, the interior of the top cabinet with one removable shelf, the bottom with two shelves and two short drawers, with baitong circular hinges, the similarly surface-mounted central circular plates with three openings for the lock receptacles and shaped door pulls.
Provenance: Eastern Pacific Co. (Hei Hung-Lu), Hong Kong, 10th January 1983.
Note: This remarkable pair of wardrobes, incorporating huanghuali with camphor wood, reflects the combination of elegance, simplicity and functionality that defines classical Chinese furniture. While huanghuali was appreciated for its beautiful grain pattern and warm colour, camphor wood was often used for cupboards and chests for its insect-repellent properties. Composed of a wide square-corner cabinet and a smaller chest placed on top, these massive cabinets, known as sijiangui (four-part wardrobes), were made in pairs for storing garments in the home of wealthy families.
Displayed in inner reception halls or kept in the women's private quarters, their sheer size would have created an impression of awe. In a passage from the famous 18th-century novel Honglou meng (Dream of the Red Chamber), Granny Liu, an elderly country woman describes seeing for the first time the furniture of the illustrious Jia family: "They say that 'great families live in great houses' and truly when I first went into Your Ladyship's apartment yesterday and saw those great chests and cupboards and tables and beds, they took my breath away. That great wardrobe of yours is higher and wider than one of our rooms back home".
A related pair of huanghuali compound cabinets, slightly taller but narrower than the present pair, its pulls with openwork designs, was sold at Christie's Hong Kong, 27th November 2017, lot 8113.
Sotheby's. HOTUNG | 何東 The Personal Collection of the late Sir Joseph Hotung | Part II: Evening. London, 8 December 2022