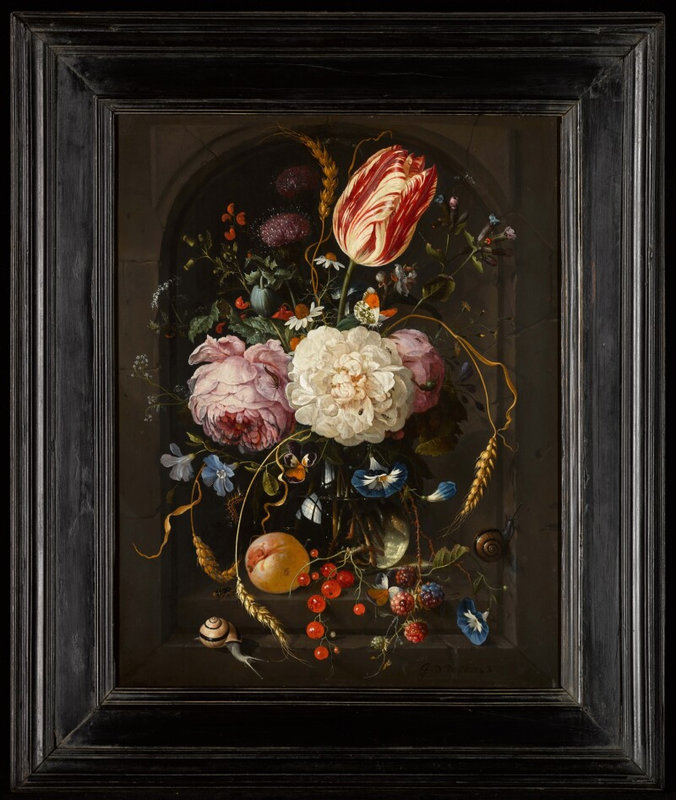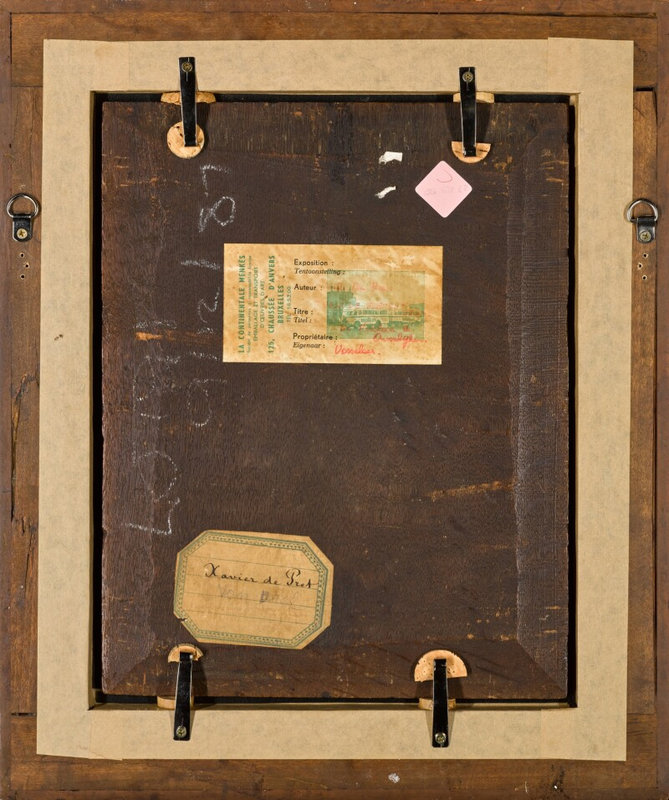 Lot 14. Jan Davidsz. De Heem (Utrecht 1606 - 1683/4 Antwerp), Still life of flowers in a glass vase with insects and fruits in a stone niche, signed lower right: J.D.De Heem.R, oil on oak panel, 34.2 x 26.8 cm. Lot sold: 2,697,000 GBP (Estimate: 1,000,000 - 1,500,000 GBP). © 2022 Sotheby's.
Property from the Grasset Collection.
Provenance: Probably Philippe Lambert Joseph Spruyt (1727–1801), Ghent;
His sale, Paris, J.G. Thierry, 11–13 May 1803, lot 32, for 107 Francs ('Un Bouquet de roses, œuillets, belles de jour, pavots & autres fleurs dans une caraffe posée sur un appui où l'on remarque un abricot & des groseilles. Ce Tableau d'un coloris très frais est touché avec finesse. sur bois, Hauteur 14 pouces; largeur 10 pouces 6 lignes');
Daniel Jacques Xavier de Pret Roose de Calesberg (1861–1933), Belgium;
Thence by family descent until sold, London, Sotheby's, 9 December 1987, lot 91, for £200,000;
Where acquired for the Grasset collection.
Literature: E. Greindl, in Le Siècle de Rubens, exh. cat., Brussels 1965, p. 100, under no. 105, reproduced (with incorrect dimensions);
I. Gaskell, The Thyssen-Bornemisza Collection. Seventeenth-Century Dutch and Flemish Painting, London 1989, p. 86 (with incorrect dimensions);
D. Koetser Gallery, in Fine Old Master Paintings Principally of the Dutch and Flemish Schools, exh. cat., Zürich 1989, under no. 12, note 8;
S. Segal, in Flowers in Nature. Netherlandish Flower Painting of Four centuries, exh. cat., The Hague 1990, p. 219, under no. 53;
P. Sutton, in The Age of Rubens, exh. cat., Boston and New York 1993, p. 516, under no. 102;
F.G. Meijer, Jan Davidsz. de Heem 1606-1684, vol. I, pp. 237 and 378; vol. II, Catalogue Raisonné, Amsterdam 2016, p. 241, no. A215;
F.G. Meijer in Brueghel to Canaletto, European Masterpieces from the Grasset Collection, exh. cat. San Diego, 2016, p. 7, no. 1, reproduced in colour;
S. Thomas, in A Feast for the Eyes, European Masterpieces from the Grasset Collection, exh. cat. Saint Petersburg, Florida, 2019, pp. 56, 98, no. 23, reproduced in colour.
Exhibited: Brussels, Musées Royaux des Beaux-Arts de Belgique, Le Siècle de Rubens, 15 October - 12 December 1965, no. 104;
San Diego, The San Diego Museum of Art, Brueghel to Canaletto, European Masterpieces from the Grasset Collection, 2 April – 2 August 2016, no. 1;
San Diego, The San Diego Museum of Art, on loan 2016 – 2019 (when part of the Genre & Myth display, 2017 – 2019);
Saint Petersburg, Florida, Museum of Fine Arts, A Feast for the Eyes, European Masterpieces from the Grasset Collection, 23 March – 2 September 2019, no. 23.
Note: Jan Davidsz. de Heem is generally acknowledged as the most influential and versatile of all Dutch still life painters in the seventeenth century. Yet although they are some of his most admired and coveted works, he did not paint his famous flower pieces in any number until the 1660s, the period in which he had settled again in his native Utrecht after more than twenty successful years in Antwerp. Thereafter about half of his output was bloemstilleven, the majority, like this panel, depicting bouquets of wild and cultivated flowers in glass vases. Although characteristically undated, this exceptionally beautiful cabinet painting was probably painted in the late 1660s when his finest work of this type was produced and is amongst the smallest and most intimate of his known flower pieces from that period. De Heem's flower still lifes such as this were immediately enormously successful and influential, and he was responsible for many new developments to the genre.
De Heem has here arranged his bouquet in a glass vase in which the window of the painter's studio is beautifully reflected. The centre of the arrangement is dominated by a white rose flanked by two further pink roses, and above them leans a large variegated tulip. Around and below these larger blooms are an array of other flowers, among them forget-me-nots, pansies, morning glory, michaelmas daisies, thistle, pulmonaria, wild lettuce and cow parsley, and the bouquet is completed by four curving stalks of wheat. The vase rests in a niche of grey stone, on whose twin steps lie sprigs of blackberries and shining red currants together with an apricot. Dispersed over the painting are various insects; a beetle and two snails crawl over the steps while among the flowers may be discerned a caterpillar, earwig, ants and an orange-tipped butterfly. The colour harmonies are artfully balanced throughout; the dominant tones of reds, whites and pinks of the main blooms are echoed in the berries and currants and counterbalanced by the blues and mauves of the forget-me-nots, the morning glory and the thistles. The orange tones of the luscious apricot on the ledge are similarly carefully balanced with those of the orange-tipped butterfly, the pansies and michaelmas daisies. Such an arrangement could not, of course, have been painted directly from nature, for de Heem has here combined flowers, fruit and grains that bloom and ripen at different times of year, and it was most probably composed from studies the artist had made first-hand from nature.
This painting provides an excellent illustration of de Heem's extraordinary technique and attention to detail. The colours of the bouquet and the fruits are set off against the dark background of the niche, lending the panel a richness that transcends its modest dimensions. Each bloom and stalk are recorded in faithful detail and placed in perfect harmony within the unity and naturalism of the overall composition. The twisting curves and bends of the wheat stalks – an innovative compositional element introduced by de Heem himself – help both to balance and enliven the design. The flowers, snails and insects are all treated with astonishing verisimilitude; the play of light and reflections around the stems in the water in the vase in particular is a truly virtuoso passage of trompe l'œil illusionism. This detail is so fine that within the vase itself, for example, the reflection of the window of the painter's studio is partly obscured, suggesting the top of a painting upon his easel.
Around thirty floral still lifes of this type by de Heem are known, and since with one exception they were not dated by him, their dating and chronology is difficult to establish with any precision.1 As Fred Meijer observed at the time of the 2016 exhibition, however, the present panel is 'fully characteristic of the opulence of his [de Heem's] work from the 1660s', during his years in Utrecht, and is moreover one of de Heem's smallest paintings from this period of his career. Compared with his more extravagant floral still lifes from this period, such as that in the Rijksmuseum in Amsterdam (fig. 2), the composition of the panel is simpler in structure and the bouquet less exuberant.2 A good comparison may be made with another upright flower piece of Roses, a tulip and other flowers in a glass vase upon a stone ledge of similar dimensions sold London, Christie's, 8 December 2004, lot 25, which probably dates from the same period towards the end of the decade (fig. 1).3 The little orange tip butterfly is, for example, common to both paintings. Other comparable works of slightly larger dimensions include a panel of Flowers in a glass vase in an American private collection,4 and an exquisite and rare copper of Flowers in a glass vase upon a stone ledge also in private hands in Montreal, both probably from a little earlier in the 1660s.5 A very closely related and simplified variant of the present composition also recurs in a smaller panel of a Still life of flowers in a glass vase in a niche, perhaps from de Heem's immediate circle, which was sold New York, Sotheby's, 5 June 2014, lot 12 (fig. 3).6 The niche lacks its step here, and the bouquet is much simplified, while the tulip, as Meijer points out, is copied from the still life in a Montreal private collection cited above.
Fig.1 Jan Davidsz. de Heem, Still-life of flowers in a glass vase upon a stone ledge, 1660s. Oil on panel, 25.4 x 37.2 cm. Present whereabouts unknown. © Christie's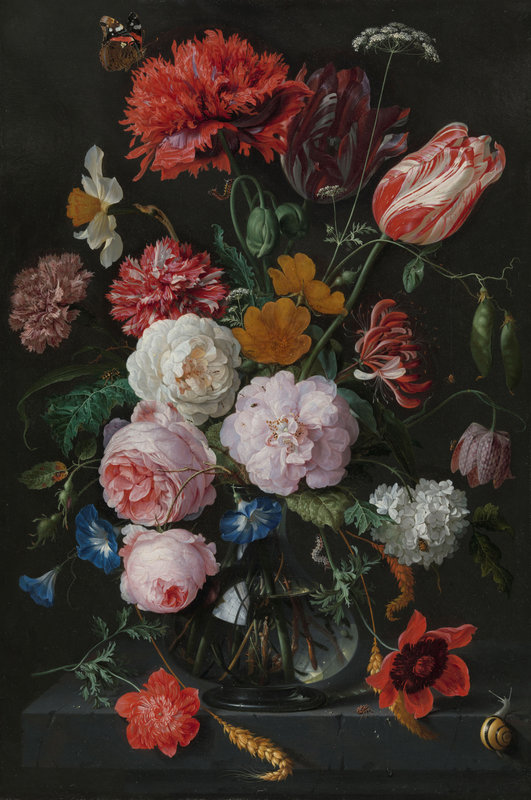 Fig.2 Jan Davidsz. de Heem, A glass vase of flowers on a stone ledge, 1660s. Oil on cooper, 54.5 x 36.5 cm. Rijksmuseum, Amserdam. © Rijksmuseum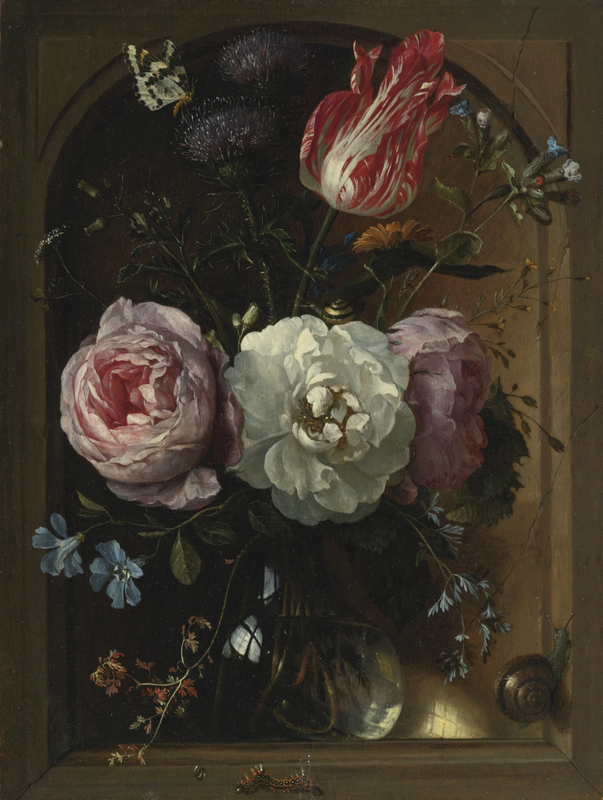 Fig.3 Circle of Jan Davidsz. de Heem, Still life of roses, a tulip and other flowers in a glass vase in a stone niche, after 1660. 26.5 x 20 cm. © Sotheby's New York 5 june 2014, lot 12.
Jan Davidsz. de Heem's signature ends with the suffix 'R' on a number of still lifes from the second half of his career, of which this panel and another small panel of a Still life with wine glass, fruit and oysters (location unknown) are perhaps the earliest examples. No satisfactory explanation for this has yet been found. According to Fred Meijer the suffix appears in sixteen or more still lifes, many of them of the finest quality and the majority now in Museum collections.7 The suggestion once mooted that this might indicate that these pictures were not entirely by de Heem and may have included assistance from his studio8 can be refuted by the high and consistent quality of the Grasset panel and all the other pictures from this group. As Fred Meijer has succinctly commented: 'It would appear to be most logical that the 'R' stands for a term similar to 'fecit', and not for an addition to the artists name, such as 'Ridder', the name of a town, or even the family name of his wife, Ruckers'.9
Following the French invasion of 1672 and the capture of Utrecht, de Heem returned to Antwerp, where he eventually died. His flower pieces had already found an enthusiastic following in both the southern and northern Netherlands, including, of course, his son Cornelis and grandson David and his many pupils, chief amongst them Abraham Mignon (1640-1679) who was trained in the de Heem workshop in Utrecht after 1664. His reputation was further enhanced by the high prices for his works, which were coveted and collected internationally.10 De Heem's influence upon the development of flower painting lasted over sixty years into the following century when they were finally eclipsed by the innovations of Jan van Huysum (1682–1749). His later biographer Jacob Weyerman (1677–1747) described him a 'Miracle of the Art of Painting', and 'one of the most delectable Flower and Fruit painters… who ever followed bounteous Nature'.11
1 The lone exception is a small early panel, signed and dated 1645, formerly on loan to the Noordbrabants Museum, 's-Hertogenbosch, and now in a German private collection.
2 The absence of dated works by de Heem after 1655 – bar a single flower garland from 1675 – make dating works from this later period particularly difficult.
3 Panel, 37.2 x 25.4 cm. Meijer 2016, vol. II, p. 240, no. A214, reproduced, as present whereabouts unknown. At the time of the 2004 sale, Meijer suggested a dating to the late 1660s.
4 Panel, 47 x 35.5 cm. Meijer 2016, vol. II, p. 237, no. A11.
5 Copper, 48.9 x 38.1 cm. Exhibited Boston and Toledo 1994–95, no. 102. Meijer 2016, vol. II, p. 238, no. A212.
6 Panel, 26.3 x 20 cm. Meijer 2016, vol. II, p. 242, under no. A215, reproduced. Meijer records two further copies of this latter picture, suggesting that all three may perhaps reflect a lost original by de Heem of around 1660. All three were formerly attributed to Nicolaes van Verendael.
7 See Meijer 2016, vol. II, p. 239, under no. A217.
8 S. Segal in Jan Davidsz de Heem en zijn kring, exh. cat., Utrecht, Centraal Museum, and Braunschweig, Herzog Anton Ulrich Museum, 1991, pp. 29–30.
9 Meijer 2016, vol. II, p. 239.
10 His Portrait of Prince William III surrounded by a cartouche of fruit and flowers, c. 1670 (Musée des Beaux-Arts, Lyon), was sold for 2000 guilders, one of the highest prices paid for a painting during the Dutch 'Golden Age'.
11 J. Campo Weyerman, De levens-beschrivingen der Nederlandsche Konst-Schilders en Konst-Schilderessen, The Hague/ Dordrecht 1729–69, vol. III, p. 234.
Sotheby's. Old Masters Evening Auction, London, 7 December 2022