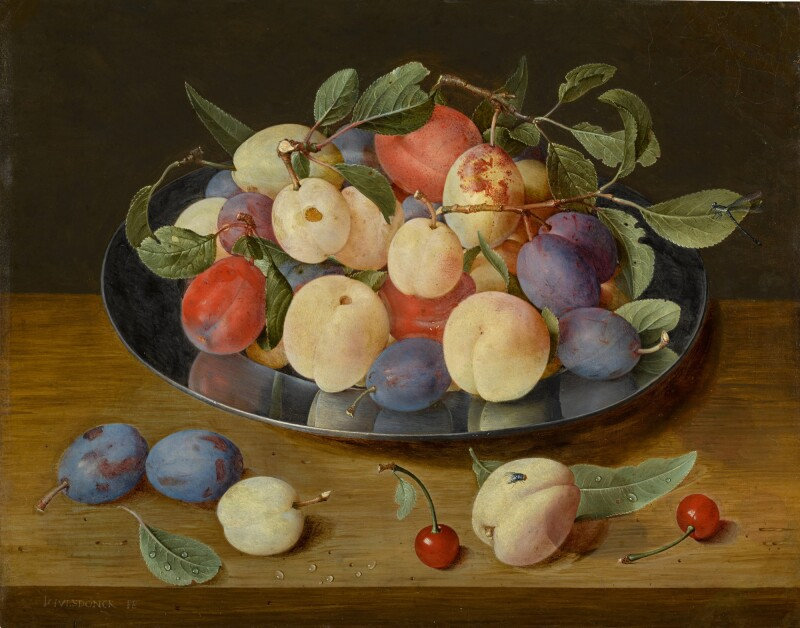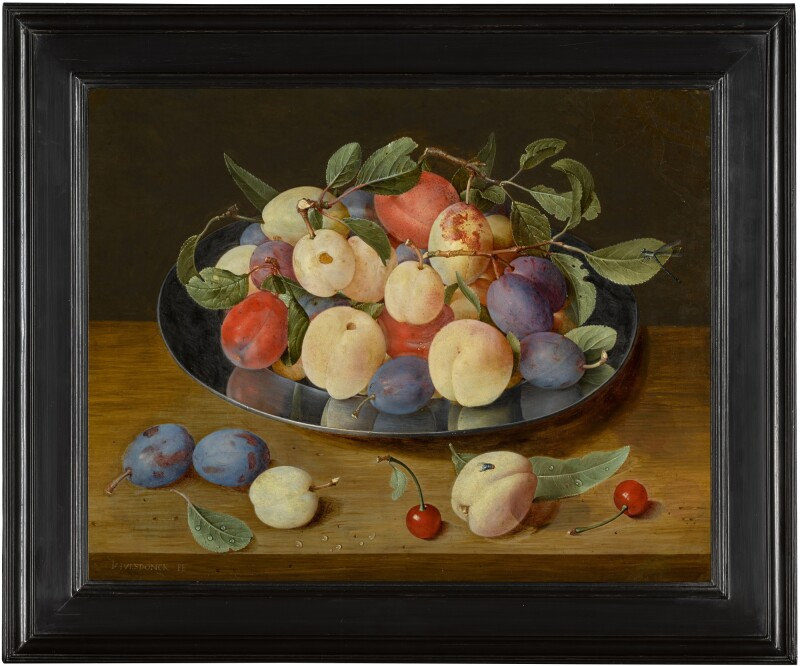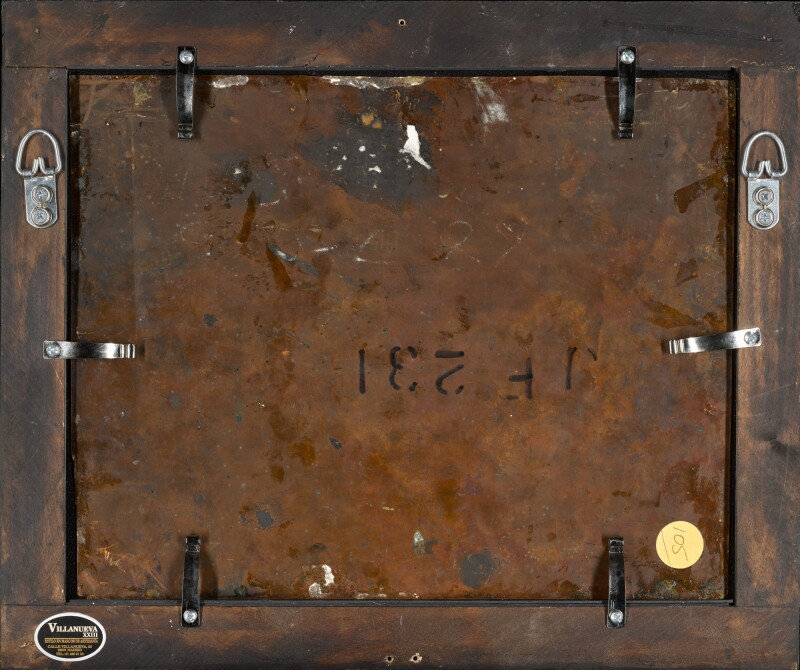 Lot 18. Jacob van Hulsdonck (Antwerp 1582 - 1647), Still life of plums and peaches on a pewter plate, with plums, a peach and cherries, all on a table, signed lower left: IVHULSDONCK.FE (IVH in ligature), oil on copper, 27.8 x 35.1 cm.; 10⅞ x 13⅞ in. Lot sold: 315,000 GBP (Estimate: 120,000 - 180,000 GBP). © 2022 Sotheby's.
Property from the Grasset Collection.
Provenance: Private collection, Switzerland;
Anonymous sale ('The Property of a Gentleman'), London, Christie's, 9 December 1988, lot 105, for £300,000;
Where acquired for the Grasset Collection.
Literature: F.G. Meijer, Brueghel to Canaletto, European Masterpieces from the Grasset Collection, exh. cat., San Diego 2016, p. 13, no. 7, reproduced in colour;
S. Thomas, A Feast for the Eyes, European Masterpieces from the Grasset Collection, exh. cat., Saint Petersburg, Florida 2019, pp. 60 and 98, no. 25, reproduced in colour.
Exhibited: San Diego, The San Diego Museum of Art, Brueghel to Canaletto, European Masterpieces from the Grasset Collection, 2 April – 2 August 2016, no. 7;
Saint Petersburg, Florida, Museum of Fine Arts, A Feast for the Eyes, European Masterpieces from the Grasset Collection, 23 March – 2 September 2019, no. 25.
Note: Jacob van Hulsdonck was an important pioneer in the development of still life painting, working as he was in the first decades of the 17th century, when the treatment of such subjects was only just starting to be recognised as an independent genre. Hulsdonck joined the Antwerp guild as a master in 1608, and was here undoubtedly introduced to the depiction of flowers and food through the works of those Flemish artists who were innovating in this field – namely Frans Snijders, Osias Beert, Jan Brueghel the Elder, and Ambrosius Bosschaert the Elder who, though also originally from Antwerp, had settled in Middelburg, where Hulsdonck is known to have spent time with his parents at an early age as exiled Flemish Protestants, and where he is believed to have received his first training.
Despite a long career of almost forty years, fewer than a hundred works by Hulsdonck are known, all of which are still lifes. Although the artist signed or monogrammed over half of his paintings, there appears to be only one dated example (an early Breakfast Piece of 1614, today in the Bowes Museum, Barnard Castle),1 making it difficult to establish a chronology of his work. This painting, along with the Still life with a bunch of grapes and a peeled lemon offered in this sale, are believed to date from after circa 1625, but since Hulsdonck's handling remains fairly consistent throughout his œuvre, it is likewise difficult to base dating on stylistic grounds.
Jacob van Hulsdonck, Breakfast Piece, 1614, oil on panel, H 65.4 x W 106.8 cm, The Bowes Museum, bequeathed by the Founders, 1885, B.M.99. Photo credit: The Bowes Museum
Compositionally, however, this painting is rather exceptional. The majority of Hulsdonck's designs depict more diverse fruits, usually placed in porcelain bowls or wicker baskets, whereas this picture treats a simple combination of plums and peaches (with two cherries), set on a pewter plate, which also appears very seldom in his work. The rare use of the copper support further distinguishes this painting within Hulsdonck's œuvre. The surface of the metal plate serves to heighten the verisimilitude and lustrous rendering of the soft skins of the fruits – the peaches with a slightly furry texture, the plums with a more variegated waxy bloom – which is in contrast to the crisp, veined leaves, the deceptively three-dimensional pearly dewdrops, and the reflective shiny surface of the metallic plate with its sharp rim, which is defined by a highlight that further differentiates this centrepiece from the more neutral wooden table top. The rich combination of colours and tones here are particularly brilliant, and this opulence would appear to owe more to Bosschaert than to Hulsdonck's fellow Antwerp contemporaries.
Another painting by Hulsdonck, also on copper and of very similar dimensions, depicting a Ming dynasty, Wanli Period porcelain bowl of strawberries, with a carnation, cherries and redcurrants, likewise on a wooden ledge, may possibly once have been a pendant to the present work (fig. 1).2 Both paintings are characterised not only by their supports, but also by the clarity of illumination, refinement of detail, and an understated simplicity of design, representative of Hulsdonck's work at its most elegant.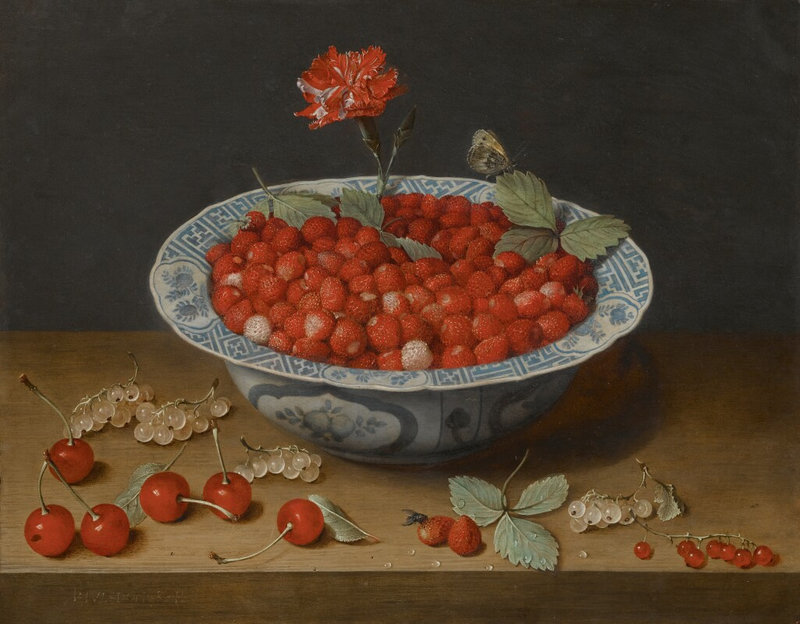 Fig. 1 Jacob Van Hulsdonck, Still life with wild strawberries and a carnation in a Ming dynasty, Wanli deriod (1573-1619), blue and white Kraak-type barbed-rim bowl, with cherries and redcurrants on a wooden ledge. Oil on copper, 28.4 x 36 cm. © Sotheby's.
1 Inv. no. B.M.99; https://artuk.org/discover/artworks/breakfast-piece-45768
2 Sold London, Sotheby's, 5 December 2012, lot 32, for £361,250; https://www.sothebys.com/en/auctions/ecatalogue/2012/old-master-british-paintings-evening-l12036/lot.32.html
Sotheby's. Old Masters Evening Auction, London, 7 December 2022