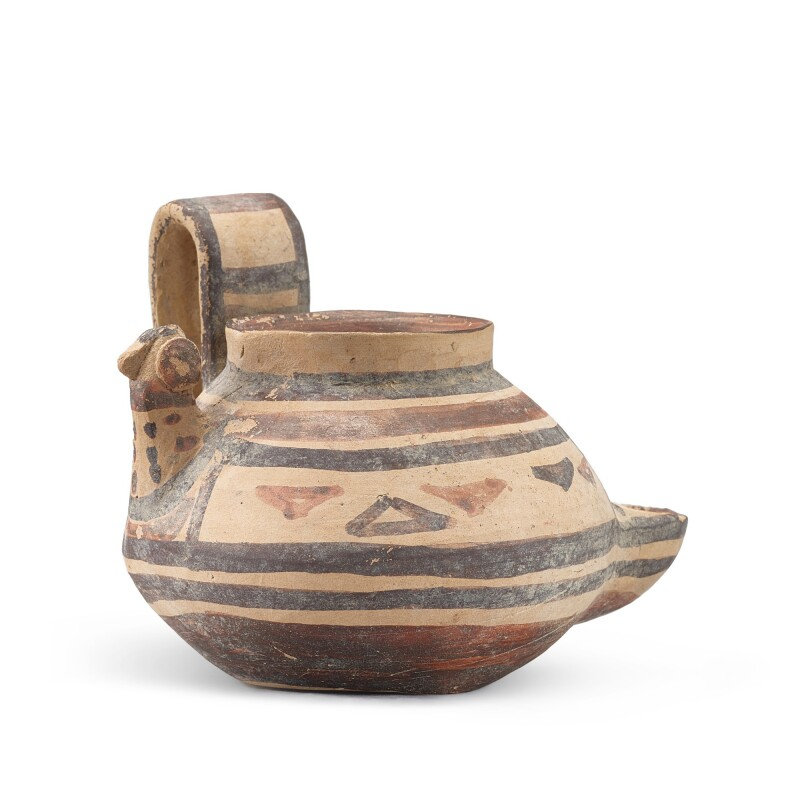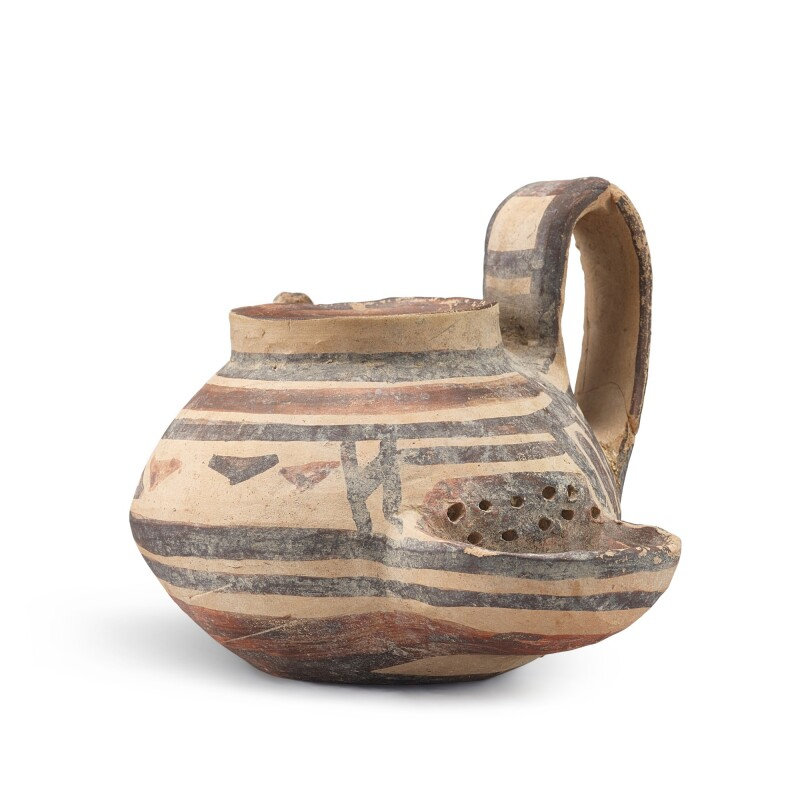 Lot 400. A rare painted pottery 'bird' vessel, Neolithic period; l. 14.2 cm, h. 10 cm. Lot sold: 37,800 HKD (Estimate: 30,000 - 40,000 HKD). © 2022 Sotheby's.
The dating of this lot is consistent with the result of a thermoluminescence test, Oxford Authentication Ltd., no. C105k26.
The age of this product is consistent with the results of Oxford thermoluminescence detection (No. C105k26).
Provenance: Collection of Julius Eberhardt (1936-2012), Vienna.
Note: Modelled with an abstract bird head, an elongated handle and a small protruding dish, decorated with geometrical patterns in black and red paint, this pottery vessel is highly unusual. No comparable examples appear to have been published. Pierced with ten tiny perforations on one side , the present vessel could have been used as a sieve and the filtered liquid would flow to the protruding dish.
The geometrical decoration resembles that of Machang-type vessels from the Majiayao culture (mid to late 3rd millennium BC). Compare several examples from the Meiyintang collection, included in Regina Krahl, Chinese Ceramics from the Meiyintang Collection , London, 1994-2010, vol . 1, nos 18, 19, 23, 35, 36; as well as a single-handled cup excavated from Yuanyang Lake, Yongchang, and a bird-form vessel from Hualinping, Lanzhou, both in the collection of the Gansu Provincial Museum.
The complex form of the present vessel, on the other hand, suggests a possible link to the Qijia culture (1st half of the 2nd millennium BC), also in the Gansu province. Qijia objects, however, are rarely painted. See two unpainted Qijia bird-shaped jars with legs published in Simon Kwan, The Muwen Tang Collection Series , vol. 3: Chinese Neolithic Pottery , Hong Kong, 2005, pls 89 and 90, together with a cup with an animal head resembling that of a fawn, also attributed to the Qijia culture, pl. 91.
This device has a unique shape, with a bird's head plastic-attached, a flat and wide handle, and ten small holes in the rear wall, with a small plate outside, which seems to be used as a sieve to separate liquid and dregs.
Geometric patterns painted in red and black on this vessel are similar to those of the Majiayao culture Machang type (mid to late third millennium BC), as in the Meiyintang collection, see Kang Ruijun, Meiyintang Chinese Ceramics, London , 1994-2010, Vol. 1, Nos. 18, 19, 23, 35, 36; or the one-eared barrel-shaped cup unearthed from Yuanyangchi, Yongchang County, and the bird-shaped pot unearthed from Hualinping, Lanzhou City, in the Gansu Museum.
Although the type of painting is similar to that of Machang, in terms of its complex shape, it is closer to the Qijia culture (first half of the 2nd millennium BC), which also belongs to Gansu, but the latter rarely uses colored painting. Refer to two Qijia culture bird-shaped pots, both decorated with bird feet, collected in Guan Shanming, The Complete Works of Mu Wentang Collection. 3. Chinese Prehistoric Pottery Art, Hong Kong, 2005, pls. 89-90, together with a small deer head cup, which should also belong to the Qijia culture, pl. 91.
Sotheby's. China/5000 Years, Hong Kong, 25 November 2022