The Fisch Davidson Collection is one of the most important collections of Baroque art ever to appear on the market. Ten extraordinary works from the collection will be offered in a dedicated single owner sale at Sotheby's, New York, in January 2023, during Masters Week. Including several masterpieces, the Fisch Davidson collection constitutes a spectacular ensemble that traces the development of the Baroque. Acquired over the course of almost thirty years, the collection's profound quality reflects the rare combination of passion, taste, and acumen.
The auction will feature ten paintings that embody the power and modernity of the Baroque. Produced in the seventeenth and eighteenth centuries, they include masterworks by Sir Peter Paul Rubens, Orazio Gentileschi, Giovanni Francesco Barbieri, called Guercino, Valentin de Boulogne, and Bernardo Cavallino, among others.
The Fisch Davidson Collection will be offered at Sotheby's New York on 26 January, 2023.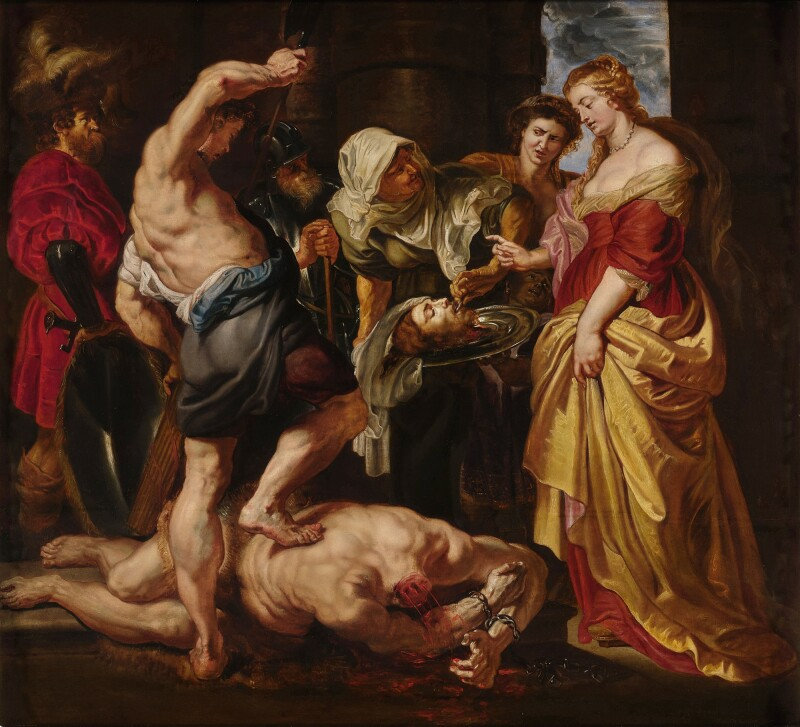 Lot 5. Sir Peter Paul Rubens (Siegen 1577 - 1640 Antwerp), Salome presented with the head of Saint John the Baptist, oil on oak panel: panel: 37 by 40⅛ in.; 94 by 101.8 cm, framed: 49¼ by 54 in.; 125.1 by 137.2 cm. Estimate: 25,000,000 - 35,000,000 USD. © Sotheby's 2022
Provenance: Spanish Royal collection, Alcázar de Madrid, Galeria del Mediodia, recorded between 1666 and 1700 (see note);
Le Camus family (according to a red wax seal on the verso);
Possibly M. de Merval, and his sale, Paris, 9 May 1768 ("Hériodiade à qui des guerriers apportent la tête de St. Jean" [see Rooses 1888]);
Private collector, Montargis, France;
By whom sold, Fontainebleau, Drouot, 14 June 1987, no lot number, (as "Studio of Rubens");
Where acquired by Charles Bailly;
By whom anonymously sold, New York, Sotheby's, 30 January 1998, lot 137;
Where acquired by Otto Naumann, Ltd., New York, and Alfred Bader, Milwaukee;
From whom acquired by Steve Wynn, Las Vegas, 1998;
By whom sold with property holdings to MGM Grand, Las Vegas, 2000;
From whom acquired by the present collectors, 2000.
Literature: G. Cruzada Villaamil, Rubens, diplomático español, Madrid 1874, pp. 308-309;
M. Rooses, L'Oeuvre de P.P. Rubens, Antwerp 1888, vol. 2, pp. 8-9, cat. no. 240;
G. Vitaletti, Salome nelle leggenda e nell'arte, Rome 1908;
H. Daffner, Salome, ihre Gestalt in Geschichte und Kunst: Dichtung, bildende Kunst, Musik, Munich 1912, pp. 23, 29-30, 111;
A. Pigler, Barockthemen. Eine Auswahl von Verzeichnissen zur Iconographie des 17. und 18. Jahrhunderts, Budapest 1956, vol. I, p. 474-475;
Y. Bottineau, "L'Alcazar de Madrid et l'inventaire de 1686: Aspects de la cour d'Espagne aux XVIIe siecle," Bulletin Hispanique, 1958, p. 311;
J.S. Held, Rubens, Selected Drawings, with an Introduction and a Critical Catalogue, London 1959, p. 107
L. Burchard and R. d'Hulst, Rubens Drawings, Brussels 1963, pp. 74-75, under cat. no. 42;
J. Müller-Hofstede, "Abraham Janssens," in Jahrbuch der Berliner Museen (1964), especially pp. 293-295 (where he discusses the lost prototype by Rubens);
J.B. Knipping, Iconography of the Counter Reformation in the Netherlands: Heaven on Earth, Nieuwkoop 1974, vol. I, pp. 223-224;
P.P. Rubens; Paintings, Oil Sketches, Drawings, exhibition catalogue, Antwerp 1977, pp. 292-293, under cat. no. 128 (as lost);
A.M. Logan, "Rubens Exhibitions 1977-78," in Master Drawings 16 (Winter 1978), p. 443, under cat. no. 36 (referring to the "lost" painting);
E. Hubala, "Triumph der Weibermacht, Bemerkungen zu einer Komposition von Rubens," in Festschrift Herbert Siebenhuner, Würzburg 1978, pp. 143-164 (iconographic discussion of the "lost" Rubens painting with illustrations of many copies after it);
J.S. Held,
The Oil Sketches of Peter Paul Rubens, Princeton 1980, vol. 1, p. 572, under cat. no. 414 (see note);
D. Bodart, Rubens, Milan 1985, p. 156;
J.S. Held, Rubens, Selected Drawings, with an Introduction and a Critical Catalogue, rev. ed., New York 1986, p. 94;
S.N. Orso, Philip IV and the Decoration of the Alcazar of Madrid, Princeton 1986, p. 147;
M. Jaffé, Rubens, Catalogo completo, Milan 1989, p. 170, cat. no. 115, reproduced (dated 1609-1610);
D. Bodart (ed.), Pietro Paolo Rubens (1577– 640), exhibition catalogue, Padua 1990, p. 72, under cat. no. 17;
P. Sutton and M. Wieseman, Old Master Paintings, New York 1999, pp. 80-85, no. 27;
Historians of Netherlandish Art Newsletter and Review of Books, vol. 16, no. 1, 1999, p. 10, reproduced fig. 7;
P. Sutton, in The Bellagio Gallery of Fine Art: European and American Masters, L. Lumpkin (ed.), Las Vegas 1999, pp. 21-24, reproduced;
D. Jaffe and A. Bradley, Rubens: The Massacre of the Innocents, exhibition catalogue, London 2003, pp. 3, 13-14, reproduced fig. 24;
A.M. Logan and M. Plomp, Peter Paul Rubens: The Drawings, exhibition catalogue, New York 2005, pp. 121-122, under cat. no. 26, reproduced fig. 66;
D. Jaffé and E. McGrath, Rubens: A Master in the Making, exhibition catalogue, London 2005, p. 171, cat. no. 80, reproduced in color p. 173 and in detail p. 172 (as dated 1608-9);
D. Jaffé, Massacre of the Innocents, 2009, pp. 38, reproduced p. 40, fig. 15;
K. Bulckens, Corpus Rubenianum Ludwig Burchard. Part V (2), The Ministry of Christ, London & Turnhout 2017, pp. 5962, no. 5, reproduced fig. 30;
G.P. Streete, The Salome Project: Salome and Her Afterlives, Eugene 2018, pp. 42 and 59.
Exhibited: London, National Gallery, on loan, by 2003;
London, National Gallery, Rubens: A Master in the Making, 26 October 2005 – 15 January 2006, no. 80.
Note: This shocking and masterfully composed Head of Saint John the Baptist presented to Salome is an important early painting by Peter Paul Rubens, one of the greatest and most impactful artists of the Western tradition. It dates to 1609 and forms one of a group of important masterpieces painted by the artist immediately after his return from Italy in December 1608. Rubens revealed an unmatched self-awareness and fluidity in a remarkable series of paintings, produced in rapid succession in barely three years: the great Raising of and Descent from the Cross triptychs painted for and still in the Antwerp cathedral (1610-11 and 1612-15 respectively), the Samson and Delilah in London (1609-10, fig. 1), and the Massacre of the Innocents in Toronto (1610, fig. 2). The Fisch Davidson Salome, lost until its reappearance in the mid-1980s, is perhaps the earliest of these, and is almost certainly the last product of this extraordinary onrush of creative energy ever likely to come to the open market.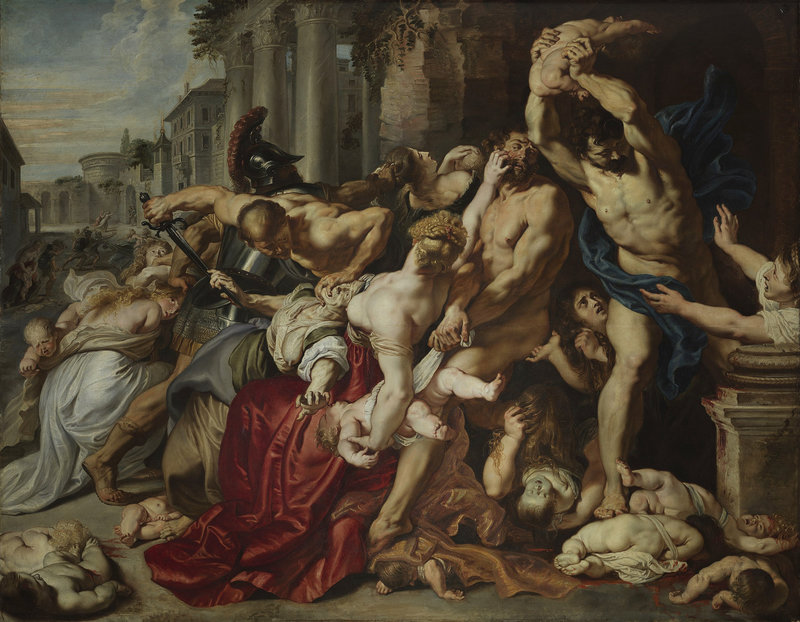 Fig. 1. Sir Peter Paul Rubens, Massacre of the Innocents, oil on panel, Ontario, Art Gallery of Ontario, inv. no. 2014/1581.
Fig. 2. Sir Peter Paul Rubens, Samson and Delilah, oil on Wood, London, National Gallery, inv. no. NG6461.
Rubens and Italy
Painted during the course of 1609, The Head of Saint John the Baptist presented to Salome is a key painting from a key moment in Ruben's career. The artist had spent the previous eight years in Italy, a sojourn in which he transformed from a well-trained but little-known Flemish master into an international sensation. After studying as a young painter with Otto van Veen in Antwerp, Rubens left for Italy on 9 May 1600, taking a position at the court of Vincenzo Gonzaga, Duke of Mantua. For the next five years Rubens would live in Mantua but travel extensively, spending time in Venice, Rome, Genoa, Florence and Spain. In 1605 he moved to Rome, his home until 1608, when he returned to Antwerp upon receiving the news that his mother had fallen ill. By then Rubens had soaked in the splendors of Italy with vigor, studying both classical antiquities and modern masters alike. He inherited the sculptural forms of Michelangelo and the Florentine tradition, distilling them with the painterly sensitivity to color from Venetian painters of the previous century like Titian and Tintoretto along with the dramatic flair then in vogue in the Rome of Caravaggio. Melding all of this with his own Flemish training, he forged an individual style that was unlike anything seen before.
Indeed, his explosive paintings from circa 1609 set forth an entirely new vocabulary, one in which boldly and freely drawn bodies twist and turn in the foreground, almost spilling out toward the viewer. Rubens does not solely impress with his undulating, lurching figures but also in the care he takes to depict unique and expressive characters throughout the composition. The range of emotion seen here, from the stoic soldier at left to the expression of disgust on the face of the woman beyond Salome's maidservant, brings a liveliness and theatricality to the painting; the warm jewel tones and shimmering fabrics add heat and vibrancy.
Salome
It is hardly surprising that Rubens should choose as the theme of one of his first paintings after his return to Antwerp the Head of Saint John the Baptist presented to Salome. The subject was part of a long-established artistic canon and had been treated by painters from the Renaissance on. But, during the early Baroque period, the dramatic possibilities of the episode were recognized by a wide array of painters, no one more so than Caravaggio himself, and the young, ambitious Rubens would have understood the strong impact that his own interpretation would make.
The source for the episode is both secular and scriptural (Mark 6:14-29; Matthew 14:1-12; Flavius Josephus, Antiquitates Judaeorum). At his wedding feast, King Herod was so taken with his new stepdaughter Salome's dancing that he promised her whatever gift she desired. Saint John the Baptist had recently condemned the union of Salome's mother Herodias with her own brother-in-law, Herod, and for that offense Salome asked for the Baptist's head. Herod obliged.
In this painting, Rubens depicts the moment just after the beheading, as the terrifying, bare-shouldered executioner, shown in lost profile with his back to the viewer, begins to sheath his sword and casually rests his foot upon John the Baptist's lifeless body. His hulking muscles bulge from his raised forearm, along his strained back, and down through his left calf. Twisted across the bottom of the composition, the decapitated body of the Baptist still gushes blood and begins to exhibit rigor mortis. His hands are strained, with veins bulging and a bluish tone beginning to creep in from his extremities.
At the center of the composition the Baptist's head, already drained of blood, is held up on a silver platter by both an elderly maidservant and a young Black page, both of whom look directly at Salome, who stands at right. The little page, wedged between the main protagonists of the scene, is barely able to support the heavy weight of the charger and John's head begins to slip to the left, lubricated by the Saint's own blood. The old maidservant pulls on the Baptist's tongue, the "offending organ," making absolutely clear to the presumably shocked viewer the reason for the Baptist's execution–his verbal admonishment against incest.
"The device [of John's tongue being prodded by Herod] makes us feel the violence as well as see it… This marvelously ghoulish motif reminds us how Baroque artists used extreme brutality both to move us and to make us physically uncomfortable." -David Jaffé [1]
The elegant Salome stands at right, wearing a blood red dress and draped with layers of warm yellow fabric, which reflect a flickering light. Her dress falls sensually below her bare shoulder as she holds up the heavy yellow drapery to reveal her foot shod in an expensive kidskin chopine. She barely reacts to the violent scene, looking down at the head of the Baptist, holding out an extended finger as if even in death to hush him. Another woman (perhaps Herodias) stands behind her, unable to contain her disgust as she eyes the maidservant. Two other soldiers stoically stand on the left side of the composition, to either side of the executioner; the one on the left wears a deep red, velvet costume which triangulates the heat of the composition. Though the warm tones of the costumes and skin are lit, the room is dark, other than a small window beyond Salome which shows a moody night sky.
Rubens and Women
The subject of John the Baptist's beheading at the request of Salome was popular in Northern Italian painting in the century prior, but Rubens's version is more visceral and explicit than the works he would have seen in Venice and Northern Italy, such as those by Titian, Solario, and Luini. While Rubens's sensual depiction of the beautiful Salome reflects Titian's interpretation of the subject (fig. 3), it is in fact Titian's David and Goliath which appears to have had more impact on the composition (fig. 4). A greater influence can be attributed to artists like Caravaggio, whose interpretations of this and similar subjects Rubens would have encountered in Rome. Indeed, the maidservant in the present painting derives from the same character featured in Caravaggio's Judith Beheading Holofernes, who similarly serves as foil to the younger woman's beauty (fig. 5).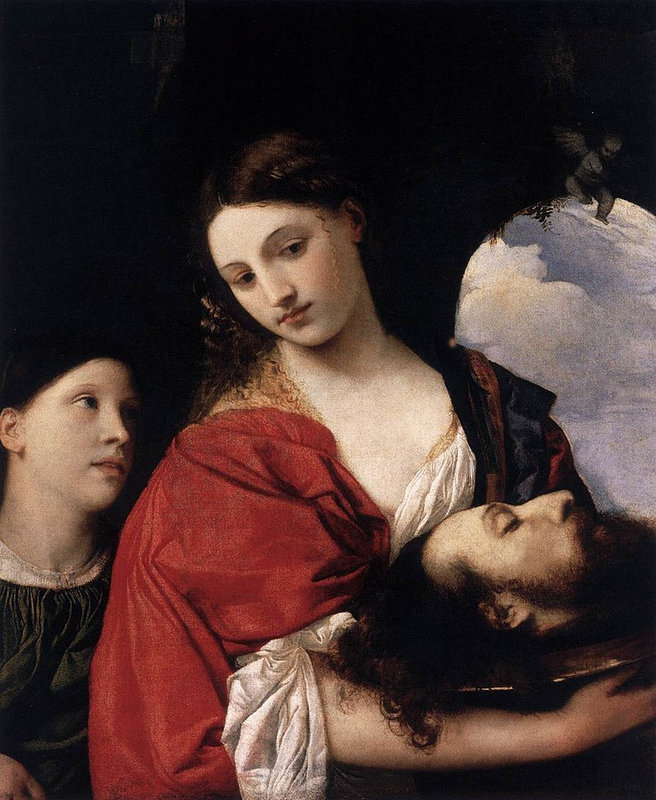 Fig. 3. Titian, Salome with the head of John the Baptist, oil on canvas, Rome, Galleria Doria Pamphilj, inv. no. FC 517.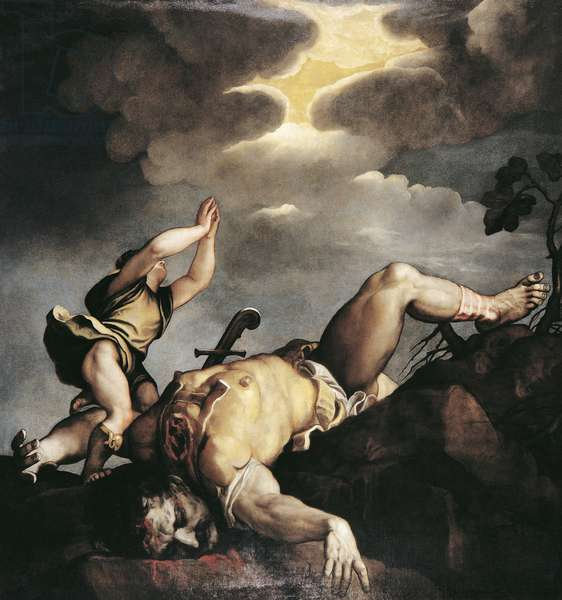 Fig. 4. Titian, David and Goliath, oil on canvas, 1542-1544, Venice, Church of Santa Maria della Salute. G. Dagli Orti /© NPL - DeA Picture Library / Bridgeman Images.
Fig. 5. Michelangelo Merisi da Caravaggio, Judith Beheading Holofernes, oil on canvas, 1599-1602,Rome, Galleria Nazionale d'Arte Antica Palazzo Barberini (Rome, Museum of Ancient Art of the Barberini Palace). Luisa Ricciarini / Bridgeman Images © Luisa Ricciarini / Bridgeman Images.
Like Salome, Delilah uses her feminine wiles to ensnare the unsuspecting hero Samson, cut off his hair, and cause his downfall. Rubens painted a third work that echoes the theme of dangerously powerful women in 1609: the now lost Judith and Holofernes, known today through a reproductive print after Rubens by Cornelis Galle (fig. 6). For what reasons this triad of violent depictions of women and their power over men were commissioned remains unknown. Were the subjects commissioned by three different patrons of the artist? Or did Rubens, perhaps, play a significant role in the selection of the subjects to better advertise his extraordinary abilities of storytelling, dazzling the eye with color and design, while at the same time astonishing the viewer with his erudition and intellect?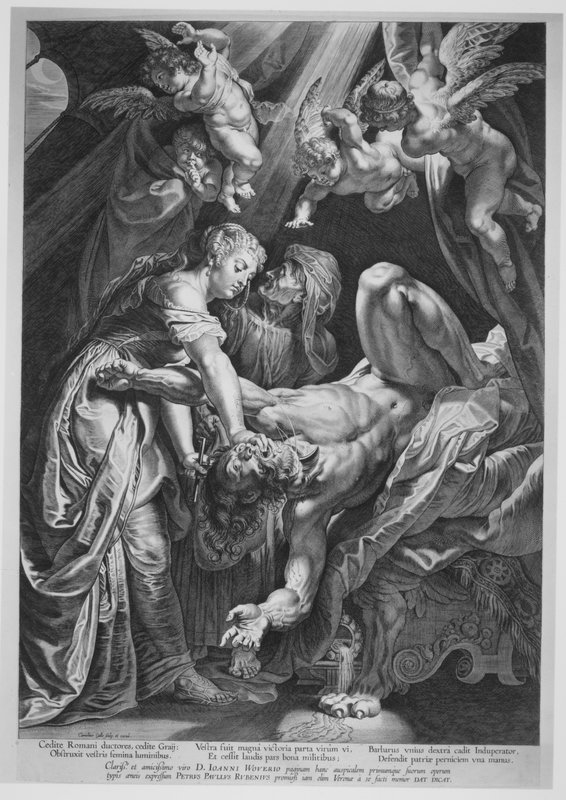 Fig. 6 Cornelis Galle I, After Sir Peter Paul Rubens, Judith Beheading Holofernes, engraving. The Metropolitan Museum of Art/The Metropolitan Museum of Art
These Biblical subjects allowed Rubens to showcase his facility with the female figure, dramatic and dark moments, human anatomy, and his deep knowledge of Biblical and historical source texts. The overt sexuality of the female figures in each case reminds (male) viewers that seduction can take on sinister motives. Here, Salome's voluptuous figure contrasts with the exaggerated musculature of the executioner, which is inspired by the Laocoön group in the Vatican collection as well as Michelangelo's Bacchus, after both of which Rubens made many drawings that he clearly referenced in completing this panel (fig. 7). Rubens was adept at combining ancient history, mythology, and Christian motifs and transforming the meaning of his sources by situating them in new contexts.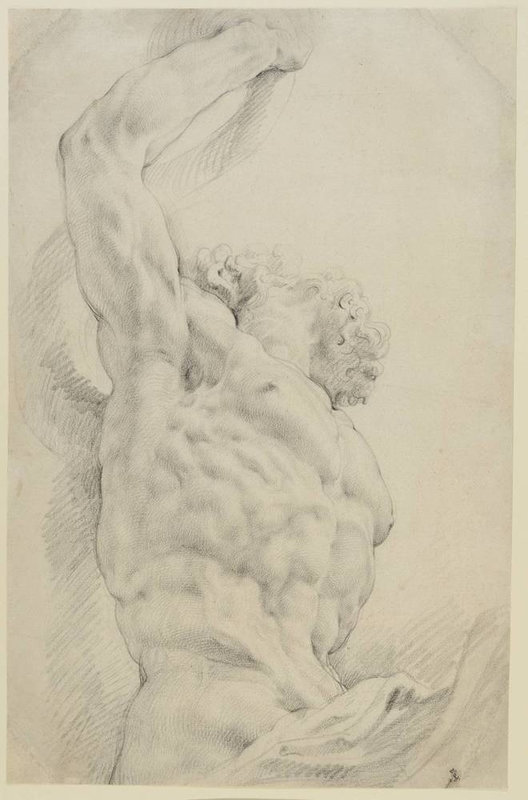 Fig. 7. Sir Peter Paul Rubens, Torso of Laocoön, Black chalk, Dresden, Kupferstich-Kabinett, Staatliche Kunstsammlungen, Inv. NO. C 1874-22A.
Drawings that Rubens made in Italy would serve him throughout his career, and his reinterpretation of models is one of his greatest innovations. Along with sketches after classical antiquities, Rubens also drew écorché studies, and though only a few of the originals are known to us now, a number of engravings by Paulus Pontius published after Rubens's death, along with copies of the drawings by Rubens's student Willem Paneels. An original écorché study of a right leg by Rubens (fig. 8), most certainly completed while the artist was in Italy, could have been used by the artist in his depiction of the executioner's left foot, which is so expertly foreshortened in the Fisch Davidson panel.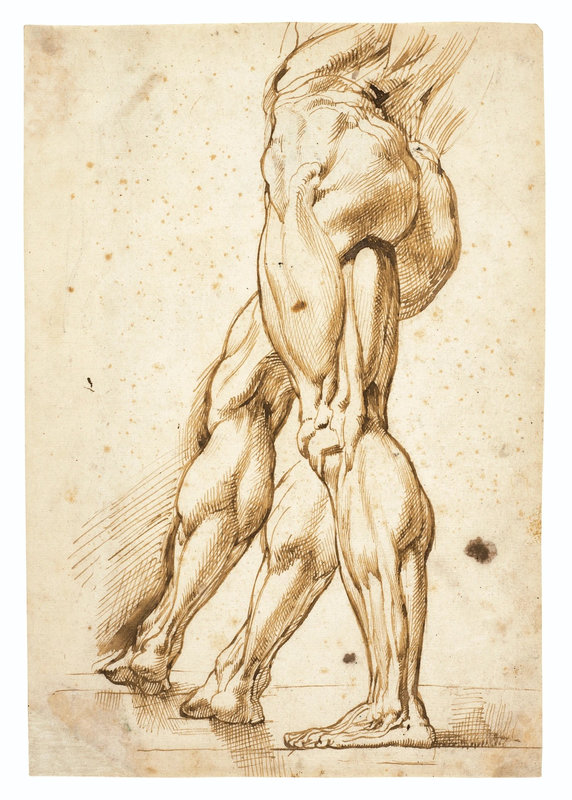 Fig. 8. Sir Peter Paul Rubens, An écorché study of the legs pf a male nude, with a study of a right leg, recto, penand brown ink, brown wash, Private Collection.
Rubens would return to this subject of Salome some two decades later, with the large canvas of The Feast of Herod, now in the National Gallery of Scotland, Edinburgh (fig. 9). Dated to the mid-1630s and probably commissioned for Gaspar de Roomer, a Flemish merchant living in Naples, the painting presents a very different scene, with King Herod seated at a banquet table as the head of the Baptist is presented to him. While still full of characters and sweeping movement throughout the complex composition, there is a formality and elegance to the picture which gives it an utterly different tone than the Fisch Davidson panel.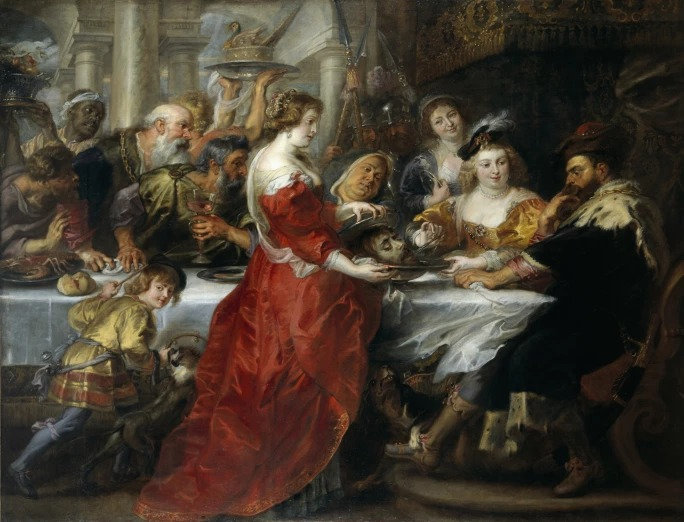 Fig. 9. Sir Peter Paul Rubens, Feast of Herod, oil on canvas, Edinburgh, National Galleries of Scotland, Inv. No. NG 2193 Antonia Reeve
Rubens' Creative Process: Related Drawings
The painting can be connected to an upright drawing by Rubens in pen and brown ink with brown wash, now in Amsterdam (fig. 10). The sheet is clearly related to the present painting – the figure of the old maidservant is very similar in all respects – but the platter bearing the head of St John rests on a plinth or table, over which Salome, seen only in half-length, leans forward. Her pose is quite different, but she raises her right forefinger in defiant admonition. Her left arm however no longer holds a fold of her dress (because there is no visible fold to hold) but is curved round to cover her breast. Burchard and D'Hulst raised the possibility that the drawing might not have been done as a preliminary idea for the painting but rather as "a recording on paper of an idea originating from it".2 The differences between the drawing and painting, and especially that it is half-length are the grounds for their suggestion. Anne-Marie Logan however sees the drawing as first idea for the painting, and dates it to the same year, 1609.3 Held also believed the drawing to be preparatory for the final painting.4 Once the more dynamic composition filled out and color was added, Rubens must have realized that Salome's hand needed to be holding up the shimmering yellow drapery around her skirt, rather than holding her hand around her breast as seen in the drawing, in order to create the movement and color balance accomplished in the painting.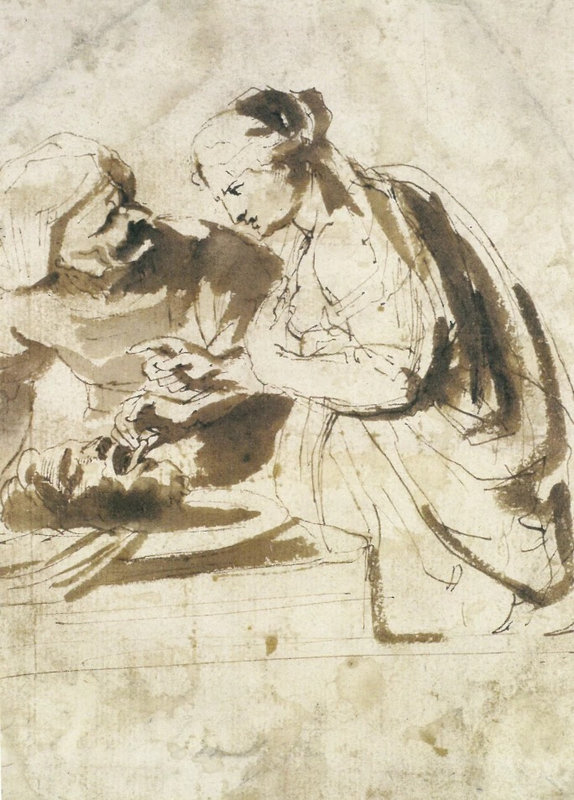 Fig. 10. Sir Peter Paul Rubens, Salome with the head of John The Baptist, Recto, pen and brown ink and brown wash, traces of writing in black chalk at the bottom left.
Rubens' drawing style was practical in character, so similarities between drawings of similar techniques do not necessarily mean that they may be coeval. Nonetheless, the Amsterdam drawing is notably similar in style as well as technique to a pen and brown ink and wash drawing of figures for an Adoration of the Shepherds, also in the Amsterdam Museum (but with a different provenance).5 This drawing used to be considered a study for an Adoration of the Shepherds in the Antwerp church of St Paul,6 but is now recognized as a study for two shepherds in Rubens' Adoration of the Shepherds in the Oratorian church of S. Fillippo Neri in Fermo, executed by Rubens in Rome in March-May 1608. An oil sketch in the Hermitage, St Petersburg, used to be thought to have been painted in Antwerp in connection with the commission for St Paul's is now believed to have been made in preparation for the Fermo altarpiece (or more likely, as a modello for the approval of the Oratarians who had commissioned it).7
Thus, the Amsterdam Adoration drawing has been shown to be two to three years earlier than was formerly thought. Could the stylistically very similar Amsterdam Salome drawing have been made around the same time in Rome as a preliminary idea for the more fully realized present painting, instead of in Antwerp, immediately before or sometime after the painting?
A recently published fragmentary drawing in pen and brown ink in the Hunterian Museum in Glasgow shows a profile head of a bearded man with curly hair, who may well have served as the basis for the head of the Elsheimeresque man in red to the left of the Beheading (fig. 11).8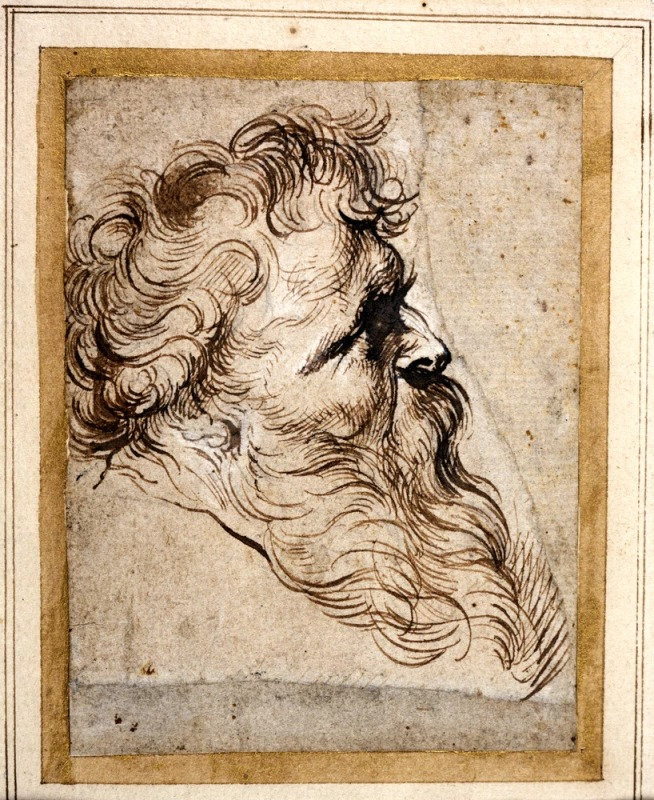 Fig. 11. Sir Peter Paul Rubens, Head of a bearded man in profile to the right, pen and brown ink on paper, Glasgow, University of Glasgow, Inv. no. GLAHA:54302
Rubens did not systematically paint oil sketches for his paintings except where a modello was required for a patron (as the Oratorians required for their commissions in Fermo and Rome for example) until he embarked on his major commissions for Antwerp in circa 1610. No oil sketch is known for the present composition, nor for the Massacre of the Innocents, for example. However, he did paint some such. For the Samson and Delilah in the National Gallery in London for example he painted an oil sketch or (as some describe it) a modello of more upright format (51.8 x 50.6 cm.) now in Cincinnati, and did so for a handful of other early works.
The influence of Rubens and the painting
Rubens's influence on painters in both his generation and beyond cannot be understated. The thriving workshop he built in Antwerp, modeled after the large studios he would have seen in Italy, would train some of the greatest painters of the day, including Anthony van Dyck and Jacob Jordaens. Rubens's paintings were often copied, both by members of his own workshop and those beyond his circle, even artists outside of Flanders given Rubens's reputation throughout Europe, which only grew throughout his long career.
The innovative composition of Salome would inspire many other copies from the artist's circle. Importantly, the current painting, thought lost for centuries, was known only through a free copy on copper, signed and dated 1609 by Hieronymous Francken II. This provides us with a provides a terminus ante quem, for the present Rubens painting (should one be needed) of 1609, with his arrival in Antwerp on 11 December 1608 as a terminus post quem.9 The Francken copy replicates the painting in all essential details, but like the Cincinnati Samson and Delilah sketch it is of a more upright format (slightly more upright than a rectangle) with the composition extended upwards to include the blade of the axe brandished by the executioner and adds an arched opening which frames Salome. A small boy is introduced between the figure of Salome and the platter bearing St John's head, the rim of which he supports with an outstretched left arm. There are other small differences, and in general the grouping of figures is less successfully integrated.
If Francken had needed to adapt the composition to fit a copper plate one would imagine that he would have used the same plate longitudinally orientated, requiring no changes to the design. Perhaps he adapted the composition to justify signing it. On the other hand, considering the more upright format of the Cincinnati Samson and Delilah sketch in proportion to the finished work, it might be worth speculating that he copied a lost oil sketch by Rubens.
The popularity of the composition and subject matter speak to the effectiveness of this imaginative work and the almost immediate impact Rubens had on his contemporaries in his early Flemish period. In addition to Francken's early free copy, for which he must have had access either to the original painting or to drawings after it by Rubens, Gerard Seghers painted a version with half-length figures circa 1612-1614, in which Salome makes the same hand gesture and the maidservant is similarly wrinkled and sinister looking (fig. 12). Other versions, including an oil sketch on panel almost certainly made in his workshop and now in the Staatliche Kunsthalle, Karlsruhe, reproduce Rubens's original composition more faithfully.10
Fig. 12. Gerard Seghers, Salome presented with the head of St. John The Baptist, oil on canvas, Madrid, Palacio Real de Madrid
Rubens and Spanish Europe
When Rubens returned to Antwerp at the end of 1608, he was famous enough to have been named court painter to the Hapsburg Archdukes Albert and Isabella (the Spanish Regents entrusted with governing Flanders) within less than a year. The Archdukes clearly saw him as the perfect instrument for their aspirations to move the region out of its cultural provincialism and into the mainstream, if not the forefront, of European culture. Although Rubens was hardly shy about promoting himself, his elevation must have been assisted by his brother Philip who was town clerk of Antwerp; his father-in-law, Jan Brant, recorder of the city; and Nicolaas Rockox, an alderman and patron of the artist and, more importantly, a powerful and wealthy merchant in the city (indeed, Rubens's Samson and Delilah was commissioned to hang over the fireplace in Rockox's public reception room). The artist's arrival in Antwerp coincided exactly with the signing of the Twelve Year Truce between Spain and the Northern Netherlands, which allowed free travel between the Northern and Southern provinces; a more propitious moment for the patronage and renewal of painting could not have been imagined.
Rubens had in fact marketed himself to Spanish patrons earlier in his career. He made his first of many trips to Spain in 1603 under the service of Vincenzo Gonzaga, Duke of Mantua, for whom he delivered to Valladolid a tranche of paintings and added some of his own works, as well as famously restored and replaced works destroyed in transit with his own original compositions. While there he painted a majestic equestrian portrait of the Duke of Lerma.
Rubens could have received the commission for this panel, the size of which suggests it hung in an intimate setting as an overmantel, from one of the many Spanish patrons who traveled through Antwerp during the city's economic and artistic revival, perhaps even by an agent of the King of Spain (at the time, Philip III) under whose authority the city of Antwerp would eventually fall. Indeed in 1612, the city of Antwerp delivered to Philip III's Ambassador Extraordinary to Antwerp, Rodrigo Calderón, Count of Oliva, a majestic Adoration of the Magi (fig. 13) painted by Rubens in the same year as the Salome, 1609. That picture was originally destined for the Statenkamer of the Antwerp Town Hall and was commissioned by Rockox.11
Although nothing is known about the commission of the present panel, it is documented in Spanish royal inventories in the 1660s, suggesting the patron may have been Spanish. This painting is listed in the royal inventory of the Alcazar dated 1666 as: "Otra de vara y media largo y una y cuarta de alto en tabla; la degollacion de San Juan Bautista, de mano de Rubens, en sesenta ducados de plata" (Another [painting] one and a half vara long and one and a quarter high on panel; the decapitation of Saint John the Baptist, by the hand of Rubens, 70 silver ducats). The measurement "una vara" is roughly equal to 80 cm., so the dimensions listed should be understood as 100 by 120 cm. The painting appears again in the 1686 and 1700 Alcazar inventories, which list the dimensions as closer to 80 by 100 cm. Discrepancies in size are common in old inventories as frames were sometimes included without clarification, and both sets of dimensions are close to the exact dimensions of the present panel either with or without a frame.
Fig. 13. Sir Peter Paul Rubens, Adoration of the Magi, Oil on canvas, Madrid, Museo del Prado, Inv. no. P001638.
Critical fortune
Until its reappearance in 1987, this painting was discussed as a lost work in the literature, but it was swiftly readmitted to the canon of Rubens' work thereafter, starting with Michael Jaffé's catalogue raisonné published in 1989. It became far better known however following its appearance at auction at Sotheby's in New York in 1998, where it was first made available to a wider public. It was first discussed on the basis of first-hand acquaintance by Peter Sutton and Marjorie Wieseman in 1999. This was followed by more protracted public exposure at the National Gallery, London, where it was on extended loan from 2002 onwards, and included in the exhibition curated by David Jaffé centered on the recently rediscovered early Rubens Massacre of the Innocents. It featured in the exhibition devoted to early Rubens curated by David Jaffé and Liz McGrath at the National Gallery, London, in 2005, and discussed in the catalogue in the context of Rubens' other early works.
In 2017 it was published by Koen Bulckens in his Corpus Rubenianum volume covering the Ministry of Christ, where it is listed as an autograph work by Rubens. Bulckens, who only knew the painting (and its copies) from reproductions, discussed the painting briefly at the end of his entry. He deems some passages autograph, and others, especially the foreshortening of St John's body, as "problematic". As noted in the accompanying essay, this is a figure of some complexity: twisting and falling at the same time. Rubens clearly decided in this instance to perpetuate the contorted musculature of a figure in the throes of execution to the figure immediately post-death, rather than making the Saint's torso limp, as Rubens was to do with his figures of Christ post-mortem. He has not however portrayed the Saint with his torso muscles in full rictus, but in the process of softening, denied any control from the head which has been severed, with the energy ebbing from them, which is why Rubens has softened the skin tones. The muscles of the Saint's arms however are still in full tension, which is why they are painted with the more rubicund tones of living flesh.
We are well aware of the detailed drawn studies of ecorché figures that Rubens drew circa 1606-8 from the copies drawn by Willem Panneels.12 The portrayal of rippling musculature without a covering layer of skin renders it extreme, and in several of these the depiction of every muscle in tension yields and extreme effect. The effect of a torso once re-covered with skin gives the underlying musculature a bubbly effect. This is apparent in the torso of St John, but also in other early paintings by Rubens, such as the Cain slaying Abel in the Courtauld Institute in London, which must have been painted within a few weeks of the present painting.
Rubens seems not to have had access to actual flayed corpses, which may explain why the musculature is in tension. Rather he imitated Willem van Tetrode's écorché bronze figure of 1562-7 (fig. 14).13 While Rubens's lost drawings copied by Panneels are dated to 1606-8, he did not make use of them in paintings until after his return to Antwerp, although his drawings after Michelangelo and others suggest that this was an obsession formed earlier. Recently some drawings by Rubens himself after the Tetrode bronze have emerged (fig. 15). Tetrode's bronze is hugely expressive, and adaptable as a source according to the angle from which it was viewed (the figure is sometimes rather fancifully identified as The Horse Trainer), but it in its exaggerated expressiveness it is thoroughly Mannerist and is also far from anatomically correct. Rubens used Tetrode's bronze via his own drawn copies in figures in several early works, including The Raising of the Cross in Antwerp Cathedral.
Fig. 14. Willem Van Tetrode, Ecorché, Bronze, New York, Private Collection.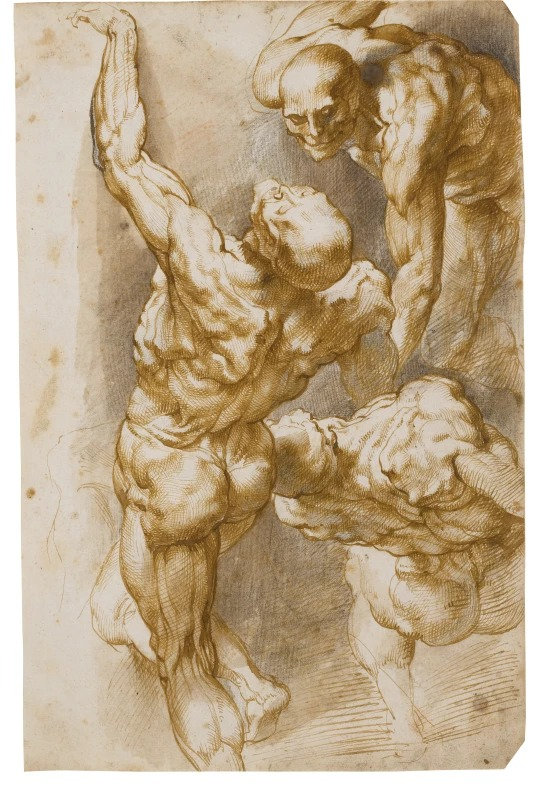 Fig. 15 Sir Peter Paul Rubens, Anatomical studies of three male figures, pen and brown ink and wash and black chalk, sold Sotheby's Hong Kong 4 april 2016, lot 2381.
The figure of St John is not directly derived from Tetrode: merely the exaggerated approach to imaginary musculature as seen en écorché. The figure of the executioner however is closer to Tetrode's model.
Bulckens was also puzzled by the representation of the woman behind Salome. We see little more than her head, which appears to be of a type derived from antique Roman sculpted portraiture, although her expression is one of shock, with furrowed brow and lips parted. A drawn copy after Rubens in Oxford, Ashmolean Museum, shows a similar head with Roman centrally parted hair as part of a Caryatid, of which antique examples are in the Villa Torlonia in Rome and the British Museum, London.14 Rubens continued to use this figure in other works, including The Worship of Ceres in the Hermitage, Saint Petersburg.15
Technical Report
The oak panel comprises four horizontal planks of Baltic oak. The original saw marks may be seen on the reverse. The reverse retains original bevels at the top and bottom and left side of the panel (as seen from the front) but not at the left.
Seen from the front however, the painting is finished at the right-hand edge, with vertical brush strokes marking the intended edge of the composition, with exposed imprimatura at the extreme edge. The same effect can be seen at the left edge, to the left of the standing figure in red, but not lower down, presumably because Rubens extended the foot of St John to close to the left of the picture plane – the ledge upon which he rests is similarly extended to the extremity of the panel. Consequently, we can be confident that the right edge was trimmed before work started on the painting, perhaps to match the dimensions of its planned location, such as an over-mantle (schoorsteenstuk).
Dendrochronology
A tree-ring analysis conducted by Ian Tyers (Dendrochronology Consultancy Report no. 1420) is available on request. Ian Tyers was able to examine one of the four planks, like the other three a board from an oak that grew in the eastern Baltic region. The latest heartwood ring is from 1590. Allowing for sapwood and seasoning the earliest date of use is circa 1596, but a more plausible date of use would be from the first two decades of the 17th Century. Thus the likely date of the painting of 1609 is entirely consistent with the dendrochronological evidence.
Infrared Reflectography
Infrared Reflectography (fig. 16) shows a layer of imprimatura freely applied with a broad brush on a diagonal rising from left to right. It reveals that Rubens left a reserve in the architecture for the head and right shoulder of the woman behind the old maidservant, which suggests that she was planned from the outset, but executed late in the execution (this can also be seen with the naked eye). As you would expect from a work by Rubens of this date there is no dry-medium (eg chalk or graphite) under-drawing.16 Rubens' characteristic outlining in dark red paint referred to elsewhere can look like brushed wet-medium under-drawing in the infra-red imaging, but a close comparison with the painting seen in normal light shows that this is not the case. For example, the infra-red image appears to show a freely drawn brushed wet-medium stroke of under-drawing marking the top of the shoulder of the man in red to the left, but a close comparison with the painting shows that this is outlining in dark-red paint, not under-drawing. The same is true of the outlining of the upper edge of Salome's robe, where the painted outlining is in muted green and is clearly part of the painting, not its preparation. Infra-red imaging does show that in a few places Rubens altered the final appearance of the painting by filling in reserves. A good example of this is in the hand of the old maidservant holding the tongue of the Saint, where Rubens has extended the dark background beneath her hand more effectively to tighten its outline. The infra-red imaging makes this readily apparent, but this can also be seen with the naked eye.
Fig. 16. Reflected infrared image of the present lot (Nikon CMOS camera)
Handling of paint
As noted elsewhere, this work is very energetically painted in a manner that perfectly reflects its violent subject, with a rhythm of primary colors in a planned sequence. The paint is applied thickly in many parts, especially in the draperies, with a contrast between short staccato strokes with a thickly laden brush and longer often transverse strokes applied on top, where Rubens allows the paint to flow off the brush until it is thinner. In some parts, especially in Salome's costume, he applies thick yellow paint over an underlying layer of a redder pigment, allowing both pigments to mingle (see details). Throughout the painting Rubens uses a deep red pigment – almost the color of congealed blood – to outline figures, hands, limbs, etc., as well as different fabrics. This is a highly distinctive characteristic found throughout Rubens early works, including those painted in Italy (see detail of the Massacre of the Innocents to illustrate this, fig. 17), but it becomes a much less marked characteristic of his style from about 1612 onwards. In a number of places Rubens has deliberately left visible imprimatura, a characteristic found in other of his early works.
FIG. 17. Sir Peter Paul Rubens, Massacre of the Innocents, oil on panel, Ontario, Art Gallery of Ontario, inv. no. 2014/1581. (Detail showing Rubens's characteritic deep red outlining)
We are grateful to Guido Dankwarth for confirming the identity of the seal on the reverse. The Le Camus family originated in Troyes, but flourished in Paris in the seventeenth and eighteenth centuries, successive generations holding administrative and Court appointments from 1617 onwards.
The loan of this painting has been requested for the forthcoming exhibition Rubens and Women to take place at the Dulwich Picture Gallery from 27 September 2023 to 28 January 2024, curated by Ben van Beneden and Jennifer Scott. Ben van Beneden is a former Director of the Rubenshuis, Antwerp, and Jennifer Scott is Director of the Dulwich Picture Gallery.
1. Jaffé 2005, p. 171
2. Pen and brown ink and brown wash on paper, 18.3 x 13 cm., Amsterdam, Amsterdam Museum.
3. Logan 2004, pp. 121-2, no. 16.
4. Held's commentary reported by oral communication to Sotheby's New York prior to the 1998 sale of this painting. See also Burchard and d'Hulst 1963, pp. 74-5.
5. Pen and brown ink and brown wash, 14 x 15.1 cm, Amsterdam, Amsterdam Museum, inv no. A18134.
6. Burchard & D'Hulst 1963, vol. II, pp. 73-4, no. 41, reproduced vol. I, fig. 41.
7. Logan 2021, the Fermo painting reproduced fig. 253a, the Hermitage oil sketch fig. 253b.
8. Inv. GLAHA:54302. Pen and brown ink on paper, 10 x 7.4cm.; see P.D. Black, `A Rubens Drawing for the Hunterian: The Fragment of a Memory Exercise,' in The Journal of the Scottish Society for Art History, Vol 10, 2005, pp. 15-21, and http://collections.gla.ac.uk/#/details/ecatalogue/58164
where dated circa 1620-30, but it seems much earlier than that. We are grateful to Gregory Martin for pointing out the possible connection between the drawing and the present painting.
9. Dresden, Staatliche Kunstsammlungen, Gemäldegalerie Alte Meister. See U. Härting, Frans Francken der Jüngere (1581-1642), Freren 1989, vol. 2, p. 168, reproduced fig. 148.
10. Bulckens lists six copies of the painting: The Francken copper mentioned above; The Karlsruhe panel mentioned above; a canvas, 153 x 143 cm at Upland (Sweden), Church of Őstra Ryd, bequeathed in 1704; a panel, 95 x 106 cm. in Munich, Bayerischen Staatsgemäldesammlungen, Alte Pinakothek, inv. 7073; a canvas, 188 x 204 cm. at Wyk auf Föhr (Germany), Friesenmuseum, inv. 557, since 1706; and a sixth with medium, measurements, whereabouts unknown.
11. The painting was eventually acquired by King Philip IV in 1621 and Rubens would later work on the painting circa 1628-1629 on a visit to Spain.
12. Jaffé & McGrath 2005, pp. 102-110.
13. Jaffé & McGrath 2005, reproduced fig. 33, 34, and details.
14. M. van der Meulen, Rubens. Copies after the Antique, Corpus Rubenianum Ludwig Burchard, London 1994, vol. II, pp. 74-9, no. 60, reproduced vol. II, fig. 113, and figs 109-112 (the Caryatid).
15. van der Meulen 1994, reproduced vol. III, fig. 117.
16. In a copy, for example, you would expect to see dry-medium under-drawing.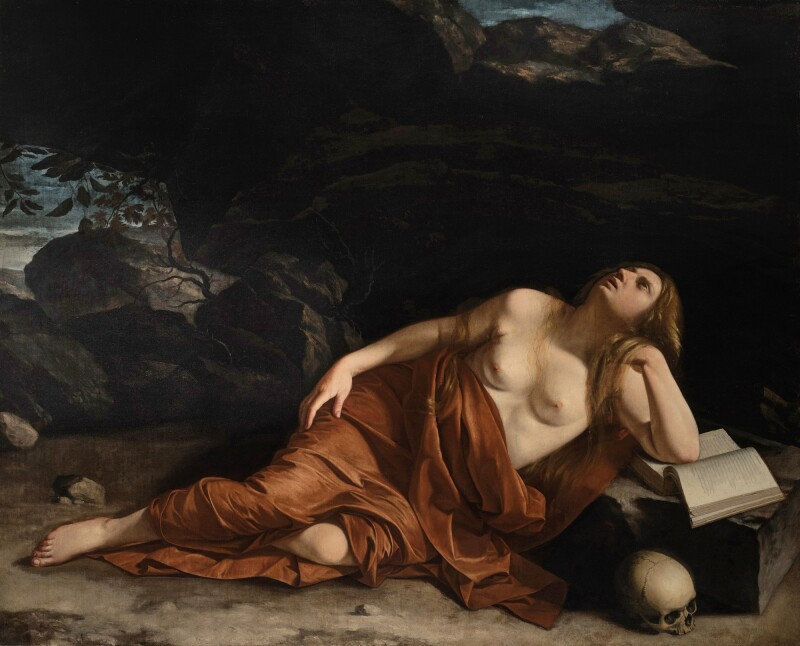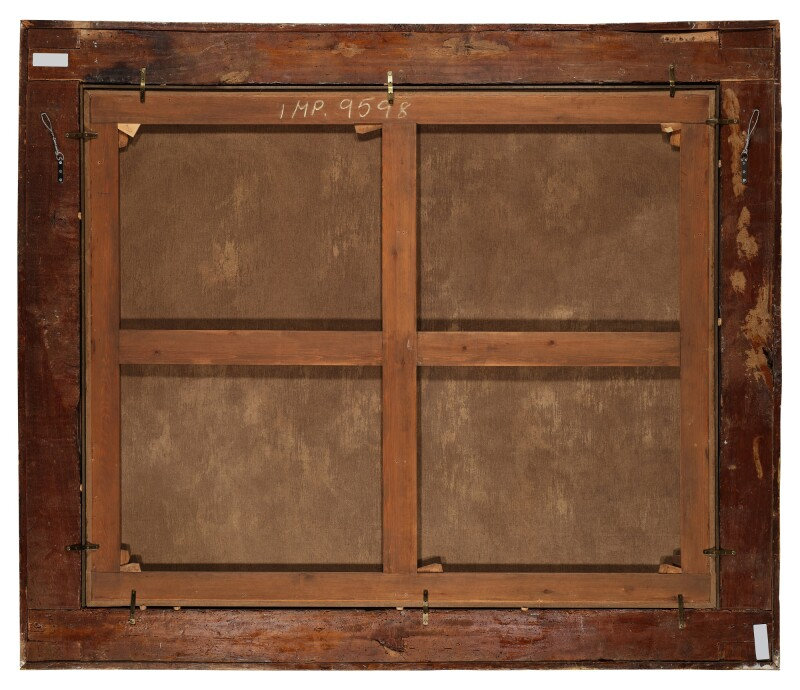 Lot 7. Orazio Gentileschi (Pisa 1563 - 1639 London), Penitent Saint Mary Magdalene, oil on canvas, canvas: 58⅝ by 73½ in.; 148.9 by 186.7 cm framed: 71⅞ by 87⅛ in.; 182.6 by 221.3 cm. Estimate: 4,000,000 - 6,000,000 USD. © 2022 Sotheby's.
istory, please see the online catalogue.

Provenance: Commissioned from the artist by Giovanni Antonio Sauli (1596-1661), Genoa, likely in 1621;
Thence by descent to his son, Francesco Maria Sauli (1662-1699), Genoa;
Thence by descent to his son, Domenico Maria Ignazio Sauli (1675-1760), Genoa;
Thence by inheritance to his nephew, Domenico Sauli (1739-1769), Genoa;
Thence by descent to his son, Paolino Sauli II (1765-1843), Genoa, by 1780;
Thence by descent to his son Constantino Sauli (1793-1853), Genoa;
Thence probably by descent to his daughter, Louisa Sauli Pallavicino (1818-1898), Genoa;
Thence probably by descent to her daughter, Maria Teresa Pallavicini Cambiaso (1840-1907), Genoa;
Thence probably by descent to her son, Marchese Pier Francesco (Pierino) Negrotto Cambiaso (1867-1925), Genoa, by 1906;
Thence by inheritance to his wife, Matilde Giustiniani Durazzo Pallavicini (1878-1970), Genoa;
Thence by inheritance to her niece and adopted daughter, Marchesa Carlotta Fasciotti Giustiniani Cattaneo-Adorno (1923-1989), Arenzano;
From whom acquired by Thomas P. Grange (1894-1976), London, 1975;
Thence by inheritance to his wife, Marie Thérèse Jacobi Grange (b. 1923), London;
Private collector, Switzerland, 1988;
From whom acquired by the present collectors, 1999.
Literature: R. Soprani, Le Vite de' pittori scultori, et architetti genovesi. E de' Forastieri, che in Genoua operarono Con alcuni Ritratti de gli stessi, Genoa 1674, p. 318;
C.G. Ratti, Vite de' pittori, scultori, ed architetti genovesi di Raffaello Soprani patrizio genovese, Genoa 1768, p. 452;
C.G. Ratti, Instruzione di quanto puo' vedersi di piu' bello in Genova in pittura, scultura, ed architettura ecc., Genoa 1780, vol. I, p. 112;
W. Suida, Genua, Leipzig 1906, p. 156;
H. Voss, Die Malerei des Barock in Rom, Berlin 1924, p. 460 (incorrectly listed as a copy of the version in Vienna);
R.W. Bissell, "Orazio Gentileschi and the Theme of 'Lot and His Daughters,'" in Bulletin of the National Gallery of Canada 14 (1969), Appendix I, no. I, p. 30;
A. Moir, The Italian Followers of Caravaggio, Cambridge 1967, vol. I, p. 197 note 4, vol. II, p. 78, cat. no. 7b;
Descrizione della città di Genova da un anonimo del 1818, E. Poleggi and F. Poleggi (eds.), Genoa 1969, p. 232;
B. Nicolson, The International Caravaggesque Moment: Lists of Pictures by Caravaggio and His Followers Throughout Europe from 1590 to 1650, Oxford 1979, p. 53;
B. Nicolson, Caravaggism in Europe, Oxford 1979, p. 115, reproduced fig. 216;
R.W. Bissell, Orazio Gentileschi and the Poetic Tradition in Caravaggesque Painting, University Park 1981, pp. 173-174, 177-178, cat. no. 46, reproduced fig. 97;
A.T. Lurie, in European Paintings of the 16th, 17th, and 18th Centuries, The Cleveland Museum of Art Catalogue of Paintings, A.T. Lurie and N.C. Wixom (eds.), Cleveland 1982, p. 346;
B. Nicolson, "Orazio Gentileschi and Giovanni Antonio Sauli," in Artibus et Historiae 6, no. 12 (1985), pp. 9-25, reproduced fig. 1;
J. Grabski, "On Seicento Painting in Naples: Some Observations on Bernardo Cavallino, Artemisia Gentileschi and Others," in Artibus et Historiae 6, no. 11 (1985), pp. 57-58;
P. Matthiesen, in Baroque III, 1620-1700, exhibition catalogue, London 1986, pp. 49-50;
M. Garrard, Artemisia Gentileschi: The Image of the Female Hero in Italian Baroque Art, Princeton 1989, p. 56;
E.G. Ponzi, "Gentileschi a Genova: un nuovo dipinto e alcune considerazioni sulla cronologia delle opere," in Bolletino dei Musei Civici Genovesi 16, nos. 47-49 (December 1994), pp. 51-59;
R.W. Bissell, Artemisia Gentileschi and the Authority of Art, Critical Reading and Catalogue Raisonné, University Park 1999, pp. 6-7, 50, 229, reproduced fig. 107;
G. Finaldi, in Orazio Gentileschi at the Court of Charles I, exhibition catalogue, G. Finaldi (ed.), London 1999, p. 70;
M. Leonard, N. Khandekar, and D.W. Carr, "'Amber varnish' and Orazio Gentileschi's 'Lot and his daughters,'" in Burlington Magazine 143, no. 1174 (January 2001), pp. 4-7, 10, reproduced p. 6, fig. 3;
Orazio and Artemisia Gentileschi, exhibition catalogue, K. Christiansen (ed.), New York 2002, pp. 21, 30, 66, 172, 174-178, 184, 212, 218, 251, 256-258, 403, cat. no. 35, p. 184, reproduced in color;
M.C. Gallo, "The Sauli Collection, Two Unpublished Letters and a Portrait by Orazio Gentileschi," in Burlington Magazine 145, no. 1202 (May 2003), pp. 348-351, reproduced p. 348, fig. 14;
M.C. Gallo, "La collezione Sauli e due lettere inedite di Orazio Gentileschi," in Ligures 2 (2004), pp. 158-160, 180, 192, reproduced fig. 3;
M. Odlozil and G. Swoboda, "Orazio Gentileschis Büssende Magdalena und die Danae Sauli Gemäldetechnologische Untersuchungen und Vorschlag einer neuen Chronologie," in Technologische Studien Kunsthistorisches Museum Wien 4 (2007), pp. 47, 58-60, 67, reproduced fig. 5;
L.N. Fernandez, in Caravaggism and Classicism in Italian Painting at the Thyssen-Bornemisza Museum: A Technical and Historical Study, Madrid 2008, p. 102;
J.J. Marciari, in Italian Paintings from the Richard L. Feigen Collection, exhibition catalogue, L. Kanter and J.J. Marciari (eds.), New Haven and London 2010, pp. 157-158, reproduced fig. 1;
M. Odlozil, in Caravaggio und der internationale Caravaggismus, exhibition catalogue, W. Prohaska and G. Swoboda (eds.), Milan 2010, pp. 177-185, reproduced fig. 2;
A. Leonardi, Genoese Way of Life: Vivere da collezionisti tra Seicento e Settecento, Rome 2013, p. 46;
R. Lattuada, in Artemisia Gentileschi e il suo tempo, F. Baldessari (ed.), Milan 2016, p. 226;
A. Orlando, "I Gentileschi a Genova, Dati certi e incerti per Orazio, Artemisia, Francesco e Giulio," in Caravaggio e i Genovesi, Committenti, collezionisti, pittori, exhibition catalogue, A. Orlando (ed.), Genoa 2019, pp. 155-156, reproduced in color fig. 5;
M. Bartoletti, in A Superb Baroque: Art in Genoa, 1600-1750, exhibition catalogue, J. Bober (ed.), Washington and Princeton 2020, p. 112;
A. Brady, "The Studio of Guido Reni from 1620 to 1630: Formulating Compositions," in Getty Research Journal 12 (2020), pp. 11-12;
L. Treves, in Artemisia, exhibition catalogue, L. Treves (ed.), London and New Haven 2020, p. 116.
Exhibited: Rome, Museo Nazionale di Palazzo Venezia; New York, Metropolitan Museum of Art; Saint Louis Art Museum, Orazio and Artemisia Gentileschi, 15 October 2001 – 15 September 2002, no. 35;
Los Angeles, The J. Paul Getty Museum, Orazio Gentileschi in Genoa: Paintings for the Palazzo Sauli, 1 October 2002 - 12 January 2003.
Note: This elegiac depiction of Saint Mary Magdalene is the only one of the three paintings produced by Orazio Gentileschi in the early 1620s for Giovanni Antonio Sauli that remains in private hands. The Sauli commission was one of the most important of Gentileschi's career. The work's pendants, Lot and his daughters (fig. 1) and Danaë (fig. 2), are both in the J. Paul Getty Museum, Los Angeles.
Fig. 1 Orazio Gentileschi, Lot and his daughters, oil on canvas, Los Angeles, J.Paul Getty Museum, inv. no. 98.PA.10.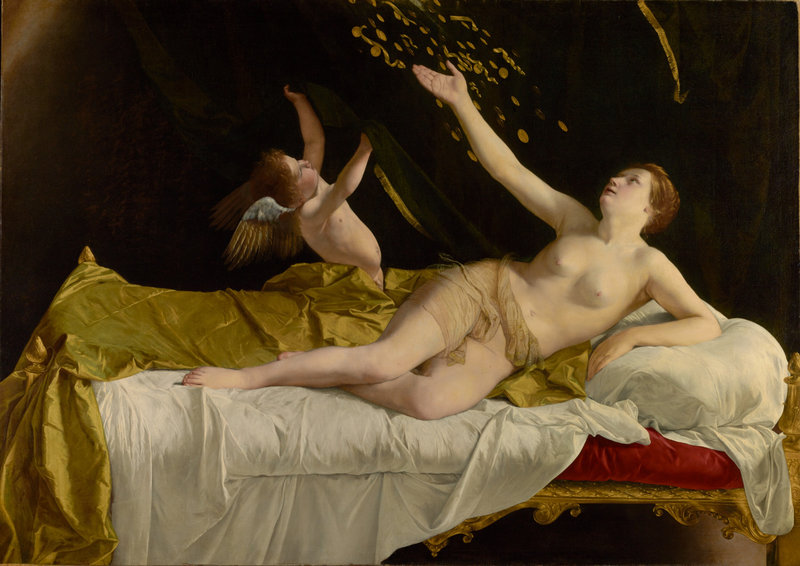 Fig 2. Orazio Gentileschi, Danaë , oil on canvas, Los Angeles, J.Paul Getty Museum, inv. no. 2016.6.
Born in Pisa in 1563, Orazio was the most successful of Caravaggio's associates, enjoying an international career that began in Florence and ended in London, where he worked as court painter to Charles I. Unlike artists such as Bartolomeo Manfredi, whose work often displays a dramatic forcefulness, Orazio never abandoned the lyricism and sense of color derived from his late-mannerist training, the touchstone of which remained the work of the Carracci family. Gentileschi's Penitent Saint Mary Magdalene embodies this approach, seamlessly fusing Caravaggesque naturalism and Tuscan formal sophistication, bridging the two elements of his artistic heritage.
The scene derives from Jacobus de Voragine's thirteenth-century Golden Legend, which relates how following Mary Magdalene's conversion and flight from Palestine, she took refuge in a mountain cave near Marseille, where she spent the last thirty years of her life. At once devout, sensuous, and repentant, she lies recumbent in a sparse grotto. Pictorially, Gentileschi's Penitent Saint Mary Magdalene is indebted to important sixteenth-century antecedents by Correggio and Titian (fig. 3). In composition, with the Magdalene's outstretched position arranged parallel to the picture plane, Gentileschi drew upon the former. In ideological approach, with the Magdalene lost in divine reverie, he was influenced by the latter.
Fig. 3 Titian, Penitent Magdalene, oil on canvas, Florence, Palazzo Pitti, Galleria Palatina, inv. no. 1912, no. 67.
The painting's restrained palette focuses attention on the artist's virtuosic treatment of his languorous subject. The penitent saint is bathed in a soft light that shines from the right: her gently modeled flesh tones provide a sensitive counterpoint to the cascading folds of her ochre drapery. With chin raised, Mary Magdalene's face is rendered with skillful foreshortening. Gazing heavenward, she is depicted with mouth slightly agape, heightening the effect of penitential ecstasy. And while her bared breasts imbue the scene with sensual pleasure, the ample drapery engulfing much of her body emphasizes the saint's spiritual experience. The still-life elements that define the right foreground further underscore the image's devout nature: the saint props her left elbow on an open Bible below which sits a fractured skull, characteristic of vanitas imagery.
Gentileschi enjoyed a particularly close relationship with Giovanni Antonio Sauli, who commissioned this work. According to the biographer Raffaelle Soprani, painter and patron met in 1621, when Sauli travelled to Rome as part of a delegation paying respects to the newly elected Pope Gregory XV. Enamored of Gentileschi's work, Sauli invited the sixty-year-old painter to Genoa. (Their relationship may actually have predated this encounter in the Eternal City as earlier in the century Gentileschi's brother, Aurelio Lomi, had produced paintings for the Sauli family's basilica of Santa Maria in Carignano.) During Gentileschi's four years in the cosmopolitan port city, he not only produced several paintings for Sauli, but also served as the successful merchant and financier's art advisor, helping the Genoese nobleman build an impressive picture gallery.
The Sauli trio of paintings mark Gentileschi's crowning achievement during his tenure in Genoa, yet they remain enigmatic. Unlike Titian's Poesie, which as a painterly series devoted to the exploration of the female form provides a clear precedent, Gentileschi's Penitent Saint Mary Magdalene, Danaë, and Lot and his daughters, share no common literary source. Rather, they are derived from, respectively, The Golden Legend, Ovid's Metamorphoses, and the Old Testament. Focusing on female protagonists of seemingly questionable virtue, the three scenes are perhaps best characterized as artistic ruminations on the female form through devotional, erotic, and moral lenses.
The proliferation of autograph (and semi-autograph) variants of and copies after the Sauli paintings testifies to their enduring popularity.1 Gentileschi repeated the composition of the Penitent Saint Mary Magdalene on at least two other occasions, one in a private New York collection and the other in the Kunsthistorisches Museum, Vienna, varying the background's landscape elements, the position of the objects in the foreground, and the saint's attire in each instance. This work's exceptionally high quality and impeccable provenance affirm its premier position in Gentileschi's oeuvre.
1 For a full enumeration of the copies, see Odlozil 2010, p. 185.