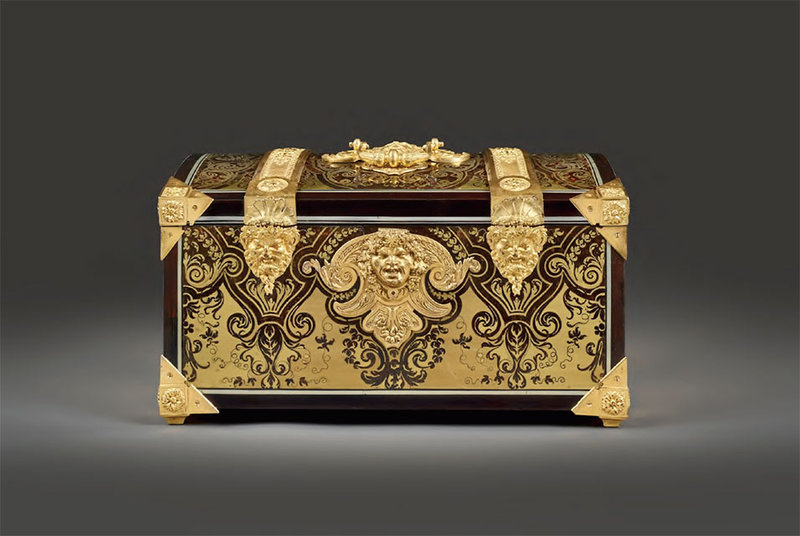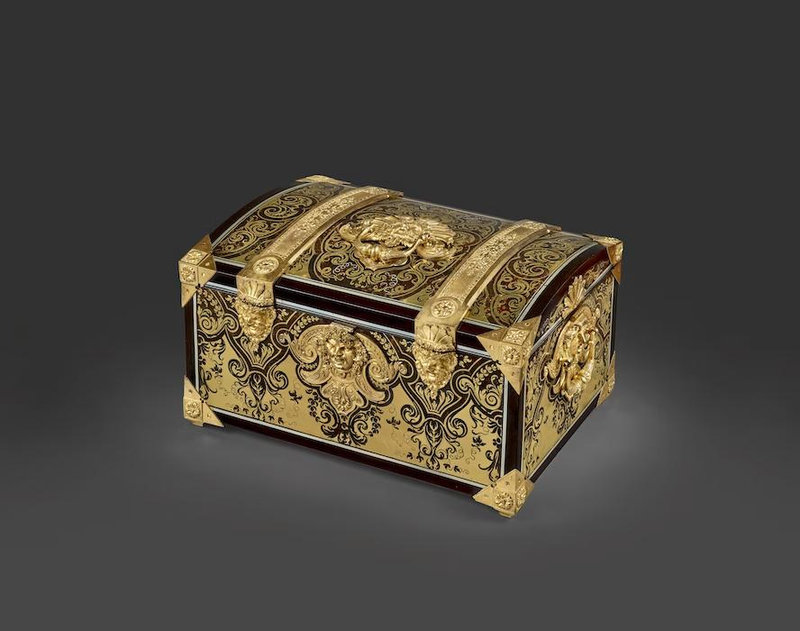 André-Charles Boulle (1642 – 1732), Chest in Boulle marquetry, Circa 1685-1700. Tortoiseshell, brass, pewter, ebony, chased and gilt bronze, 31.5 cm x 57.5 cm x 38.5 cm. Galerie Leage at TEFAF Maastrich 2023
MAASTRICHT.- The bottom right-hand corner of the jack of hearts, a playing card associated with good fortune and happiness, has been carefully cut away. The back is inscribed, in Dutch, "My burden is heavy, goodbye my dear Femke, Born 1st September 1795," by a mother who, two centuries ago, abandoned her baby as a foundling. She left the card with the child in the hope that, one day, mother and daughter could be reunited by matching that missing corner.

"We don't know of any foundling cards that were put together again," said Frank van den Bergh, an Amsterdam banker and seller of one of the most compelling historical exhibits at the TEFAF Maastricht fair in the Netherlands, which opened to VIP visitors Thursday.

"It's by far the most emotional card in my collection," said van den Bergh. His complete collection, comprising some 150 decks of playing cards whose illustrated decorations give insights into social, economic and political life from the 1670s to the 1990s, is being offered by London-based Daniel Crouch Rare Books, priced at 600,000 euros ($635,000).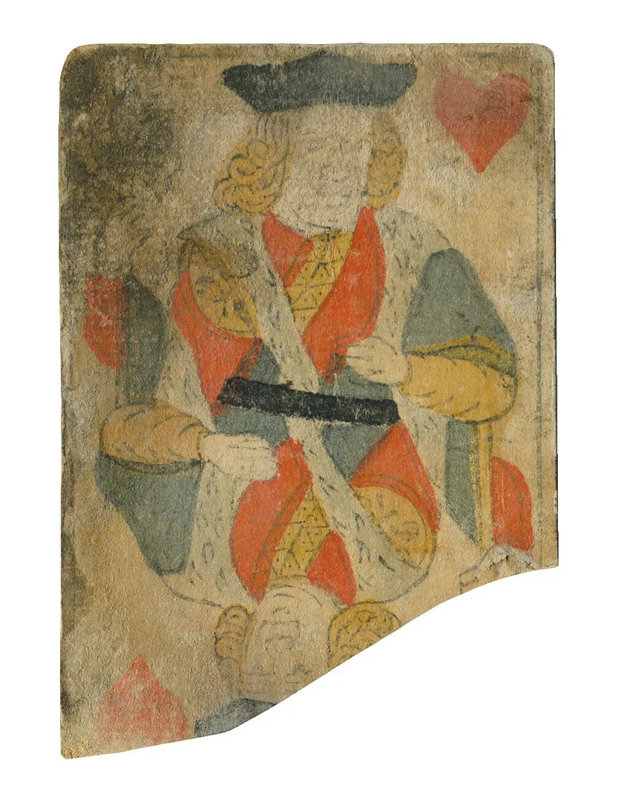 A so-called foundling card, Netherlands, 1795, front and back. Daniel Crouch Rare Booksat TEFAF Maastrich 2023
TEFAF Maastricht, the world's preeminent major fair for museum-quality historical artworks, furniture and objects, has not had the greatest good fortune itself in recent years. The 2020 edition had to close early after it became the international art world's first major "superspreader" event of the pandemic. COVID restrictions forced TEFAF to go virtual in 2021. Last year's smaller-than-usual fair, held later than usual in June, made headlines not through its standout sales, but because of an audacious armed robbery of 10 valuable pieces of jewelry, stolen from the booth of the London dealer Symbolic & Chase.

The investigation of that smash-and-grab raid remains unresolved, but Dutch police have recently identified the culprits as members of the so-called "Pink Panther Gang," a criminal organization based in the Balkans, according to De Telegraaf, a Dutch newspaper. This year, security has been enhanced: Metal detectors have been installed at the entrance, and more rigorous bag checks have been imposed.

But arguably the biggest challenge TEFAF faces is the way the pendulum of collecting taste has swung decisively toward contemporary art in recent years, putting pressure on fairs with a historical focus, such as Masterpiece in London and TEFAF's New York sister fair, both of which have closed.

Where does this leave TEFAF Maastricht, the last truly international fair whose traditional strength is pre-20th century material?

"Maybe the center is shifting," said Ian Wardropper, director of the Frick Collection in New York, who was among the many American museum curators and patrons visiting TEFAF Maastricht. "It's an existential question," he added. "We're an old museum with old art. Our job is to get the younger generation interested."

As well as visiting the fair to make acquisitions, Wardropper and his team brought 15 Frick patrons under 40. "We want to encourage them to collect. They are the future," he said.

Dealers in old masters and antiques had brought their choicest pieces to tempt curators from some 150 visiting institutions, but they were also aware that they needed a new generation of private collectors to support their trade.
"There are fewer private collectors who buy at a very high level. They've either stopped buying or are no longer with us," said Andreas Pampoulides, a co-founder of the London-based dealership Lullo-Pampoulides, one of 270 from 20 countries exhibiting at TEFAF. "We're trying to freshen up the old master market. You can no longer just stick a picture up on the wall and expect people to buy it," Pampoulides added. "You have to tell a story."

There was certainly a story behind his gargantuan 18-foot-wide exhibit, "Launch of the Argo," which created a sensation at the 1890 Paris Salon. This academic tour de force, featuring dozens of improbably posed nude Argonauts hauling their ship out to sea, was painted by 16-year-old Belgian prodigy Jules Pierre van Biesbroeck, who was asked by blushing Salon organizers to paint loincloths over some parts of his figures.

"It's bonkers, but I love it," said Pampoulides, who priced the painting at 550,000 euros.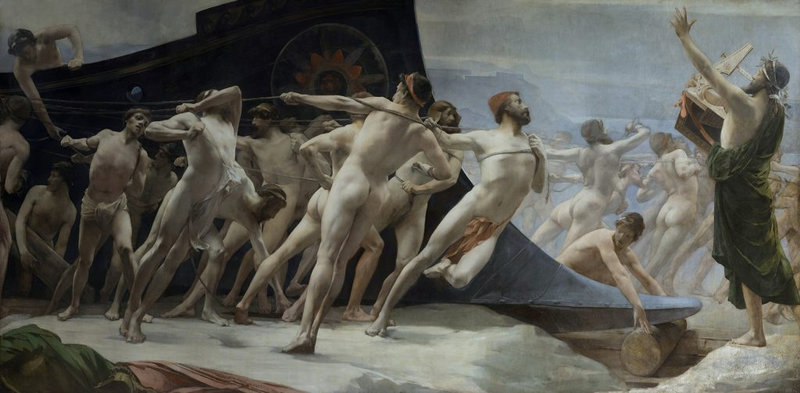 Jules Pierre van Biesbroeck (1873-1965), "Launch of the Argo", 1889. Oil on canvas, 271 x 550 cm. Lullo-Pampoulides at TEFAF Maastrich 2023.
Christophe de Quénetain, a Paris-based dealer in 18th-century European furniture, said the days were long gone when a TEFAF exhibitor could buy the top lot at a Sotheby's or Christie's auction and then sell it for a profit at Maastricht. "Now you have to make a discovery and add something," said de Quénetain, who was showing a writing table newly recognized as having belonged to Marie Antoinette, priced at 1.7 million euros.
A writing table newly recognized as having belonged to Marie Antoinette, Christophe de Quénetain at TEFAF Maastrich 2023. Credit Jeremie Beylard
In its continuing efforts to remain fresh and relevant, TEFAF has in recent years encouraged the world's leading contemporary galleries to exhibit at the fair. This edition also saw the event expand its Showcase section of emerging gallerists from five participants to 10.

With its dark green walls, cascading dried flowers and mysterious modernist still lifes, the booth of young New York private dealer Ambrose Naumann was the obvious standout. "I wanted to make a splash. This is where the action happens," said Naumann, who was showing an unsettling still life, "The White Cloth," made in 1929 by Berlin painter Rudolf Hacke, priced at $195,000.
And how were sales? "Ask me at the end of the fair," said Naumann, laughing.
The pace of sales was altogether quicker in TEFAF's 54-exhibitor Modern section, where powerhouse contemporary galleries White Cube and Lisson were participating for a second time. The Tim Van Laere Gallery, based in Antwerp, Belgium, which represents young rising-star artists, was making its debut. "We have a lot of artists with waiting lists," said Elke Segers, a partner and director at the gallery, who pointed out recent paintings by Ben Sledsen, Bram Demunter and Kati Heck that all found buyers. Later in the day, tennis champion Venus Williams was seen browsing the booth.

Though the visitor demographic at TEFAF is predominantly white and middle-aged, with hardly a sneaker in sight, there was also a younger, more diverse audience in attendance on Thursday. Aarti Lohia, a prominent Indian collector, said she was drawn to the fair because of "the mix of old and new," adding: "When you look at different things you train your eyes. It's not meant to be edgy. Contemporary art fairs have become same-y, and there isn't the time to process the art you look at. Everyone's in a rush."

Gradually, it seems, a new generation of collectors is beginning to appreciate what TEFAF Maastricht has to offer. The challenge for the venerable fair is to get them to start actually buying the old stuff.

This article originally appeared in The New York Times, by Scott Reyburn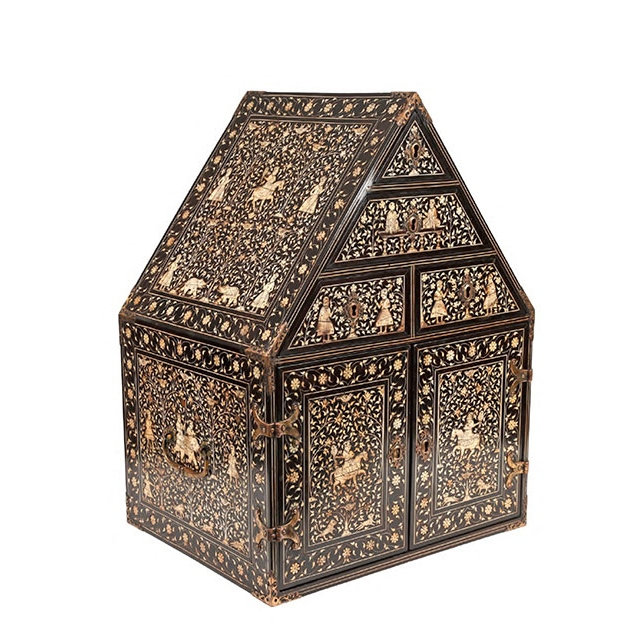 An Indo-Portuguese, sadeli and ivory "chapel" cabinet, Circa 1580 - 1620. Teak, ebony, ivory, sadeli, and iron with gilt copper fittings, 52.5 cm x 39.0 cm x 31.0 cm.