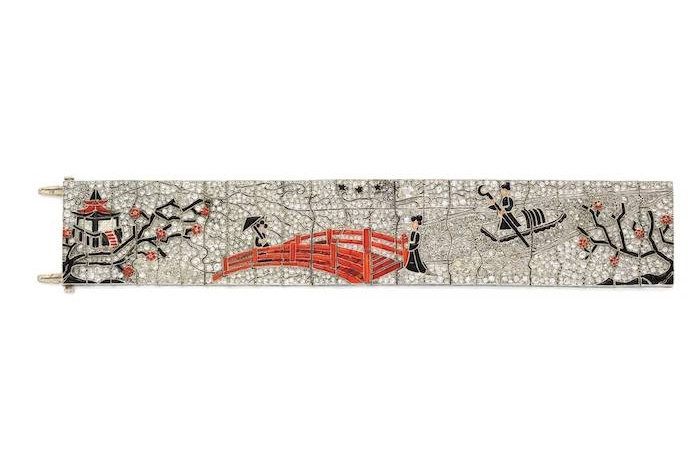 Lacloche. An Art Deco Chinoiserie Bracelet by Lacloche Frères, Paris, c. 1927. Platinum, Diamond, Coral, Onyx, and Enamel 18.4 x 3.8 cm (7.25 x 1.5 in.). Courtesy SIMON TEAKLE FINE JEWELRY & OBJECTS at TEFAF Maastrich 2023
An Art Deco Chinoiserie Bracelet, of narrative style depicting a garden scene with two court women chaperoned by an oarsman on a river, set with diamonds, black onyx and enamel mounted in platinum.
Bvlgari "Monete" Necklace, 18 ct yellow gold and antique silver coins, Weight 228,3 gram, length 45 cm (17.7 in.). Signed 'BVLGARI'. Courtesy MARJAN STERK FINE ART JEWELLERY at TEFAF Maastrich 2023
An eighteen carat yellow gold curb chain "Monete" necklace with nine antique silver Antoninianus coins.
The Bulgari family has always been collecting antique coins, but only since the middle of the last century they have started using them in jewellery. Original coins from classical antiquity are used; from Greece, Persia and the Roman Empire.
The antique coins are a beautiful combination with the sober and sturdy design of the yellow gold jewellery. Also the coins are a reference to the heritage of the House of Bulgari: it was founded in Rome in 1884 by the Greek Sotiro Bulgari.
Provenance: International collection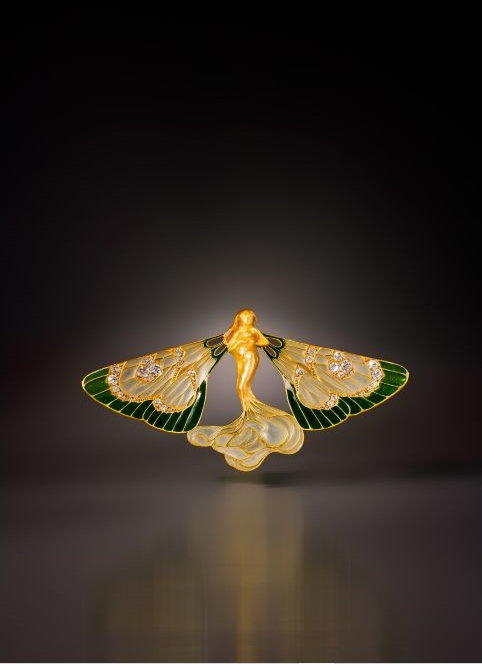 René Lalique. An Art Nouveau Gold, Diamond, Dark Green Enamel and Pale Green 'plique-à-jour' Enamel Nymph Pendant-brooch by René Lalique. In original fitted case., c. 1898; 18 karat gold, diamonds, and enamel; 8.3 x 4.1 cm (3.3 x 1.6 in.). Courtesy EPOQUE FINE JEWELS at TEFAF Maastrich 2023
Provenance: Private collection.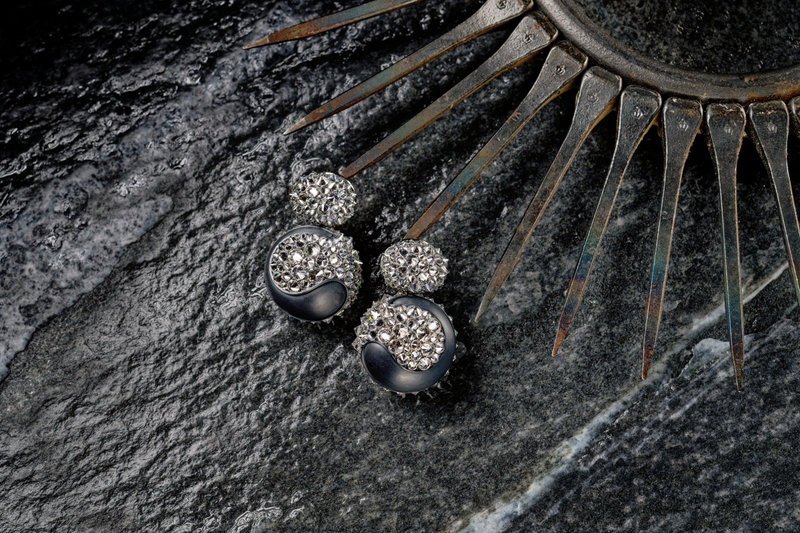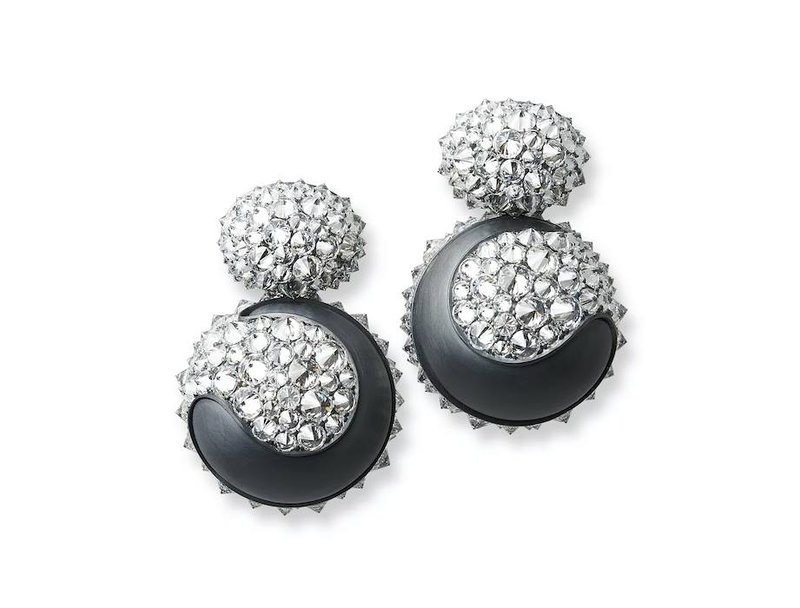 Hemmerle Munich, Hemmerle Earrings, 2022. Over 370 diamonds with a total of 39 ct., silver, white gold. Courtesy HEMMERLE at TEFAF Maastrich 2023
Van Cleef & Arpels. Heritage Necklace and clip/pendant, 1971, USA, 1971. Yellow gold, sapphires, emeralds, and diamonds 45 x 1.5 x 6.8 cm (17.7 x 0.6 x 2.7 in.). Courtesy VAN CLEEF & ARPELS at TEFAF Maastrich 2023
Provenance: Piece authenticated by VCA archives.
This transformable heritage necklace and clip pendant is a hallmark design of jewelry brand Van Cleef & Arpels. Dating to 1970, the incredible piece showcases a flower-like design of carved emeralds sourced from Colombia and Russia, as well as diamonds and carved Burmese sapphires in a setting of yellow gold. The piece comes from the collection of a prominent American investment banker, whose family has held it to this day.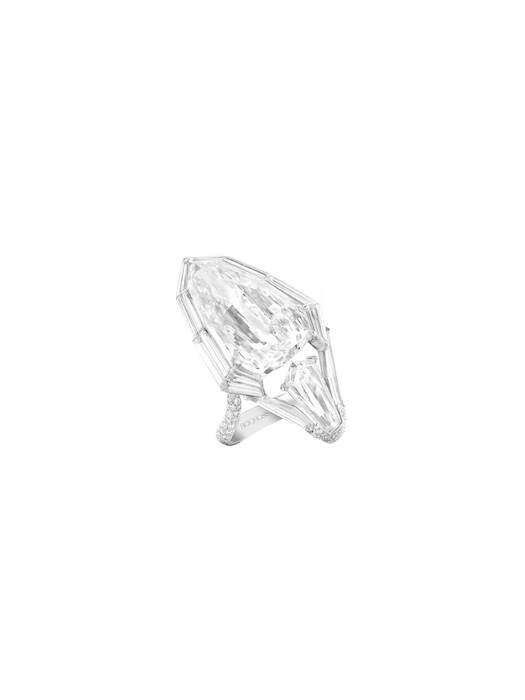 Boghossian. Fancy Shaped Diamond Ring. Diamond, 18kt gold. Courtesy BOGHOSSIAN at TEFAF Maastrich 2023
A contemporary and audacious ring exhibiting an impressive and unusual shield-shaped diamond of over 20 carats.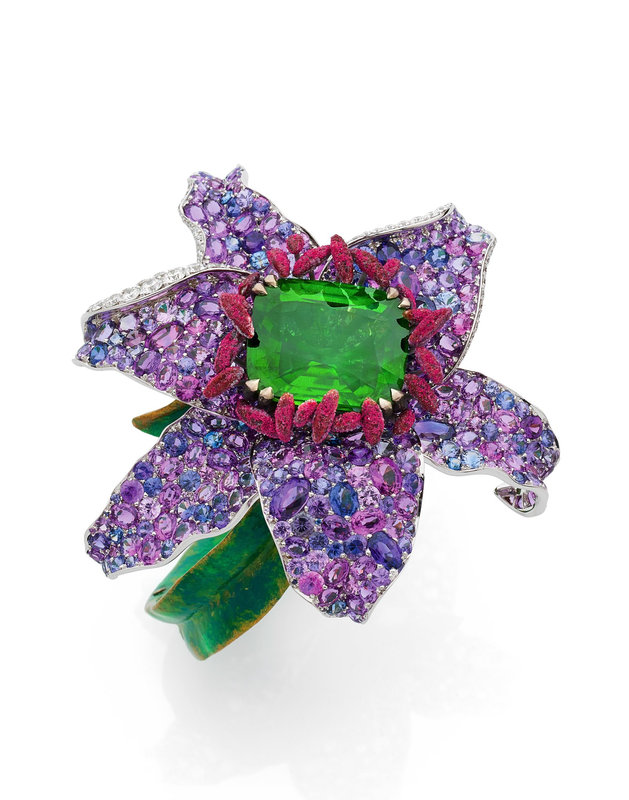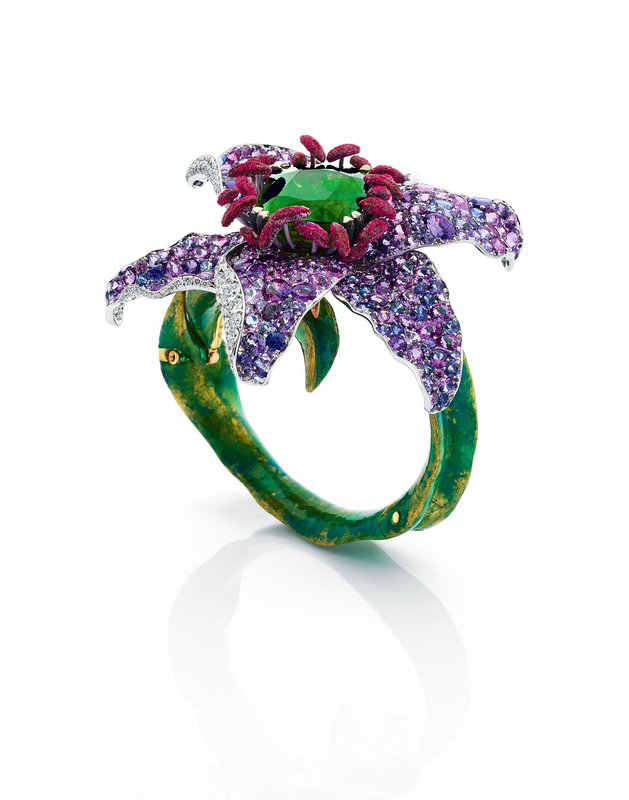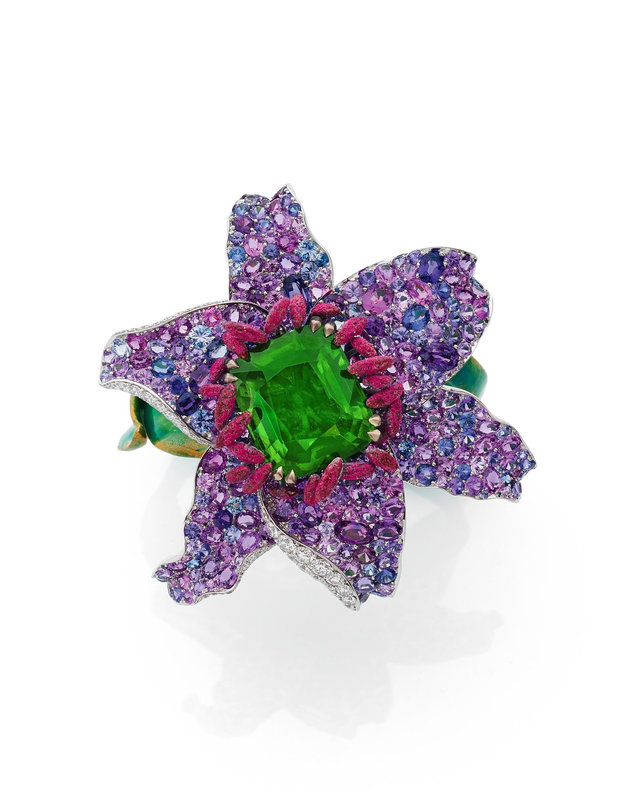 Anna Hu. ANNA HU Enchanted Lily Bangle in 53.92-ct. Peridot, Paris, 2022. Precious metals and stones; H. 7.5 x W. 8 x D. 8 cm (3 x 3.2 x 3.2 in.). Coutrtesy ANNA HU HAUTE JOAILLERIE at TEFAF Maastrich 2023
Provenance: This piece of jewel is one of the latest creations by maison ANNA HU HAUTE JOAILLERIE. Hu's celebration of the flower begins with the spectacular 53.92 carat brilliant-cut, olive green, entirely natural peridot, that forms the flower centre. Pulsating with colour and light, it is framed in a corona of red-purplish stamens, their startling realism achieved by sprinkling the enamel, of customised chemical composition, with minute rock crystal shards, giving the powdery matt texture a glowing fluorescence. The petals are set with white gold black rhodium plated gold and mixed with oval and round shaped purple and violet sapphires. The bangle, imagined as the winding flower stem, is crafted in a mix of gold and brass, hand-painted in green enamel to create the aged effect of patinated bronze.
As a classical cellist, , Anna Hu drew on Robert Schumann's Dichterliebe, Op.48 – III. Die Rose, die Lilie, die Taube, die Sonne. Hu then turned to the master of Chinese flower paintings , Zhang Daqian, (1899-1983), who captured the poetry and realism of flowers through every stage of their development. She also had always admired the traditional Chinese flower paintings, of Yun Shouping (1633-1690), Qing Dynasty poet and artist, particularly the ink painting of the lily in his "Album of Imitating Antiquity". On the other hand, she is also deeply influenced by the distinct details and soft shades of colors found in George Walter Dawson's Auratum Lilies. All elements of artistry and craftsmanship, inspiration and innovation, come together, seamlessly, in a thrilling, fairy-tale-like contemporary creation, romantic, feminine, painterly, intensely evocative of Anna Hu's own story, and her gift for storytelling through enchanting jewels.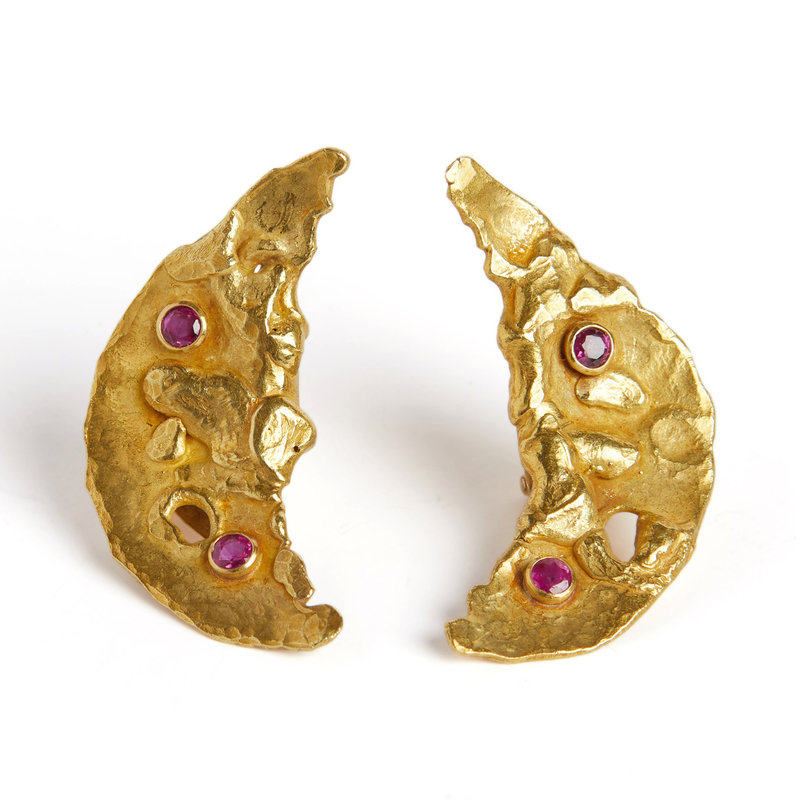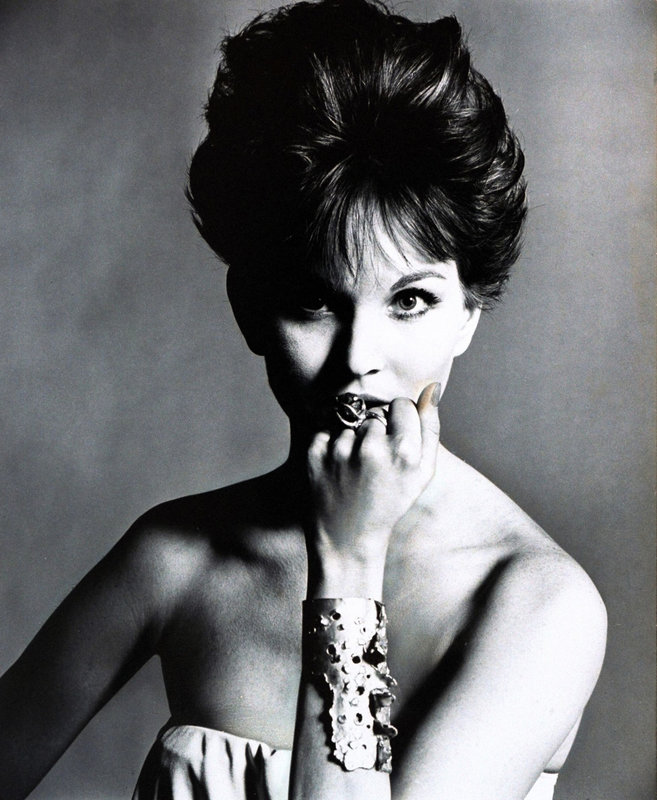 Nino Franchina. Unique 18ct Gold Cuff with Melted Holes and Ruby set Earrings by the Italian Sculptor Nino Franchina, 1963; Signed N. Franchina, Masenza, Roma; 18ct gold and ruby, L. 12 cm (4.7 in.). Courtesy DIDIER at TEFAF Maastrich 2023
Provenance: Private collection.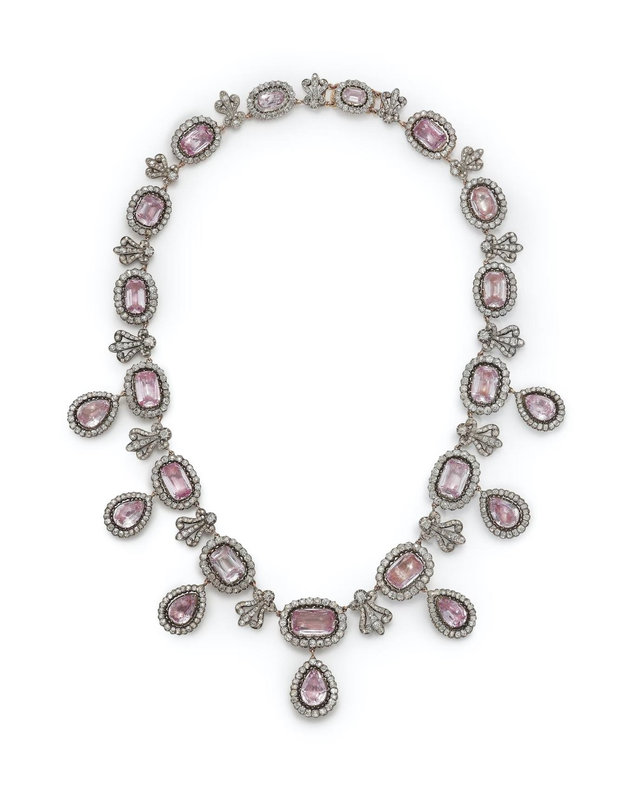 Necklace, Probably France, c. 1800. Silver and yellow gold. Length : 44 cm (17.3 in.). Courtesy VÉRONIQUE BAMPS at TEFAF Maastrich 2023
Provenance: Comtesse de la Ruelle née Neuil.
Box by Fontana Frères, jewelers in Paris in the 19th century.
The necklace has been lengthened by them by two links.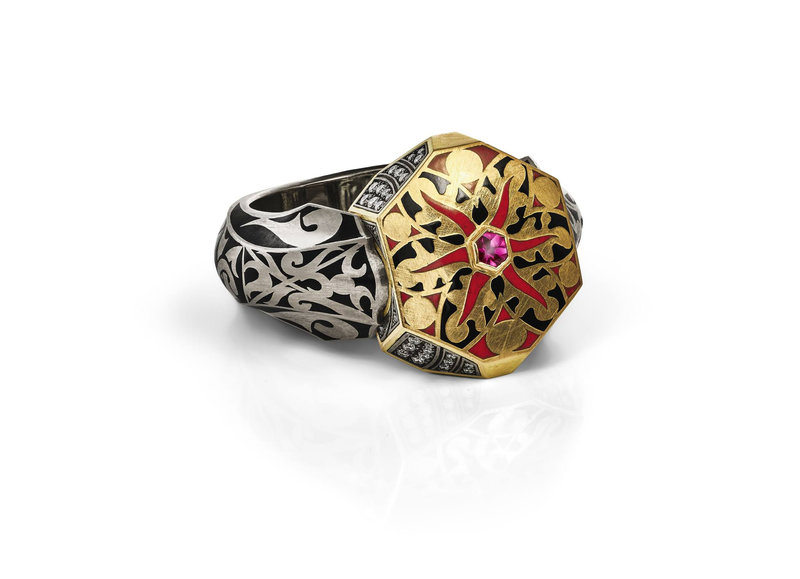 Otto Jakob. Mjölnir IV, 2022. White and yellow gold, diamonds, and vitreous enamel. H. 1.7 x W. 2.5 x D. 2.5 cm (0.7 x 1 x 1 in.). Courtesy OTTO JAKOB at TEFAF Maastrich 2023
Swivel ring with a two-faced octogonal bezel. One side displays a fancy light grey old mine diamond from the 19th century, while the other shows a hexagonal ruby surrounded by a red enameled flaming star and black enameled oak leaves. The bezel is made of yellow gold with diamond-set inlays of white gold.
The mural paintings of the Florence Baptistery served as inspiration for the black enemaled ornaments of the ring hoop.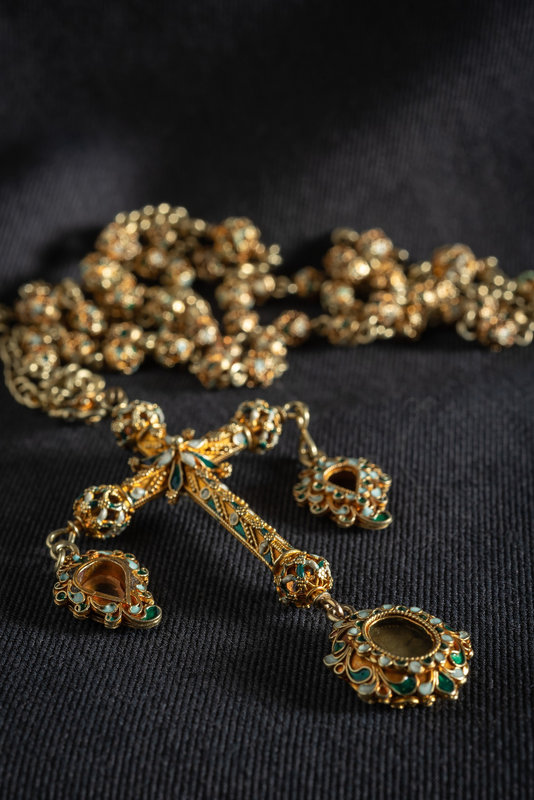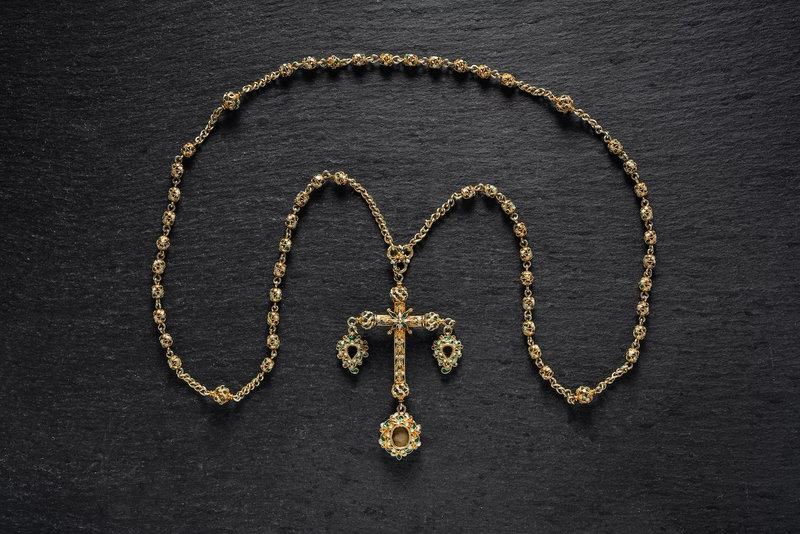 Rosary, Spain, c. 1600. Gold, enamel, and quartz; 46.5 cm (18.3 in.); cross: 5 x 3 x 0.8 cm (2 x 1.2 x 0.3 in.); medallions: 3 x 1 cm (1.2 x 0.4 in.) (hearts), 3 x 1.5 cm (1.2 x 0.6 in.) (oval); 54 g. Courtesy DEBORAH ELVIRA at TEFAF Maastrich 2023
Provenance: Private collection, Madrid.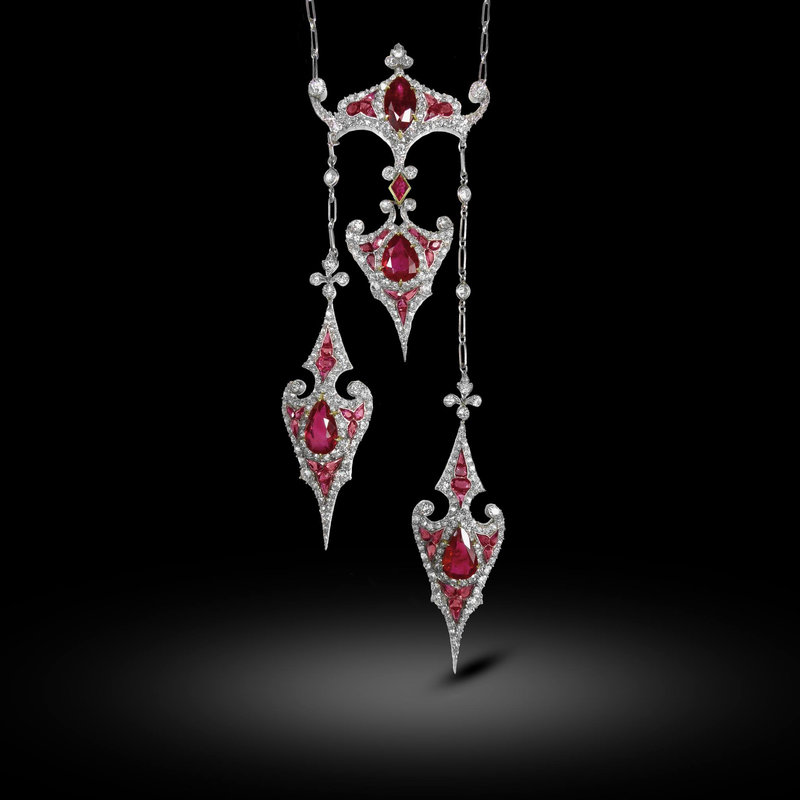 Early 20th Century Ruby and Diamond Triple Pendant Necklace by Mellerio dits Meller, Paris, c. 1905. Platinum, ruby, and diamond. Length inside chain 40cm (17.7 in.), Height across gem front section 11cm (4.3 in.). Courtesy S J PHILLIPS LTD at TEFAF Maastrich 2023
of négligée design, hung with three shaped lozenge panels set with principal pear shaped Burma rubies within ruby and diamond borders, from a similarly set cartouche shaped cluster surmount, suspended on a fetter chain necklace, the motifs set with variously cut rubies and red stones and circular-, single-cut and rose diamonds, their chain connections with spectacle set diamonds, serial number 6450, French import assay marks for platinum and 18 carat gold, fitted case, stamp for Mellerio dits Meller.

Accompanied by SSEF report no. 116136, dated 08 February 2021, stating that the four main rubies are of Burmese origin, with no indication of treatment and minor amount of oil in fissures.
Also accompanied by a copy of a valuation for insurance from Mellerio dated December 1979.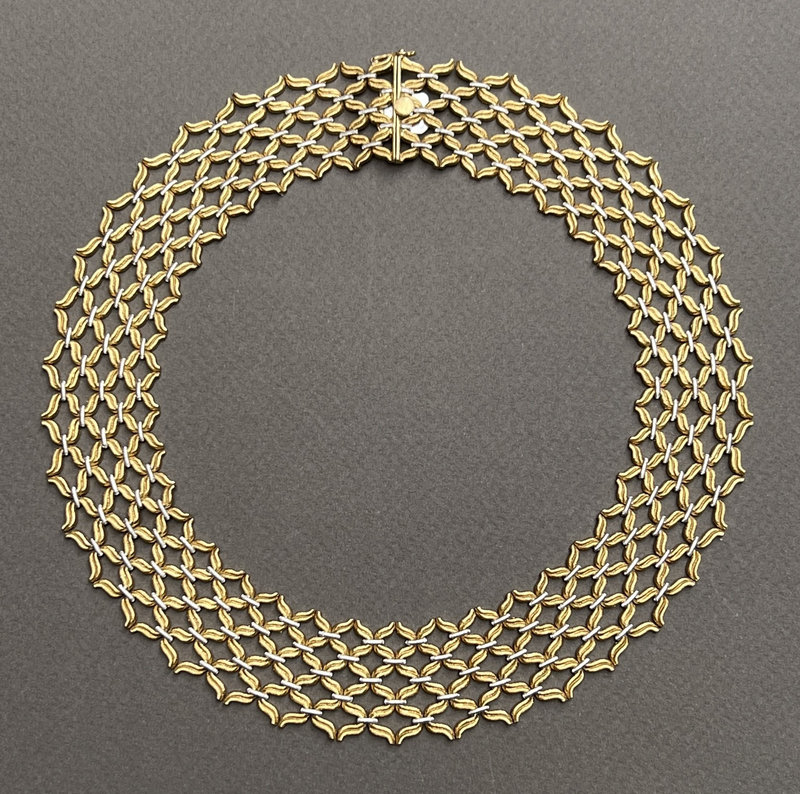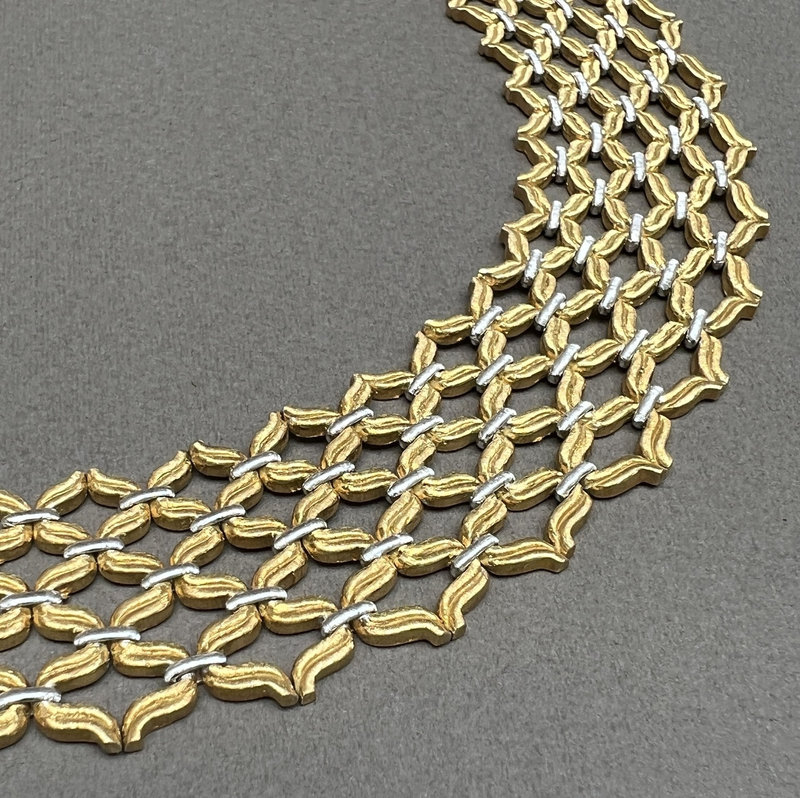 BUCCELLATI. An 18K Yellow and White Gold Collar Necklace. Designed as a Trellis of Yellow and White Gold Textured Links. Signed Buccellati, hallmarks for 18K gold., c. 1990. 18K yellow and white gold; W. 2.5 cm (1 in.), inner circumference 32.8 cm (12.9 in.). Courtesy VKD JEWELS at TEFAF Maastrich 2023
Provenance: Private Collection.
5.15 carat Natural Vivid Pink Spinel and Fuscia Aluminum Ring. Courtesy FORMS at TEFAF Maastrich 2023
Characterized by subtle and simple lines, this contemporary ring of avant-garde design, marries rareness with antiquity and modernity. Set with a 5.15 carat vivid pink spinel from the legendary Old Mine in Burma, in a sleek white gold case, encasing a fuscia aluminum frame in matte finish.
FORMS combines the traditional use of gold with the modern finishings of aluminum in a strikingly complementary colour to the exquisite gemstone. The difficult art of simplicity where the degree of curves and angles are studied to the finest detail to be harmonious, and where FORMS technical mastery works in hand with pushing design boundaries.
A work of true patience.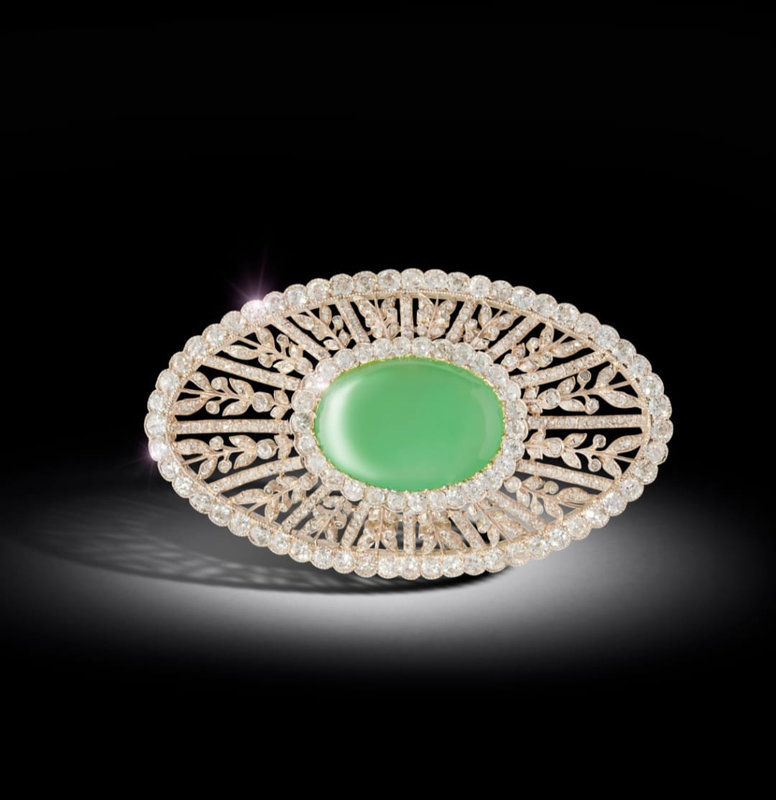 Carl Faberge. A Royal brooch/pendant by Carl Faberge, St. Petersburg, c. 1906. Gold, diamond, and chrysoprase; 3.6 x 6 cm (1.4 x 2.4 in.). Signed Albert Holmstrom. Courtesy WARTSKI at TEFAF Maastrich 2023
Provenance: Her Majesty Queen Olga of Greece, daughter of Grand Duke Constantin Nicholaevich of Russia, consort of George I of Greece (brother of Empress Marie Feodorovna and Queen Alexandra)