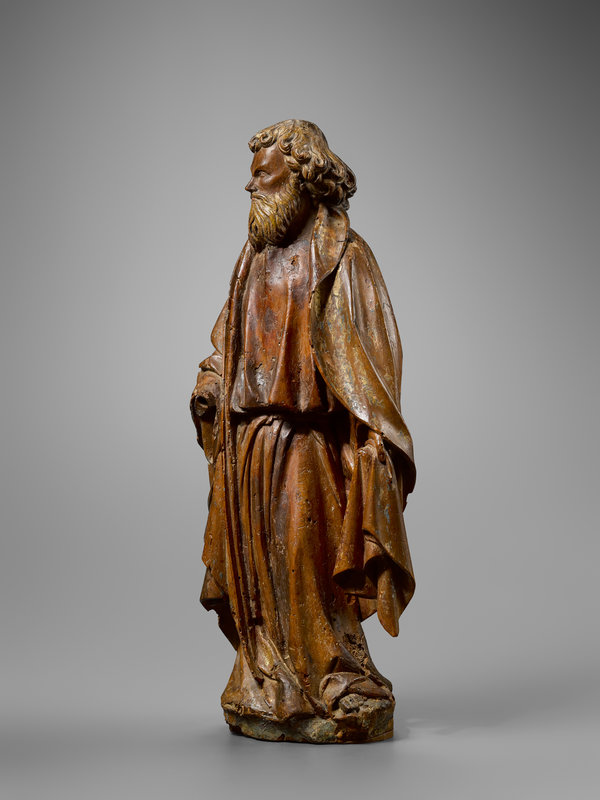 Apostle, Burgundy (Dijon?), France, c. 1420-1430. Walnut wood with traces of polychromy; 48.5 x 26 x 10 cm (19.1 x 10.2 x 3.9 in.). Courtesy BRIMO DE LAROUSSILHEat TEFAF Maastricht 2023.
Provenance: From a dismembered altarpiece, probably originally in the Cistercian Abbey of Theuley, or nearby, in the Franciscan convent at Gray (Haute-Saône); France, private collection.
Literature: 2009, Les Premiers Retables (XIIe-début du XVe siècle). Une mise en scène du sacré. Published in Exhibition catalogue, (Paris, musée du Louvre, April 10th -July 6th 2009), by GUILLOT DE SUDUIRAUT, S., in LE POGAM, P.-Y. (ed.), page 178, catalogue 48.
2012. The Road to Van Eyck. Published in Exhibition catalogue (Rotterdam, Museum Boijmans van Beuningen, Oct. 13th 2012- Feb. 10th 2013, by KEMPERDICK, S. and LAMMERTSE, F., page 167, catalogue 25.