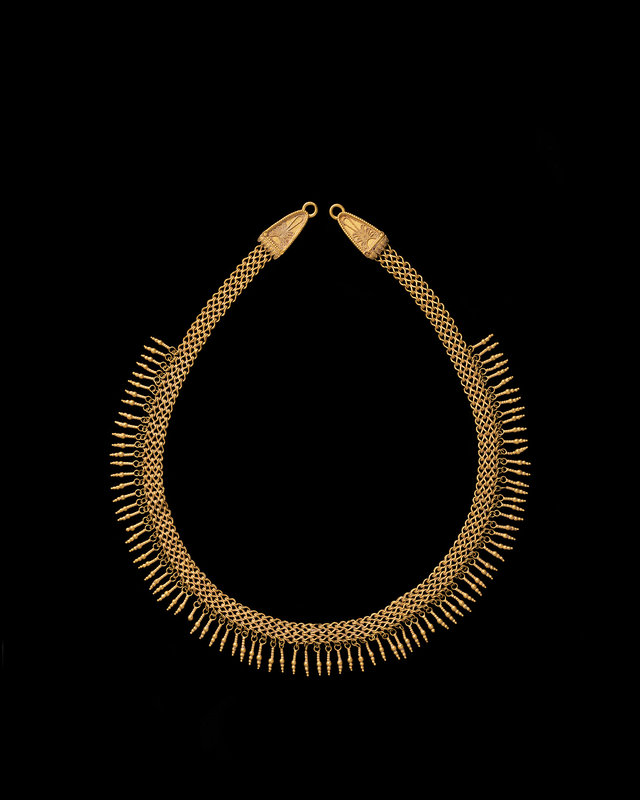 A Greek gold chain necklace, Hellenistic, circa 3rd century BC. Gold, Length: 43.4 cm. Courtesy KALLOS GALLERY at
Provenance: Jean Sigrist Collection, Basel, acquired in the 1960s - 1970s
With Galerie Nefer, Zurich, 2002
Private Collection, Switzerland.
The necklace is composed of three loop-in-loop chains fastened together to form a ribbon, with a fringe of small seed-pod pendants attached to the outer links of the necklace. The terminals are in the form of elliptical plates bordered with beaded wire and decorated with a filigree palmette. The join of the terminal and ribbon is masked by a row of six pointed leaves. A loop is attached at the ends of each plate.
The motif of the seed-pods may have symbolised fertility. For a very similar example from Tarentum, now in the Brooklyn Museum, see H. Hoffmann, P.F. Davidson, Greek Gold. Jewelry from the Age of Alexander, Brooklyn, 1965, p. 275, no. 127. For further discussion of the type and the techniques of goldsmithing see: J. Ogden, D. Williams, Greek Gold. Jewellery of the Classical World, London, 1994, nos. 23 and 53.