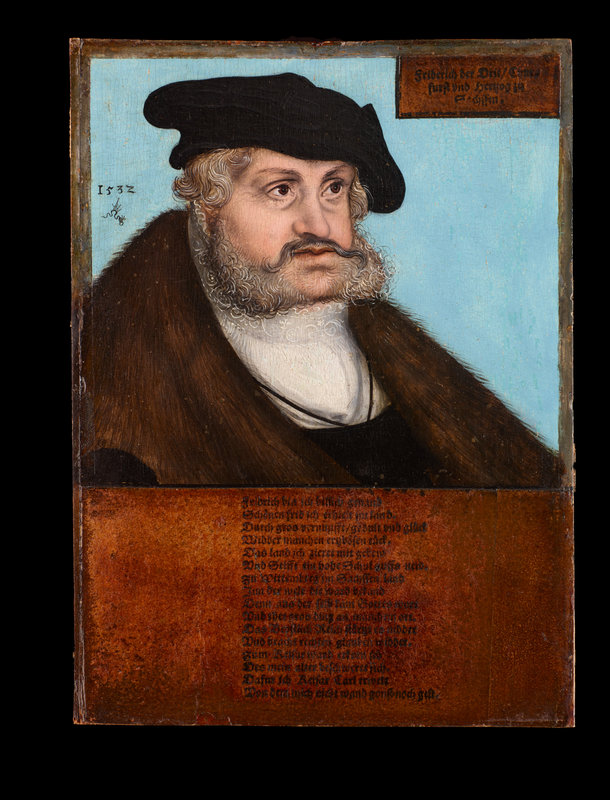 Lucas Cranach the Elder and workshop, Frederick III (the Wise), Elector of Saxony, Dated 1532. Panel painting, oil on hardwood, 20 x 14.7 cm (7.9 x 5.8 in.). Courtesy SENGER BAMBERG KUNSTHANDEL at TEFAF Maastrich 2023
Provenance: - Edmund Count de Pourtalès (* April 6, 1828 in Paris; † March 23, 1895 in Cannes)
- Auction Gallery Fischer, Lucerne, November 23-25, 1932, as part of the inventory of Mauensee Castle, lot 1052
- Until 2017 private collection, Switzerland.
Catalogue raisonné CORPUS CRANACH No.: CC-POR-160-069 – C1
Elector Frederick III of Saxony was considered a wise and prudent ruler even during his lifetime. In 1502 he founded the University of Wittenberg, and in 1505 he appointed Lucas Cranach as his court painter. He promoted Martin Luther and quietly but persistently contributed to the spread of the Lutheran Reformation. In 1519 he was the favorite for the election of the Holy Roman Emperor, but declined candidacy.
The panel belongs to a posthumous series of pairs of portraits showing Frederick together with his brother John the Steadfast, who succeeded him on the throne. A printed verse poem in the lower half of the picture describes the political and moral achievements of Frederick the Wise.
The surface of the painting is in exceptionally good original condition. Fine under-drawing lines can be seen in the infrared reflectogram, but no transferred lines or tracing. Unusually, there are six horizontal auxiliary lines that served to define the motif during the composition process of the picture. Most likely, this work is the prototype of the prominent series, which was designed and executed by the master himself and then served as a template for further copies by the workshop assistants.
Lucas Cranach, born around 1475 in Kronach, Franconia, began his career in 1505 as court painter to the Saxon elector in Wittenberg. There he produced not only portraits and sacred art for his electoral employer and other high nobles, but also works for private clients, as well as prints. Thanks to his outstanding precision and creative finesse, he became one of the most important painters of the early 16th century within a few years. After his marriage the eldest son Hans was born around 1513, and two years later Lucas the Younger followed.
From the 1520s Lucas Cranach also worked as a bookseller, printer, and publisher. He made close friends with Martin Luther and Philipp Melanchthon and turned into the most important painter and graphic artist of the German Reformation. Nevertheless, he continued to work for catholic clients. As a councilman and several times mayor, he was a respected person of public life in Wittenberg.