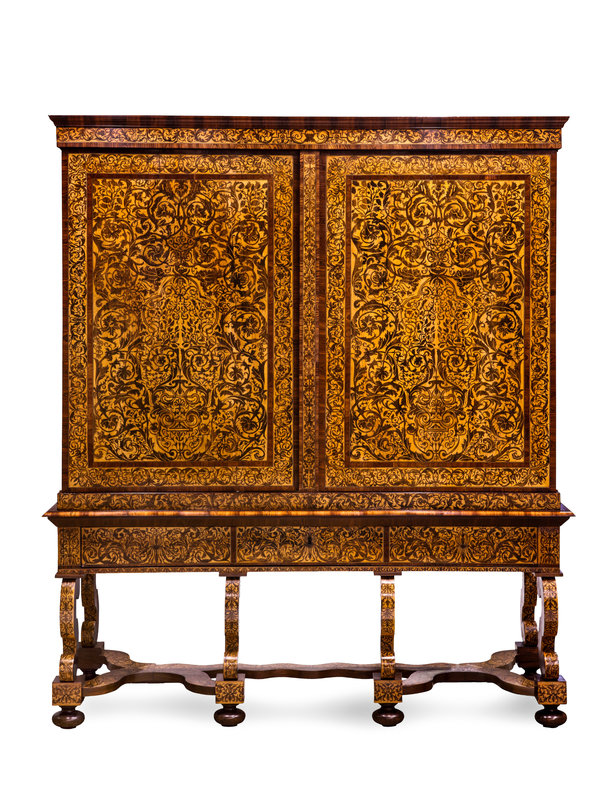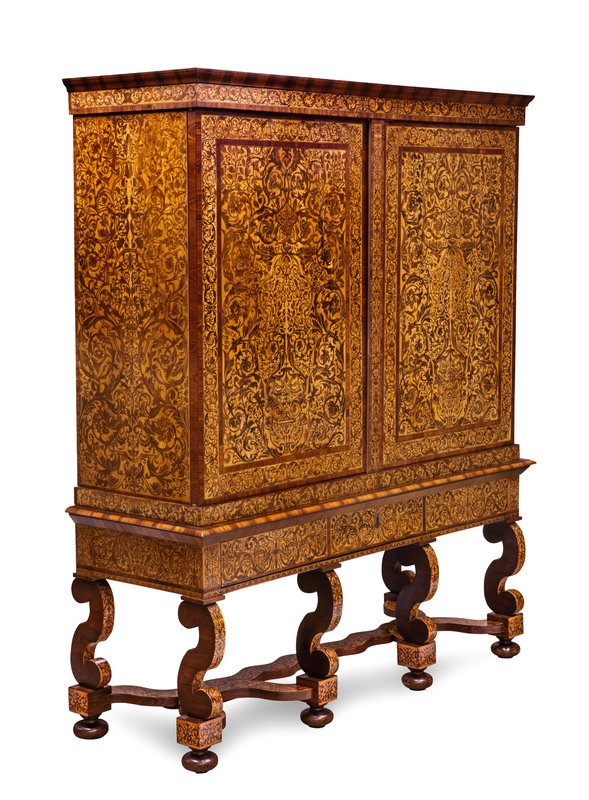 Jan van Mekeren, The William and Mary Cabinet, Amsterdam, Circa 1687. With M(ary) love W(illiam) initials on each side. Oak cabinet marquetry in Turkish walnut (Juglans regia) on a holly (Ilex aquifolium) font, surrounded by a kingwood (Dalbergia cearensis) border. The interior veneered with plain cedar (probably Cedrus atlantica). H. 209 x W. 178 x D. 67 cm. Price available upon inquiry. Courtesy ZEBREGS&RÖELL FINE ART AND ANTIQUES at TEFAF Maastrich 2023
Provenance: William & Mary of England or close circle, thence by descent (possibly)
Noble collection, England.
Literature: 1992. Published in Art of the Cabinet, by Monique Riccardi-Cubitt, page 96
The stellar feature of this cabinet is the fine marquetry, which shows scrolling vines, plants, and fruits, clearly recognizable but all in the same style. The design of the latter was not chosen randomly for it is filled with symbolism specific for the marriage between William of Orange and Mary Stuart. The letters M and W can be found above each other on each side of the cabinet with vines and leaves forming a heart in between, praised on each side by a narcissus (a spring flower symbol for new beginnings), placed within a large thistle. Wis in the center of the cartouche, but M not. When the M is noticed, one will also see the thistle. Further, the well-known symbols for the House of Orange recognizable by many in the Netherlands have prominent places on the cabinet, such as the Appeltjes van Oranje which are oranges and their blossom (recognizable because it is the only plant bearing of fruit and blossom at the same time); roses for England, olive branches, a symbol for peace and stability (a result of the alliance between England and Holland); thistles (the symbol for the House of - Mary - Stuart, and Scotland); mistletoe, growing in pairs of branches and leaves (stands for being a couple) and is evergreen (for eternity); hazelnuts for fertility; and sunflowers for the transitoriness of/and kinship.
There is even more iconography, but intended for a specific spectator, possibly even William and Mary. The eagles, which stand for sharp insight and high ideals, are picking at wheat which could stand for life after death, remembering the spectator that however high your ideals are, there is a limit to life. Furthermore, at the top center of the doors a heart-shape within two laurel wreaths can be seen – which could stand for the victory of love – the result of the marital alliance. The acorns (fruits of the endurance and power) in combination with blackberries are reminding the spectator that there is always a limit (to this same power).
The daffodils beneath M love W at each side of the cabinet contribute to the exciting possibility of this cabinet's royal provenance as they also symbolise ten years of marriage. Could this cabinet have been a gift by Mary to William to decorate Huis Honselaarsdijk when they celebrated their anniversary in 1687? The presumed date of this cabinet certainly matches.
Today, in the age of information, we have too much to learn and remember and we can't comprehend that a random spectator would understand this symbolism. However, sources prove that myths and symbolism were part of education and common knowledge – at least amongst the literate and educated upper-class. A cabinet like this would not be good enough of a conversation piece for royalty of William and Mary's status. Without the complex decoration. After all, a generic one with just a geometric motif was for 'normal' people. A cabinet with custom made iconography would be most entertaining to guests in a candle-lit drawing room. You can imagine a company chatting about the different flowers and their meanings. Another argument for the symbolism being not hidden is a bureau in the Royal Collection Trust, which was delivered by Gerrit Jensen (in who's studio Van Mekeren worked) in 1690 to William and Mary. The decoration holds the same flora and symbolism as this cabinet, the only difference being a clear monogram with a crown above. The fact that the symbolic plants and flowers are just as present on the cabinet, but without a monogram, show that they weren't very 'hidden' on each of the pieces.