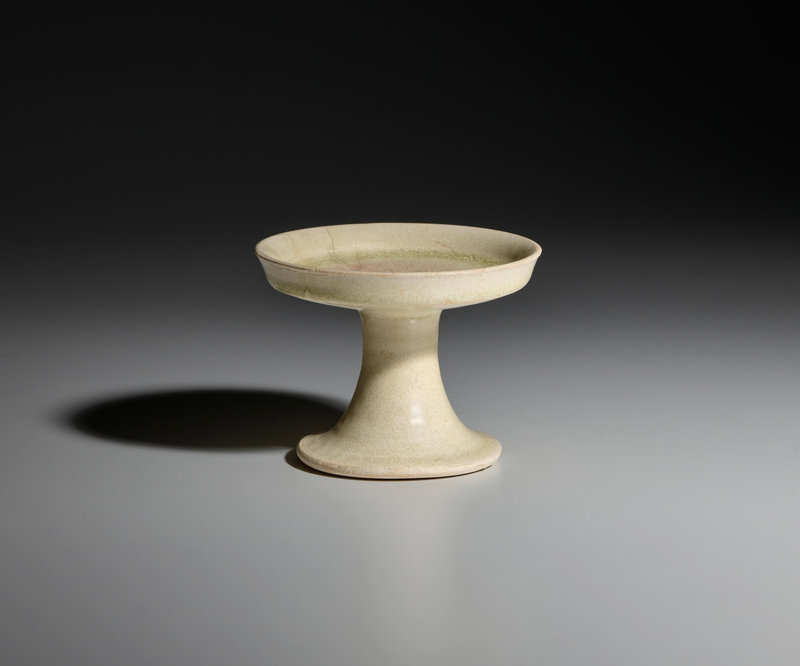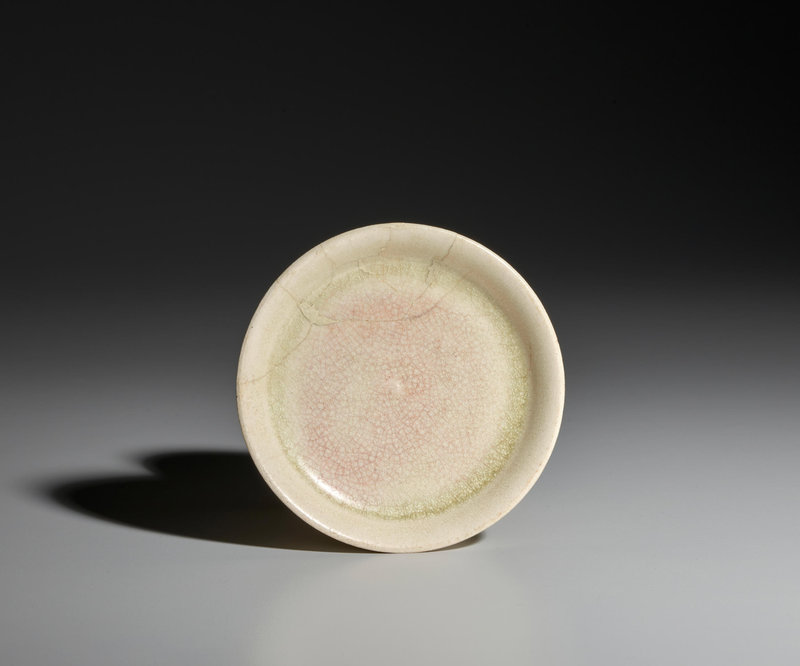 Lot 1. A glazed white pottery stem dish, Sui dynasty (589-618); 4in (10.2cm) diam; 3in (7.6cm) high. Sold for US$6,375 (Estimate US$500 -700). © Bonhams 2001-2023
Supported by a slender column with flaring foot, the circular dish with shallow concave sides covered with finely crackled translucent green glaze, the underside unglazed showing white pottery body.
Note: Compare the very similar white pottery glazed stem dish excavated from a Sui dynasty tomb in Qiao village, Anyang, Henan province, together with various white pottery vessels and objects, illustrated in Kaogu, 1992, No. 1, pl. 3:5. The same stem dish and vessels are illustrated again in The Bulletin of the Chinese Ceramics Study Association of Tokiwayama Bunko Foundation, Vol. 3, Northern Qi Ceramics, Tokyo, 2010, p. 85, no. 112l.

Another stem dish of larger size and covered in green glaze, excavated from a Sui dynasty tomb in Zhengzhou, Henan province, is illustrated in the same Yokiwayama Bunko volume, op. cit., p. 86, no. 109b, citing the original publication in Zhongyuan wenwu, 1997, No. 3.

Compare also similar examples in the Museum of Fine Arts, Boston, illustrated by Tseng and Dart in The Charles B. Hoyt Collection in the Museum of Fine Arts, Boston, Volume I, Boston, 1964, no. 65; in the Museum of Far Eastern Antiquities, Stockholm, illustrated by Gyllensvärd, Oriental Ceramics, The World's Great Collections, Vol. 8, no. 44; in the Barlow Collection and illustrated by Sullivan, Chinese Ceramics, Bronzes and Jades in the collection of Sir Alan and Lady Barlow, London, 1963, no. 27c.
Bonhams. J. J. Lally & Co. Fine Chinese Works of Art, New York, March 20, 2023