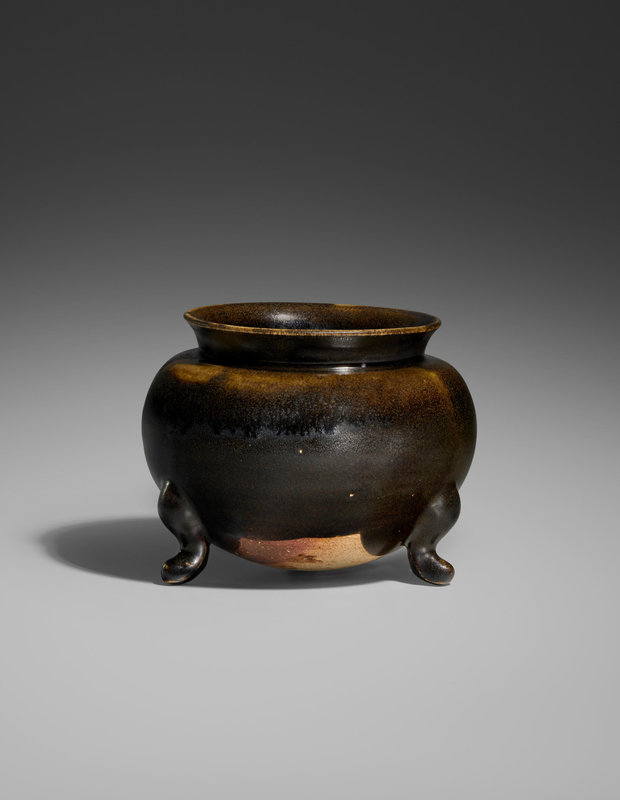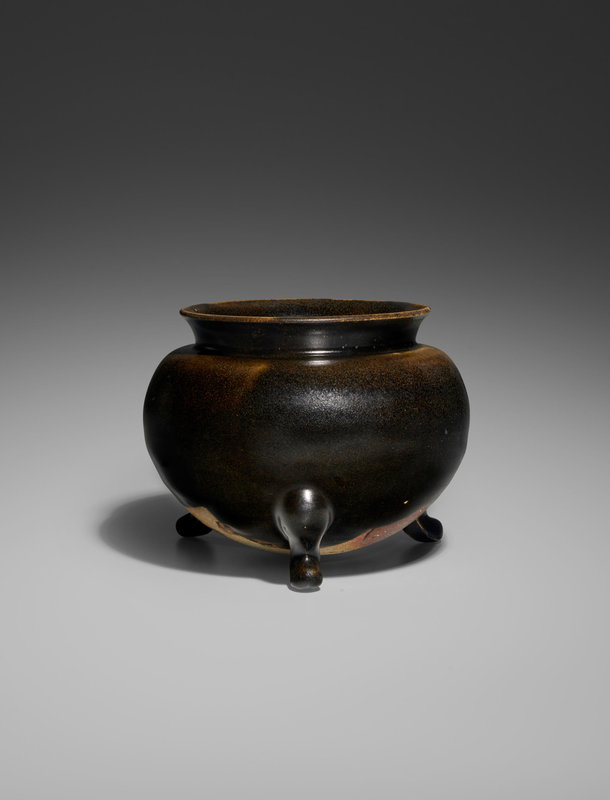 Lot 3. A dark-brown glazed stoneware tripod censer, Tang dynasty, 8th-9th century; 6 3/4in (17.2cm) high; 7 3/4in (19.7cm) diam. Sold for US$10,837.50 (Estimate US$1,500 - 2,000). © Bonhams 2001-2023
Heavily potted, the spherical vessel on three short legs with turned-out feet, the rounded shoulders supporting a short neck and everted rim, covered inside and out a rich dark olive-brown glaze showing various tones from uneven applications, the underside pared flat at the center, leaving bare unglazed grey stoneware body.
Note: A very similar black-glazed stoneware censer unearthed in 1999 at the site of Tang dynasty Xing kilns, Hebei province, is illustrated in Qian Nian Xing Yao (Xing Kiln in its Millenium), Beijing, 2007, p. 132.
A smaller tripod censer of closely related form is illustrated by Krahl, Chinese Ceramics from the Meiyintang Collection, Vol. I, London 1994, p. 129, no. 210 where the author notes a related vessel with more angular body in the Royal Ontario Museum, illustrated by Mino in Pre-Sung Dynasty Chinese Stonewares in the Royal Ontario Museum, Toronto, 1974, no. 69 and another with an angular ribbed body in the Tokyo National Museum illustrated in Sekai Toji Zenshu: Sui Tō, Tokyo, 1976, col. pl. 96.
Bonhams. J. J. Lally & Co. Fine Chinese Works of Art, New York, March 20, 2023