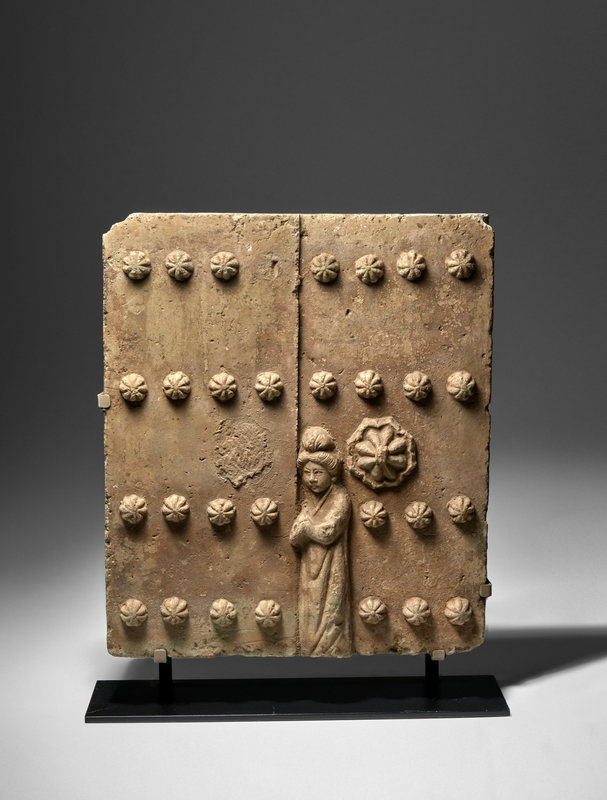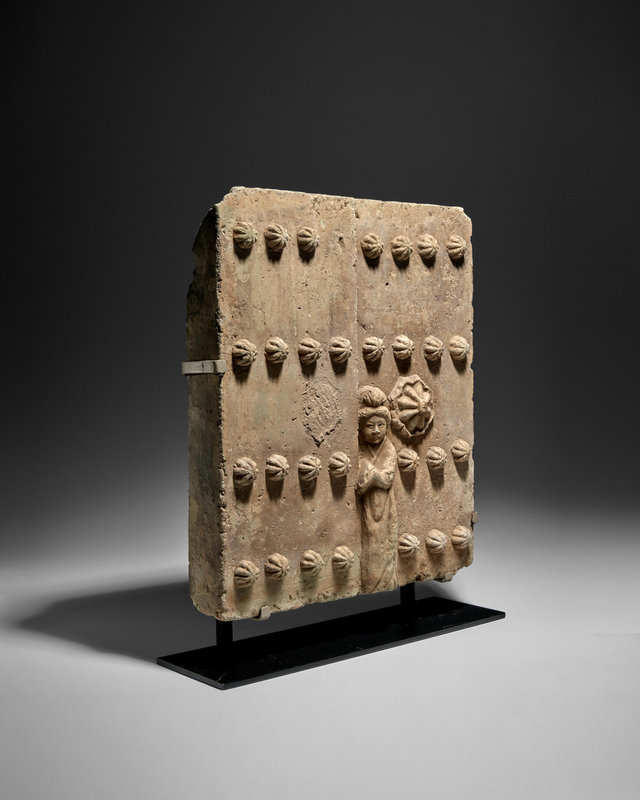 Lot 11. A molded pottery 'welcoming figure' panel, Song-Jin dynasty, 12th century; 17in (43.2cm) high; 14 1/2in (36.8cm) wide. Sold for US$5,737.50 (Estimate US$1,500 - 2,000). © Bonhams 2001-2023
A young lady holds the doorway open as if waiting for someone's return, her hair neatly drawn and wearing a floral-shaped diadem, the massive door panels with raised bosses suggesting a grand mansion beyond, the thick rectangular brick made of grey pottery, roughly finished on the back with impressed open palm-print of a human hand.
Published: Harris, "As Virus Tightens Grip on China, the Art World Feels the Squeeze," The New York Times, February 13, 2020.
Note: The imagery of a 'lady in a doorway' first appeared as a popular subject in Song dynasty poetry and paintings. It also became part of the funerary decoration when the Song and Jin people in northern China developed a unique practice of surrounding the burial chamber with architecture facades.
Compare the two Song dynasty brick panels similarly molded with a 'lady in a doorway' unearthed in Baisha, Henan province, illustrated by Su Bai in Baisha Song mu (A Brief Description of the Three Song Dynasty Tombs Excavated at Bai-sha), Beijing, 2002, pl. 30, with a group of illustrations of additional examples on the same subject on p. 42.
Compare also a pair of molded panels of the same subject, in the collection of the Kaifeng Museum, illustrated in Temporal Living and Elegant Life in Song Dynasty: Cultural Relics Exhibition in Song Dynasty, Beijing, 2022, p. 15.
An architectural set of carved pottery panels centered with a 'lady in a doorway' excavated in 2005 at Duanjiazhuang, Qinyuan, Shanxi province is illustrated in the China Institute exhibition catalog Theater, Life, and the Afterlife: Tomb Décor of the Jin Dynasty from Shanxi, Beijing, 2012, pp. 48-49, no. 1, attributed to the 12th Century.
Architectural panels like the present example were sometimes made of carved stone. See the carved sandstone panel depicting a young servant in a doorway from the tomb of Yang Can, attributed to the Chunyou period (A.D. 1241-1252) of the Southern Song dynasty, excavated in Yong'an county, Zunyi, Guizhou province, illustrated in Zhongguo meishu quanji, diaosu bian 5: Wudai Song diaosu (Compendium of Chinese Art: Sculptures Vol. 5, Five Dynasties and Song Sculptures), Beijing, 1988, no. 163.
The thermoluminescence test result is consistent with the dating of the piece, Oxford certificate number C108w50.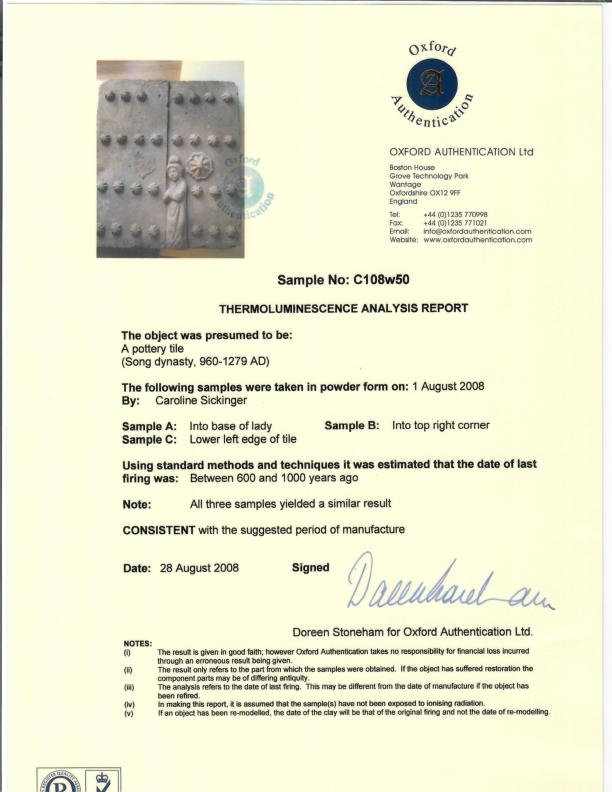 Bonhams. J. J. Lally & Co. Fine Chinese Works of Art, New York, March 20, 2023