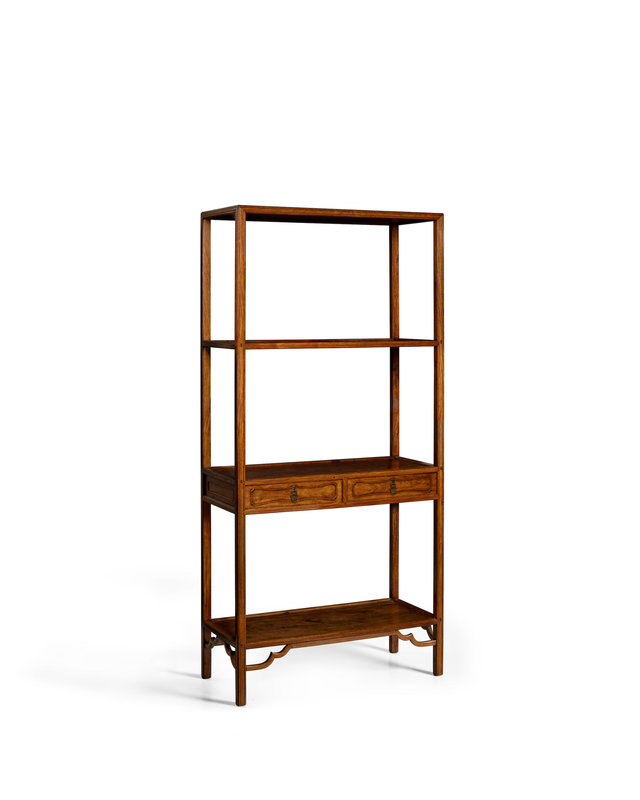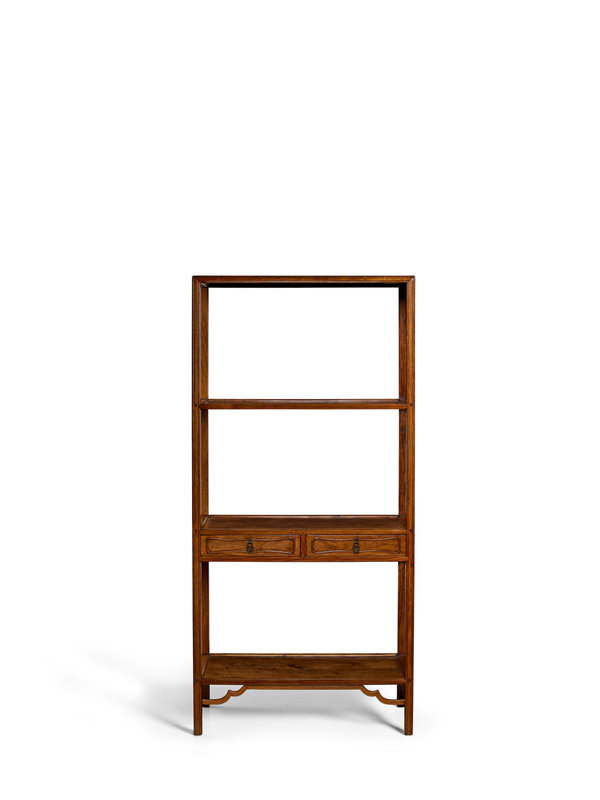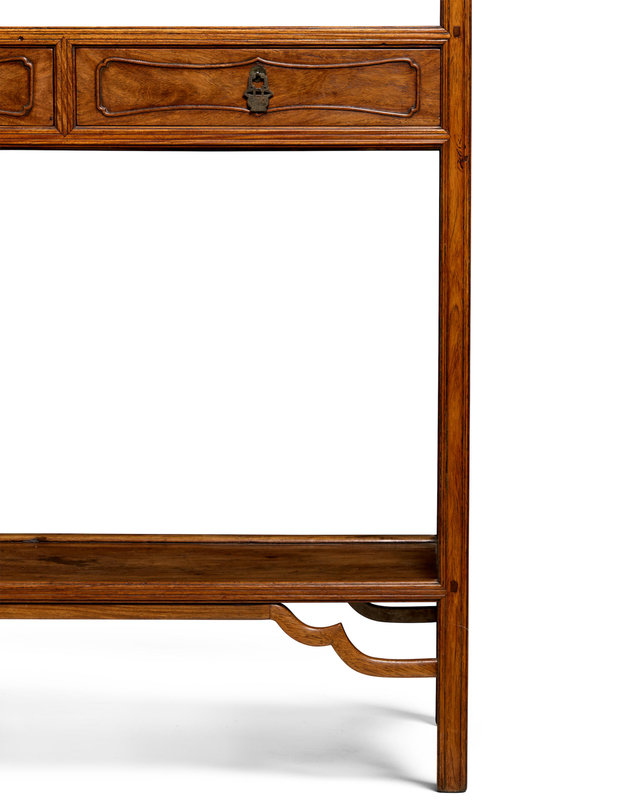 Lot 93. A fine and rare huanghuali three-shelf bookcase, jiage, Qing Dynasty, 18th century; 68 7/8 x 32 7/8 x 14 3/4in (175 x 83.5 x 37.5cm high). Sold for US$123,855 (Estimate: US$50,000 - 70,000). © Bonhams 2001-2023
Of upright rectangular form, with double beaded rails of square section mitred and tenoned into three shelves with exposed tenons on the short sides, the center shelf suspending two drawers carved with raised beaded panels fitted with white brass basket-form pulls, the lower shelf set off by humpback aprons.
The Mary and Cheney Cowles Collection
Note: This bookcase is a classic type illustrated in Wang Shixiang, Connoisseurship of Chinese Furniture: Ming and Early Qing Dynasties, Vol. II, p. 140, plate D3, with a set of two drawers suspended from the second shelf and lacking galleries at the sides and back. The present lot could be classified as an open shelf stand but can serve both purposes as it did in the Cowles home.
See Dr. Chu-Pak Lau, Classical Chinese Huanghuali furniture from the Haven Collection (Hong Kong: University Museum and Art Gallery, The University of Hong Kong, 2016), no. 58, pp.244-5, designed with a gallery on upper two shelves, and no. 57 p. 242-3. For a four-shelf bookcase with wumu galleries, in the Minneapolis Institute of Arts, see Robert D. Jacobsen and Nicholas Grindley, Classical Chinese Furniture in the Minneapolis Institute of Arts (Minneapolis: the Minneapolis Institute of Arts, 1999), no. 49, pp 142-3.

See also Sarah Handler's illuminating article, "Cabinets and Shelves Containing All Things in China." JCCFS, Volume 4, no.1, pp. 26-27.
Bonhams. THE MARY AND CHENEY COWLES COLLECTION OF CLASSICAL CHINESE FURNITURE, 20 March 2023, New York