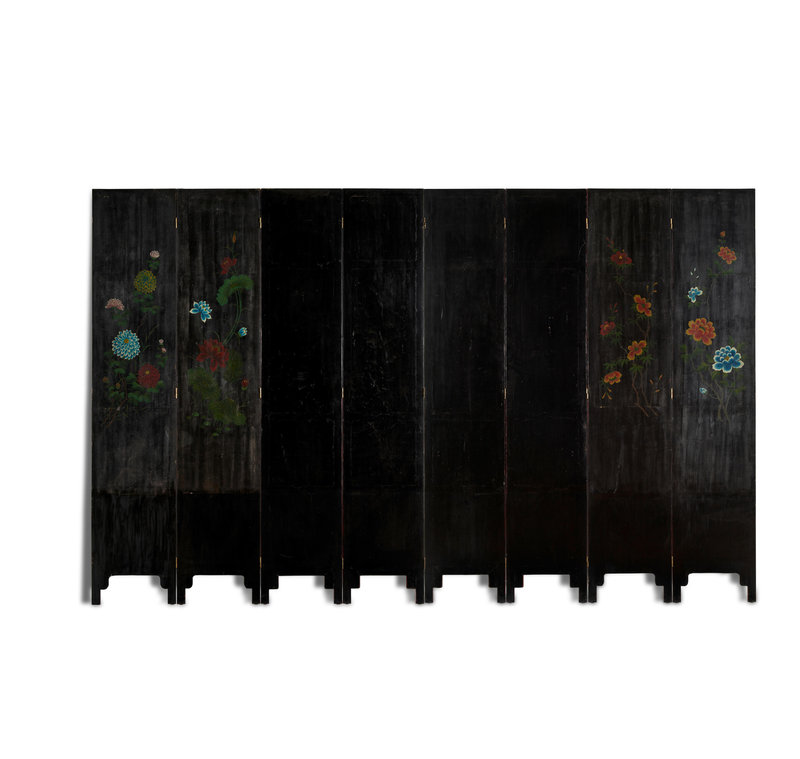 Lot 100. An eight panel red and gilt lacquer screen, weiping, Qing dynasty, 19th century; 82 x 132 x 1 1/8in (208.3 x 335.3 x 2.8cm). Sold for US$10,837.50 (Estimate: US$10,000 - 15,000). © Bonhams 2001-2023
Decorated in raised gilt lacquer on a red ground, each panel composed of three vertical sections of landscape waterways dotted with pavilions, rocky promontories and bridges with figures engaged in leisurely pursuits, al reserved on a ground of lotus and floral scrolls and set into vertical frames above a lower panel of a fronted lotus overall beaded apron, the framing members embellished with an elegant floral diaper band set with reserves of seasonal flowers, the reverse of the outer four panels later embellished with chrysanthemums and lotus plants on a black lacquer ground, the others plain.
The Mary and Cheney Cowles Collection.
Note: The late-Ming/early-Qing treatise on lacquer, Xiu Shi Lu (Lacquer and Lacquering), refers to the technique of forming lacquered shallow relief with gilt painting as shiwen miaojin. A renowned example is the zitan screen with gilt and painted reliefs depicting Emperor Minghuang riding a horse, in the collection of the Palace Museum, Beijing. Its effect is close to the Japanese lacquer hiramaki-e.
The distinctive subject and striking visual impact of the present screen are comparable to that of an 18th century gilt red lacquered cabinet illustrated in Liu Chuansheng, Classical Chinese Lacquered Furniture (Beijing: The Forbidden City Publishing House, 2013), no. 43, pp. 232-235. Both pieces share a lavish application of gilt painting on the object's surface, with the frames adorned by flower cartouches set against a rosette ground.
Bonhams. THE MARY AND CHENEY COWLES COLLECTION OF ICAL CHINESE FURNITURE, 20 March 2023, New York