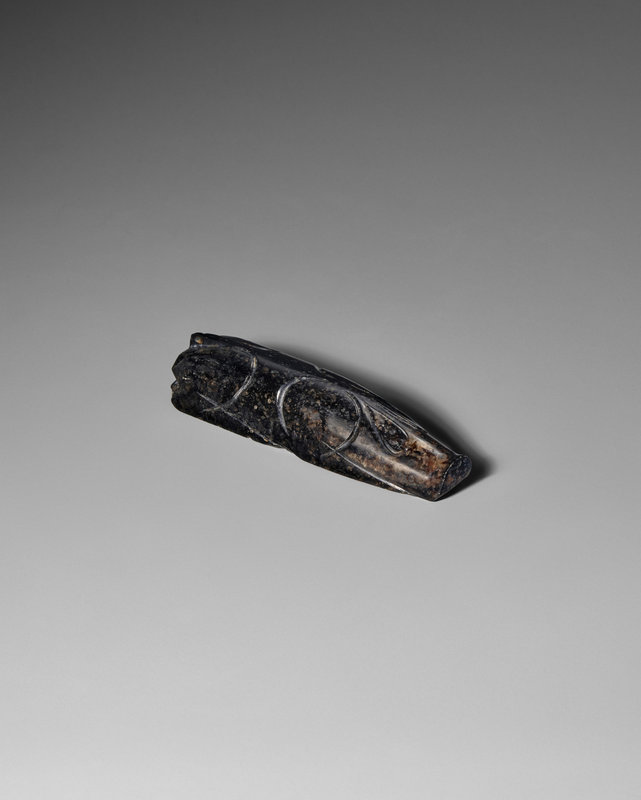 Lot 27. An archaic black jade carving of a pig, Han dynasty (206 BC-220 AD); 4 1/2in (11.5cm) length. Sold for US$14,025 (Estimate ). © Bonhams 2001-2023
Of highly abstract slender form with rounded sides and flat base, the legs and feet delineated by deep slash cuts, the ears pinned back behind small eyes, the snout smoothly rounded, the rump cut flat with a thick pierced tab, the jet-black stone with cloudy mottling softly polished.
Note: Jade pigs of this type were used in burials in the Han and throughout the Six Dynasties periods, made in pairs to place in the deceased's hands.

Compare the white jade carving of a pig, unearthed from the tomb of Liu Yan (d. A.D. 90) in Dingzhou, Hebei province, now in the collection of the Hebei Provincial Museum, illustrated by Sun in the catalog of the special exhibition, Age of Empires: Art of the Qin and Han Dynasties, The Metropolitan Museum of Art, New York, 2017, p. 10, fig. 7.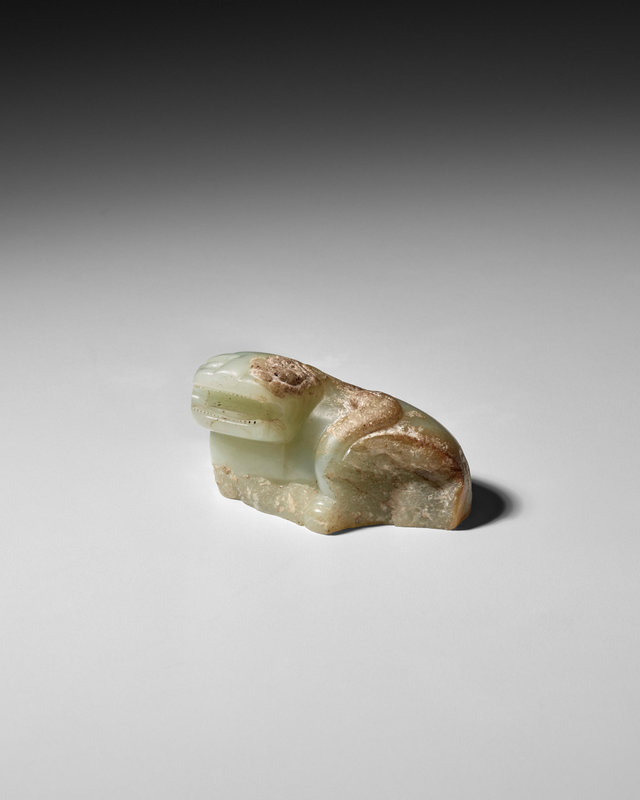 Lot 28. A fragmentary archaic white jade recumbent tiger, Han dynasty (206 BC-220 AD); 2 1/2in (6.3cm) length. Sold for US$16,575 (Estimate US$3,000-5,000). © Bonhams 2001-2023
With mouth open in a roar showing neatly lined teeth and gently curled tongue, the square head with rounded eyes and thick eyebrows, ears pinned back in an obedient gesture, the long tail sweeps onto the back, the base polished flat, the stone showing attractive pale 'onion-white' color, the feet and rump broken in antiquity now with pitted areas and encrustations from burial.
Note: In Han dynasty China, people customarily sat on the floor with finely woven mats layered under their feet. Weights were made in sets of four to place at corners of the mat, often in crouching animal form with rounded edges - so as not to catch the delicate silk robes worn by nobles. It is extremely rare to find a mat weight made of jade. In most cases they are cast in bronze and decorated with gilding and elaborate inlays of gold, silver, and gemstones to indicate social status.

Use of a white jade mat weight was recorded in Chu ci (Songs of Chu), a collection of music and poetry from the southern kingdom of Chu, describing the residence of the Lady of the Xiang 白玉兮為鎮 疏石蘭兮為芳 - "use mat weights made of white jade, fragrant the space by sparsely dotting the shi-orchids."

Compare the closely related white jade coiled feline in the Robert H. Ellsworth Collection and exhibited at the Asia Society, New York, illustrated by Watt in the catalog Chinese Jades from Han to Ch'ing, New York, 1980, p. 41, no. 10.
Bonhams. J. J. Lally & Co. Fine Chinese Works of Art, New York, March 20, 2023