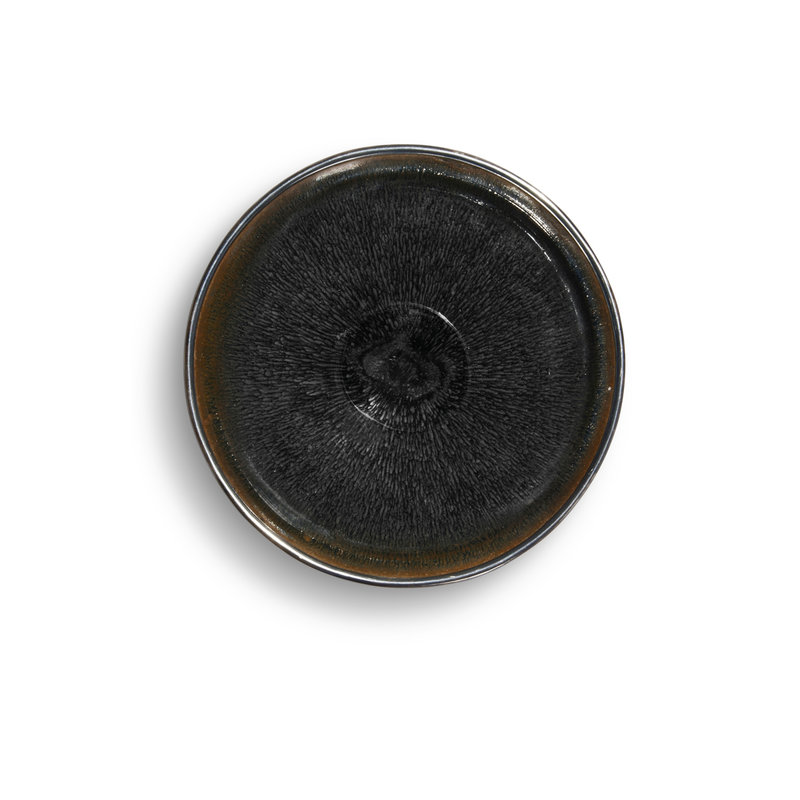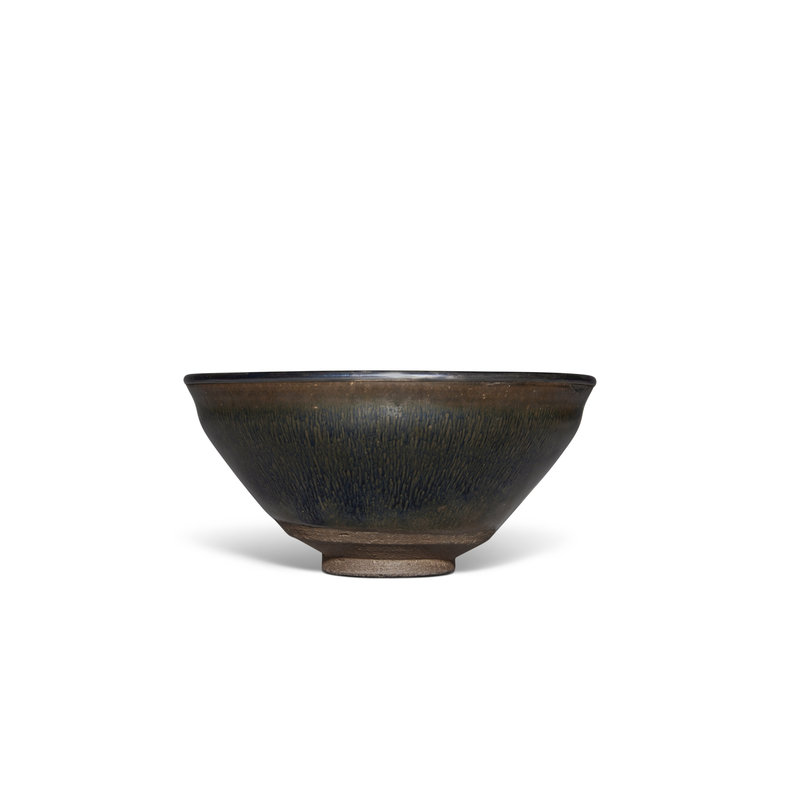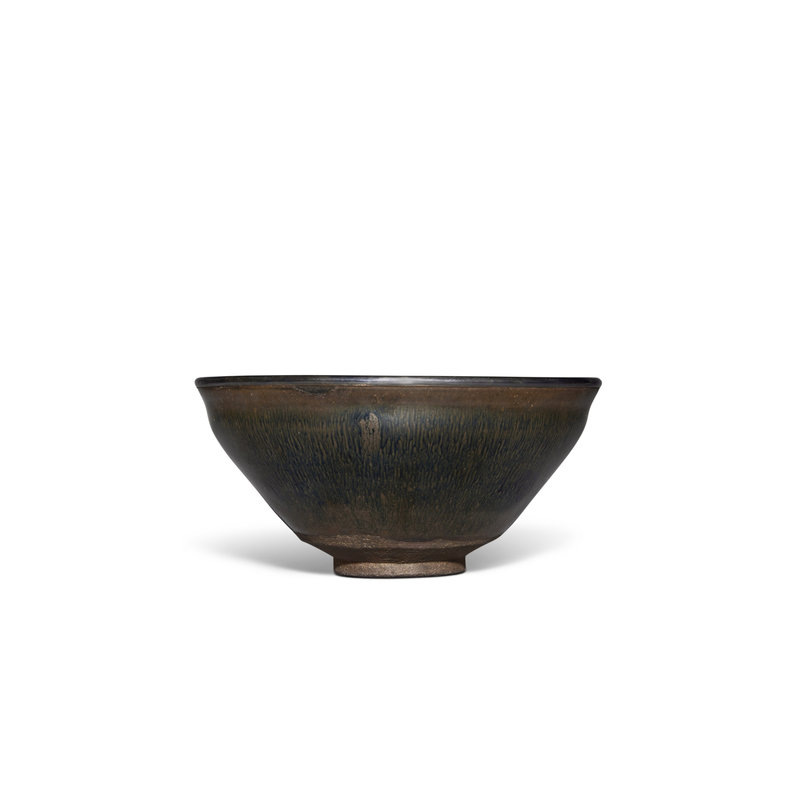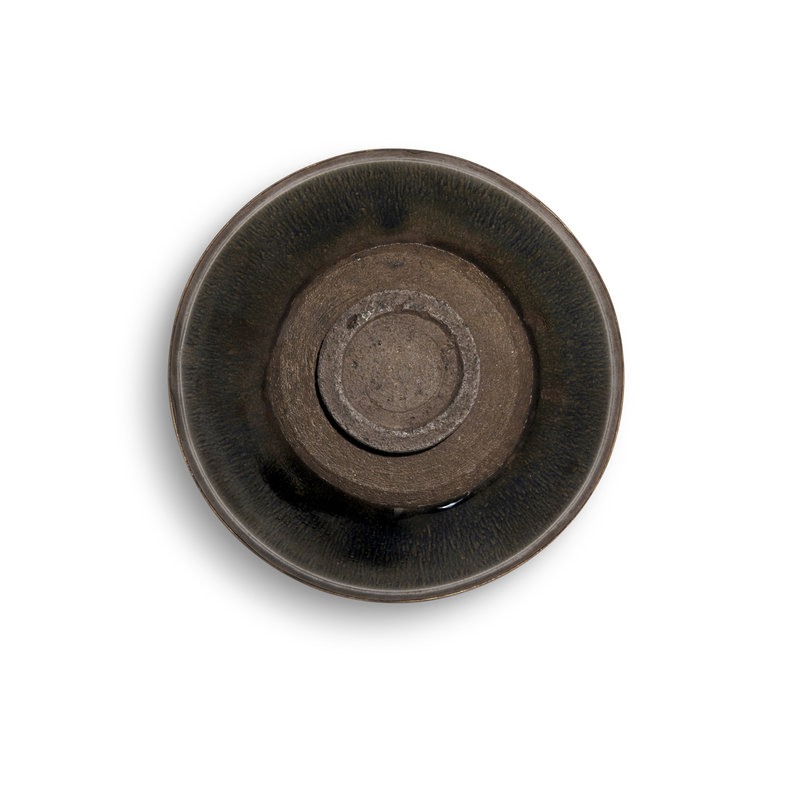 Lot 538. An exquisite 'Jian' black-glazed 'hare's fur' bowl, Southern Song dynasty (1127-1279); rim bound in metal, Japanese wood box (3). Estimate 60,000 - 80,000 USD. Lot Sold 76,200 USD. © 2023 Sotheby's
Provenance: Japanese Private Collection.
Note: This bowl represents the classic form of tea ware produced during the Song dynasty at the kilns in Jianyang, Fujian province. Made for both imperial and local consumption, as well as for export to Japan, black tea bowls were particularly appreciated in Buddhist monasteries, where tea was drunk for its beneficial effect on body and mind as well as ritually offered to the Buddha. The seemingly humble quality of bowls of this type made them particularly appropriate in this context. The groove below the rim made them comfortable to hold, their heavy potting had an insulating effect, keeping the tea inside hot while protecting the fingers outside from the heat, and their dark interiors made for a striking contrast with the white froth of whipped tea.
Jian artisans experimented within this ceramic type with dazzling results. By manipulating body and glaze compositions, kiln temperatures, the cooling process, and allowing for the intervention of chance in the firing process, Jian ceramicists created wares that display the full potential of the iron oxide glaze. One of the best known effects is 'hare's fur', in which opalescent streaks run down the sides of the bowl.
A wide range of different 'Jian' bowls are in the Tokyo National Museum, Tokyo, included in Illustrated Catalogue of Tokyo National Museum. Chinese Ceramics I, Tokyo, 1988, pls 635-640; another bowl with a highly iridescent glaze, in the Kyoto National Museum, Kyoto, is illustrated in Sekai tōji zenshu / Ceramic Art of the World. Sung Dynasty, vol. 12, Tokyo, 1977, pl. 253; and a further bowl from the collection of Diane H. Shafer, is published in Robert D. Mowry, Hare's Fur, Tortoiseshell and Partridge Feathers, Cambridge, 1996, pl. 82. Three exemplary 'Jian' tea bowls have recently sold at auction, including a silver-streaked edition from the Pilkington Collection in our Hong Kong rooms, 6th April 2016, lot 12; an 'oil spot' bowl from the Linyushanren Collection at Christie's New York, 15th September 2016, lot 707; and a blue-toned version in our London rooms, 9th November 2016, lot 108.
Sotheby's. Important Chinese Art, New York, 22 March 2023