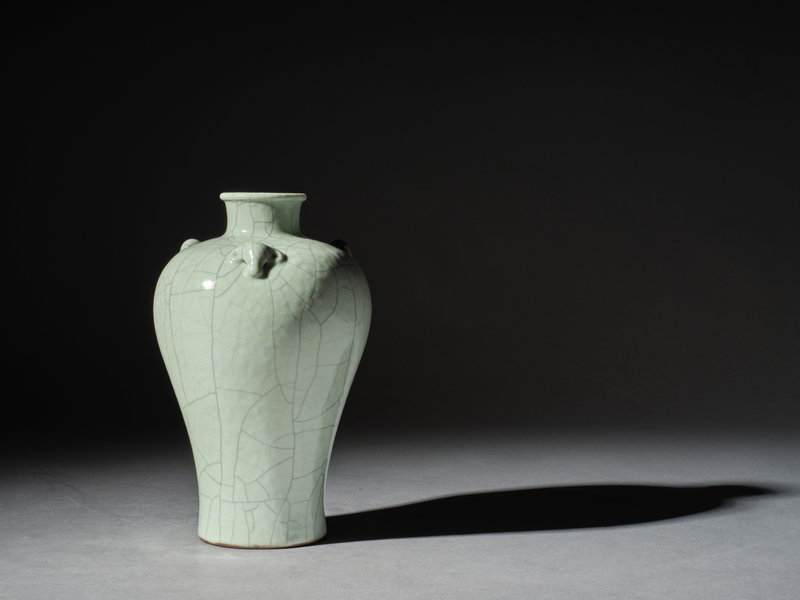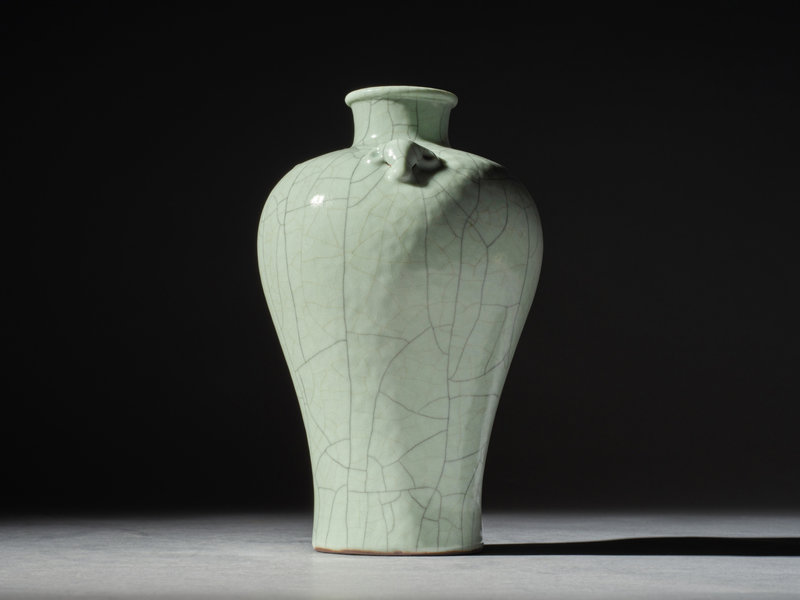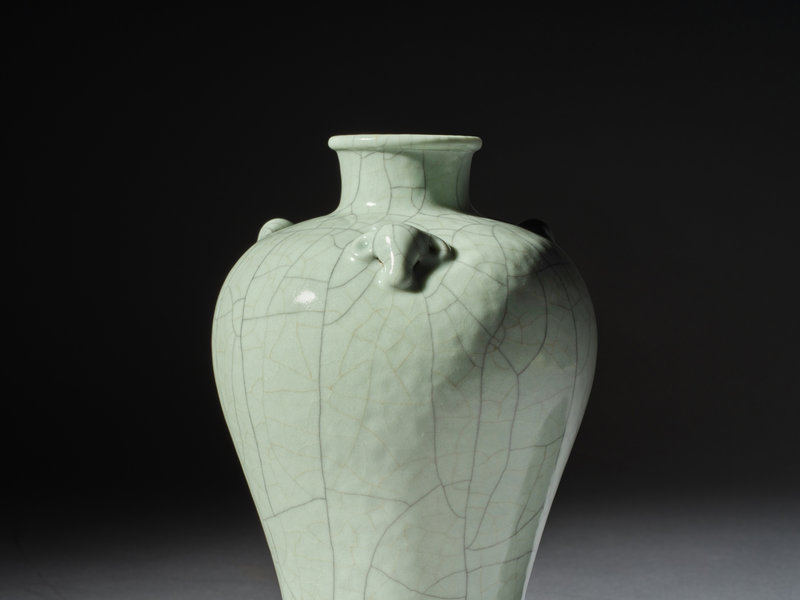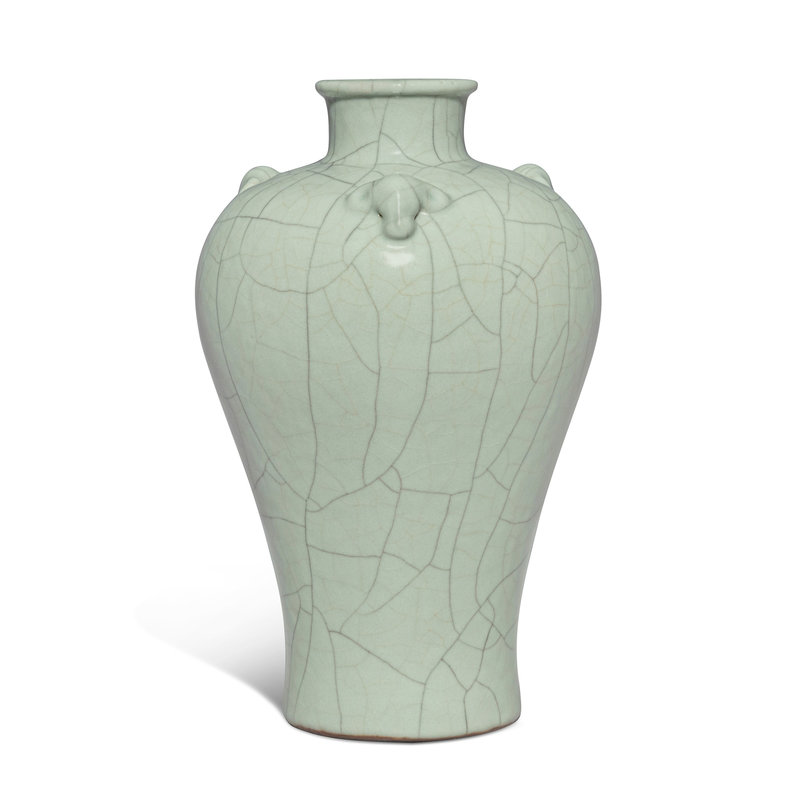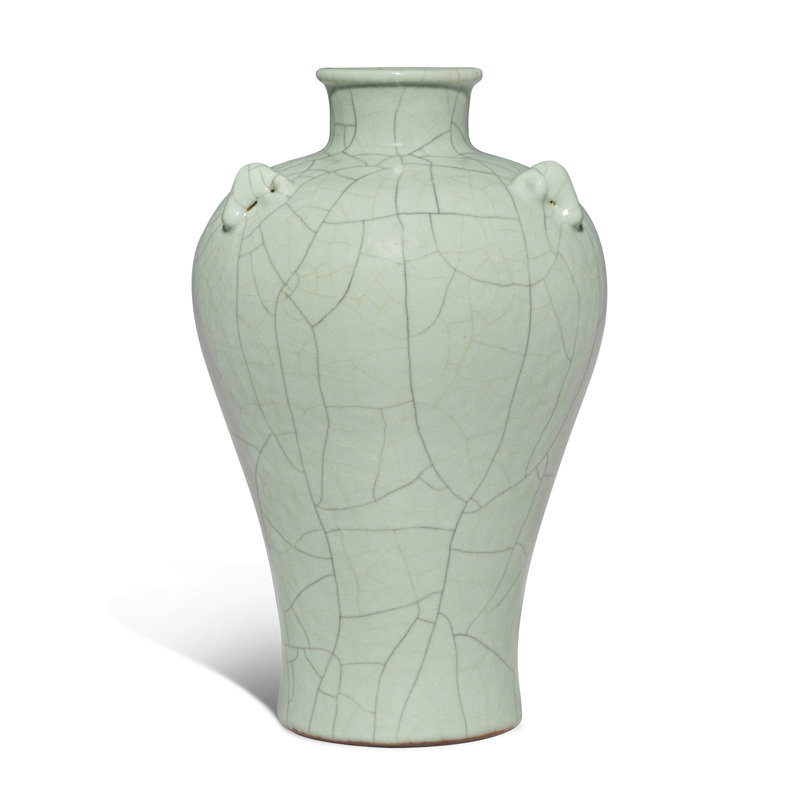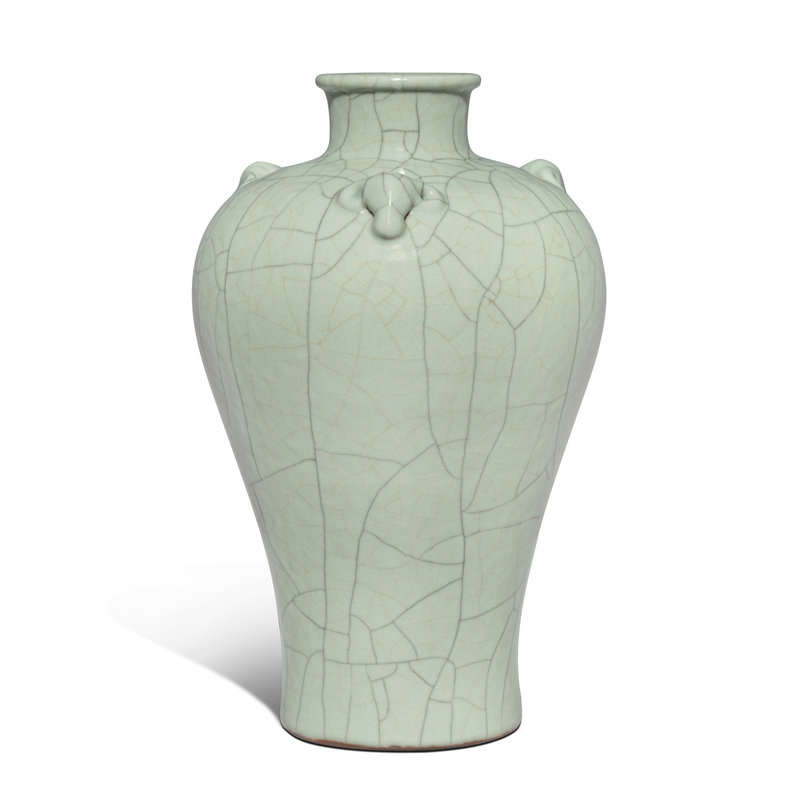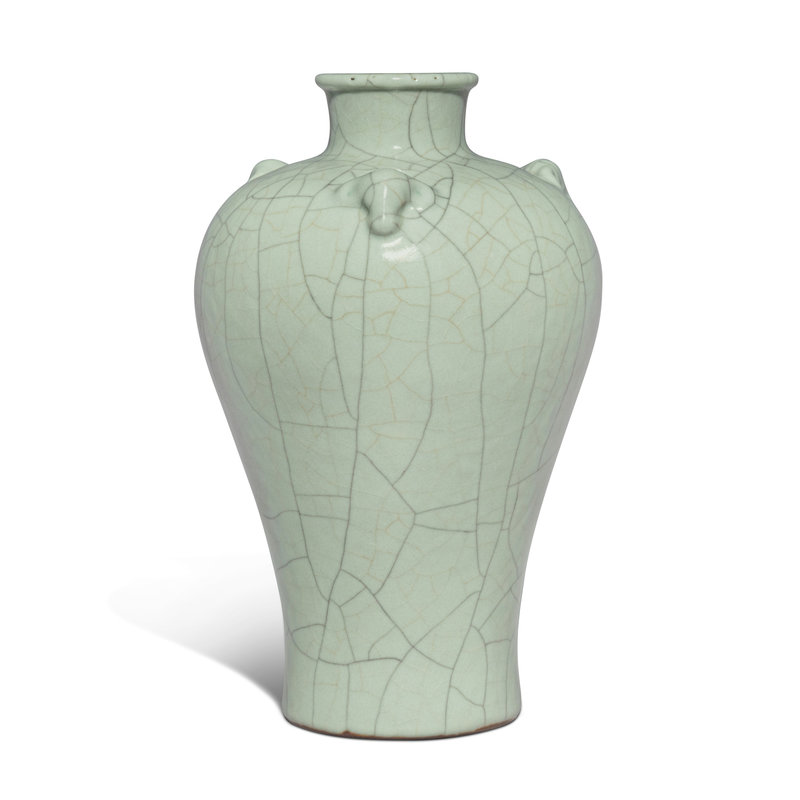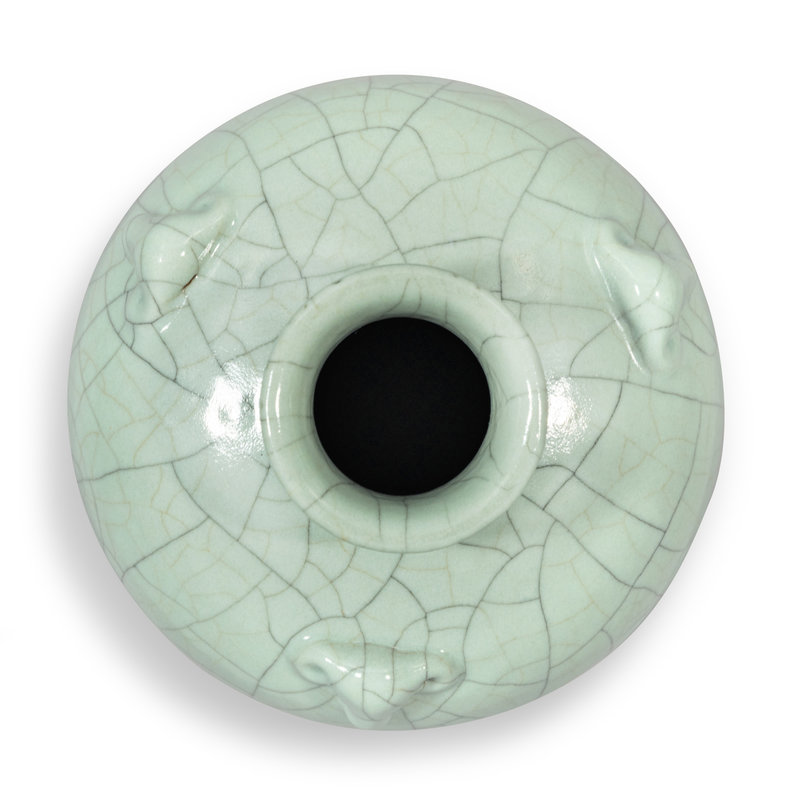 Lot 518. A Guan-type 'Three Rams' meiping, Seal mark and period of Qianlong (1736-1795). Height 23.2 cm. Lot Sold 444,500 USD (Estimate 150,000 - 250,000 USD). © Sotheby's 2023
the base of each with a six-character seal mark in underglaze blue (2)
Provenance: Japanese Private Collection.
Sotheby's Hong Kong, 3rd October 2017, lot 3612.
Exhibited: Sekai kobijutsu tenrankai [Antiques of the world exhibition], Yamanaka & Co. and Tokyo Art Club, Osaka and Tokyo, 1932, cat. no. 688.
Note: Guan, the official ware of the Southern Song court, has historically been and continues to be one of the most admired and desirable amongst all Chinese ceramics. The Yongzheng and Qianlong emperors were particularly keen admirers of guan wares and had original pieces sent to the imperial kilns at Jingdezhen as models of inspiration. Every aspect of the Song glaze was observed and emulated in order to capture the essence of the famed ware. However, the potters were not merely re-creating these wares—ceramicists at the Jingdezhen kilns, especially during the reign of the Qianlong Emperor, were greatly inventive in combining contemporary forms with famous glazes of the past in an effort to establish a distinctive artistic language which emphasized the Manchu Qing dynasty as a legitimate successor and continuation of China's dynastic history.
The present vase is a rare and impressive example of such innovation: a familiar Song guan glaze with its characteristic crackle generously covers a finely-potted meiping with a waisted neck and a rounded shoulder decorated with three intricately molded ram heads. The design speaks to the Qianlong Emperor's particular affinity for the 'Three Rams' (san yang) motif. The phrase san yang was first mentioned by the Yijing (Book of Changes) referring to the three male lines called tai, which was a change in fortune that comes about during the first month of the lunar year. The 'Three Rams' motif is thus a play on the original phrase, and the famous proverb 'sanyang kaitai' represents a change of fortune with the arrival of Spring and the New Year.
Compare a similar Qianlong 'Three Ram' vase of meiping form with a ru-type glaze from the Qing Court Collection, now in the Palace Museum, Beijing, published in The Complete Collection of Treasures of the Palace Museum: Monochrome Porcelain, Hong Kong, 1999, pl. 208. See also a few Qianlong 'Three Ram' examples but with a globular body and long waisted neck; two celadon-glazed examples in the National Palace Museum, Taipei (accession nos 中瓷001202N000000000 and 中瓷001203N000000000); four sold in our Hong Kong rooms, one with a celadon glaze sold most recently on 8th October 2009, lot 1632; one ru-type example, sold 5th October 2011, lot 1934; two with teadust glaze, sold 5th October 2016, lot 3656 and 11th July 2020, lot 116.
Sotheby's. Important Chinese Art, New York, 22 March 2023