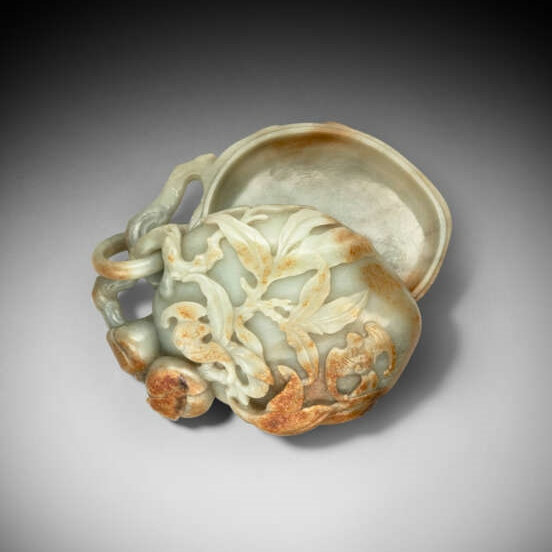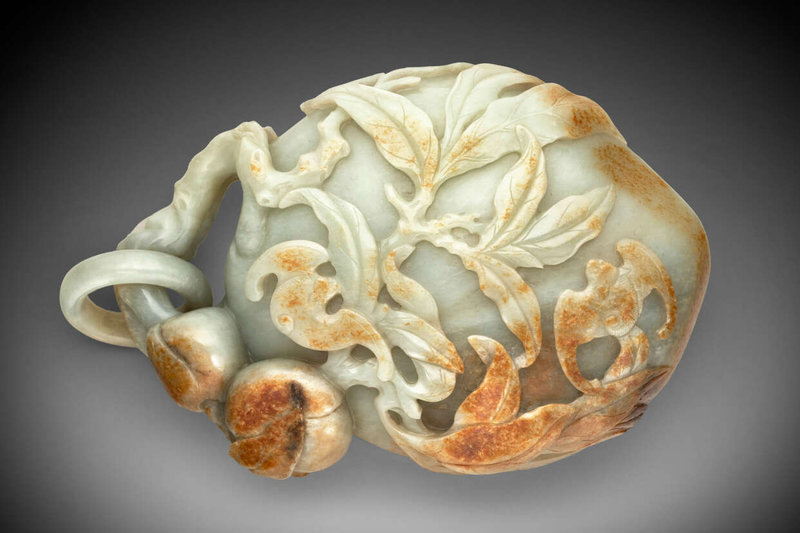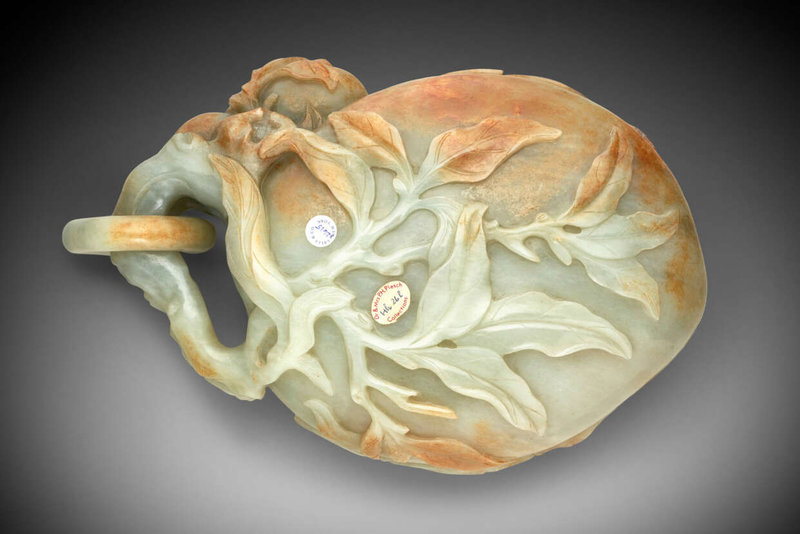 Lot 925. A large pale greenish-white jade 'peach' box and cover, 17th-18th century; 25.4 cm long, cloth box. Price realised USD 478,800 (Estimate: USD 300,000 – USD 400,000). © Christie's Images Ltd 2023.
The box and cover are formed as a flattened peach borne on a gnarled, leafy branch, and carved in high relief as if the branch continues from the bottom of the box onto the cover where two bats flitter amidst the leaves and two small peaches. The two hollowed halves are joined by a large loose ring threaded through the branch. The stone is of a pale greenish-white tone with russet coloration scattered throughout.
Provenance: Spink & Son, London, 1957.
Dr. Peter Hariolf Plesch (1918-2013) Collection, no. Hh26L.
Christie's London, 3 November 2009, lot 167.
J. J. Lally & Co., New York.
The Hedda and Lutz Franz Collection, Hong Kong, no. 1530.
J. J. Lally & Co., New York, no. x2615.
Literature: J. Rawson and J. Ayers, Oriental Ceramic Society, Chinese Jade Throughout the Ages, London, 1975, p. 109, no. 358.
FranzArt: Chinese Art from the Hedda and Lutz Franz Collection, Vol. 1: Jade, Hong Kong, 2010, pp. 262-263 and p. 316, no. 1530.
J. J. Lally & Co., Elegantly Made: Art for the Chinese Literati, New York, 2020, no. 12.
Exhibited: Manchester, Manchester City Art Gallery, Works of Art from the Plesch Collections, 1964.
London, Victoria & Albert Museum and Oriental Ceramic Society, Chinese Jade Throughout the Ages, 1 May-22 June 1975.
New York, J. J. Lally & Co., Elegantly Made: Art for the Chinese Literati, 13-27 March 2020.
Note: Professor Peter H. Plesch (1918-2013) and his wife Gerta Regina "Traudi" Plesch OBE (1921-2013) were avid collectors of Chinese, Japanese and Korean art. The first antique purchased by Peter, while he was a student at Cambridge University, was a Chinese 19th-century silver hip flask, which he used throughout World War II. However, his career as a real collector started much later, when in 1957 he inherited the very varied Chinese artifacts of his parents, and he realized that he knew very little about them. Peter quickly sought knowledgeable advice and found it at the Grosvenor House Antiques Fair of 1958 where he met Adrian Maynard of Spink's Chinese Department, who became a trusted adviser and friend.

The present jade peach box and cover is known to be Peter's first purchase of Chinese jade. After Peter and Traudi's marriage in 1963 jade was to become one of her favorite collecting areas. The couple went on to collect Asian art in a wide range of materials, from Song dynasty ceramics to Japanese sword-fittings, netsuke and wood-block prints, and from Korean celadons to Qing dynasty glass. Peter became known as a serious collector when he purchased a Ru narcissus bowl in March 1959 at Sotheby's for £2,200 against the dealer J.T. Tai. The bowl was later sold in February 1970 for £46,000, a record for a Chinese ceramic at the time.

For a similar jade peach box and cover of smaller size also carved from a single jade boulder and connected by interlocking branches, in the collection of the Victoria and Albert Museum, London, see M. Wilson, Chinese Jades, London, 2004, pp. 56-57, no. 58. See, also, a smaller jade box and cover in the form of a bitter melon, connected by a loose ring, illustrated in The Arts of the Ch'ing Dynasty, Oriental Ceramic Society, London, 1964, pl. 127, no. 393.
Christie's. J. J. Lally & Co., New York, 23 march 2023