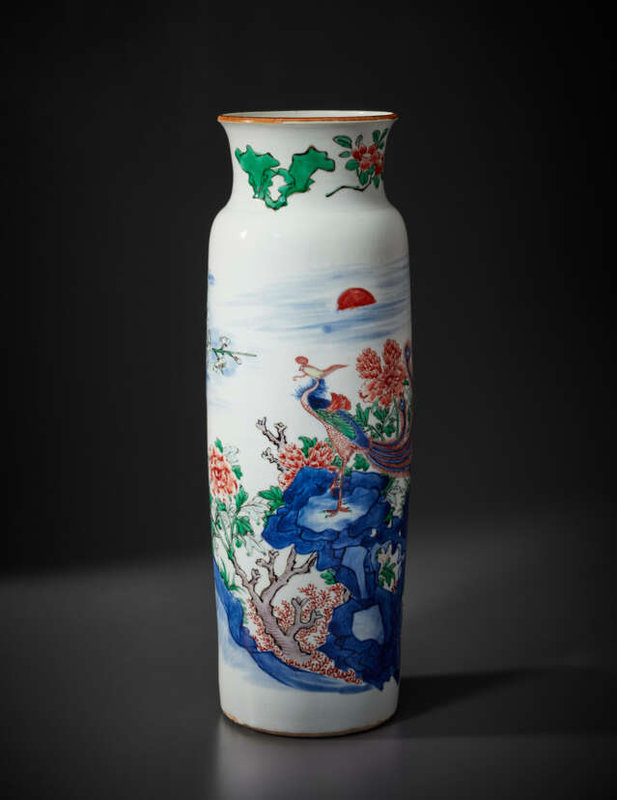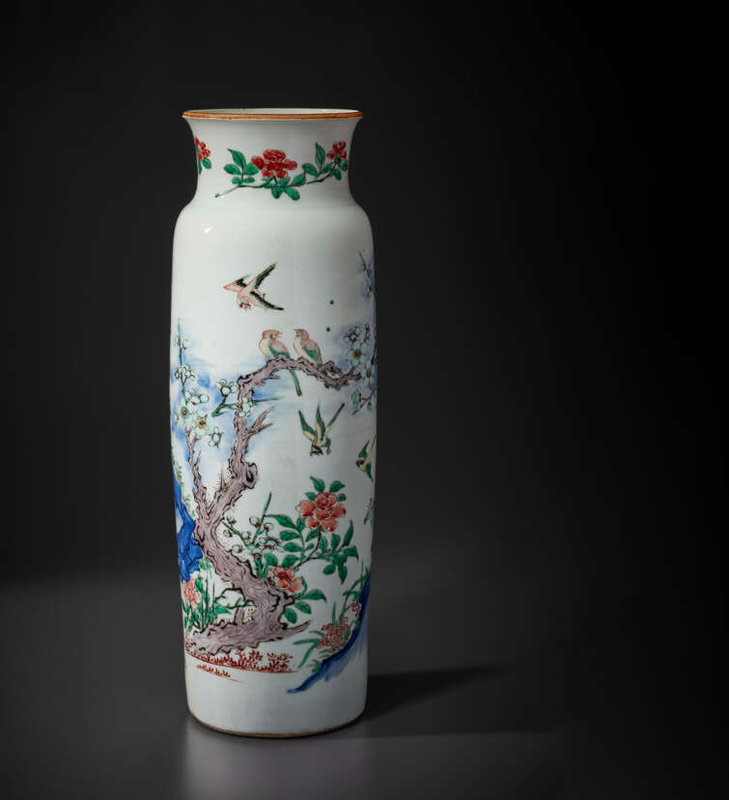 Lot 1049. A superb wucai 'phoenix' sleeve vase, Chongzhen-Shunzhi period (1628-1661); 42 cm high. Price realised USD 119,700 (Estimate USD 100,000 – USD 150,000). © Christie's Images Ltd 2023
Provenance: The J. M. Hu (1911-1995), Zande Lou Collection.
Important Chinese Ceramics from the J. M. Hu Family Collection; Sotheby's New York, 4 June 1985, lot 51.
Bluett & Sons, London.
Michael B. Weisbrod, Inc.
The Fayerman Collection, Pennsylvania.
Weisbrod Chinese Art Ltd., New York.
Literature: Helen D. Ling and Edward T. Chow, Collection of Chinese Ceramics from the Pavilion of Ephemeral Attainment, vol. III, 1950, no. 153.
Weisbrod Chinese Art Ltd., Brightly Colored Chinese Porcelains from the Fayerman Collection, New York, 2004, no. 4..
Exhibited: New York, Weisbrod Chinese Art Ltd., Brightly Colored Chinese Porcelains from the Fayerman Collection, 22 March-2 April 2004.
Note: This superbly enameled vase, also referred to as a 'rolwagen', is one of the most noteworthy examples of its type. Created in the mid-17th century, when the artisans at Jingdezhen enjoyed great freedom of expression due to a pause in imperial control, this vase exhibits the painterly expression so characteristic of this short period in time, rendered in an unusually fine painting style. The scene, of an exuberant phoenix perched on bold blue rocks while gazing up at the sun, is imbued with a an air of serenity as wispy blue clouds drift above. The bold tones of red, blue and green unite the scene and balance the composition.

The phoenix, known as the king of birds, is shown here with the peony, the king of flowers. T. T. Bartholomew notes in Hidden Meanings in Chinese Art, San Francisco, 200, p. 160-61, that "when (the phoenix) flies, the rest of the birds follow." And additionally, "the sun symbolizes the yang or male principle of brightness and warmth, as well as righteousness and promotion. The auspicious motif symbolizes all the good things in life … Pairing the king of birds with the king of flowers, the peony, augurs great blessings and prosperity, and suggests the expression fugue jixiang (May there be wealth, rank and good fortune)."

The composition of the scene, with a large bird perched on rocks with surrounding foliage, can be found on related vases from the mid-17th century, however the inclusion of the phoenix is rare. A slightly taller (48 cm.) wucai vase decorated with peacocks from the Butler Family Collection is illustrated by M. Butler, J. Curtis and S. Little in Shunzhi Porcelain, Treasures from an Unknown Reign, Alexandria, VA, 2002, p. 114, no. 16. See, also, a blue and white version with peacock in the Shanghai Museum, illustrated by M. Butler and Wang Qingzheng in Beauty's Enchantment, Seventeenth Century Jingdezhen Porcelain from the Shanghai Museum and the Butler Collections, Hong Kong, p. 151, no. 41.
Christie's. Important Chinese Ceramics and Works of Art, New York, 23 March - 24 March 2023