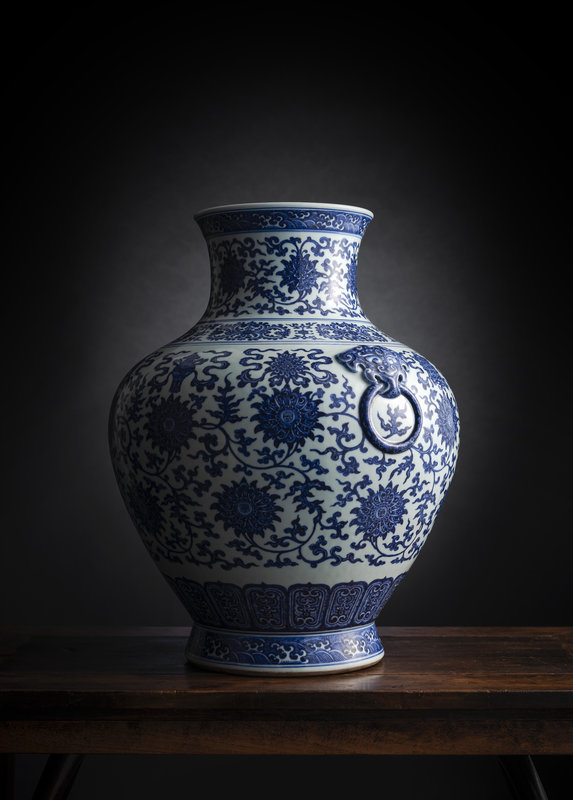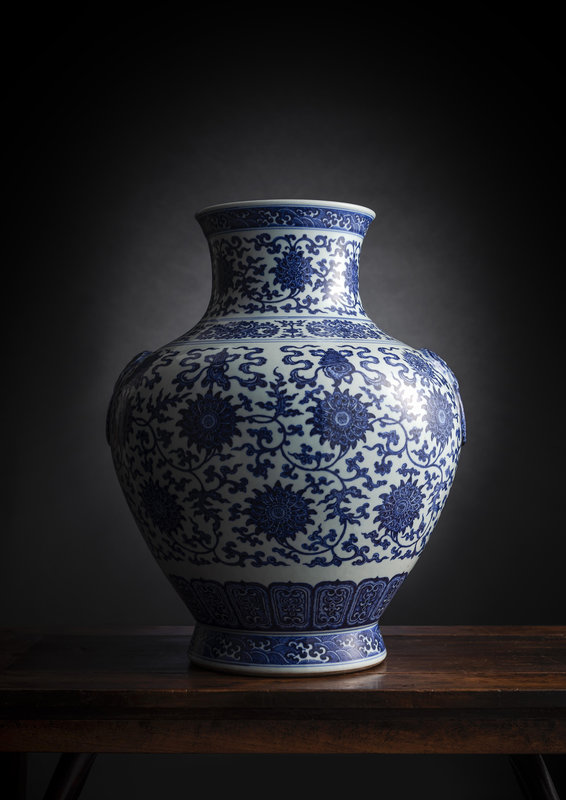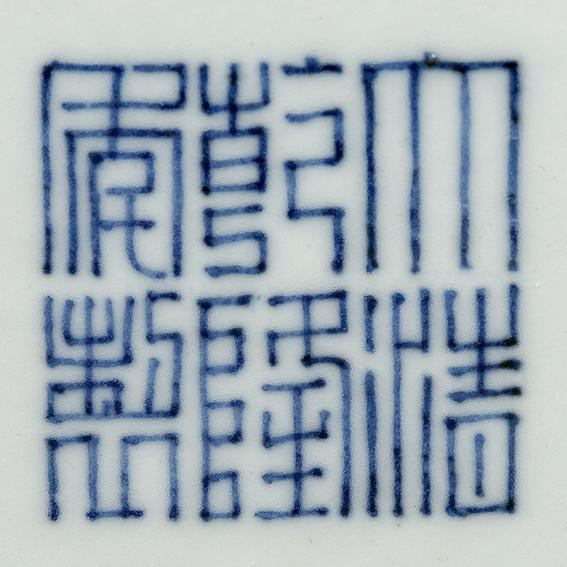 Lot 328. A fine and large imperial hu-shaped porcelain vase, seal mark and period of Qianlong (1736-1795). H. 48,5 cm. Est: €200 000 - €300 000. Sold: €460 000 EUR. Photo Nagel Auction
The robust ovoid body supported on a splayed foot, sweeping up to a waisted neck and everted rim, set with two taotie-mask handles suspending mock rings, brightly painted in deep shades of cobalt accented by contrived 'heaping and piling' with a wide band of scrolling lotus, the large blooms borne in an alternating double register with the upper row each supporting one of the beribboned bajixiang, the neck encircled by a band of quatrefoil crenulated motifs divided by flower sprigs and further wrapped with a lotus scroll, the base skirted with petal panels, all between a band of tumultuous waves encircling the rim and foot, the base inscribed in underglaze blue with a six-character seal mark.
Provenance: - Collection Dr. Rainer Kreissl (1924 - 2005), according to tradition a personal gift from Mao Tse Tung to the Czech President Antonín Zapotocký (1884 - 1954)
- Important southern German private collection, collected before 1990.
Note: This vase impresses with its size, fine moulding and finely executed decoration. It represents one of the most beautiful porcelain designs, influenced by Ming ceramic patterns but adapted to the contemporary taste of the Qianlong period. The decoration is also remarkable for the brilliance of the cobalt blue, which reflects the high resources and technical excellence of the potters who worked in the imperial kilns in Jingdezhen under the direction of China's most famous superintendent, Tang Ying. It is known that the Qianlong Emperor commissioned artists who made pottery for the court to produce sophisticated and eye-catching pieces, often placing more emphasis on the ostentatious aspects of production and virtuosity of craftsmanship. Under his tutelage, the refinement of materials and advances in craftsmanship enabled potters to expand their repertoire. The production of large vessels and the composition of a complex design required much thought and skill to create a harmonious overall product such as the present piece. This required considerable expertise and the potter has drawn extensively on archaic styles and forms, creating a piece that is both steeped in tradition and innovative. The reference to the archaic bronze Hu vessel is a direct response to the Qianlong Emperor, who was a great connoisseur and collector of archaic bronzes, jades and works of art. He was also an avid follower of Tibetan Buddhism, so references to symbols such as the bajixiang may have been among his favourite motifs. Each symbol - the wheel of the law, the conch, the victory standard, the parasol, the lotus, the vase, the twin fish and the endless knot - was carefully depicted over a lotus flower with Shou characters in the centre, creating a highly auspicious and visually appealing vessel.
A similar vase is illustrated in 'Chinese Porcelain - The S.C. Ko Tianminlou Collection, Hong Kong, 1987, on pl. 58, where Julian Thompson describes the design as "the culmination of the long transformation of the early 15th century style", with all the decorative bands, except for the quatrefoils on the shoulder, coming from 15th century designs. Another vase of this type, in the Aurora Art Museum, Taipei, is published in 'Appreciation of Blue and White Porcelains', Taipei, 2008, fig. 52; it is a vase thought to have come from the royal collections at Windsor Castle and was presented by Queen Mary to Sir Ralph Harwood, K.C.B., K.C.V.O., at one time financial secretary to King George V and Controller of the Royal Household, was sold at Sotheby's London, 7.6.1994, lot 358; and a third vase was in the Anthology of Chinese Art exhibition of the Min Chiu Society, Hong Kong, 1985 (cat. no. 185) - Beautifully preserved.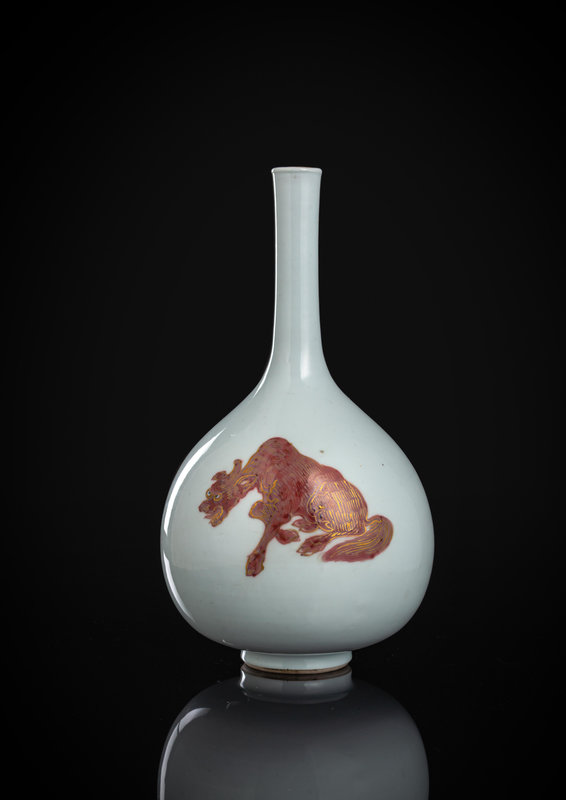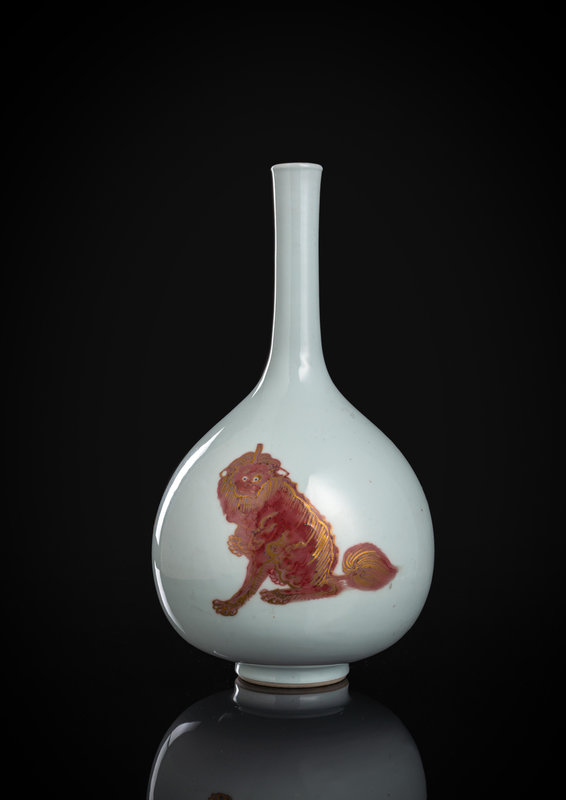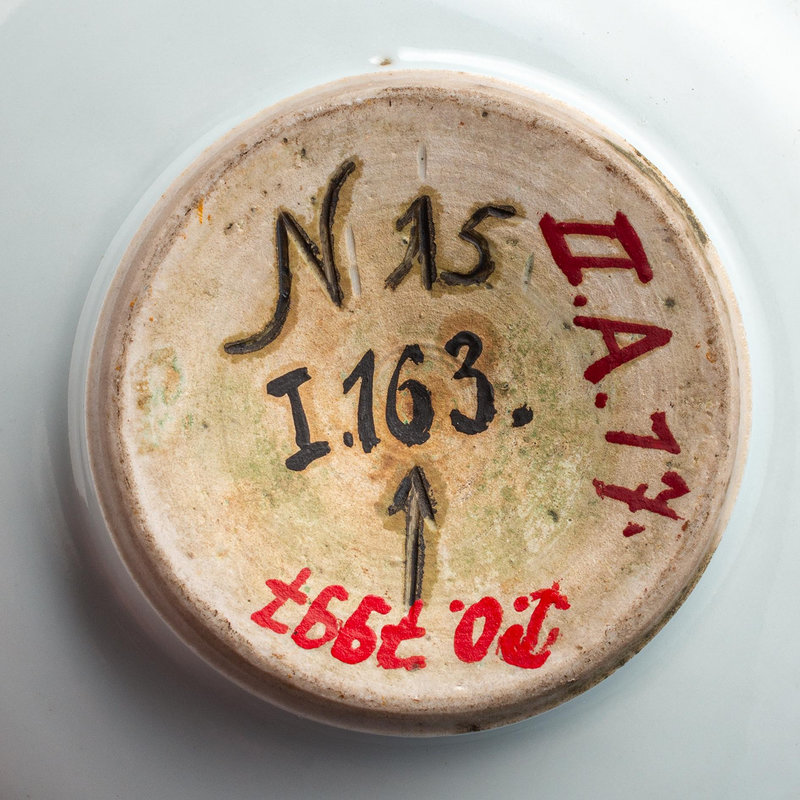 Lot 316. An excellent copper-red and gilt painted bottle vase from the Collection of Frederick Augustus (1670 - 1733) - Elector of Saxony and King of Poland, Kangxi period (1662-1722), Johanneum inventory numbers N. 15 and I. 163, Dresden Residence inventory numbers II. A. 17. and P.O. 7997. H. 24,8 cm. Estimate €30 000 - €50 000. Sold: €64,000. Photo Nagel Auction
Boldly painted with three solid red animals comprising a buffalo, a qilin and an apparent lion seated individually on the bulbous body below the long plain neck.
Provenance - Collection of Augustus the Strong, Elector of Saxony and King of Poland (1670-1733), acquired in 1723 from Count Flemming or the dealer Madame Bassetouche, documented by inventory numbers P.O. 7997, listed in the inventory of 1721 - 27.
- Japanese Palace, Dresden, then probably moved from the Japanese Palace to the Johanneum in 1876
- Property of the Free State of Saxony, 1918. Restitution to the former Royal House of Saxony (House of Wettin, Albertine Line e.v.) under the agreement with the Free State of Saxony
- Important Bavarian private collection.
Note: Cf. the group of similar vases, whereby the pair to the present vase shown here with the inventory number P.O. 7998 is kept in Dresden, published by Eva Ströber 'La maladie de porcelaine...'Leipzig 2001, No. 18, vase shown on the left - Minimal traces of use, beautifully preserved.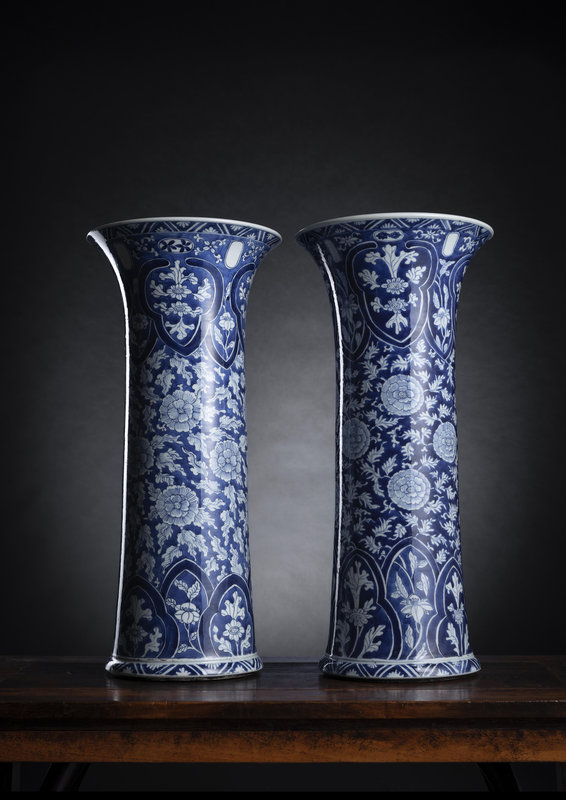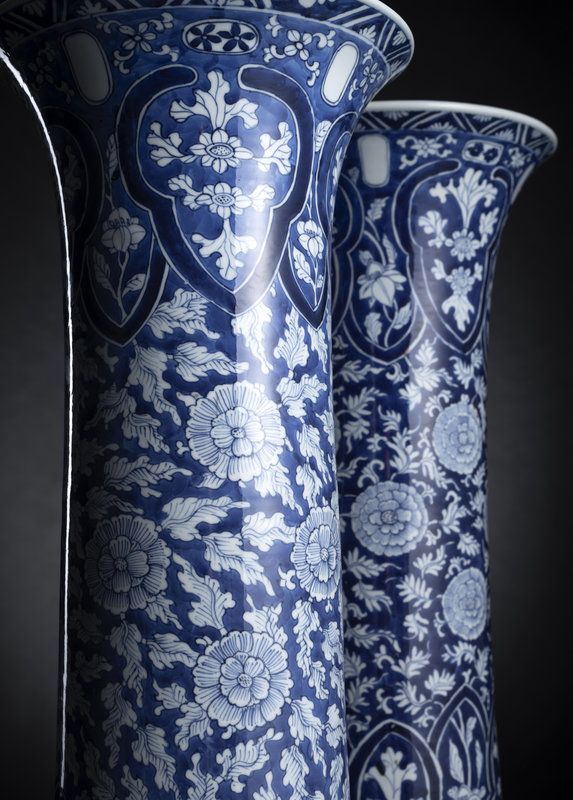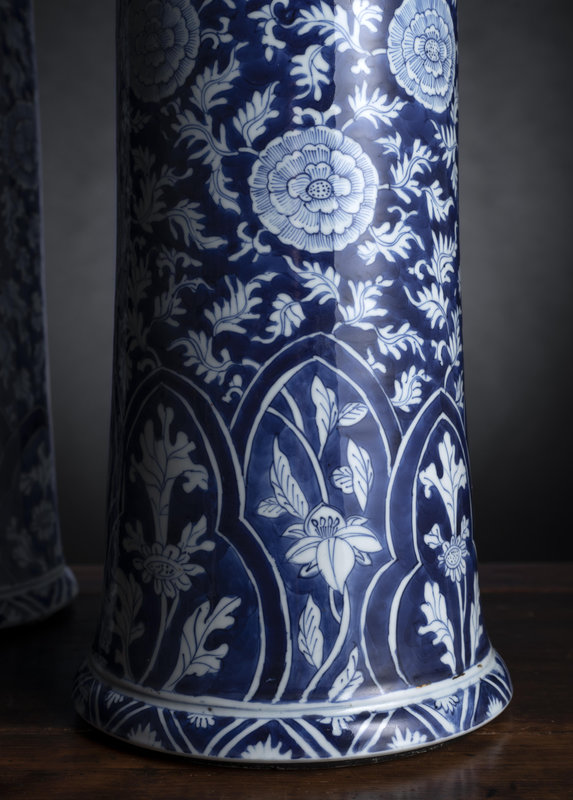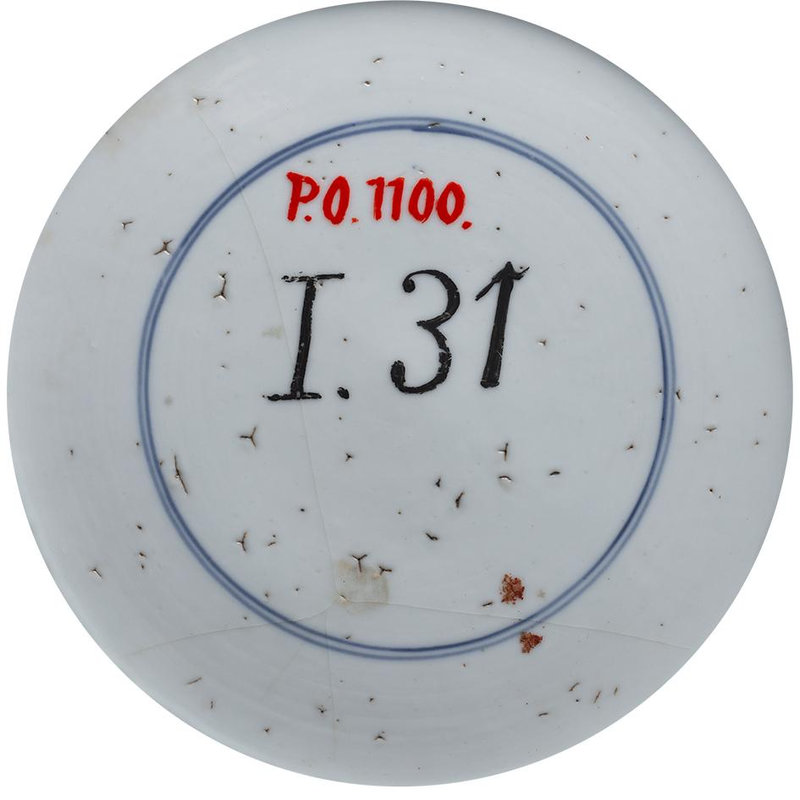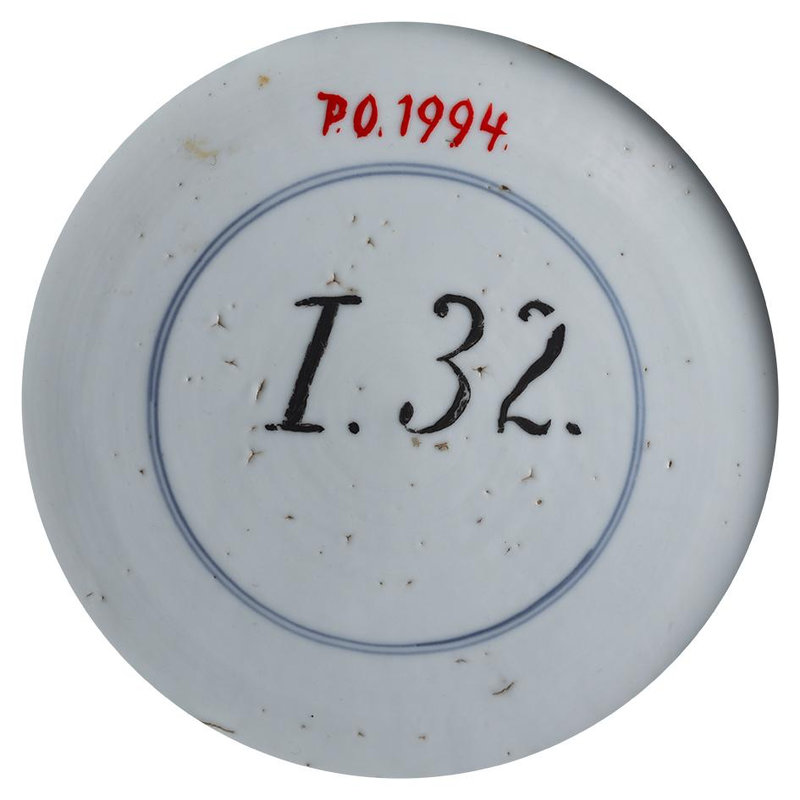 Lot 315. A fine and very rare pair of blue and white vases with different flowers scrollwork from the Collection of Frederick Augustus (1670 - 1733) - Elector of Saxony and King of Poland, Kangxi period (1662-1722). H. 52,3 cm. Estimate €20 000 - €30 000. Sold: €17,000. Photo Nagel Auction
Provenance - Collection of Augustus the Strong, Elector of Saxony and King of Poland (1670-1733), Japanese Palace, Dresden, then probably transferred from the Japanese Palace to the Johanneum in 1876.
- Restitution to the former Royal House of Saxony (House of Wettin, Albertine Line e.. v.) under the agreement with the Free State of Saxony, inventory number of the East Asia Collection and inventory of the Tower Room of the Dresden Residence Palace, inventory number P.O. 1100. I 31 and P.O. 1994, I. 32.
- Important Bavarian private collection.
Note: The Emperor Kangxi was the first Qing dynasty ruler to consolidate power after the tumult of the mid-17th century, and one of the most important acts of his early reign was the reinvigoration of the famous porcelain kilns at Jingdezhen. In 1680 he established a commission to investigate the state of the porcelain industry, following that with the 1682 appointment of a highly capable and innovative Director of the Kilns. Jingdezhen began to turn out high quality porcelains both for the Imperial household and for export to Europe, where only pottery was being produced and the best Chinese porcelains were highly desired by princely collectors.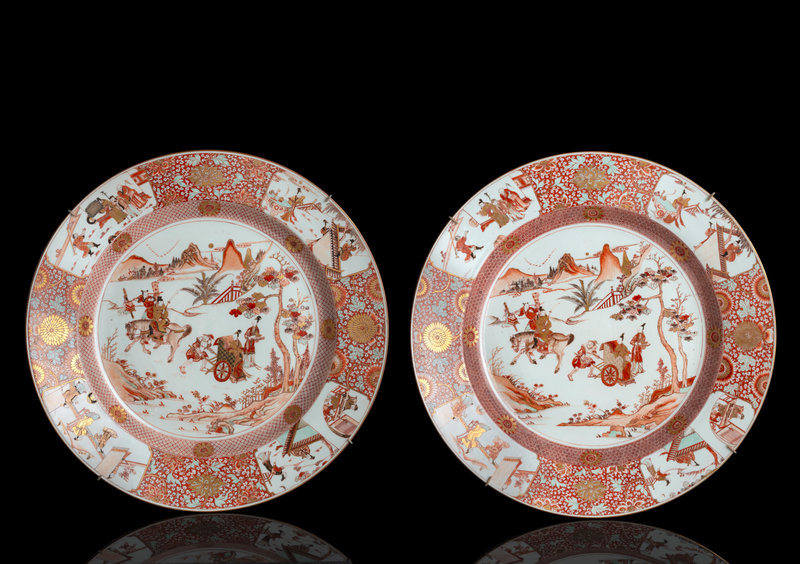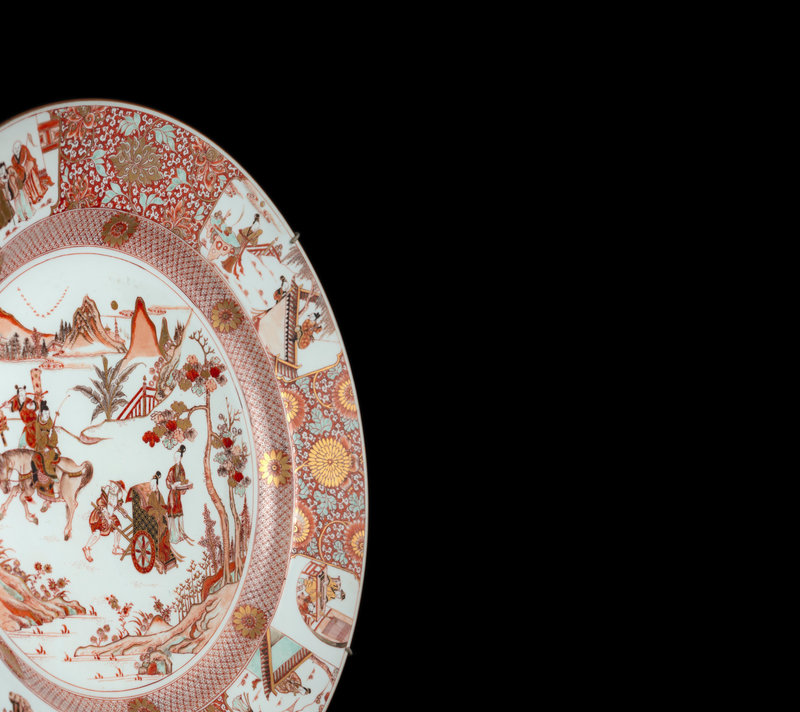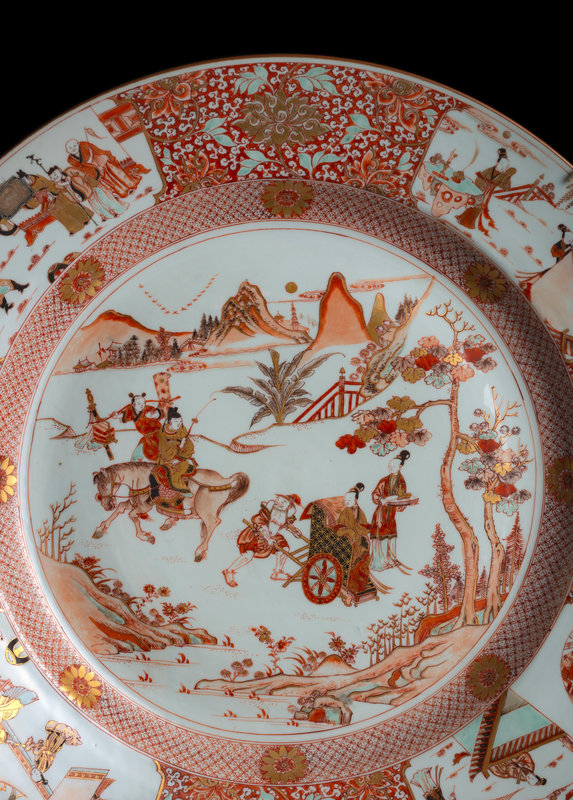 Lot 352. A pair of very large and very rare porcelain charger, Kangxi period (1662-1722). D. 48,5 - 49 cm. Estimate €30 000 - €50 000. Sold: €30,000. Photo Nagel Auction.
Fine decoration of a novel scene of ladies and riders in a mountain landscape in the mirror, the flag with further figural scenes and chrysanthemum blossoms in excellent painting in iron-red, gold, few green and black.
Provenance: From an important Bavarian private collection, according to tradition acquired by a member of the Bavarian royal family.
Note: In the early 18th century, these 'Melk and Blood' porcelains, called in Holland, were imported in smaller quantities from East Asia than blue and white or Famille Verte wares. Imports from China were made by Dutch merchants over a short period from 1700 to 1730. Since the order records of individual merchants and private firms in the Netherlands were never archived as systematically as was customary for the transactions of the VOC's state-controlled chambers, the identities of Milk and Blood's customers remain largely unknown. However, from the historical records of the Electoral Saxon Court in Dresden, a number of Amsterdam dealers in this type of porcelain are known. For example, the dealer Abraham van Theenen and the trading house Godefroy & Dulong are documented as suppliers, and the inventories of 1721-1725 state that Count Lagnasco (1659-1735), one of King Augustus the Strong's purchasers, acquired one of the most beautiful red and gold pieces in the Dresden collection on his shopping tour in Amsterdam in 1716. A large stock of porcelains in this relatively rare red and gold decorative style has been preserved in the Dresden collection. In addition to bowls, there are also large vases and lidded bowls whose beauty lies in the simplicity of the form and the precious elegance of the decoration. Compare a bowl of this type from the collection of Augustus the Strong, published by Eva Ströber 'La maladie de porcelaine...'Leipzig 2001, no. 34 - One plate with a small inserted break on the stand ring, otherwise beautifully preserved.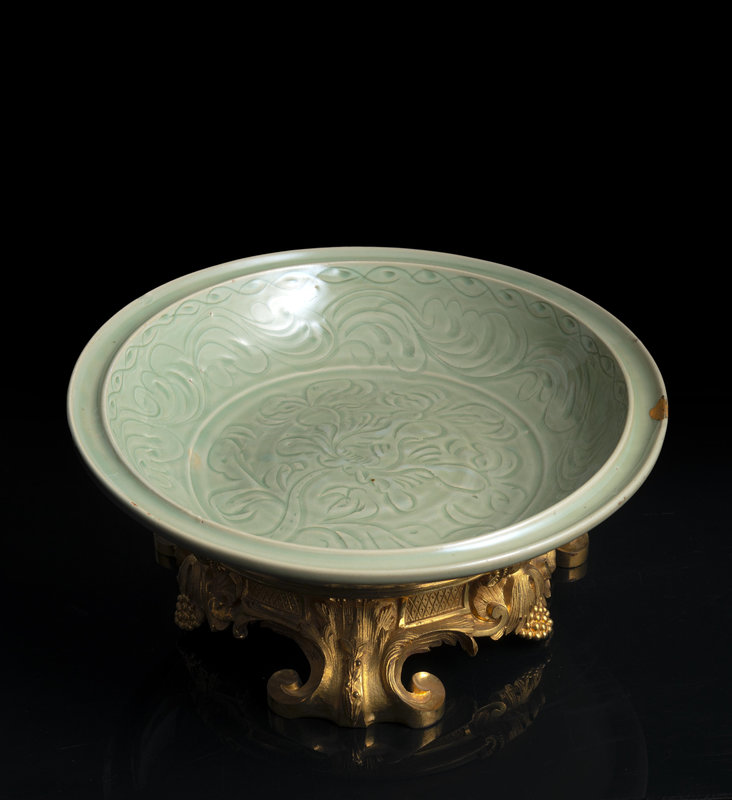 Lot 312. A fine and rare ormolu-mounted celadon charger with lotus blossom, the porcelain Yuan-early Ming dynasty, the mounts German or French, 18th century. D. 43,8 cm/ H. 15,5 cm. Estimate €15 000 - €25 000. Sold: €13,000. Photo Nagel Auction.
Provenance: Acquired from an old Bavarian noble collection by the present owner.
Note: The preference for celadon porcelain with ormolu mounts seems to have been at its peak in Paris in the 1750s. Lazare Duvaux, for example, records numerous purchases of such porcelains by leading collectors in his Livre-Journal; among his richest customers was the Marquis de Voyer d'Argenson, who, as Courajod reports, "achetait surtout chez Duvaux de la porcelaine Céladon garnie de pieds & de montures de bronze doré. Moreover, he commissioned Duvaux, as the owner of selected pieces, to mount them. Celui-ci le mit en rapport avec le célèbre modeleur Duplessis...' (Livre-Journal de Lazare Duvaux, 2 vols. ed. L. Courajod, Paris, 1873, p. XXXIII). D'Argenson's most expensive purchase of this type is recorded in September 1750 (no. 601): 'Deux gros vases de porcelaine Céladon, montés par Duplessis en bronze doré d'ormolu 3000 l.'. The descriptions are all far too brief to allow definite identification, but certainly this purchase of mounted celadon is surpassed in value only by that of the famous collector Gaignat, who bought "Deux urnes de porcelaine céladon, couvertes, montées en bronze dori d'or moulu par Duplessis, 2920 l." on 16 March 1754. Gaignat's collection was sold after his death in 1768, and the catalogue written by Poirier contained twelve mounted pieces of celadon - Small restoration in gold lacquer at the rim, slightly warped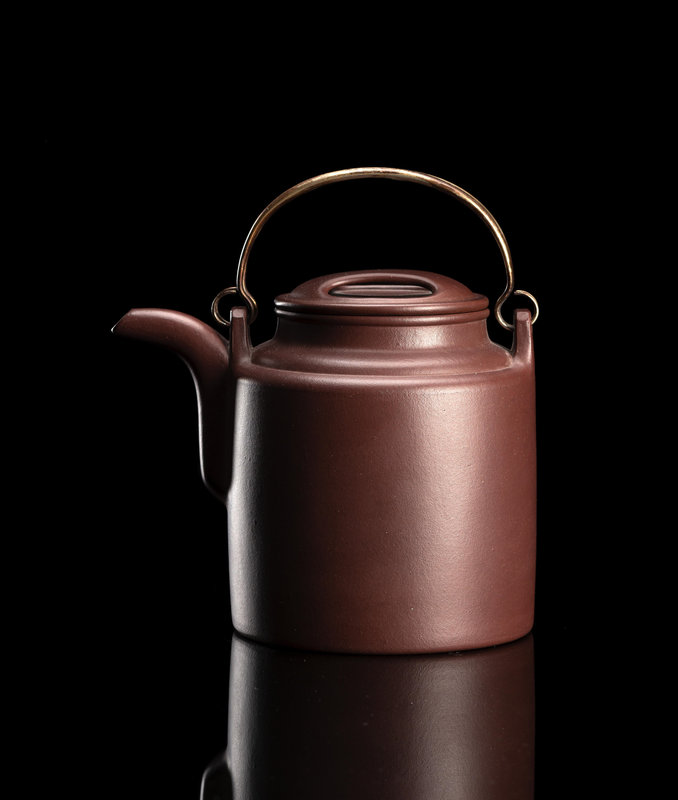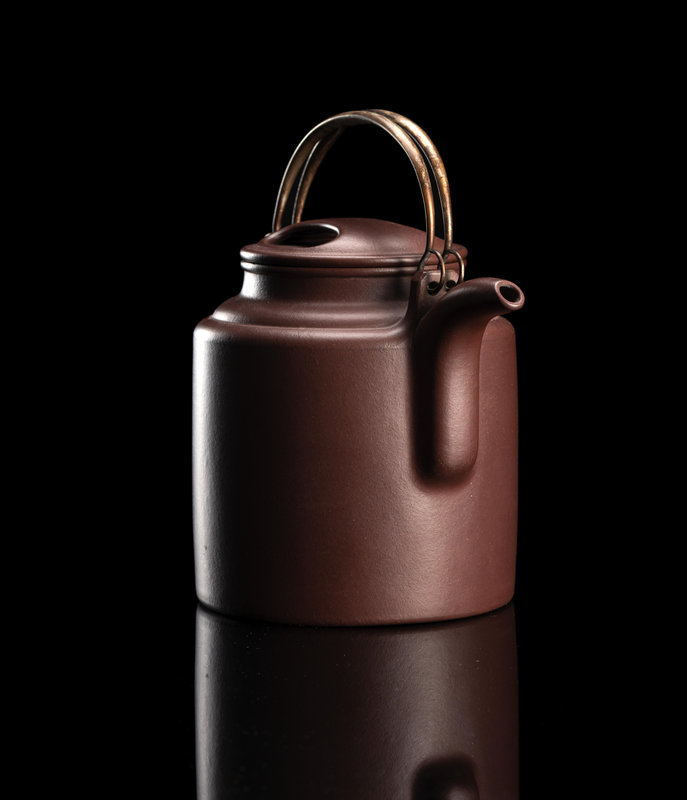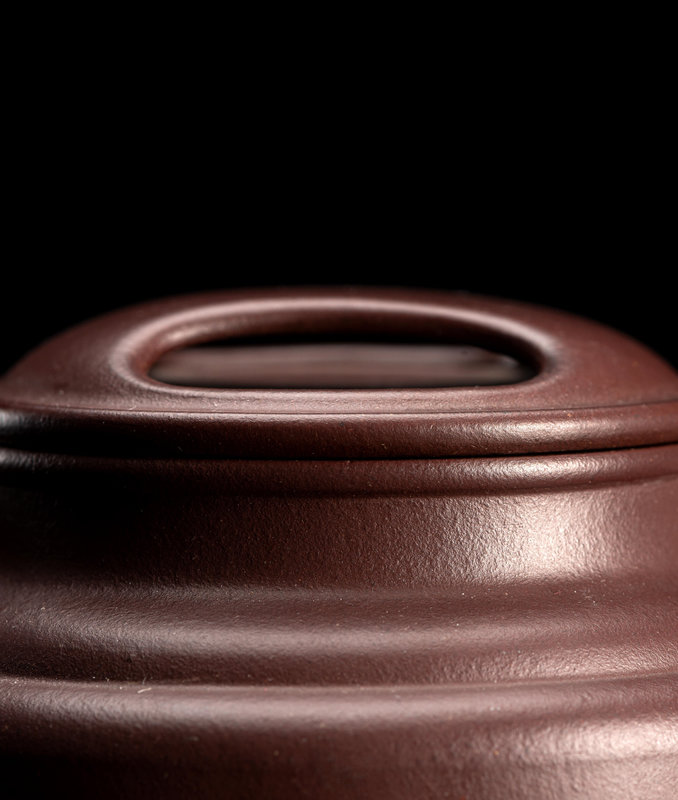 Lot 309. A fine Zisha stoneware cylindrical 'Yang Tong' teapot and cover, marked Gu Jingzhou (1915-1996), 20th century. H. 14,5 cm/ 19 cm (with handles), B. 16,8 cm. Estimate €30 000 - €50 000. Sold: €26,000. Photo Nagel Auction.
Zisha stoneware of a brown colour. Cylindrical body with stepped shoulders and a flattened lipped rim, flanked with a pair of oval metal handles. Set with an elongated spout on the side. The round cover in the 'niu gai' shape hollowed at the center with an arched dome worker with two oval handles. The base impressed with a seven-character seal mark: "De yi ri xian wei wo fu" (having a day off is my blessing), another seal mark towards the underside of the cover: "Gu Jingzhou".
Provenance: According to the present owners from a European private collection, acquired between 1960 and 1989.
Note: Gu Jingzhou (1915-1996) was a native of Yixing, and is now considered one of the greatest modern and contemporary masters of Yixing stoneware in China. During the early 1930s he was trained by Chu Ming, a Yixing master of the early Republican period, renowned for his cylindrical teapots known as 'yang tong'. This classic type is one of the best-known forms of Gus teapots. The seven-character seal mark on the base was used by Gu after 1942.
Fine Asian Art - Day I by Nagel Auction, June 12, 2023 • Stuttgart, Germany