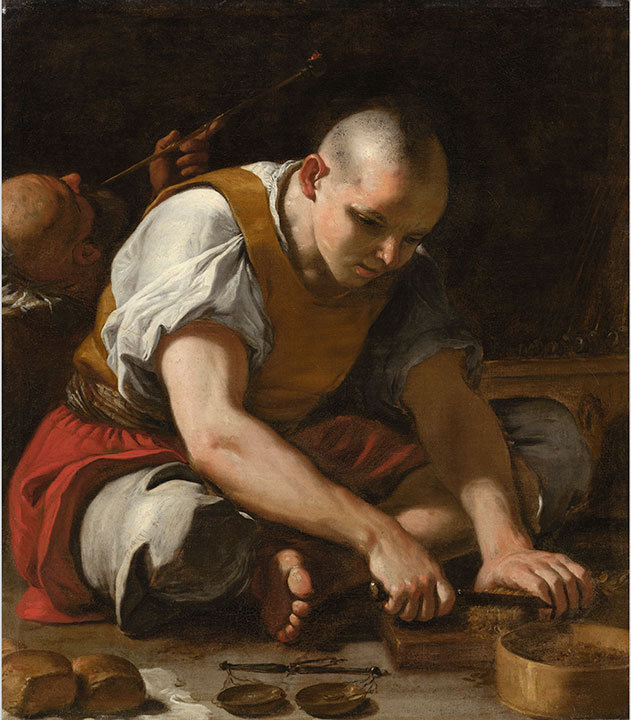 Mattia Preti, A Man Cutting Tobacco, 1660s. Oil on canvas, overall: 103.19 x 90.49 cm. National Gallery of Art, Washington. Patrons' Permanent Fund, Pepita Milmore Memorial Fund, and New Century Fund 2023.19.1
WASHINGTON, DC.- The National Gallery of Art has acquired A Man Cutting Tobacco, painted in Malta in the 1660s by the leading Italian Baroque artist, Mattia Preti (1613–1699). Unique for the 17th century in Italy and unusual within Preti's body of work, this painting straddles genres between portraiture and still life. It has been suggested by scholars that the figure might be a portrait of Cianferlì, an enslaved Middle Eastern man whom Preti taught to paint. This acquisition increases the diversity in the National Gallery's early modern Italian paintings collection, expands the historical stories that we can tell about global trade, and provides an opportunity to discover the true identity of this figure.

A Man Cutting Tobacco depicts the subject sitting cross-legged in the foreground, cutting tobacco. Most of his head is shaved and he is dressed in loose flowing, layered garments. Behind him, a man smokes a pipe and wears a white collar typical of European fashion of the period. Malta was a Mediterranean crossroads where artists and merchants from around the globe met and lived.

This painting also points to the nefarious but highly lucrative tobacco trade in the 17th century. Introduced by the Spanish to Europeans in about 1528, tobacco became a viable commercial product around 1620. Following the arrival of Europeans in the Americas, tobacco became one of the primary products driving colonization. Its increasing popularity and value contributed to the growing number of enslaved Africans forced to grow the crop.

Dating from Preti's Maltese period, this painting features the fluid brushstrokes and intense chiaroscuro that characterize the exuberant drama of the late Baroque and is typical of the artist's work in the 1660s. He captures striking details, such as the sitter's soiled feet and unevenly shaved head, which reflects Preti's practice of painting directly from a live model. Even though this figure's identity cannot be confirmed at this time, it has been suggested that the sitter may be a Middle Eastern man named Cianferlì, one of four enslaved people that Preti then owned. Preti later granted him manumission. A similar likeness, whether Cianferlì or not, appears in several works by the artist during this period, including quite possibly Martyrdom of Saint Gennaro (c. 1685), acquired by the National Gallery in 2000.

Calabrian by birth, Preti joined his brother in Rome in the 1630s, contributing to the Eternal City's late Baroque style. Beginning in 1661, Preti worked in Malta where he undertook the decoration of the co-Cathedral of Valletta with a painted cycle of the Life of Saint John the Baptist. Already a Knight of Malta, Preti was elevated to the rank of Knight of Grace, eventually becoming a Knight of Justice. In these years, Preti was Malta's preeminent painter and was held in high regard and granted prestigious commissions. Given his exalted status, commissions came in from Malta as well as the rest of Europe, particularly from Sicily and Spain, enabling the artist to remain prolific through the 1680s. With his many international commissions in this period, it is hard to pinpoint precisely for which country or patron Preti created this picture.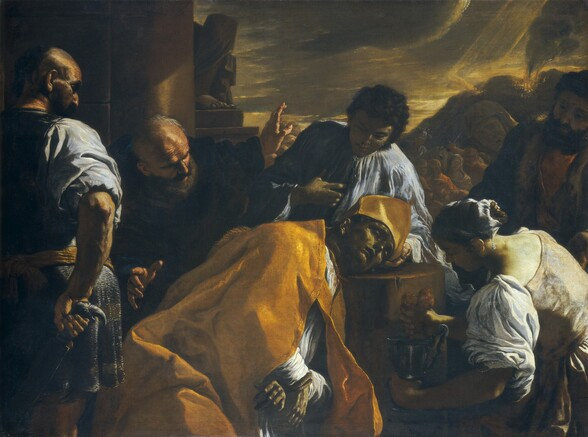 Mattia Preti, The Martyrdom of Saint Gennaro, c. 1685. Oil on canvas, overall: 156 x 205 cm. National Gallery of Art, Washington. Patrons' Permanent Fund, 2000.75.1