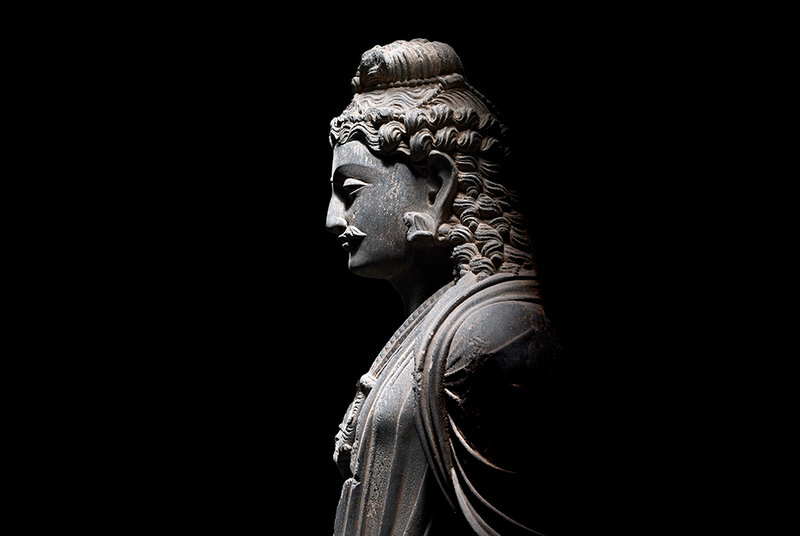 Lot 39. A Grey Schist Figure of a Bodhisattva Ancient Region of Gandhara, Circa 3rd Century. Estimate: €400,000-600,000. Photo: Bonhams.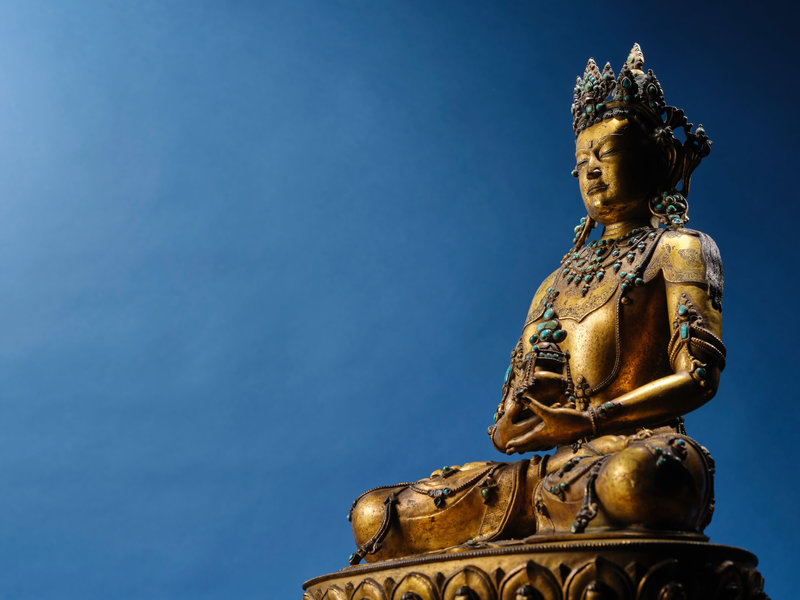 Lot 117. A Gilt Copper Alloy Figure of Amitayus. Attributed to Sonam Gyaltsen (A. 15th Century), Shigatse, Central Tibet, circa 1430-40. Estimate: €1,000,000 - €1,500,000. Photo: Bonhams.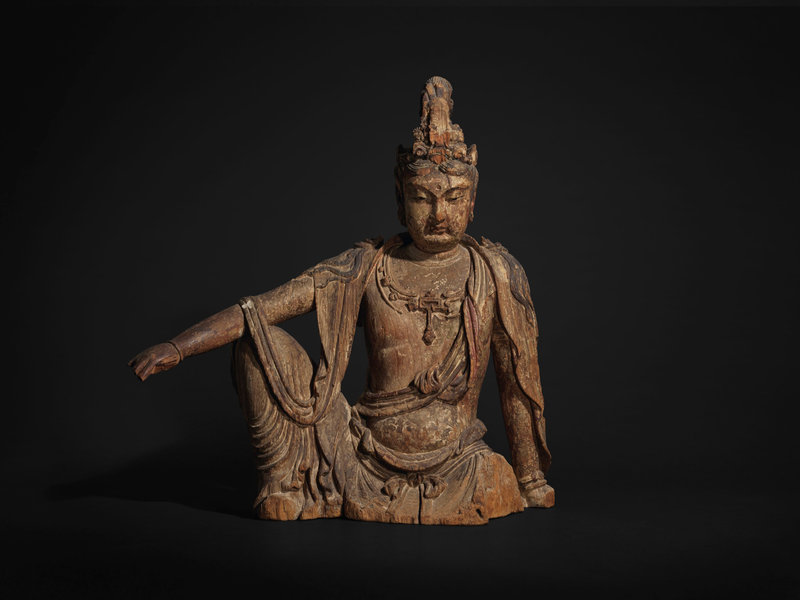 Lot 54. A Magnificent and Very Rare Large Wood Figure of the Bodhisattva Guanyin, Jin dynasty. Estimate: €800,000 - €1,200,000. Photo: Bonhams.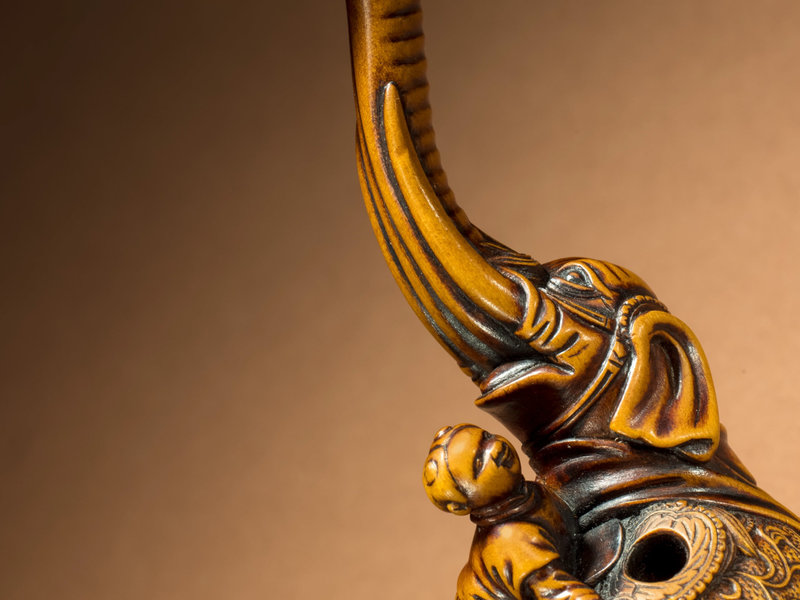 A Wood Netsuke of an Elephant and a Karako (Chinese Boy) by Tsuji, Osaka, mid/late 18th century. Estimate: €30,000 - €40,000. Photo: Bonhams.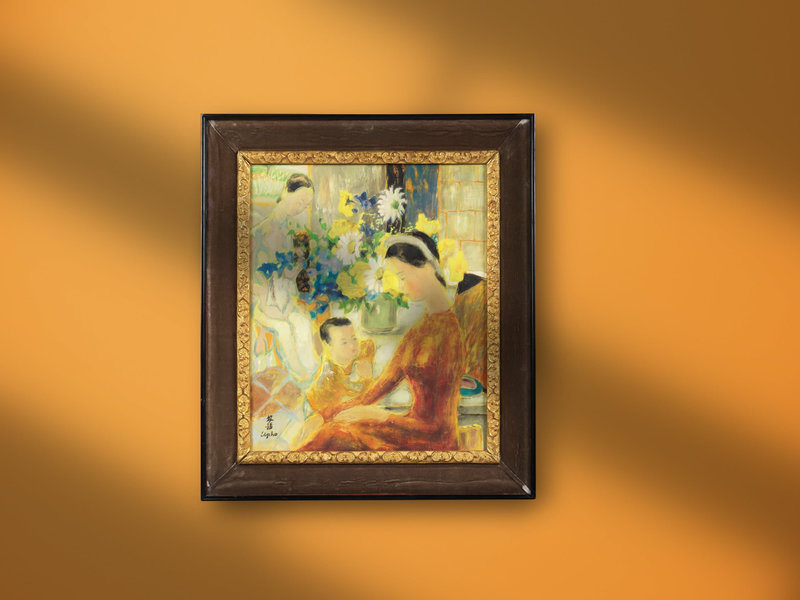 Lê Phổ, La Famille. Estimate: €250,000 - €340,000. Photo: Bonhams.
PARIS.- Bonhams Cornette de Saint Cyr will offer six auctions from 9 to 16 June 2023 (including two online), with a series of exhibitions taking place before the auctions and conferences on Saturday 10 June. This rich and varied programme will allow collectors from all over the world to discover and appreciate Asian Art exhibited during the Printemps Asiatique in Paris.

THE CLAUDE DE MARTEAU COLLECTION, Part III | 12 JUNE 2023

Following two successful auctions in Paris in 2022, Bonhams Cornette de Saint Cyr will be offering part III of the remarkable Claude de Marteau Collection at 6 Avenue Hoche on 12 June. The Claude de Marteau Collection is a unique assemblage of art gathered over decades by the late dealer and collector. It contains works created over a period of 1,500 years in the Hindu and Buddhist cultures that once flourished in India, Nepal, Tibet and China.

This auction will offer a range of Hindu and Buddhist treasures including a 3rd century Gandhara Bodhisattva statue, over 1 meter high (estimate : €400,000-€600,000). The sale also features a 15th/16th century Tibetan gilt copper alloy figure of the 9th century Buddhist master Virupa, renowned for both his wisdom and for his wild, unpredictable behaviour. The statue depicts a famous episode in the story of his life with his left hand raised in order to stop the flow of the Ganges river (estimate: €150,000 to €200,000). The figure is richly gilded and inlaid with turquoise stones. The face is painted in gold and the lips, eyes and eyebrows are also painted in the Tibetan style, giving it a more realistic appearance.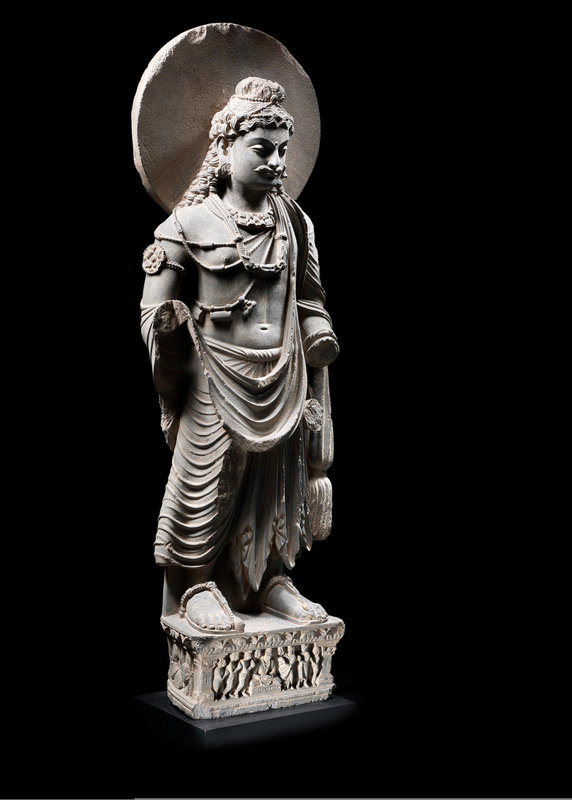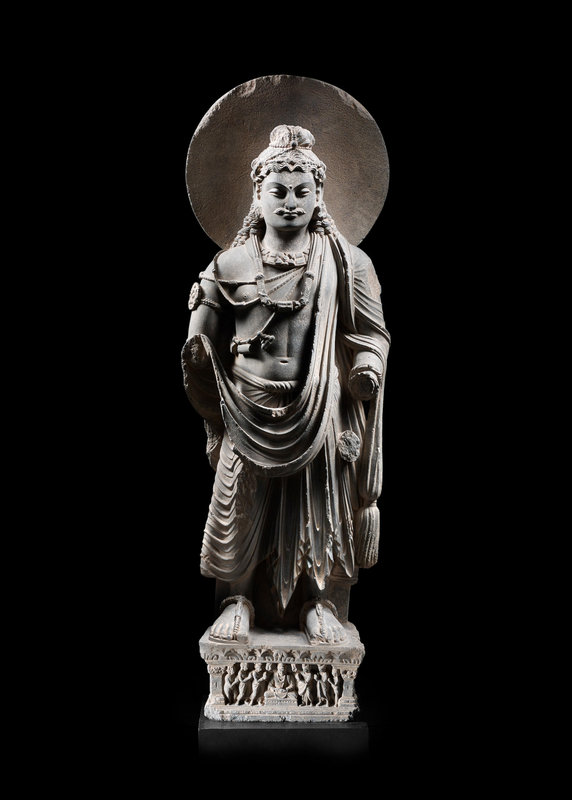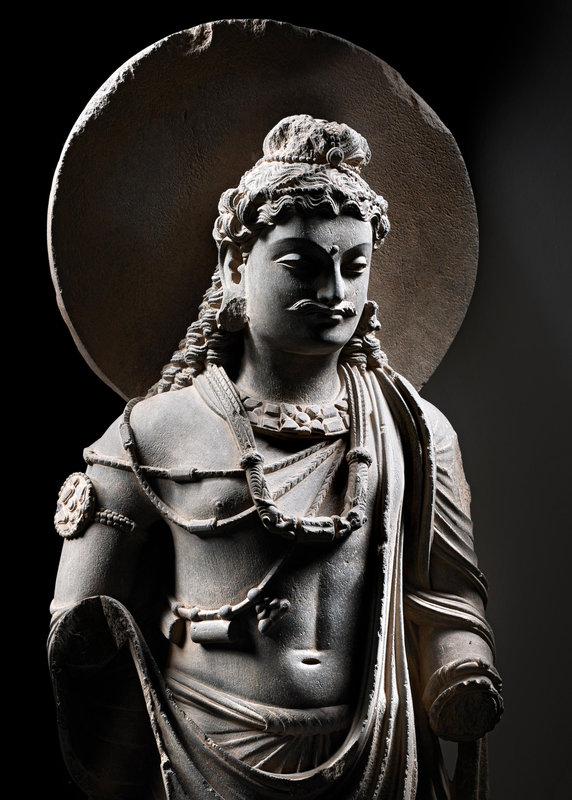 Lot 39. From the Claude de Marteau Collection. A Grey Schist Figure of a Bodhisattva, Ancient Region of Gandhara, Circa 3rd Century; 115 cm high. Estimate: €400,000-600,000. Photo: Bonhams.
Published: Isao Kurita, Gandharan Art, Vol. II, Tokyo, 1998 & 2003, p. 15, no. 17.
Provenance: With Claude de Marteau, Brussels, by 1970s.
Note: This majestic figure of a standing bodhisattva evokes both strength and grace. He bears the qualities of a youthful prince, indicated by his jewelry and noble, smooth physiognomy. His pronounced musculature, circular nimbus, and lofty expression convey an idealized image of a divine and enlightened being. He likely represents Maitreya, who in Mahayana Buddhism is destined to succeed Shakyamuni as the next and final Buddha. Maitreya in Gandharan art is frequently depicted with a loosely folded topknot, a right hand raised in the gesture of reassurance (abhaya mudra), and a water flask that was presumably clutched by the lost lowered left hand. Reflecting the cosmopolitan attitude of Gandharan art, which fused Indic content with Iranian and Greco-Roman aesthetics, Maitreya is carved with long wavy locks, standing with a gentle contrapposto in the right knee.

Located in what is today northwest Pakistan and southern Afghanistan, the ancient region of Gandhara was once a vibrant economic and cultural hub with an integral position within both overland and maritime silk routes around the 1st century BCE. The vast influx of wealth and commerce enabled Gandhara's urban centers to serve as the crossroads connecting China, Central Asia, the Indian peninsula, and the Mediterranean. However, Gandhara's advantageous geography meant the region fell repeatedly to invasion from powerful ancient empires. Alexander the Great conquered the ancient capital of Taxila in 326 BCE and the region was, for a brief time, absorbed into the Macedonian empire. After the death of Alexander, the Mauryans subsequently ruled for approximately one hundred and fifty years (c. 305-180 BCE). Greco-Bactrian invasions around 180 BCE then turned the region into an independent Indo-Greek kingdom (c. 185-97 BCE). One of its most famous rulers, King Menander I (r. 165/55-130 BCE), became a great patron of Buddhism and is still remembered for his dialogues with the Buddhist sage Nagasena, as recorded in the Milinda Panha, "The Questions of Menander". The Kushans, who were originally of Central Asian descent and adopted Greek and Iranian elements in their material culture, later established themselves in Gandhara in the early 1st century CE. The most accomplished of these kings was Kanishka I (r. 127-151 CE), who not only ruled a vast empire extending from Bactria to Pataliputra in Northeast India, but also followed the tradition of religious patronage set by the Indo-Greek kings and actively engaged in the creation and transmission of Buddhist literature, architecture, and art. It was during this cultural landscape of stone monuments and statuary, particularly once Mahayana Buddhism attained popularity in Gandhara by the late 2nd/early 3rd century CE, that images like the following sculpture were instrumental in the eastern transmission of early Buddhist art.

Other standing images of Maitreya with similar attributes and stylistic features are found in several museum collections, published in Zwalf, A Catalogue of the Gandharan Sculpture in the British Museum, 1996, p. 38, nos. 51 & 52; Dye, The Arts of India: Virginia Museum of Fine Arts, 2001, p. 97, no.7; and Behrendt, The Art of Gandhara in the Metropolitan Museum of Art, 2007, p. 54, no. 42. For instance, the beaded jewelry adorning the present sculpture's hair and the floral medallions carved on the sides of the platform closely relate to the example in the Metropolitan Museum of Art, New York (13.96.17). Moreover, the acanthus leaves decorating the front of the present figure's platform, the large tassel hanging by the left arm, the sharp angular folds suspended over the left leg, and the deep ripples of the robe around the raised right forearm are striking in appearance to the example in Virginia. Also located beneath Maitreya's feet is an iconic trope illustrating a seated bodhisattva venerated by a congregation, as seen on two Gandharan statues of the Buddha, one sold at Bonham's, Hong Kong, 2 December 2021, lot 1036, and the other also from the Claude de Marteau Collection, Part 1, sold at Bonhams, Paris, 14 June 2022, lot 26.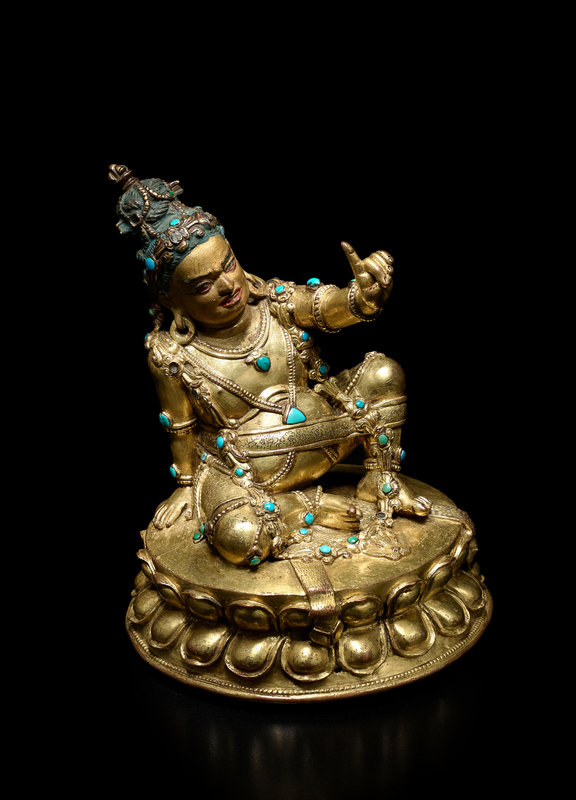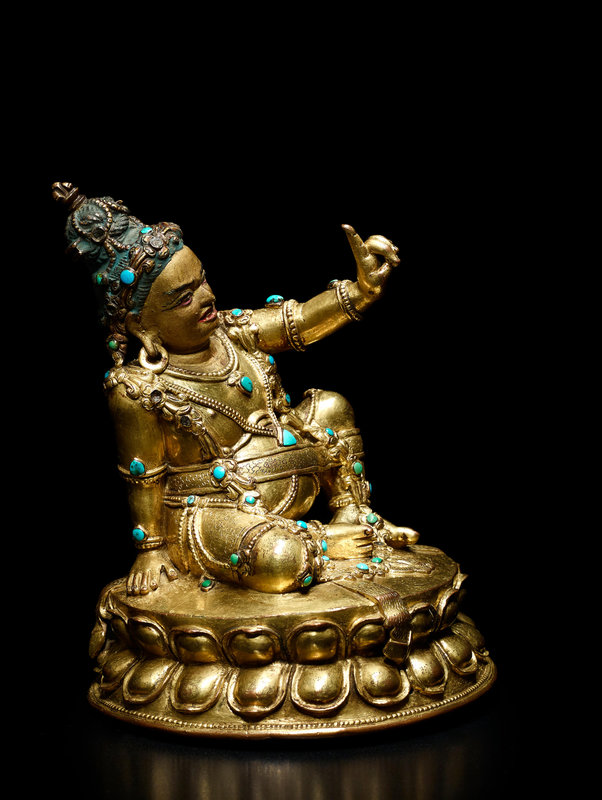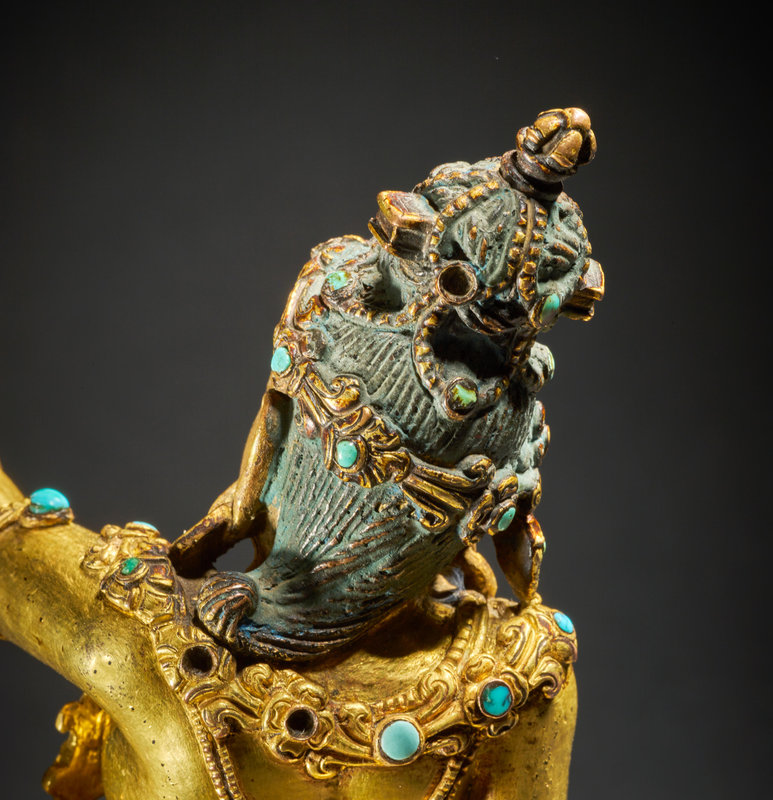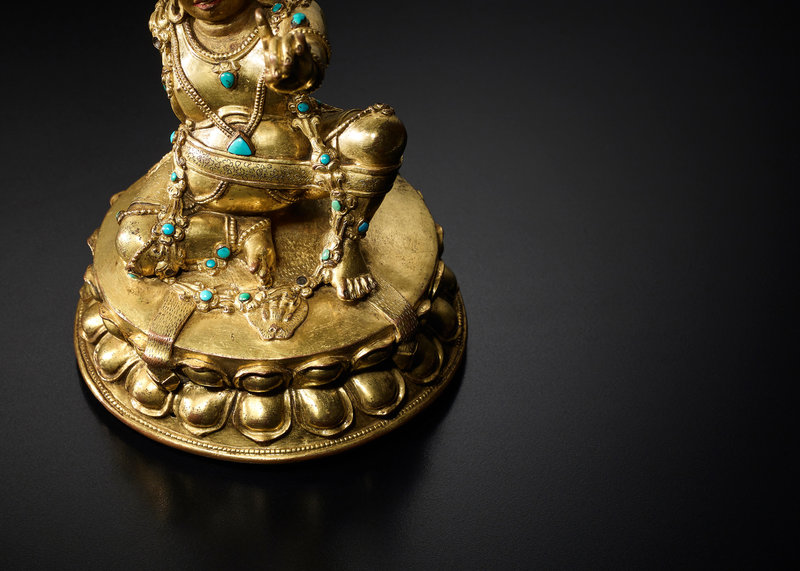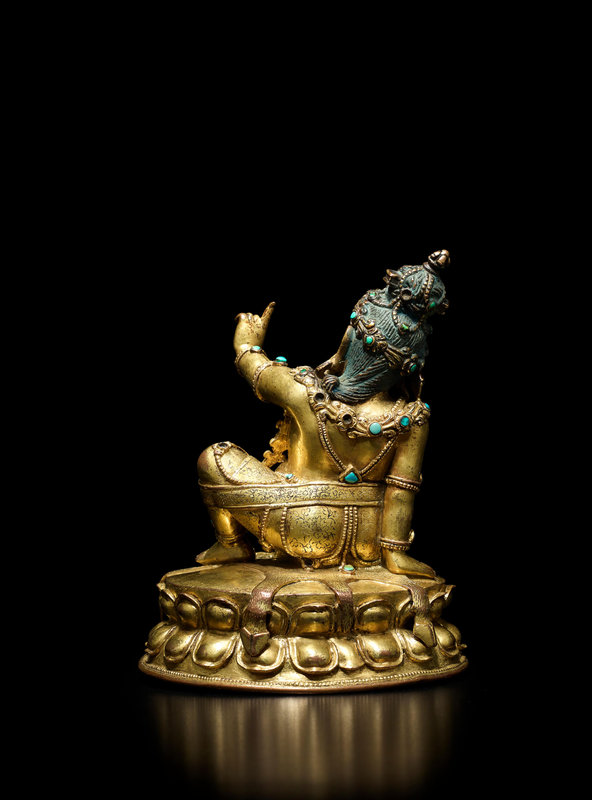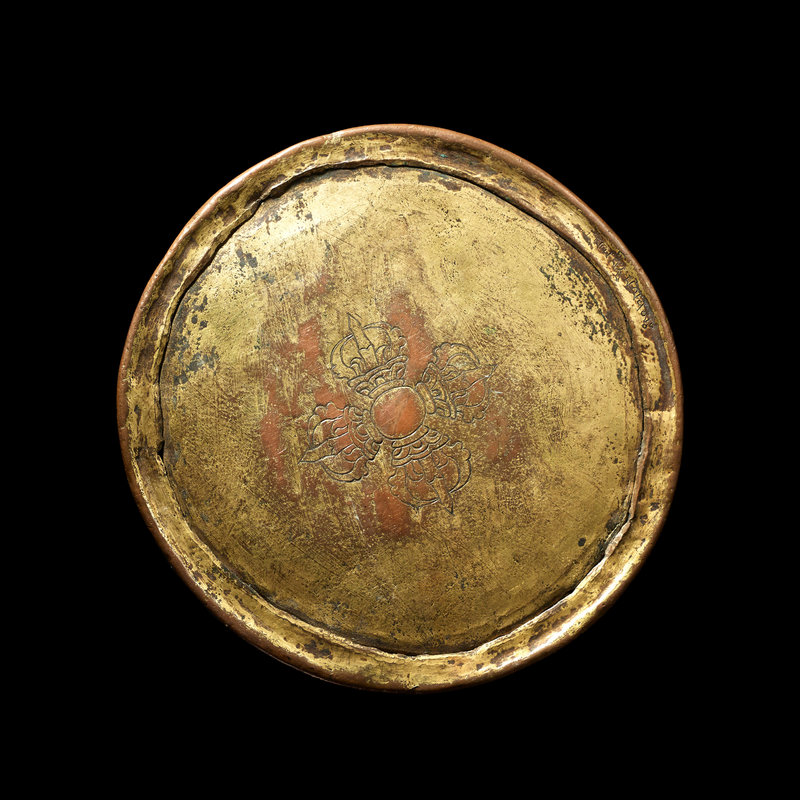 Lot 10. A gilt copper alloy figure of Virupa, Tibet, 15th-16th century; 13.6 cm high. Himalayan Art Resources item no. 4804. Estimate €150,000 - €200,000. Photo Bonhams.
Inscribed in Tibetan along the rim of the base with dpal bi ru pa la na ma; "Homage to the Honorable Virupa".
Published: Jan van Alphen, Cast for Eternity, Antwerp, 2003, p. 209, no. 71.

Exhibited: Cast for Eternity, Antwerp Ethnographic Museum, Belgium, 12 April 2005 - 26 June 2005.

Provenance: With Claude de Marteau, Brussels, by 1970s.
Note: This Tibetan sculpture pays homage to one of the great luminaries of Indian Buddhism, the c. 9th-century Buddhist master, Virupa. Like other mahasiddhas (great adepts) of the medieval period, Virupa spent years in formal Buddhist training before withdrawing from monastic life to follow his own path. He is credited with a hyper-efficient meditative practice known as lamdre ("The Path with the Result"), which was later introduced to Tibet by the Indian teacher Gayadhara (d. 1103) and became a central tantric tradition within the Sakya school. Famed both for his exceptional wisdom and his wild ways, the iconography of this image is rooted in a famous episode from Virupa's life when, pointing his finger at the sun, he stopped its rotation in order to avoid paying his bar tab. (See the same iconography in another image of Virupa of about the same period, previously in the Nyingjei Lam Collection, sold at Bonhams, Hong Kong, 7 October 2019, lot 802.)

Formerly an abbot of Nalanda, Virupa received the 'Path', which is based mainly on the Hevajra Tantra, from the deity Vajra Nairatmya after giving up on decades of unsuccessful attempts at the Chakrasamvara Tantra. His subsequent rituals cost him his affiliation, as other members of the monastic hierarchy frowned upon his use of meat and alcohol. Banished from Nalanda, he wandered as a yogin, performing a number of miracles.

In this 15th-to-16th-century work, the saint holds his left index finger to the sun while supporting himself with the left hand pressed behind him on a lotus seat covered with an antelope skin. Works showing the saint in this posture, full bodied, lounging with a gana-like effect are less frequently depicted, though these characteristics are shared by another Virupa published in Amy Heller, Tibetan Art, 1999, p. 164, no. 89. A Buddhist manuscript is folded into his chignon, and a floral garland falls around the shoulders, down the torso, and to his feet. A meditation strap—recalling his many hours in meditation—encircles his wide girth and the left shin. The figure is richly gilded and inset with turquoise stones. The face is painted gold and the lips, eyes, and eyebrows are likewise painted in the Tibetan manner, imparting a life-like appearance.

The figure sits on a distinctive double lotus base with broad, rounded petals. An inscription and a delicately beaded border line the lower rim. Identical bases are shared by a set of six Sakya lamdre masters which sold at Bonhams, New York, 14 March 2017, lot 3262. In addition, two other portraits from the set, one of Damarupa (c.9th century) and the other of Chogyal Phagpa Lodro Gyaltsen (1235-80), are held in the Museum der Kulturen, Basel, published in von Schroeder, Indo-Tibetan Bronzes, 1981, pp. 456-7, nos. 126F-G. The present Virupa very likely belongs to this set also.

A baseplate, secured by a rim beneath the seat, bears a double thunderbolt (visvavajra) design similar to that on a c. 15th century Milarepa sculpture from the Nyingjei Lam Collection sold at Sotheby's, New York, 21 March, 2023, lot 108.

Bonhams would like to thank Jane Casey for her assistance in preparing this lot.
As a young man, Claude de Marteau stumbled upon the art that was to be his lifelong passion while he was on an extended trip through Afghanistan, over the Hindu Kush to the Indian subcontinent and Southeast Asia. Entirely self-taught, he became a respected dealer and an eminent authority on Tibetan, Nepalese, Indian and Southeast Asia art.

Bonhams Global Head of Indian, Himalayan and Southeast Asian Art, Edward Wilkinson, recalls the first time he was shown into the storage room: "A plain door opened to reveal simple metal shelving and large wood work benches, but once the lights came on the contents of the shelves left me stunned. Hundreds of superb Tibetan, Nepalese, and Indian sculptures were interspersed with paint cans and cleaning materials."

A Gilt Copper Alloy Figure of Amitayus bears all the hallmarks of the exceptional mastery of one of the greatest known artists in Tibet, active in the first half of the 15th century, namely the master craftsman Sonam Gyaltsen, active in Shigatse, central Tibet, c. 1430-40 (Estimate: €1,000,000-1,500,000).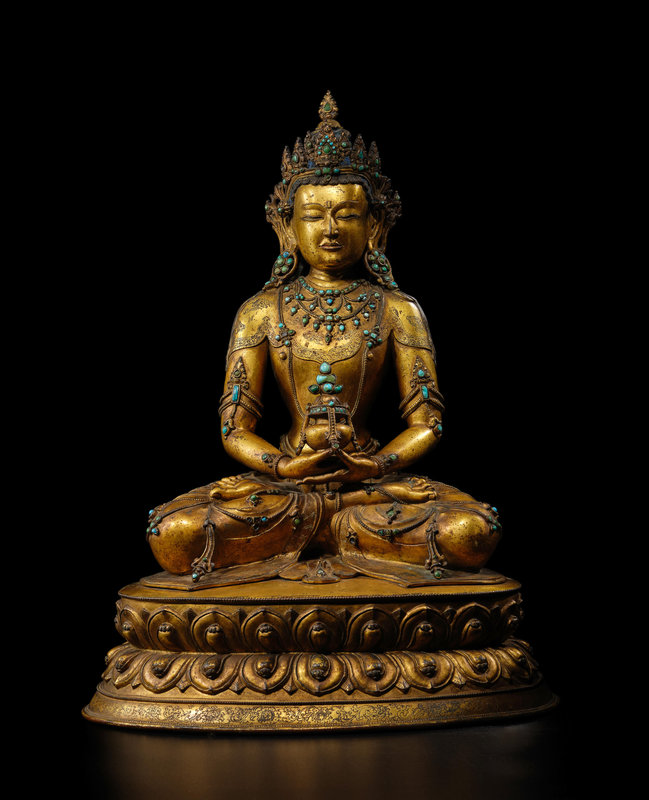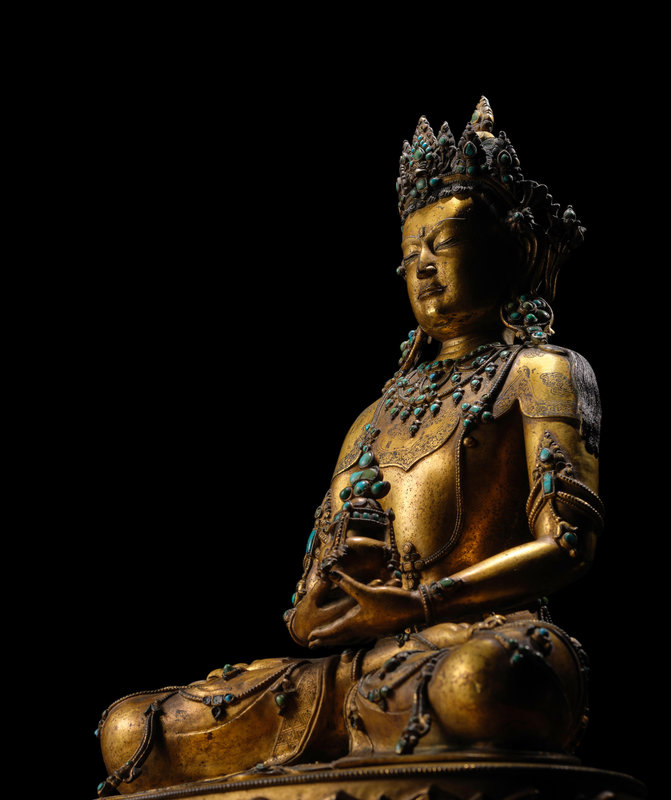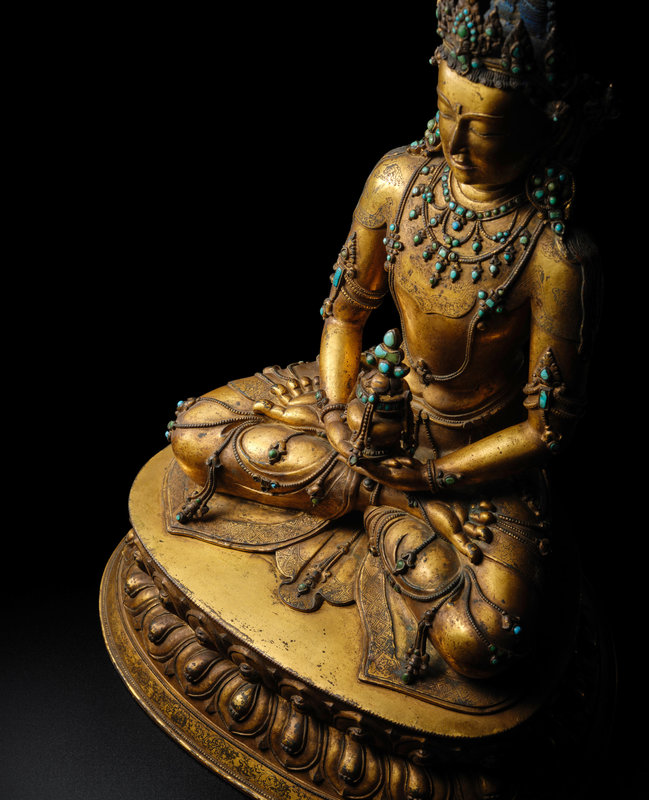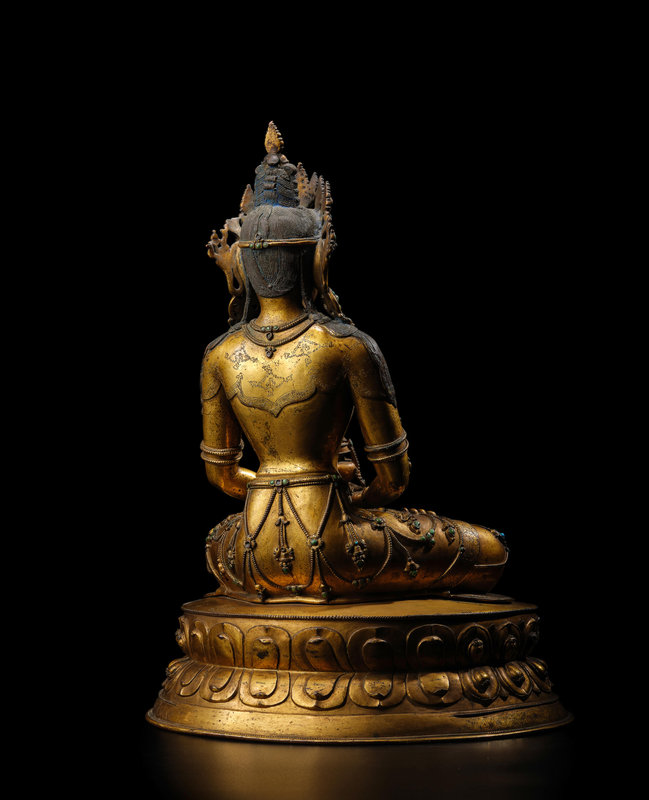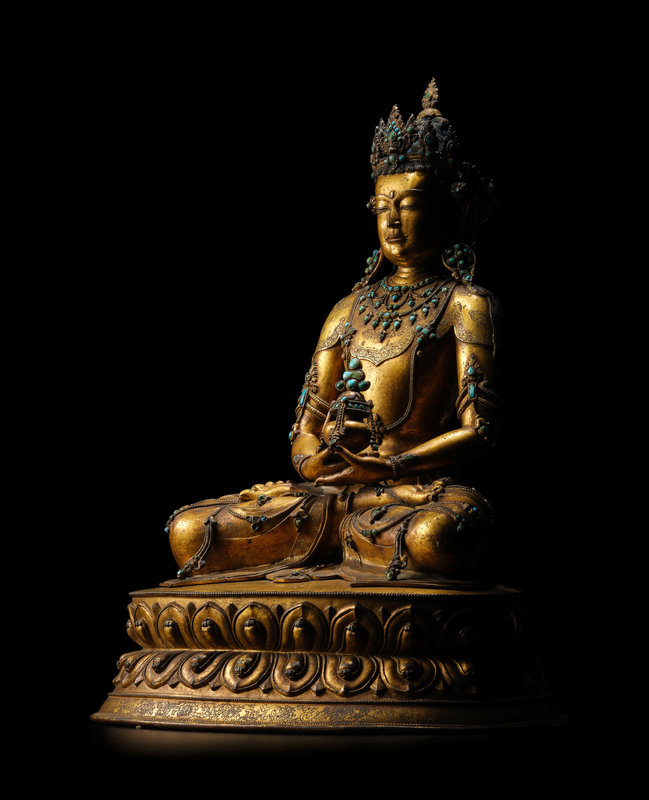 Lot 117. A Gilt Copper Alloy Figure of Amitayus, attributed to Sonam Gyaltsen (A. 15th Century), Shigatse, Central Tibet, circa 1430-40; 43 cm high. Himalayan Art Resources item no. 16792. Estimate: €1,000,000 - €1,500,000. Photo Bonhams.
Provenance: Sotheby's Parke-Bernet, New York, 23 May 1979, lot 85
Navin Kumar, New York
A French Private Collection, Paris, acquired from the above on 31 August 1984
Christie's, Paris, 19 December 2012, lot 209
An Important Asian Private Collection.
Published: Ulrich von Schroeder, Indo-Tibetan Bronzes, Hong Kong, 1981, p. 446, no. 121A.
Note: This magnificent gilt-bronze figure of Amitayus bears all the hallmarks of the exceptional master-craftsmanship of one of the greatest known artists in Tibet, active during the first half of the 15th century, namely, the master craftsman Sonam Gyaltsen. 

The attribution to Sonam Gyaltsen is demonstrated in the evident similarities to the gilt-copper alloy figure of Avalokiteshvara Sahasrabhuja Ekadasamukha, circa 1430, identified by inscription to have been made by Sonam Gyaltsen, which was sold at Bonhams, New York, 19 March 2018, lot 3033. These close similarities are manifest in the comparable facial features, the turquoise-inset jewelry, the incised decoration, and lotus lappets: Gyaltsen completes his bronze's lotus petals in the round with symmetrically curling plump inner corolla on top of swelled outer petals with pointed tips. Gyaltsen lightly engraves Amitayus' silks with auspicious symbols. He models Amitayus with slender physiognomy. The hair is distinctively arranged into a fringe of rounded curls before the crown. Gyaltsen apportions the jewelry with restraint, such that small turquoise settings brilliantly lead the eye over the body without distracting from its alluring suppleness. Lastly, in the handsome face, Gyaltsen elegantly captures the benevolent and restful essence of Amitayus.

As noted in the inscription of the Sonam Gyaltsen Avalokiteshvara, the master craftsman had the patronage of the Rinpung dynasty and more specifically the third monarch, Norbu Zangpo (1403-66) who ruled between 1435 and 1466. The dynasty's seat of power was in Shigatse, Tsang Province in Central Tibet, and its rulers mostly patronized the Sakya order. This figure was created at the culmination of the foundation or enlargement of Jamchen Chode monastery near Shigatse, circa 1430. It is therefore possible that the present figure of Amitayus was also created as part of the project for the Jamchen monastery.

While the Bonhams Avalokiteshvara remains the only known inscribed figure identified by inscription to be by Sonam Gyaltsen, it allows us to attribute other important sculptures in public and private collections to the great master. Compare with images of Guhyamanjuvajra and Vajrabhairava in the Rietberg Museum, Zurich (Uhlig, On the Path to Enlightenment, 1995, pp. 170-1, nos. 113 & 114), which closely match the present sculpture's lotus petals, rich gilding, and densely encrusted jewelry. Also see an image of White Tara wearing a similar peaceful expression and cloud-collar over her shoulders (HAR 21448).
Attributed to Sonam Gyaltsen: A Magnificent Figure of Amitayus
by Jeff Watt, Director and Chief Curator of Himalayan Art Resources (HAR)
Amitayus, Buddha (Tibetan: tse pag me; who is also known as The Enlightened One of Immeasurable Life, Lord of Limitless Life and Pristine Awareness, the Sambhogakaya Appearance (Enjoyment Body) of Buddha Amitabha. The term 'Buddha' has two different meanings. The first meaning is an abstract religious definition and the second is a descriptive term used in Himalayan style art. In the tradition of Mahayana Buddhism Amitabha resides in the western direction in the Pureland called Sukhavati (Land of Great Bliss). Full descriptions of his iconography and environment are found in the literature of the Sukhavati-vyuha Sutra.

The two names, Amitayus and Amitabha Buddha, describe the same entity, the same individual. Along with the two different names there is a difference in emphasis and a different appearance. Amitabha Buddha has the classic look of a Buddha figure wearing monastic robes, holding a begging bowl and displaying an ushnisha on the crown of the head. Amitabha, in the buddha manifestation, is known as the Buddha of Immeasurable Light. The Amitayus form is depicted as a peaceful male deity with long flowing hair, beautiful ornaments, heavenly garments, along with a long-life vase resting on the palms of the two hands placed in a meditation gesture. Although a Buddha, Amitayus, does not appear as a Buddha, but rather as a peaceful deity, and he represents immeasurable life, or rather the quality and promise of long life. The two names are often confused, conflated or used interchangeably. With painted examples, the two figures are both depicted in a red colour.

'Bhagavan Lord of Limitless Life and Pristine Awareness with a body red in colour, one face, two hands and with two long eyes glancing with compassion on beings, gazing on the entirety of migrators; and a smiling face, wearing the complete sambhogakaya vestments. Above the two hands held in meditation is a long-life vase filled with the nectar of immortality; with the hair in tufts, adorned with silks and jewels, seated in vajra posture, the body blazing with the shining light of the [32] marks and [80] examples'.
(Sakya Tridzin Kunga Tashi, 1656-1711).

The style of the present figure can be firmly compared and attributed to the early 15th century hand of Sonam Gyaltsen. This is evident in the body proportions, ornamentation, and many minor details. An awareness of Sonam Gyaltsen's atelier and distinctive sculptural style only came to light recently, based on an inscription located on the lotus base of an Avalokiteshvara sculpture sold at Bonhams, New York, 19 March 2018, lot 3033; HAR 61516. The inscription was rich with information. Based on a triangulation of dates comprising two named donors, a well-known historical Buddhist teacher, and the artist, a date of around 1430 could be established for that sculpture. 

A close comparison of the two sculptural works, the present Amitayus and the Sonam Gyaltsen Avalokiteshvara, demonstrates that both were made in the same workshop around a similar time, most likely by the hand of the artist Sonam Gyaltsen. 

Since 2018, more works have now been identified as belonging to the Sonam Gyaltsen sculpture atelier. However, unlike the firm attribution of the Avalokiteshvara by the inscription and the Amitayus by close comparable style and craftsmanship - this does not mean that all of the other sculptures were created or designed by the artist Sonam Gyaltsen. The name Sonam Gyaltsen, as found on the Bonhams Avalokiteshvara inscription, provides crucial information not only placing that sculpture and similar stylistic works to a specific time, circa 1430 and later, but also geographically in Tsang province and specifically in the Shigatse/Shalu area of Central Tibet.

Some of the special characteristics of the Sonam Gyaltsen atelier style are a well-proportioned body, fluid in movement and natural in appearance. Incised floral patterns are a feature commonly found around the bottom of the lotus base. Slight incising can also be found on the small tips of the two layers of the double lotus base. His entire regalia is lavishly decorated with inset stones, with turquoise being the most abundant.

The most essential point of these sculptural discoveries is that based on an identified inscribed work, along with a date, a growing number of works can now be attributed to a prominently named artist, the only named artist identified at this time for this sculptural style. 

It is therefore reasonable to assign this style more broadly to the Sonam Gyaltsen sculpture atelier. For art historians and collectors alike, this sculptural tradition is significant for producing some of the finest Tibetan sculpture created during a golden age of both art and Tibetan literary output. The style embodies the best qualities and represents a true synthesis of styles from the surrounding regions of the Himalayas, India, Kashmir, Nepal, and China, reshaped into a truly unique Tibetan aesthetic flourishing in the 15th century.

The present sculpture of Amitayus is arguably one of only a small handful of works to date that can be firmly attributed to Sonam Gyaltsen, therefore further adding to the current identifiable body of works by the master sculptor.

New York
October 2019
An important Damarupada thangka from the Ngor Monastery in Central Tibet circa 1600 published in various important publications and exhibited at the Rubin Museum of Art in New York and the Art Institute of Chicago will be offered with an estimate of €300,000-500,000.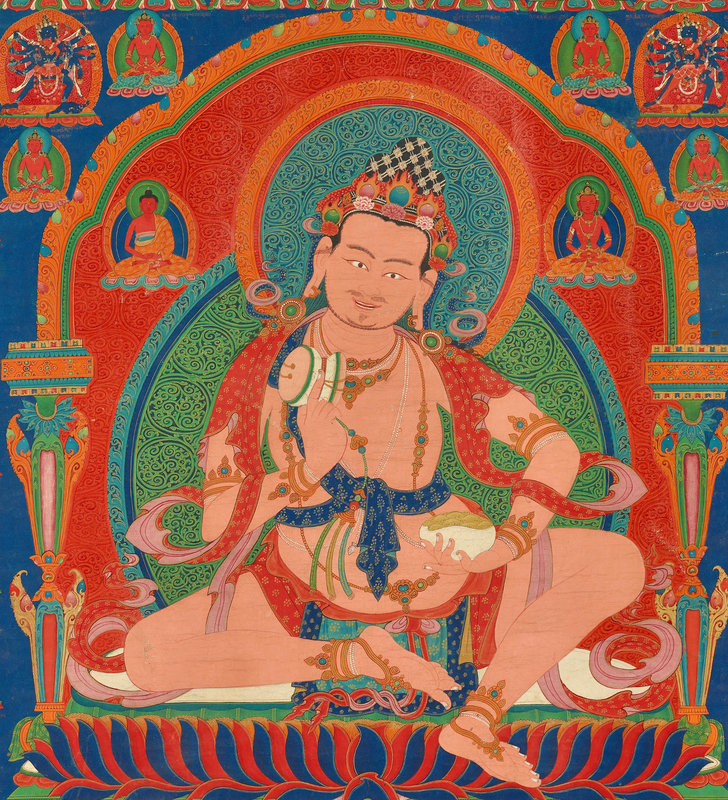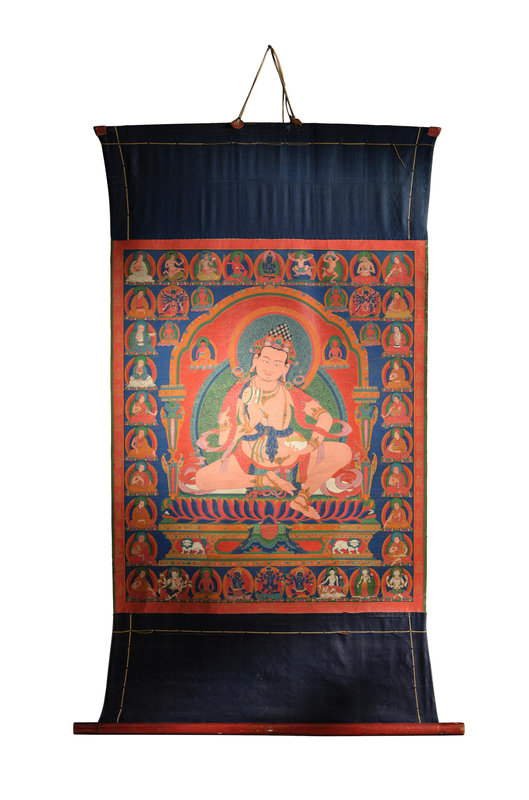 Lot 109. A portrait thangka of Damarupa, Central Tibet, Ngor monastery, circa 1600. Image: 78.5 x 67 cm; With silks: 126 x 68 cm. Himalayan Art Resources item no. 88707. Estimate €300,000 -€500,000. Photo Bonhams.
Distemper on cloth; with original blue cloth mounts inscribed on the reverse along the top in Tibetan, identifying the painting's subject, and also with original red lacquered, gold painted dowel rod; verso inscribed in black ink with 'om, ah, hum' incantations behind each figure and many lines arranged into the form of a stupa, comprising Sanskritized and Tibetan prayers and mantras consistent with a formula repeated throughout the Ngor lamdre lineage set of paintings; the painted recto with Tibetan inscriptions in gold identifying the majority of figures, and two separate lines of inscription along the bottom red painted border, the second identifying the secondary "Chandali Perfection Stage Lineage" sequence of figures within the painting, the first an homage to the central subject, translated:

"Seeing the excellent meaning of reality,
By releasing from worldly practice
And remaining in the conduct of accomplishment;
To Damarupa, I bow."
Published: Pratapaditya Pal, Tibetan Painting, Basel, 1984, pl. 40.
Wisdom Calendar of Tibetan Art, Schneelowe Verlagsberatung und Verlag, Haldenwang, 1987 (October).
Pratapaditya Pal, Himalayas: An Aesthetic Adventure, 2003, p. 262, no. 174.
Rob Linrothe, Holy Madness: Portraits of Tantric Siddhas, New York, 2006, pp. 300-1, no. 51.
David Jackson, The Nepalese Legacy in Tibetan Painting, New York, 2010, pp. 22 & 41, fig. 2.23.
Exhibited: Himalayas: An Aesthetic Adventure, Art Institute of Chicago, 5 April – 17 August 2003; National Museum of Asian Art, Smithsonian Institution, Washington D.C., 18 October 2003 – 11 January 2004.
Holy Madness: Portraits of Tantric Siddhas, Rubin Museum of Art, New York, 11 February – 3 September 2006.
The Nepalese Legacy in Tibetan Painting, Rubin Museum of Art, New York, 3 September 2010 – 23 May 2011.
Provenance: Schoettle Ostasiatica, Stuttgart, 1982
Michael Henss Collection, Zurich.
Note: One of the best-preserved paintings from the famous Ngor lamdre lineage set, this near-pristine composition depicts Mahasiddha Damarupa, 'The Drummer'. According to traditional accounts, Damarupa trained under Kanha at every potent charnel ground and site of tantric power in India, prompting his zestful depiction. In addition to being the third mortal master of the lamdre tradition, Damarupa is a renowned adept of the important Chakrasamvara Tantra, which the composition alludes to through the pair of Chakrasamvara deities from differing teaching traditions in the corners at either side of his ornate throne-back. His eponymous damaru, a double-sided hand drum, embodies one of three principal ritual instruments of a tantric practitioner, alongside the vajra and ghanta (bell). Formed by attaching two craniums of enlightened masters, the drum, in the context of Chakrasamvara Tantra, is the Prajna (wisdom) to which the male applies his skillful means (i.e. compassion) activating the union of these two highest Buddhist principles (Huntington & Bangdel, The Circle of Bliss, 2003, no. 106). With modulations from soft to loud and slow to rapid beats, Damarupa, as the drum's archetypal practitioner, is able to produce a single tone that summons all Buddhas, inspiring them with supreme joy (Beer, The Encyclopedia of Tibetan Symbols and Motifs, 1999, p. 258).

At the center of the painting, Damarupa whips the pair of golden clappers against the drum with a flick of his wrist. The drum's long tassel of jade beads, gems, gold fastenings, and tri-colored silk streamers trail in countermovement. The painter repeats its flurried arc with the extension of Damarupa's left leg, which, coupled with a half-cocked elbow gingerly cradling a skull cup full of nectar, deftly conveys the peripatetic drummer in a half-seated-half-dancing liminal posture. Airy crimson sashes twirl around his arms and knees, and spiral before his feet. Damarupa's piercing, bloodshot brown eyes and excited grin invite the viewer to hear the 'sound of great bliss' he has produced for all those that can perceive it. He wears a crown of five emblazoned gems borne alternately from Indian lotuses and Chinese peonies. The colored order of each gemstone correlates to the surrounding structure of green, red, and blue aureoles of perfect Newari scrollwork. Meanwhile, his black hair wrapped in an intricate bone lattice is pulled up into a trilobed bun that echoes the edge of the throne-back above him, further harmonizing with the mahasiddha's visage.

Twenty-six vividly executed portraits comprising the 'Chandali Perfection Stage Lineage' surround Damarupa in formal rows along the top and side registers. This secondary lineage within the painting is one of over thirty traditional Sakya tantric lineages for which Ngor claimed to excel. Delightful details abound throughout the depicted succession of masters, including Vajra Ghantapa's mid-air tantric sexual congress with his consort (3), and the founder of the Sakya tradition, Sachen Kunga Nyingpo's, aqua cloak and strigine tufts of hair (12).

Within the broader set of Ngor lamdre lineage paintings, each composition dedicated to a mortal master, from Virupa up until Sakya Pandita (i.e. paintings 3-14 overall within the set), depicts a sequence of deities, often in rare iconographic forms, following an important Sakya treatise called the Bari Gyatsa: The One Hundred Teachings of Bari Lotsawa Rinchen Drag (1040-1112). (Thereafter, deities from the Sadhanamala are sequenced until some point when the list is presumably exhausted before the final lamdre master.) Appearing in the bottom register, each apportioning of deities is generally distributed as spreading out from the center, matching the order of secondary lineage masters in the top. The Damarupa, therefore, displays deities 14-21 from the Bari Gyatsa, comprising three forms of Krishna Yamari and five forms of Avalokiteshvara.

One of the especially harmonious aspects of this particular painting within the Ngor lamdre lineage series arrives seemingly from a fortunate blend of coincidence and artistic intent. Firstly, within the side registers of secondary lineage masters, appearing opposite each other halfway down the painting at Damarupa's heart level, the artist depicts Chogyal Pagpa (16) and Shangton Konchog Pal (17) in mirrored poses. At least in the case of Chogyal Pagpa, of whom many more artworks are known, this combination of iconographic gestures, vitarka- and abhaya mudra, is atypical. It is, therefore, possible to read some artistic licence here: each secondary master's outstretched hands having the effect of stabilizing Damarupa's skewed posture. Secondly, the order of deities following the Bari Gyatsa at the bottom, either by chance or grand pre-emptive design, have pleasantly resulted in a central triad of strident Krishna Yamaris with deep azurite bodies that match the central Vajradhara (1) along the vertical axis above. Simultaneously, the raised hands of the flanking Krishna Yamaris correspond to the poses of Nairatmya (2) and Vajra Ghantapa (3) straight above. With such auspicious symmetry, the artist has seemingly reinforced the extremities of his painting's central axes, resulting in an unusual symphony around the central Damarupa, distinguishing the artwork among the broader lamdre lineage set, and from any other painting of the tantric drummer in the West.

1. Vajradhara
2. Yogini
3. Vajra Ghantapa
4. Kurmapada
5. Barwa Dzinpa
6. Kanha Shridhara
7. Shridhara
8. Gayadhara
9. Mulu Lungdu Trulku Drub
10. Jetsun Kunrig
11. Shanton Chobar
12. Sachen Kunga Nyingpo
13. Jetsun Sonam Tsemo
14. Choje Dragpa Gyaltsen
15. Sakya Pandita
16. Chogyal Pagpa
17. Shangton Konchog Pal
18. Dragpugpa Sonal Pal
19. Drogon Lama Sonam Gyaltsen
20. Palden Tsultrim
21. Buddhashri
22. Ngorchen Kunga Zangpo
23. Kechog Kunga Lodro
24. Ketsun Pal
25. Namkha Palzang
26. Root Guru

A. Krishna Yamari (six faces, six hands)
B. Krishna Yamari (one face, two hands)
C. Krishna Yamari (three faces, six hands)
D. Shri Vajradharma (Avalokiteshvara)
E. Simhanada Lokeshvara
F. Hala Hala Lokeshvara
G. Khasarpani Lokeshvara
H. Shadakshari Lokeshvara

i. Amitabha
ii. Amitayus
iii. Chakrasamvara (Luipa tradition)
iv. Chakrasamvara (Krishnacharin tradition)
Two Mahasiddhas from The Ngor Lamdre Lineage Set
From The Michael Henss Collection
The following two extraordinary paintings, depicting the Indian tantric mahasiddhas (great adepts), Kanha and Damarupa, belong to what is today the most famous set of portrait thangkas presenting a Tibetan Buddhist teaching lineage. Most of its dispersed members are now located between international museums, such as the Metropolitan Museum of Art, New York, and the Musée Guimet, Paris. The series was produced around 1600 in southern Central Tibet at Ngor monastery, which flourished under a superlative reputation for monastic discipline and tantric specialism. Each painting depicts a sequential master of the lamdre lineage, which is the Sakya tradition's essential teaching. These two portraits of Kanha and his student, Damarupa, from the collection of esteemed Himalayan art scholar and connoisseur Michael Henss, stand out as two of only four very rare mahasiddhas within the acclaimed set, injecting wild and transgressive elements into a sea of some thirty staid monastic hierarchs. The Ngor lamdre lineage series is highly regarded by art historians for, among other things, its vibrant palette, flawless brushwork, honed compositions, and deft portrayals of each central subject's psychological poise. It follows, therefore, that these two paintings also lay claim to being among, if not the best, Tibetan thangkas of Kanha and Damarupa in Western private collections or institutions.

The lamdre tradition is the fundamental system of tantric practice for the Sakya order, which is one four major schools of Tibetan Buddhism. The teachings contain everything a practitioner of tantric meditation and yoga needs to attain complete enlightenment in a single lifetime, bypassing what would otherwise take eons through mainstream meditative practice. Meaning 'path with the result' or 'taking the result as the path', the lamdre tradition essentially provides a method for meditating, "not as a human being trying to become awakened but rather as one who is already enlightened. In so doing, one's 'path' (lam) becomes precisely the meditative simulation of the eventual 'result' (dre): the state of being a buddha" (Henry Rice & Durham, Awaken, 2019, p. 26).

Ngor monastery, or Ngor Ewam Choden, was founded in 1429 by one of the Sakyas' most revered tantric scholars and practitioners, Ngorchen Kunga Zangpo (1382-1456). Located in southwestern Shigatse, Ngor became the heart of a dynamic Ngorpa subdivision within the Sakya school that attracted some of the brightest students of that generation. As Jackson writes, "They came from all over Tibet, wishing also to receive initiations and esoteric instructions from Ngorchen who was revered as Vajradhara in human form." (Jackson, The Nepalese Legacy in Tibetan Painting, 2010, p. 177). Ngorchen's abbatial successors continued after his death to uphold the founder's emphasis on strict monastic conduct and expertise in the lamdre tradition, first and foremost, as well as a canon of traditional Sakya tantric teachings. Such teachings are also represented throughout the Ngor lamdre thangka set in 'secondary' lineages in the top and side registers surrounding each central subject. Ngor's disciplined approach to monastic life finds expression as well, within carefully inscribed prayers on the back of each painting arranged into the shape of a stupa that are taken from the Pratimoksha Sutra, providing a monastic code of conduct.

Ngorchen was also a prolific patron of the arts. With his initial employment of six talented Newars for a set of mandalas (HAR set no. 1212), he ushered in a new wave of Tibetan-sponsored Newari masterworks at Ngor, which lasted for more than a century and a half. The Newars are an ethnic group from Nepal's Kathmandu Valley who have been transmitting their artistic expertise across generations and are renowned for being among the most accomplished artisans in Asia. Ngor's abbots commissioned many outstanding thangka sets in the Newari 'Beri' style, characterized by its keen geometry, bold colors, and intricate scrollwork, well up until the lamdre lineage set under discussion was made c. 1600.

Ngor thangkas of this period are widely regarded as some of the finest examples of Tibetan Buddhist art. One of the key features is their exquisite level of technical skill. The artists who created these works were highly trained in the traditional Newari painting techniques, including the use of ground mineral pigments, gold leaf, and intricate scrollwork. Under the supervision of both talented workshop masters and clergy, the painters paid meticulous attention to every aspect of their compositions, from the clothing and adornments of the figures to the delicate patterns and designs around them. The result is a body of work with a consistent level of precision and detail, breathtaking in its complexity, vibrant color, and symbolism, that is perhaps unrivaled in Tibetan art.

The famous lamdre lineage series to which these two paintings belong represents the last-known major set of its type from Ngor in the Nepalese-inspired Beri style. The present pair of representative paintings prominently employ Nepalese decorative scrollwork and the late Beri palette, which features blues and greens. There is a marvelous choreography of color. The background of crisp scrolling vines enclosed by the gem-encrusted throne-back is an intense vermilion, sharply contrasting with the surrounding deep azurite blue behind it. Meanwhile, the scalloped edges of each mahasiddha's throne base show an awareness of contemporaneous Ming court furniture. Many consider this Ngor lamdre set to embody the late Beri style of Nepalese painting in Tibet par excellence. As Pal observes on the Damarupa:

"There is no break with the past... [The] style is still full of life and vigor and the technical virtuosity admirable. [Central] figures are made especially animated with their expressive faces and flowing scarves and garments. The artists have also used a rich palette of scintillating colours, while the details are rendered with extraordinary restraint and sensitivity. [These] paintings reveal the subtlety of drawing and the effortless delineation of intricate patterns that were the hallmarks of the [Beri] style and of its source - the Newari aesthetic." (Pal, Tibetan Paintings, 1984, p. 72.)

The set has been the subject of continuous study since its dispersal in the West in the 1960s. Approximately two-thirds of its thirty-some thangkas are published in some form. The frequent appearance of the 13th abbot of Ngor monastery, Namkha Palzang (1535-1602), as the last or penultimate master in many of the secondary lineages of each painting has led scholars to establish the dating of this set to during or shortly after his abbacy, i.e. 1569-1602 (see Jackson, Beri, p. 208; see Heller in Linrothe, p. 262 & 294-5 for diverging opinions). A compiled list of most of the known Ngor Lamdre thangkas (HAR set no. 385) can be found at www.himalayanart.org/search/set.cfm?setid=385.

They are held in some of the most prestigious public and private collections, including:

The Metropolitan Museum of Art, New York;
Rubin Museum of Art, New York;
Brooklyn Museum;
Los Angeles County Museum of Art;
Virginia Fine Arts Museum, Richmond;
Musée Guimet, Paris;
Rjiksmuseum voor Volkenkunde, Leiden;
Ethnographic Museum at the University of Zurich
Museum der Kulturen, Basel;
Tibet Museum, Alain Bordier Foundation, Gruyères
The Zimmerman Family Collection;
The Collection of Navin Kumar;
The Collection of Barbara and Walter Frey;
The Michael Henss Collection;
The Suresh Neotia Collection.

Three other paintings from the set, now in prominent private Chinese and American collections, sold recently at Sotheby's, New York, 20 March 2013, lots 237 & 238 and Bonhams, Hong Kong, 29 November 2016, lot 125.

Greatly outnumbered by monastic figures in this set (by 4 to about 30), mahasiddhas like Kanha and Damarupa are among the most visually engaging and narratively entertaining subjects in Tibetan art. Mastering Tantra as a means to enlightenment, mahasiddhas specialize in the deliberate transgression of social norms and ordinary states of awareness, confronting and transmuting the most powerful human fears and desires. In pushing the boundaries of conventional behavior, they also push the boundaries of the ordinary world. Their skilled practice not only grants them supreme enlightenment, but also miraculous powers used to convert wrong-minded rulers and disrupt the unenlightened status quo.

The Ngor lamdre lineage set was originally hung in a specific order, with the progression of masters expanding left and right centrifugally from the Primordial Buddha Vajradhara. (This is just as the secondary lineages appear in the top register of each painting.) As a sequential pairing of master and student, the fourth and fifth lamdre lineage holders, Kanha and Damarupa, would have appeared second on the viewer's right and left, respectively.

Each mahasiddha sits on almost the same, highly distinctive lotus pedestal with thin, upswept alternating red and blue petals, which are remarkable in their precision. No other master in the known portion of the set shares this pedestal. Underneath Kanha and Damarupa, the petals do differ in a small but significant way: the tips of the very central petals point in opposing directions, with the more dominant deep blue central petal under Kanha pointing towards the viewer's right, and Damarupa's pointing to the viewer's left. Knowing where these paintings appear in the prescribed lineage, we can discern that the artists ingeniously directed each petal's orientation toward the central Vajradhara, which would have had a matching azurite body. This observation unlocks a remarkable aspect in the design of this famous set that has up until now been obfuscated through its displacement. The sequential arrangement of the paintings, consisting of left and right pairs with matching lotus thrones, amounts to an inspired orchestration across more than thirty individual works, in what is perhaps the greatest expression of the highly regarded precision and honed execution of the Ngor lamdre lineage set, and the clearest evidence of the supervision of a great master. This finding provides further testament to why this set and its constituent paintings, such as the present Kanha and Damarupa, are regarded among the great masterpieces of Tibetan art.
 
The backs of both paintings are blessed with the same inscribed combination of consecration mantras, invocations, prayers, and pious verses as the other paintings in the Ngor lamdre lineage set of c. 1600. Behind every figure in each painting is a consecratory "om, ah, hum", symbolizing the presence of the Buddha's body, speech, and mind within the icon. Longer verses in the form of a stupa behind the central figure are punctuated by dharanis inviting the living presence of the Buddhas as well as the protector and wealth deities Panjaranatha Mahakala, Shri Devi, Chaturmukha Mahakala, Vaishravana, Jambhala, and Vasudhara. The longer verses stem from the Vinaya and the Buddhist creed. For more information about the various elements within these inscriptions and the source for the following translation of the longer verses by the Rubin Museum of Art, see https://rubinmuseum.org/collection/artwork/sanggye-sengge-1504-1569.

"Forbearing patience that bears hardships is the truest patience.
Passing beyond suffering [nirvana] is supreme, said the Buddha.
An ordained person who harms others
or brings harm upon others, is not practicing virtue.
Refrain from all misdeeds,
practice virtue perfectly,
discipline your own mind completely.
This is the Buddha's teaching.
The excellent vow of body,
the excellent vow of speech,
the excellent vow of mind:
Monks who keep at all times
all of the excellent vows
will be liberated from all suffering.

Of those phenomena produced from causes,
the Tathagata has proclaimed their causes and also their cessation.
Thus has spoken the great renunciant.

May it be auspicious!"
CHINESE ART | 13 JUNE 2023

Bonhams Cornette de Saint Cyr is pleased to announce a tightly curated sale in Paris on June 13. It will offer a range of works of art from private European collections comprising Buddhist sculpture, Imperial porcelains, jades and snuff bottles, ranging in date from the Shang to the Qing dynasties. The sale is led by a magnificent and very rare large wood figure of Bodhisattva Guanyin made under the Jin dynasty (1215-1234), formerly in the collection of Paul Houo-Ming-Tse (1880-1949). The figure first sold in Paris in 1932 and has remained in a French family collection since. Large sculptures such as this one were originally made for Buddhist temples. Its monumental size is reminiscent of the bodhisattva from the Rousset collection sold at Bonhams last October (estimate: €800,000 - €1,200,000). From the same collection, an important stone head of a Guanyin bodhisattva from the Tang dynasty (618-906) will be offered, still showing traces of polychromy. The serene face features half-closed almond-shaped eyes, surmounted by sharp eyebrows, an aquiline nose, and a fleshy mouth (estimate: €60,000 - €80,000).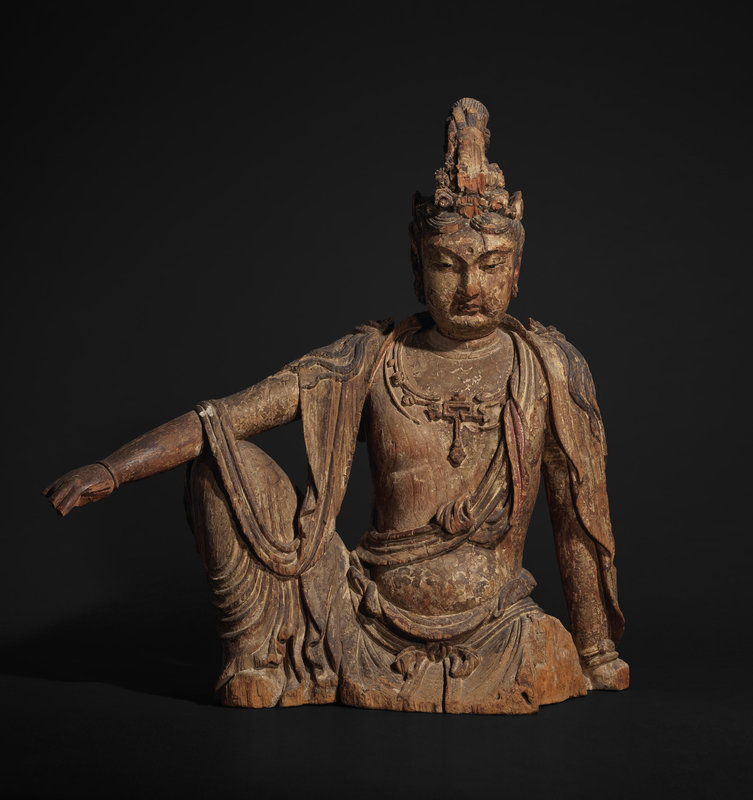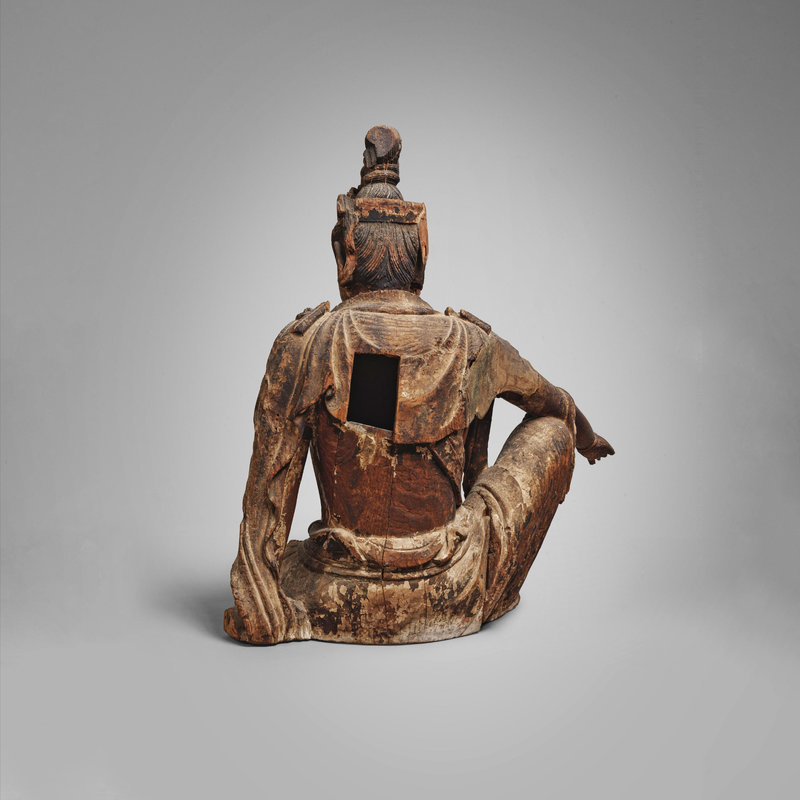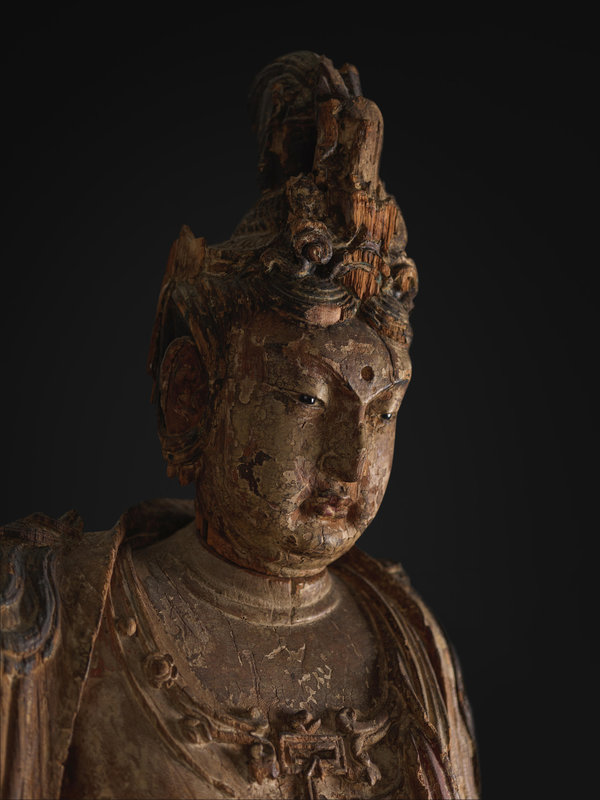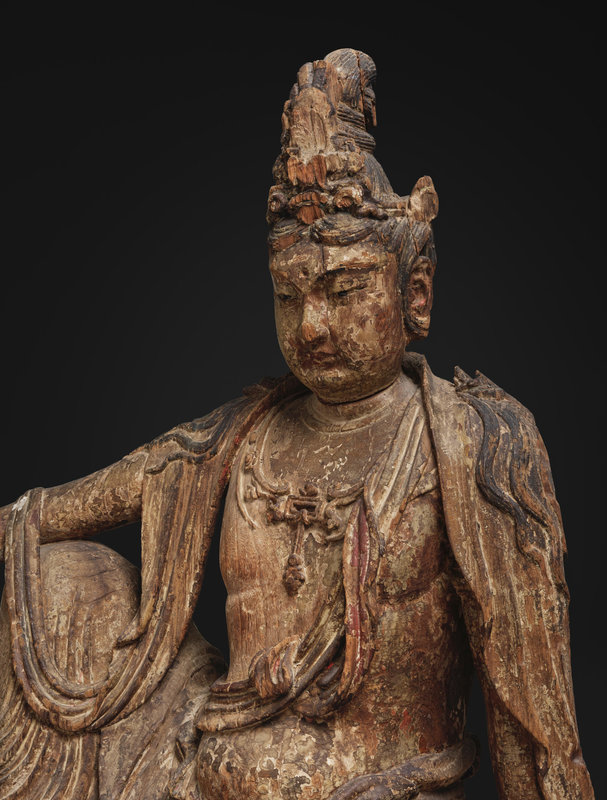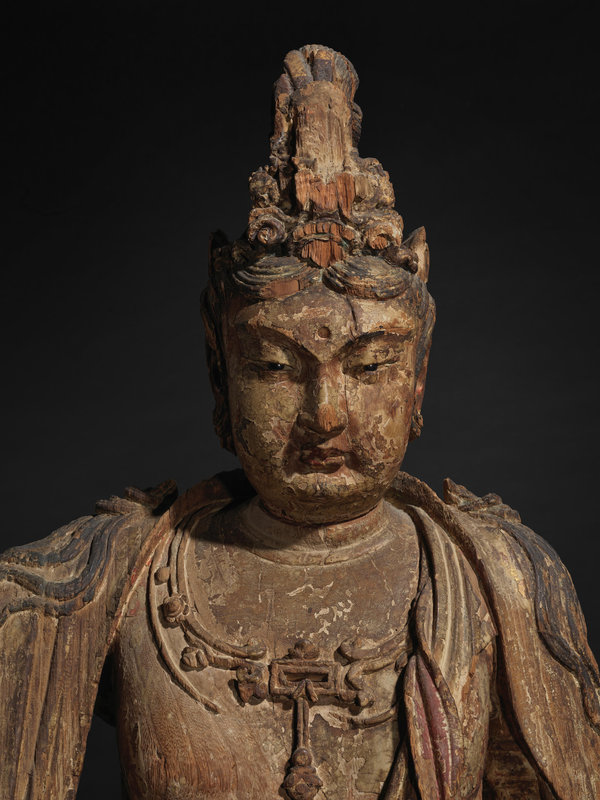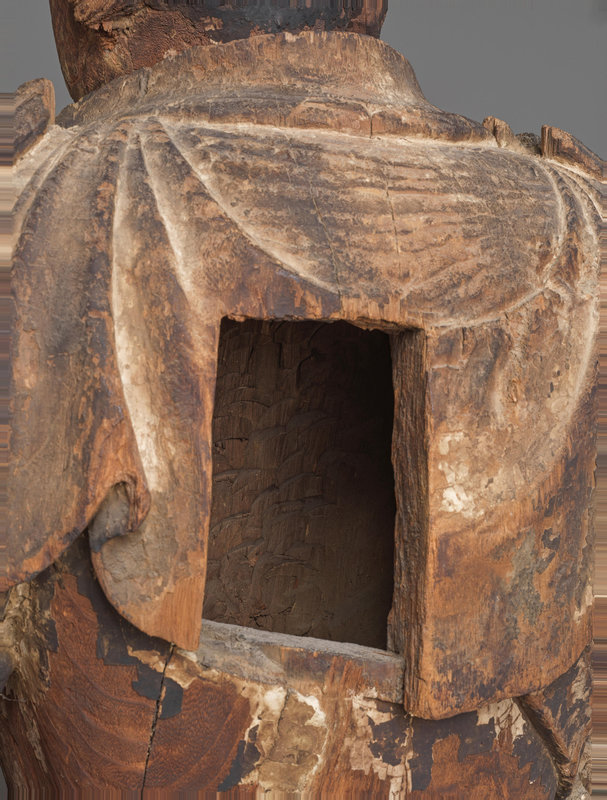 Lot 54. The property of a distinguish French family, formerly in the collection of Paul Houo-Ming-Tse (1880-1949). A magnificent and very rare large wood figure of Bodhisattva Guanyin in water moon form, Jin dynasty (1124-1234); 111cm high. Estimate €800,000 - €1,200,000. Sold for €2,589,400 inc. premium. Photo: Bonhams.
Seated in rajalitasana, with the right arm resting on his right raised knee and his left arm and hand resting on the ground and supporting the body, the bare torso dressed in a short cape with long ribbons falling over his arms, a narrow, scarf draped over the left shoulder, falling diagonally across his chest and tied on the left in a large limpid knot, the lower body covered with a full diaphanous wrap-around skirt falling in linear folds around his legs and ankles, tied around the waist with an elaborate bow, a bejeweled necklace with an ornate central pendant lies at this chest, bracelets at his wrists, his rounded face with a serene, meditative expression, with arched brows above downcast eyes inlaid with black glass, with high cheekbones, small, full pursed lips and rounded chin, the hair drawn up into a high curled chignon with tresses falling to each shoulder where they are bound, divided into three wavy strands falling over his shoulders and arms, traces of blue, red and green pigments, and traces of gilding.
Provenance: Ta-Kou-Tchai (Studio for Understanding Antiquity) of Paul Houo-Ming-Tse (Paul Hou Ming-Zhi, ca. 1880-1949), Beijing, before 1930
Alphonse Bellier et Andre Portier, Collection Paul Houo-Ming-Tse de Pékin. Objets d'Art de la Chine de Époques Archaïques au XVIIIe Siècle., Vente aux Encheres publiques, Hôtel Drouot, 15, 16 et 17 Février 1932, lot 63
Acquired in Paris by the grandfather of the present owners before 1935, and thence by descent.
Published, Illustrated and Exhibited: Paul Huo-Ming-Tse, Preuves des Antiquités de Chine Pékin, 1930, p.297
Alphonse Bellier et Andre Portier, Collection Paul Houo-Ming-Tse de Pékin. Objets d'Art de la Chine de Époques Archaïques au XVIIIe Siècle., Vente aux Enchères publiques, Hôtel Drouot, 15, 16 et 17 Février 1932, lot 63
Gazette de L'Hôtel Drouot, Numéro 19, Mardi 16 Février 1932, cover page
Cabinet Portier, 100 Ans 1909–2009, Paris, 2010, fig.100.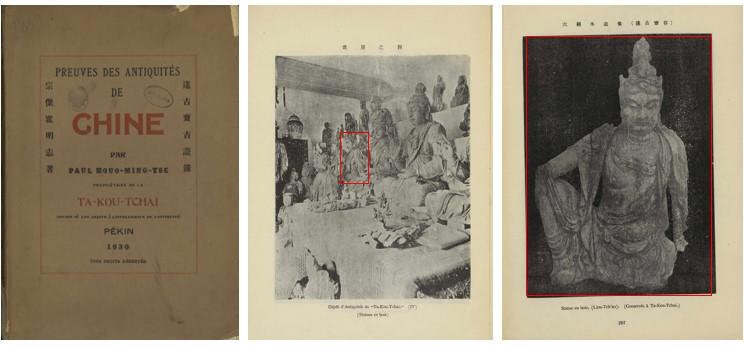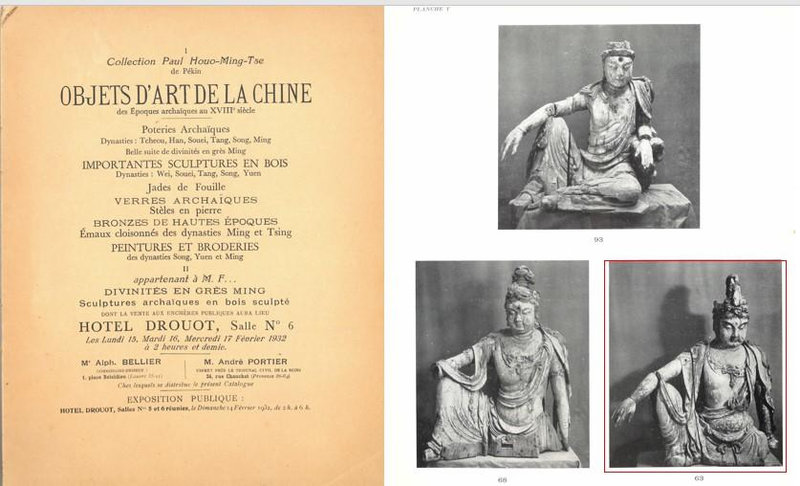 The result of Re.S. Artes Radiocarbon Dating test no. C 145020A (E1 and E2) (9 May 2023) is consistent with the dating of this lot.
Note: This impressive sculpture seated in a contemplative pose is a religious sculpture that was made in the 11th/12th century under the Jin dynasty (1115-1234). It represents the Buddhist Bodhisattva Guanyin whose Sanskrit name is Avalokiteshvara, 'the Lord who looks down'. Known as Guanshiyin in Chinese, the Bodhisattva Guanyin is the one who is attuned to the sounds of the worlds and hears all the world's suffering. His inward-turning gaze expresses The Bodhisattva's powers as a comforter of humans suffering and hardship while his naturalistic image expresses proximity and approachability. This Bodhisattva is known as the Bodhisattva of infinite compassion, he who has attained enlightenment and the utter state of bliss but who has deferred entering Nirvana to ease the suffering of all humans. As such he is one of the most important deities in Mahayana Buddhism.

This magnificent figure of the Bodhisattva Guanyin is seated in the pose of 'Royal Ease', with his right hand resting on his right bent knee, a posture that is known as the 'Water-Moon' form of the Bodhisattva Guanyin (Shuiyue Guanyin in Chinese). The iconography is based on important Buddhist scriptures referring to the Bodhisattva Guanyin, in particular the Avatamasaka Sutra from the Huayan Jing , the Sutra of Flower Adornment, and the Fahua Jing, the Lotus Sutra. They portray the Bodhisattva Guanyin as the universal saviour who can embody many different forms, male and female, young and old. The 'Water-Moon' iconography is based on passages from the Avatamsaka Sutra which describe the young prince Sudhana visiting the Bodhisattva Guanyin on Mount Potalaka to receive the teachings of the Dharma. It is here that the Bodhisattva Guanyin could be found in deep contemplation of the moon's reflection on the water of the surrounding sea. His Chinese name ' Shuiyue Guanyin' refers to this pose and to his nature attuned to the sounds of the world and able to hear all the world's suffering ( guanyin).

This figure is sculpted as male deity for his defined torso is clearly visible beneath his diaphanous robes and bejewelled necklace. His garments reveal the strong Indian influence on sculpture of this period, almost a thousand years since Buddhism first reached China from India. He is dressed luxuriously with diaphanous scarves and skirt falling in ample folds around his body. An elaborate necklace suspending a large central pendant adorns his chest and we can assume that he was wearing bejewelled earrings. His costly attire and regal posture remind us that Bodhisattvas originally were aristocratic princes. His hair is carefully tied back in a high chignon. A depression on the front of the top know indicates that a small carved figure of the Buddha may originally have been placed here. Amitabha was similarly revered as the figure of compassion and the figure of Guanyin was to be born from a ray of light emanating from the right eye of the Buddha Amithaba.

During the 10th to 13th centuries, painted wooden figures such as this magnificent figure of the Bodhisattva Guanyin in Water-Moon form were made for Buddhist temples in Northern China. At that time, the North of China was ruled by the Jurchen Jin dynasty (1115-1234), a nomadic people from the steppes of Central Asia that had defeated in war the two largest and most powerful nations in Asia, the Khitan Liao and the Han Chinese. Under the Jin, Buddhism flourished. The Jin rulers were highly conscious of the fact that Buddhism was not a native Chinese religion. Under their patronage Buddhism received the official support and veneration it lacked in other parts of the empire. Consequently, a plethora of Buddhist temples thrived in and around Buddhist centres of religious activity in Taiyuan and Mount Wutai in modern Shanxi province. The Jurchen Jin rulers gradually adopted Buddhism as the state religion, thus establishing a rich legacy of temples, tombs, and artefacts.

Large sculptures such as this magnificent figure of the Bodhisattva Guanyin in Water-Moon form were originally made for important Buddhist temples. These were often large structures with several halls of worship connected by courtyards where groups of vibrantly painted wood sculptures would be positioned along walls and around central figures of devotion. Due to the large demand for religious sculpture for the furnishings of Buddhist temples, craftsmen soon moved from working in stone to sculpting in wood, a material that was less expensive and could be worked more easily. Traces of bright cobalt blue pigment and gilding can be found in the back of the folds of the skirt of this figure hinting at the colours that once made this figure come alive. The sheer size of the figure that is worked entirely in the round conveys an almost life-like impression. It hints at the original sumptuousness and overwhelming visual effect that awaited visitors who first entered a temple. They would have encountered this sculpture in an elaborate stage setting with painted murals and along with many other sculpted wood figures of Buddhist deities.

Like other figures of this large size, the present Bodhisattva Guanyin figure was made of several individual blocks of wood that were jointed with wooden pegs before being covered with a light gesso that was then painted with colours obtained from natural dyes. Cracks along the jointing lines and rectangular holes indicate where the different blocks of wood were positioned. Traces of vivid blue and red pigment hint at the original colours. The eyes are inlaid with black glass and emphasize the figure's intense regard. A large rectangular cavity on the upper back reveals that the figure is hollowed. The surface pattern of the wood suggests that it may be from the Paulownia species (Chinese name paotong), a precious wood commonly used to make sculpture in the 11th to 13th centuries as it was soft and light.

Quite a few large-scale wood figures of the Bodhisattva Guanyin in Water-Moon form dating the late Northern Song and Jin dynasties are known and have survived mostly in Western museum collections, as Petra Rösch has documented in Chinese Wood Sculptures of the 11th to 13th Centuries. Images of Water-moon Guanyin in Northern Chinese Temples and Western Collections, Stuttgart, 2007, pp. 266-268, 318-320 and 363-384. Many of these sculptures originally came from temples in Northern China. Some of the most prominent examples include a figure in the collection of the Cleveland Museum of Art, accession number 1984-10, a Water Moon Guanyin in the Rijksmuseum in Amsterdam, accession number AK-MAK-84, and a large example in the collection of the Nelson-Atkins Museum of Art in Kansas City, accession number 34-10, and finally a large figure in the collection of the Seattle Art Museum, accession number 35.17. All these figures share the same distinctive stylistic features with the present large Water Moon Guanyin, especially the treatment of the full face, of slightly square shape, softly carved and rounded, the complex, almost exaggerated hairdo on top of his head and around his ears, the highly ornamental crown or diadem, the heavy necklaces with suspending large pendants, the skilfully rendered delicately falling folds of the diaphanous scarves that cross from figures' left shoulders to the right hip and the scarves that are draped from the right shoulder across the upper right arm to the elbow. They also share the same deeply serene, contemplative expression that imbues these magnificent figures with a deep spirituality.

However, while those 11th to 13th century wood figures of Bodhisattva Guanyin in Water-Moon form presented by Petra Rösch in her thesis, are all stylistically related, it has so far not been possible to accurately attribute some of these figures to specific workshops or temples, let alone identify figures that belonged to one ensemble. The present Bodhisattva is no exception. While it is stylistically close to all known figures of this type and period, it has two features that distinguish it from other figures. They include the way the scarf is falling in waves along the left arm, the way the scarf end is loosely woven in and out of the rest that is draped across his torso and waist and not tied in a knot as on other figures. The closest counterparts to the present Bodhisattva are a similarly large figure of the Bodhisattva Guanyin in the Water-Moon form, now in the collection of the Cleveland Museum of Art (accession number 1984-70) and dated to the late Northern Song/Jin dynasties, and a figure of the Water Moon Guanyin in the collection of the Asian Art Museum in San Francisco (accession number B60S24) which is dated to the Song dynasty. But like all known wood figures of the Bodhisattva Guanyin in Water-Moon form made between the 11th and 13th centuries, the current figure is unique. Its discovery adds to the mystery surrounding the origins of these rare early testimonies of large Buddhist wood sculpture which continues fascinate collectors, scholars, and curators alike.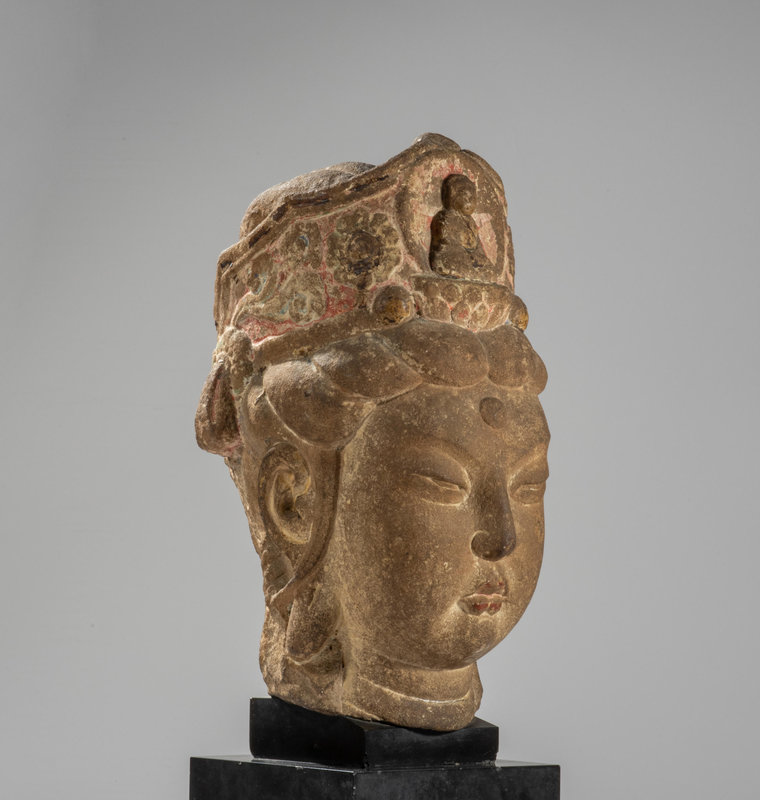 Lot 53. The property of a distinguish French family. A rare large stone head of bodhisattva Guanyin, 6th century AD; 37cm high. Estimate €60,000 - €80,000. Sold for €76,600 inc. premium. Photo Bonhams.
The full face with a serene, contemplative expression, carved with gracefully curved, downcast eyes under high arched brows, with a small pursed mouth, the plump lips carved with a clearly defined bowed outline bearing traces of red pigment, the rounded cheeks framed by pendulous earlobes, the hair parted in the middle and arranged in thick strands below an elaborate diadem secured with band laying in folds above the forehead and tied in an elaborate knot with ends streaming behind the ears, the three-part diadem centered on the Buddha Amitabha on a lotus base, flanked on either side by elaborate floret and cloud wisps, traces of red, blue and green pigments, stand.
Provenance: Acquired in Paris by the grandfather of the present owners before 1935, and thence by descent.
Note: The small image of the Buddha Amitabha on a lotus base prominently positioned in the centre in the crown, is a clear indication of the bodhisattva's identity. Certain features of this head are shared with other Buddhist icons, namely the small indentation in the middle of the forehead, (urna), an auspicious mark from which wisdom radiates, the elongated and rather fleshy earlobes that allude to the aristocratic origins of Buddha's early years as an Indian prince when he wore heavy earrings.

The facial expression is softly and naturally rendered. Exploiting the principles of sculptural realism, this large head possesses a voluptuous grace. The head would have been completely painted in colors dictated by the conventions of Buddhist art. Traces of the original pigments remain on the crown and face, especially on the mouth. Wearing an elaborate headdress comprising floral rosettes, cloud-like wisps and ribbons tied behind the ear, it includes decorative elements found in Buddhist sculpture produced in Shanxi in the sixth century AD.

The very particular rounded, almost 'fat' style of carving, the dignified, somewhat haughty expression of the face, are similar in style to heads of bodhisattvas from Cave XVI at Tianlongshan, near Taiyuan in Shanxi, which are dated to the Northern Qi dynasty (550-577 AD), and are similarly carved from a buff sandstone and with traces of polychromie, compare three examples from Cave 16, published in Sun Di (ed.), Tianlongshan shiku: liushi haiwai shiku zaoxiang yanjiu [Tianlongshan Grottoes: Research on the Overseas Stone Statues], Beijing, 2004, p.135, figs.145 and 147, p.139, fig.156.
Other sale highlights include a very rare large seated wood figure of a female Daoist deity, dated to the Song dynasty (960-1279), from a German private collection, an important archaic bronze ritual vessel, Ya Chou Fu Xin gui, first recorded in the 1930s and in a German collection since 1958, a magnificent group of Buddhist gilt-bronze figures including a rare large 15th century gilt-bronze figure of Green Tara, from two distinguished private European collections. The sale will also include a selection of snuff bottles from two private European collections including the Smit Collection.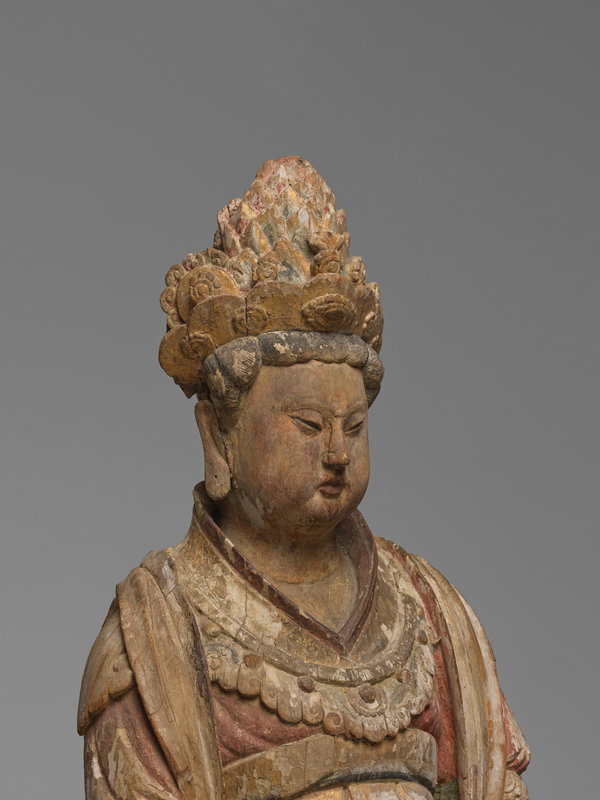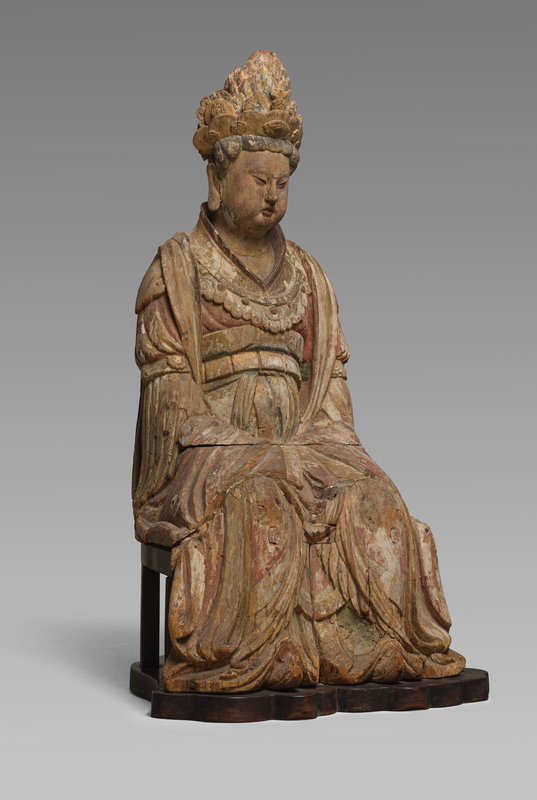 Lot 74. An important and rare large seated wood figure of a female Daoist deity, Song dynasty (960-1279); 111cm high. Estimate €90,000 - €120,000. Sold for €114,700 inc. premium. Photo: Bonhams.
Seated facing forward, with her head slightly leaning to the left side, her feet firmly on the ground, hands clasped but hidden in the long sleeves of her robe, wearing a tunic with a stiff inner collar under a feather-bordered short cape, her layered robe falling in ample folds over her arms and cascading over her legs and feet, revealing the tips of her pointed shoes, tied around the chest with a belt and around her upper arms with wide bejewelled armbands, a necklace around her neck, the full oval face with a small cusped mouth and nose, with small slanted eyes below arched brows, framed by large pendulous earlobes, her hair neatly braided and drawn up into a tall chignon framed by an elaborate diadem/headdress consisting of rows of overlapping feathers or leaves, the back of the figure with a large rectangular opening, extensive traces of red, green, white and gold pigments, wood stand.
Provenance: Property of a distinguished German private collector, acquired in Berlin in the 1950s, thence in the family by descent.
The result of Ciram Radiocarbon Dating test no. 0423-OA-416R (P1 and P2) (4 May 2023) is consistent with the dating of this lot.
Note: This charming figure is as intriguing as it is rare. It was acquired in Berlin in the 1950s and was reputedly dated to the Liao dynasty (901-1125). The results of a recent carbon-14 test have secured a more firm dating to the 11th/early 12th century. Conforming with the high-fashion style popular during the Liao and Song dynasties, the lady is dressed wearing the sumptuous trappings of a gentle woman. Her robe is ample and colourful, the many layers of her dress, tunic and shawl generously draped across her shoulders, arms, and legs, enveloping the body, and gathering around her feet. The outer garment shows traces of painted flower sprays, her tunic and collar a vibrant red colour, the robe over her legs a muted green.

Representations of similarly clad elegant ladies feature prominently in murals adorning the walls of important tombs and temples of the Five Dynasties (907-960), Liao (907-1125) and Song (960-1125) periods. Compare, for example, the groups of ladies wearing the same style of collared tunic over long robes tied with colourful sashes on the sides, discovered on the walls of a Liao tomb in Baoshan, Inner Mongolia, illustrated in Wu Hong and Lin Qingquan, Baoshan Liao mu: cailiao yu keshi, Beijing, 2013, p.196, figs.59-61. Similarly, the largest tomb of the Zhang family compound unearthed in Baisha, Henan, illustrates the ladies of the house engaged in various activities, dressed in colourful robes that resemble that of the current seated figure, see Su Bai, Baisha Song mu, Beijing, 1957, col.pl.17.

One feature that sets this figure apart from the elegant ladies immortalized in murals of the Liao and Song period, is the precious jewellery she displays. It comprises a large necklace suspending circular beads and earrings which are now lost. Her elaborate headdress which bears extensive traces of gold resembles a crown and is supported on a wide band set with prominent foliate-shaped ornaments repeated on the armbands that fasten her sleeves. It is the very distinctive jewellery of this figure that allows us to attribute it more firmly to the Northern Song dynasty. Foliate-shaped ornaments made in silver very much like those on her headdress and armbands were found in a silver hoard in Yongjia, Zhejiang province, published in Yang Zhishui, Shehua zhise: Song Yuan Ming jin yin yanjiu, vol. 1 Song Yuan jin yin shoushi, Beijing, 2011, pp.39-40, fig.1-10. A similar motif also appears on a band-shaped hairpin from the same hoard, ibid., p.51, figs.1-15:1 and 2. Moreover, the large cloud-shaped plaque around her neck closely resembles a silver ornamental plaque of the same shape discovered in another Northern Song silver hoard unearthed in Xingzi Xian, Jiangxi, ibid., pp.180-183, fig.1-55:1.

The inspiration behind her very special jewellery may lie in Buddhist sculptures and paintings of the same period. Like this figure of a gentle lady, Bodhisattvas were similarly adorned with bejewelled necklaces, armbands and crowns, reflecting their elevated status and noble origins. Compare, for example, the manifold representations of bodhisattvas featured on the walls of the Daxiongbaodian Hall in Kaihua Monastery, built between 1076 and 1096, near Taiyuan, Shanxi, each dressed in a dazzling array of jewellery, see Kaihua si Song dai bihua, Beijing, 1983, col.pls.2 and 3.

Tombs and temples of the Liao and Song provide us with more visual clues as to who this seated figure might be. Among the myriad of female figures that appear on the walls of important tombs and temples of the tenth to 13th centuries, a small group of female figures stands out. Painted on the wall of an interior chamber in the Liao tomb in Baoshan, Inner Mongolia, is a small figure of a lady descending on a cloud, see Wu Hung and Lin Qingquan, op.cit., p.179, figs.31 and 32. Wearing a similar style of dress in vibrant red with blue borders and adorned with jewellery highlighted in gold, she is wearing a short feathered cape and feather-like sleeves or scarves. Holding a peach in her right hand she is identified as Xiwangmu, the Queen Mother of the West in an inscribed cartouche above her. Like the present wood figure of a seated lady, the Queen Mother of the West is depicted as an aristocratic lady in a manner standardised from the Tang dynasty onward, see Suzanne Cahill, Transcendence and Divine Passion. The Queen Mother of the West in Medieval China, Stanford, 1983, pp.82 and 83.

During the Liao and Song, Daoism flourished alongside Buddhism. Numerous Daoist temples and shrines were built where worshippers could congregate and worship. It is a Daoist temple in Northern China that may resolve the puzzle that this figure poses. Located in the centre of the Jinci Temple near Taiyuan in Shanxi province is a large building known as the Sage Mother Hall (shengmu dian). It is dedicated to Shengmu, the Sage Mother, originally a water spirit which was later revered as the Sage mother and first queen of the Zhou dynasty. A large polychrome stucco figure of the seated Sage Mother occupies a central position. She is seated and faces ahead. Her robes are ample, tied high under her chest, she is wearing a bejewelled necklace and an elaborate crown. The forty-three figures of maids that are gathered around her are similarly dressed though without the jewellery. The Shengmu Hall was built between 1023 and 1032 during the Tiansheng reign and may have been sponsored by the Dowager Empress Liu. The dating corresponds loosely with the making of the present figure.

The Sage Mother image further corresponds with the image of the Queen Mother of the West represented in the slightly later mural of the Heavenly Court in the Yongle Gong (Palace of Eternal Joy) in southern Shanxi, dated 1325, the most important Daoist temple built in the Jin/Yuan period. Here, in the Hall of Three Purities (Sanqing dian, the largest and most important hall of complex, the Queen Mother of the West is depicted in the same seated position as the Sage Mother, wearing an elegant robe, fluttering scarves, bejewelled necklaces and an elaborate crown.

The iconography of the present seated figure of a lady is clearly related to representations of major female figures in the Daoist pantheon. Whether she is a representation of the Queen Mother of the West or represents a secondary Daoist deity requires further research. But this charming and very expressive seated figure is not only a rare example of early Chinese wood sculpture of the Song dynasty, it also belongs to a very small and rare group of surviving artworks that can be identified as Daoist, and offers a glimpse into the multi-faceted visual culture that developed and thrived in China during the Liao, Song and Jin dynasties.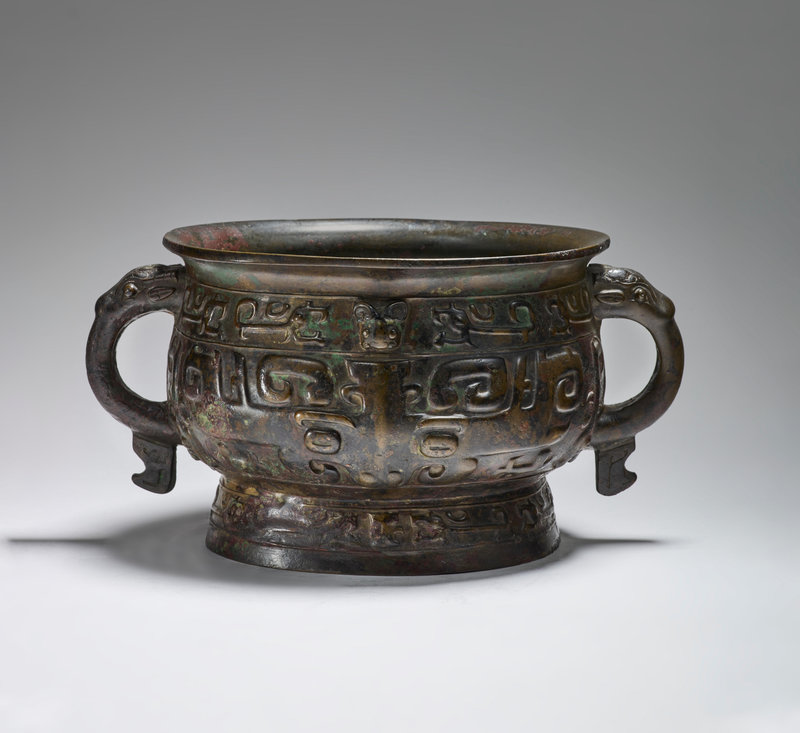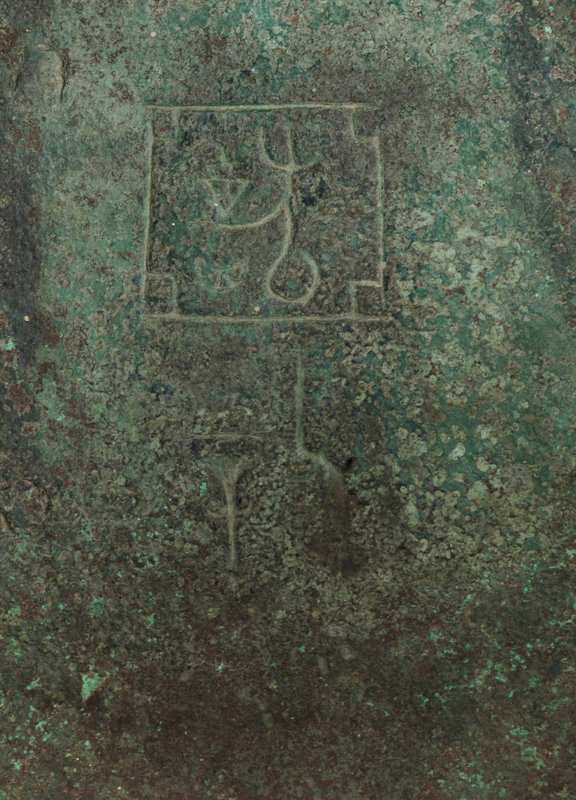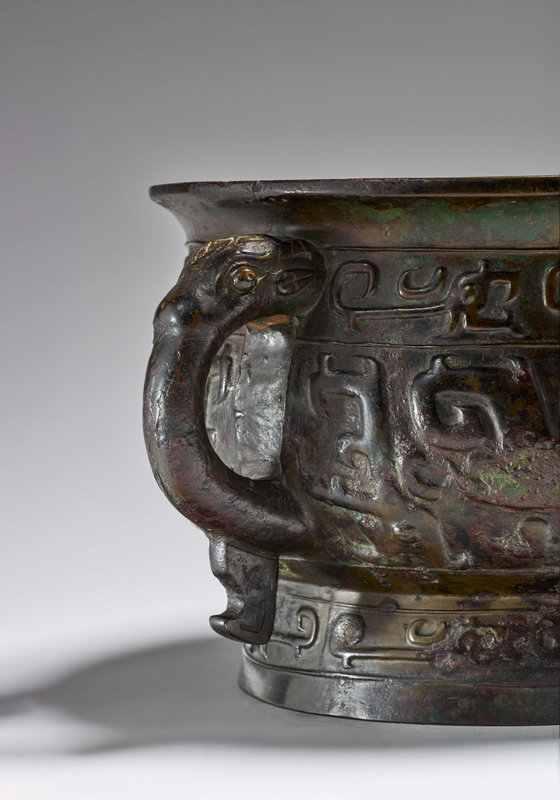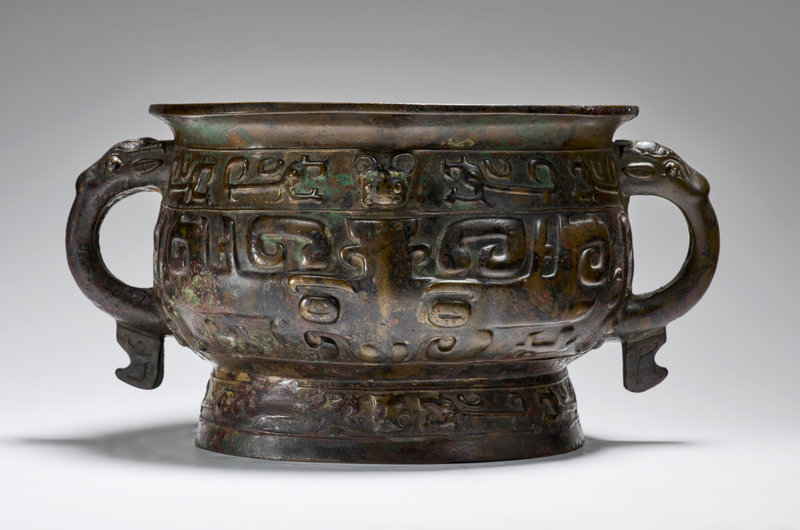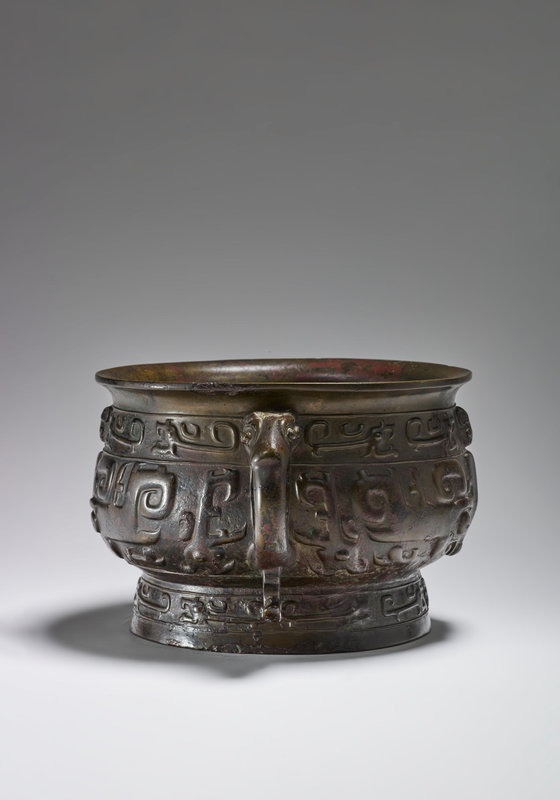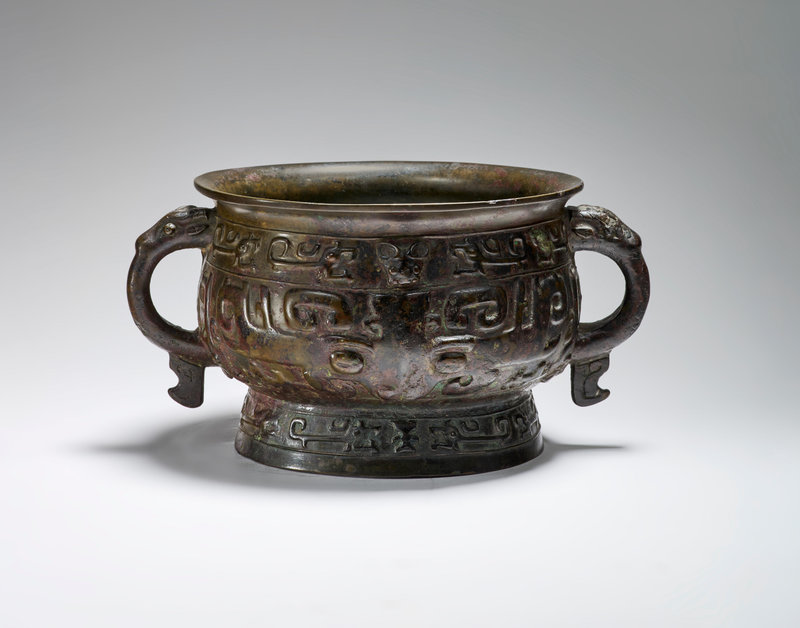 Lot 47. From a German private collection. An important archaic bronze ritual vessel, Ya Chou Fu Xin gui, Late Shang dynasty-early Western Zhou dynasty, ca. 11th century BC; 30cm wide, 15.8cm high. Estimate €60,000 - €80,000. Sold for €279,800 inc. premium. Photo: Bonhams.
Provenance: Collection of Huang Jun (1880-1951), Zungu Zhai, Beijing, by 1936
Collection of Hans-Jürgen von Lochow (1902-1989), Beijing, by 1943
Dr. Ernst Hauswedell & Co., Hamburg, 5 May 1958, lot 3
A German private Collection since 1958, and thence by descent.
Published, Illustrated and Exhibited: Huang Jun, Zungu zhai suojian jijin tu , Beijing, 1936, chapter 1, fol.47
Luo Zhenyu, Sandai jijin wencun, Beijing, 1936, chapter 6, fol.17
Gustav Ecke, Sammlung Lochow: Chinesische Bronzen, Beijing 1943, pl.XI a-d
Yin Chih-yi, 'Shandong Yidu Subutun mudi de Ya Chou tongqi', in Kaogu xuebao, 1977 (2), pp.23-33, p.24, fig.5, and p.25
Vadime Elisseeff, Bronzes Archaïques Chinois au Musée Cernuschi. Archaic Chinese Bronzes , Vol. I - Tome 1, Paris, 1977, p.141
Yan Yiping, Jinwen zongji (Corpus of Bronze Inscriptions), Taipei, 1983, vol.3, no.1049
Minao Hayashi, In Shū Jidai seidōki no kenkyū: In Shū seidōki souran (Research on Bronze ware of the Shang and Zhou Dynasties), Tokyo, 1984, p.94, no.113
Jessica Rawson, Western Zhou Ritual Bronzes from the Arthur M. Sackler Collections, Washington D.C., 1990, vol.1, p.362, fig.38.1
Zhongguo shehui kexueyuan kaogu yanjiusuo, Yin Zhou jinwen jicheng shiwen, Hong Kong, 2001, vol.3, p.58, fig.3332
Shandong Museum, Shandong jinwen jicheng, Jinan, 2007, p.262.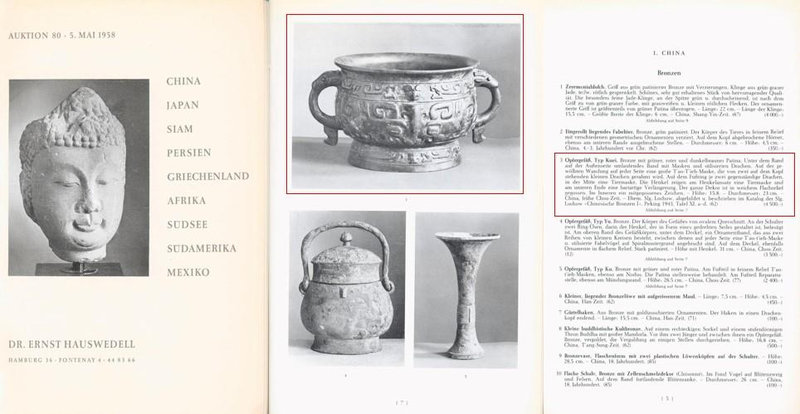 Cast in Brilliance: The von Lochow 'Ya Chou Fu Xin Gui'
This archaic bonze gui, which may be referred to as the Ya Chou Fu Xin gui, was acquired by the father of the present owner in 1958 when he bought it at auction from Dr. Ernst Hauswedell & Co., a long-established auction house in Hamburg, Germany (Dr. Ernst Hauswedell, Hamburg, 5th May 1958, lot 3). In the 1950s, the market for Chinese art in Germany was insignificant yet between 1955 and 1959 Hauswedell in Hamburg sold several important Chinese archaic bronzes. Like the present gui , quite a few of these vessels had illustrious late 19th and early 20th century provenances, at least one bronze vessel had been in the Imperial collection, see Dr. Ernst Hauswedell & Co, Hamburg, 9th December 1957, lot 4. Similarly, the provenance of this bronze gui can also be traced back to the first half of the 20th century.

The 1958 Hauswedell catalogue entry notes that the Ya Chou Fu Xin gui had first been published by Huang Jun (1880-1951), a prominent Beijing dealer in Chinese antiquities and owner of Zungu Zhai, a well-known Beijing antique shop founded by his uncle. Huang Jun, also known by his literary name Huang Bochuan, had been trained in foreign languages, and was fluent in German, English and French. He was well acquainted with Western collectors and dealers living in Beijing at the time. Huang Jun handled, studied, collected, and eventually sold many important archaic bronzes. His interest was academic as well as commercial, and he published several catalogues on archaic bronzes including the Zungu zhai suojian jijin tujuan (1936) and Ye zhong pianyu erji/sanji (1937 and 1942).

These catalogues were printed in small numbers and were made using the most advanced techniques. Objects were illustrated in collotype technique, a laborious photomechanical flat printing process that allowed to reproduce the fine lines and varying tones and shades of the works more accurately than traditional rubbings used to duplicate archaic bronzes in older catalogues. A collotype print of the Ya Chou Fu Xin gui appears in the Zungu zhai suojian jijin tujuan next to a rubbing of the inscription cast on the interior, see Zungu zhai suojian jijin tujuan, Beijing, 1936, vol. I, 47. Subsequently, the collotype technique was used by other collectors and researchers documenting archaic bronzes including Duan Fang and Rong Geng. Gustav Ecke, another German living and collecting in Beijing at the time also adopted the collotype technique in his publications of two important German collections of archaic bronzes, and it is in one of these that the Ya Chou Fu Xin gui reappears in 1943. It was included in Gustav Ecke's seminal catalogue of twenty-two archaic bronzes from the important collection of Hans-Juergen von Lochow (1910-1989) and is illustrated in collotype and with several detail rubbings as well as the inscription , compare Gustav Ecke, Sammlung Lochow: Chinesische Bronzen, Beijing, 1943, pl. XI a-d. Hans-Juergen von Lochow was a German railroad engineer who lived and worked in Beijing between 1921 and 1955. He formed an important collection of Chinese art which comprised modern and classical Chinese paintings, furniture, and archaic bronzes, many of which are now in the Asian Art Museum in Cologne. Von Lochow acquired many pieces in his collection in Beijing from fellow German Otto Burchard (1893-1951), a renowned Berlin Chinese art dealer who had emigrated to China in the 1932. Other pieces were bought from Huang Jun (1880-1951). Of the twenty-two archaic bronzes illustrated in his catalogue, many later found their way into Western museum collections, very few remained in private hands, the present Ya Chou Fu Xin gui being one of them.

The Ya Chou Fu Xin gui that was documented in the von Lochow collection in 1943 disappeared after it was last published, and only briefly reappeared in the 1958 Hauswedell sale catalogue. When he returned to Germany in 1955, Hans-Juergen von Lochow was officially allowed bring what was left of his collection of Chinese art including the remaining archaic bronzes. There is no information whether the Ya Chou Fu Xin gui remained in the von Lochow collection or if it changed hands. The provenance information on several archaic bronzes in the Hauswedell catalogues formerly in the von Lochow collection is surprisingly detailed and matches the information noted in Gustav Ecke's catalogue, suggesting that these bronzes may have been consigned by von Lochow at the time.

With the physical whereabouts of the Ya Chou Fu Xin gui unknown, later research on bronzes of the late Shang and early Western Zhou period focused on the two collotype prints of the vessel and the rubbings of the inscription cast to the centre of the interior. The inscription comprises four characters reading ya chou fu xin which may be translated as 'the Ya Chou clan made (this vessel) for Father Xin'. The first character is ya, believed to refer to a military official title, a square-shaped frame enclosing the second character chou, which is generally accepted to define the name of the clan or tribe, followed by the characters fu and xin . The ya chou characters on the von Lochow gui link it to an important group of more than fifty bronze vessels inscribed with the same two characters ya chou. Most of these bronzes are in the Palace Museum collections in Beijing and Taipei which between them hold almost forty bronzes cast with a ya chou inscription. A much smaller number of bronzes are in Western museum collections, compare, for example a bronze lei in the collection of the Minneapolis Institute of Art (accession number 50.46.3a,b) discussed by Liu Yang, 'Ya Chou lei: A Unique Shang Wine Vessel at Mia from the Former Qing Imperial Collection', in Orientations, vol. 53, number 5, September/October 2022, pp. 2-11. More recently, an important group bronzes with ya chou inscriptions were excavated in Subutun, Qingzhou, Shandong province as part of a cemetery complex associated with a little-known vassal state on the eastern borders of the Shang empire, first published in Wenwu, 1972.8, pp. 17-30, and Kaogu xuebao, 1977.2, pp. 23-34. Recent research has suggested that from the size, layout and furnishings of these tombs as well as the quality and style of the bronzes found, the owners must have been related to Shang royal family, see Min Li, Conquest, Concord, and Consumption: Becoming Shang in Eastern China, Dissertation, University of Michigan, 2008, pp. 60-63.

There is little information on the origins or provenance of the ya chou bronze vessels formerly in the Imperial collection and now in the Palace Museum collections. Gustav Ecke in his description of the von Lochow Ya Chou Fu Xin gui notes that '(the gui) comes from a very old excavation. ... It has a smooth, long treated patina', see Gustav Ecke, Sammlung Lochow: Chinesische Bronzen, Beijing, 1943, p. 41, suggesting that it was out of the ground long before it entered the von Lochow collection. There are few bronzes with similar design and patina. The Ya Chou gui is heavily cast and its form follows a standard shape with a deep rounded body rising to a flared rim, supported on a high splayed foot and set with a sturdy pair of loop handles issuing from bovine heads and set with pendant tabs, a feature that begins to emerge on handles at the very end of the Shang or early Western Zhou dynasty. The designs of large taotie masks and confronted dragons are softly modelled and cast with no sharp edges or lines, the taotie masks on each side divided by shield-shapes and not bisected by sharp flanges. There is no leiwen ground and design and shape of the vessel appear harmonious. Few bronze vessels share similar stylistic features. Among the bronzes that compare closely with the Ya Chou Fu Xin gui is a bronze you and cover with a ya chou inscription, now in the National Palace Museum in Taipei, published in Gugong Shang dai qingtong liqi tulu, Taipei, 1998, fig. 98, pp. 540-543, and a bronze you and cover, also bearing a ya chou inscription, in the Cernuschi Museum, Paris, illustrated in Vadime Elisséeff, Bronzes Archaïques Chinois au Musé Cernuschi. Archaic Chinese Bronzes, Vol. I – Tome 1, Paris, 1977, no. 49, pp. 138 and 141, and a bronze gu illustrated by Huang Jun in his Ye zhong pianyu sanji, ibid., Beijing, 1942, vol. 3, chapter 1, 41. The most interesting link, however, is a bronze lid in the collection of the Museum of Far Eastern Antiquities in Stockholm, Sweden, whose shape, size, design, patina and, most importantly, inscription match those of the Ya Chou Fu Xin gui from the von Lochow collection. The Stockholm Museum records note that the cover was originally purchased in 1927 by J.G. Andersson (1874-1960), a Swedish geologist and archaeologist, from Luo Zhenyu (1866-1940) who suggested it originally belonged to a bronze steamer, yan. Yan Yiping in her compendium Jinwen zongji (Corpus of Bronze Inscriptions) reproduced a rubbing of the correct inscription of the current vessel but with the wrong gui, see Yan Yiping, op. cit., Taipei, 1983, vol. 3, no.1985, p. 1049. However, more recently, Jessica Rawson convincingly argued that this cover belongs to the von Chou Fu Xin gui and that together they belong to a rare group of early bronze gui made with covers, see Jessica Rawson, Western Zhou Ritual Bronzes from the Arthur M. Sackler Collections, Washington DC, 1990, vol. IIA, p. 362, figs. 38.1 and 38.2.

Of the twenty-two bronze vessels originally published in Gustav Ecke's catalogue of the von Lochow collection, very few remain in private hands. The Ya Chou Fu Xin gui occupied a prominent place in von Lochow's catalogue yet it may not have been the most important bronze in his collection. While the inscription of this gui has intrigued scholars since it was first published in 1936 by Huang Jun, and was inventoried in several important compendia on epigraphy, the reappearance of the actual vessel itself is an exciting discovery.
heavily cast with a deep rounded body raised on a high splayed foot, rising to a flared rim, the sides set with a pair of handles issuing from streamlined flat-eared bovine heads, and issuing short hooked tabs, the body cast on east side with a large taotie mask flanked by a pair of taloned and quilled dragons, below a narrow neck band containing two beaked single-bodied dragons centering on a raised animal head in axial position on each side, the foot similarly decorated with two beaked confronting dragons on either side of a ridge with a taotie shield, the inside cast with a four-character inscription reading 'ya chou fu xin', the bronze a smooth, dark brownish-red colour.
Lot 36. From two distinguished private European collections. A well-cast rare large 15th century gilt-bronze figure of Green Tara, 15th century; 39cm high. Estimate €60,000 - €80,000. Photo Bonhams.
Seated in lalitasana on a double-lotus base, the right foot resting on an individual lotus issuing from the base, with hands held varada and vitarkamudra and holding long multi-stemmed lotus flowers blossoming at the shoulders, dressed in an fine dhoti tied below the waist and elegantly falling over legs and base, a fine shawl covering the shoulders, adorned with beaded necklaces, arm and ankle bracelets, the face rendered with a benevolent expression, with downcast eyes below arched brows and a gentle smile, framed by pendulous earlobes with large wheel-shaped earrings, an elaborate crown framing a high chignon.
Provenance: Acquired by the parents of the present owners, and thence by descent.
Note: This exquisite, finely cast large gilt-bronze figure depicts Tara, the Mother of all Buddhas', a Bodhisattva of compassion and action, and important protector. Here she is shown seated in the posture posture of ease, with the left leg folded in the contemplative position and the right leg stretched out and ready to spring into action.

Tara, Mother of the Victorious Ones, is worshipped by Buddhists as a saviour and liberator from the earthly realm of birth and rebirth. In Tibetan mythology the goddess is believed to have emerged from a lotus bud rising from a lake of tears shed for the suffering of sentient beings by the bodhisattva Avalokiteshvara, with a face 'embodying the delicacy of a million lotus blossoms', see G.Mullin, Mystical Verses of a Dalai Lama, New Delhi, 2003, p.57.

Tibetan Buddhism or Lamaism saw a considerable increase in popularity in China under the Mongols, who had adopted it as their national religion even before their conquest of China. As a consequence of political and religious ties between the imperial court and the dominant Tibetan religious orders, and the exchange of gifts between the court and Tibetan hierarchs, during the Yuan and in the early Ming dynasty the influence of Himalayan sculptural styles began to make an impart on Buddhist imagery. Early fourteenth century woodblocks made for the monastery of Yangshen Yuan, Hangzhou, are evidence of a new style appearing in Chinese Buddhist art, see H.Karmay, Early Sino-Tibetan Art, Warminster, 1975, pp.47-50, pls.26, 29 and 30. The gently smiling faces, full rounded figures and tiered thrones in these woodblock prints reflect the Newar styles favoured in Tibet, and introduced into China by Nepalese artists working at the Ming court. Bronzes of the Yongle and Xuande period were now adorned with sumptuous crowns, earrings, bracelets, and strings of pearls, as seen in the present example whose broad shoulders, smooth torso, and long legs derive from earlier Indian traditions as do the diaphanous clothing and armbands. The opulent jewellery and elaborate crown that adorn this figure are majestic and reflect the 'glittering display of imperial splendour' of the Ming court, see H.Uhlig, On the Path to Enlightenment: The Berti Aschmann Foundation of Tibetan Art at the Museum Rietberg Zurich, 1995, p.18.

Most surviving sculpture from the Yongle and Xuande periods bears imperial inscriptions and suggests that Tibetan-style Buddhism probably was little practiced outside the imperial court, and that so most images were made for the court. Although this figure is not inscribed with an imperial mark, the refined quality and large size place it alongside the finest examples of Buddhist sculpture made in the early to mid-Ming period. Stylistically it may be compared to two gilt-bronze figures formerly in the Beti Aschmann collection and now in the Rietberg Museum in Zurich, one a seated figure of Manjusri, the second a kneeling figure of a Bodhisattva both with Xuande bestowal marks, published in Helmut Uhlig, On the Path to Enlightenment. The Berti Aschmann Foundation of Tibetan Art at the Museum Rietberg Zurich, 1995, pp.118-9, no.68 (fig.1), and pp.122-3, no.72. Compare also with a gilt-bronze figure of Amitayus bearing a Xuande mark, sold Christie's Hong Kong, 31 May 2010, lot 1961, and another example from the Soame Jenyns collection, sold at Christie's London, 6 November 2018, lot 26.
MYTHES, MALICE ET MAGIE : LA COLLECTION DE NETSUKE ET SAGEMONO DE GUY DE LASTEYRIE | 14 JUNE 2023

On June 14, Bonhams Cornette de Saint Cyr will be offering the extraordinary collection of Guy de Lasteyrie, who discovered the world of netsuke in his grandmother's library, where these small objects fascinated him. His grandmother left him her collection as an inheritance, marking the starting point of a long passion of more than fifty years.

Made by numerous schools located throughout the Japanese archipelago in Edo, Osaka or Kyoto, some remarkable pieces are signed by great masters such as Tadayoshi, Toyomasa, Masanao, Tsuji and Tametaka. They often represent animals, ghosts or characters with admirable precision and attention to detail.

Since the 17th century, the Japanese wearing kimonos tied at the waist with a belt called obi. The men carried objects in sagemono, small boxes attached to the belt by a cord. The cord passed behind the obi and was blocked by a small object – the netsuke. It seems that the first netsuke were particularly austere and purely utilitarian: simple shells or pieces of wood. But with the advent of the Edo period (1603-1868), these objects became of unprecedented refinement in various materials such as wood. With the opening of Japan to international trade in 1854, Westerners became fascinated with these objects, which they imported to Europe. In this auction, the work of Shugasai Toyokazu, active in Tanba in the 19th century, is remarkable. A 3.8 cm long sabre-toothed tiger is estimated between €10,000 to €15,000.
A wooden netsuke depicting the giant sansukumi snake by Masanao, Yamada, Ise Province, 19th century is estimated at €18,000 to €25,000. Another model depicting an elephant and a karako (little boy) by Tsuji, Osaka, mid/late 18th century is estimated at €25,000 - €35,000 and a sarumawashi (monkey trainer and showman) by Matsushita Otoman, Hakata, 19th century is estimated at €12,000 - €18,000.
VIETNAMESE ART ONLINE | 9 - 15 JUNE 2023

Following the success of the first sale last December, Bonhams Cornette de Saint Cyr is organising a second one offering Vietnamese works of art from 9 to 15 June under the direction of Joan Yip. Blending Vietnamese and French traditions, the paintings in this sale explore not only the golden age of Vietnamese art (1930-1945) but also the pre-war and post-war periods with paintings by Vietnamese artists such as Lê Phổ.

From the collection of Pierre Lê Tan, this painting entitled La Famille is dated circa 1955 aka the Romanet period (1946-1962) during which Lê Phổ continued to paint on silk, using gouache and thick oil paint to give substance and intensity to his paintings. The colour palette became lighter, as well as the brushstrokes, and he abandoned the dark, clearly delineated lines of his earlier work to explore a freer, impressionistic style. Here, Lê Phổ creates an ideal world of beauty and love through an idyllic scene with a flowery backdrop, depicting the love between a mother and her child (estimate: €250,000 - €340,000).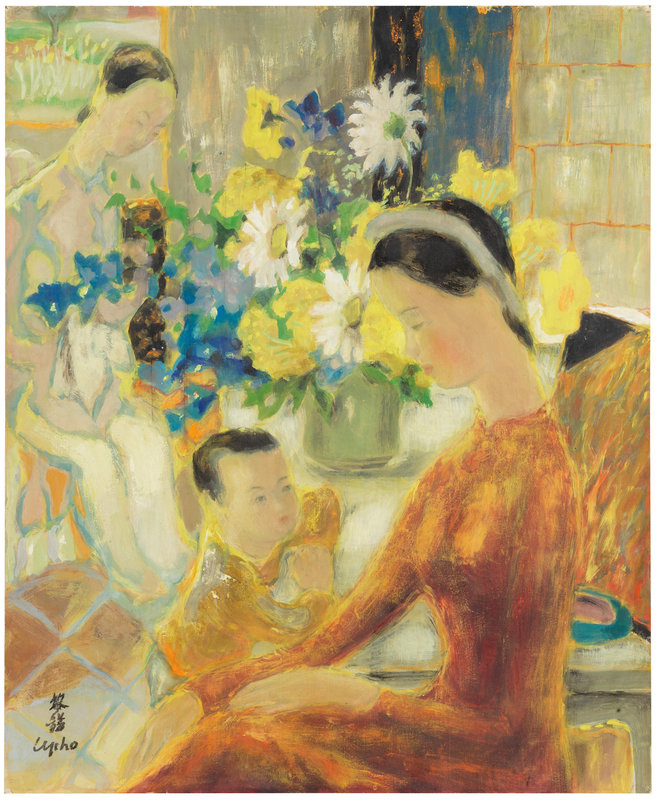 Lot 17. Lê Phổ, La Famille, circa 1955., signed (lower left), oil and gouache on silk, 44.5 x 36 cm. Estimate: €250,000 - €340,000. Unsold. Photo Bonhams.
Provenance: Collection of Pierre Le Tan.
Inherited from the above.
French private collection.
This lot comes with its original frame.
Affixed with Galerie Romanet label inscribed Le Pho N°16 and titled "La famille" (reverse).
Note: Lê Phổ's works can be categorised into three distinct periods: The first period, Romanet and Findlay. The first period (1925-1945) covers his formative years at the École Supérieure des Beaux-Arts de l'Indochine in Hanoi, through to his early years in Paris. The Romanet (1946-1962) and Findlay (after 1963) periods encompass his mature career in Paris.

This painting, entitled 'La famille', is attributed to the Romanet period. During this period, Lê Phổ continued to paint on silk, using gouache and thick oil paint to give texture and intensity to his paintings, the colour palette became brighter, the brushstrokes lighter, and he escapes the dark and clearly defined lines of his earlier works to explore a freer and more impressionist style.

In this painting, true to the composition of the Romanet period, stands a generous bouquet of fresh flowers in a celadon porcelain vase, on a table that occupies a central place in the composition, with figures in the foreground and background creating depth in the composition. In the foreground, the young child leans on the table next to his mother and listens attentively. The tender gaze of the young mother on her child, the perfect complicity in the silence, an unchanging and sacrosanct bond shared by mother and child. Lê Phổ has created an ideal world of beauty and love through this idyllic scene with its flowery decor, tender love, and idealized feelings.
This sale will also offer at auction a group of Vietnamese ceramics from European private collections and covering the Lý and Trần dynasties, including an important ivory-glazed stoneware vase, known as Thanh Hoa ware (estimate: €5,000 - €7,000), and a pair of rare blue and white vases made on royal order for the Vietnamese king Khai Dinh around 1924, for the reception on the occasion of his 40th birthday including a pair of blue and white Chinese vases made for Vietnam around 1924 (estimate: €3,000 - €5,000).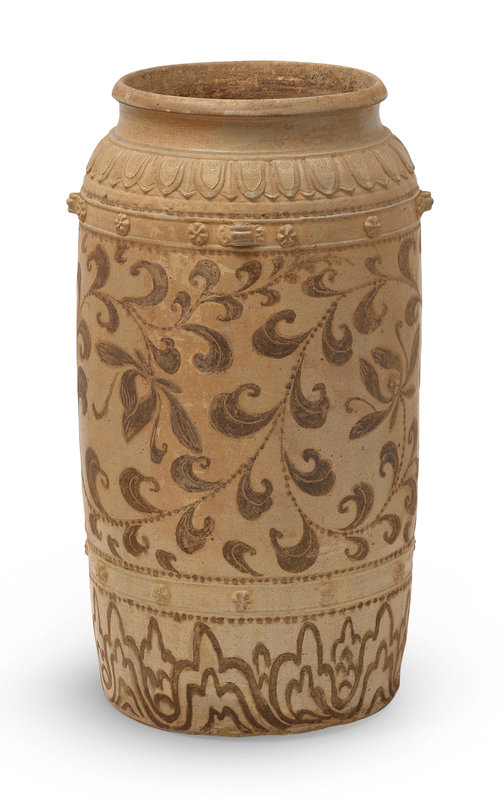 Lot 48. An important ivory-glazed stoneware vase, Vietnam, 14th-15th century, with incised and iron oxide underglaze decoration. H. 56 cm. Estimate €5,000 - €7,000. Sold for €57,550 inc. premium. Photo Bonhams.
Provenance: European private collection, acquired in the 1980s.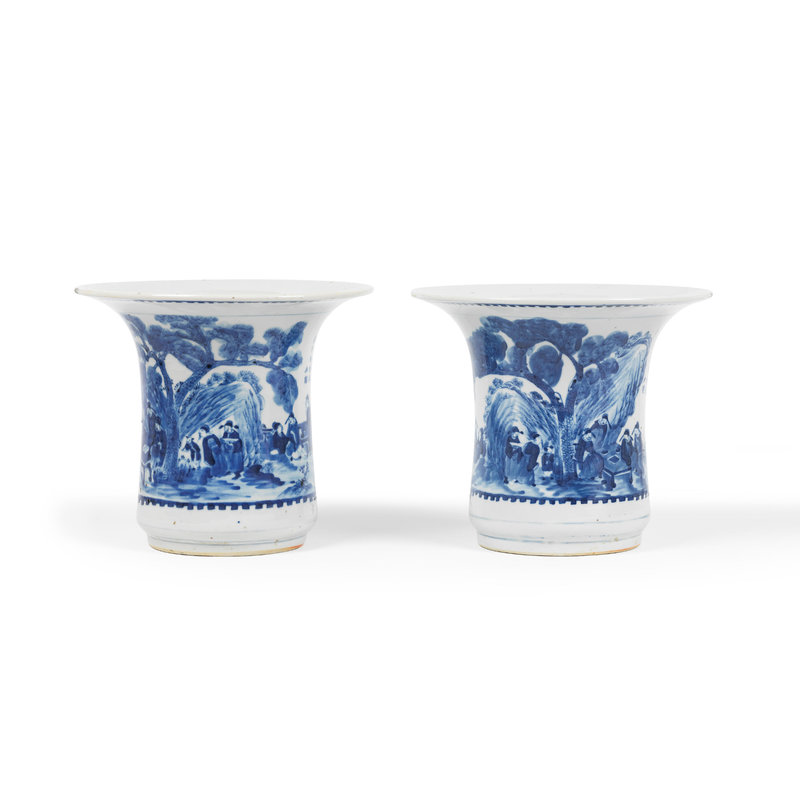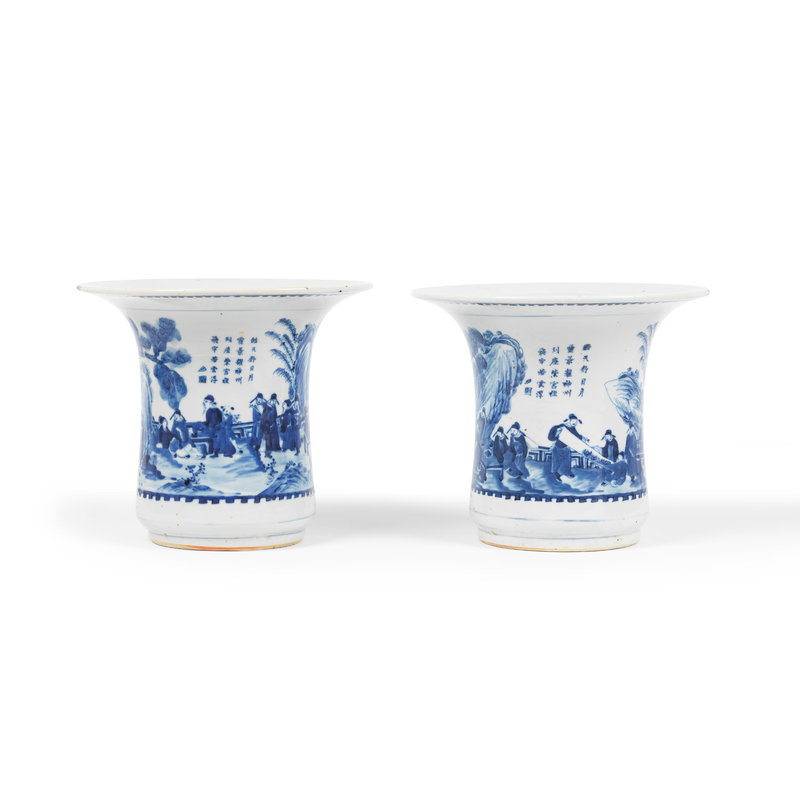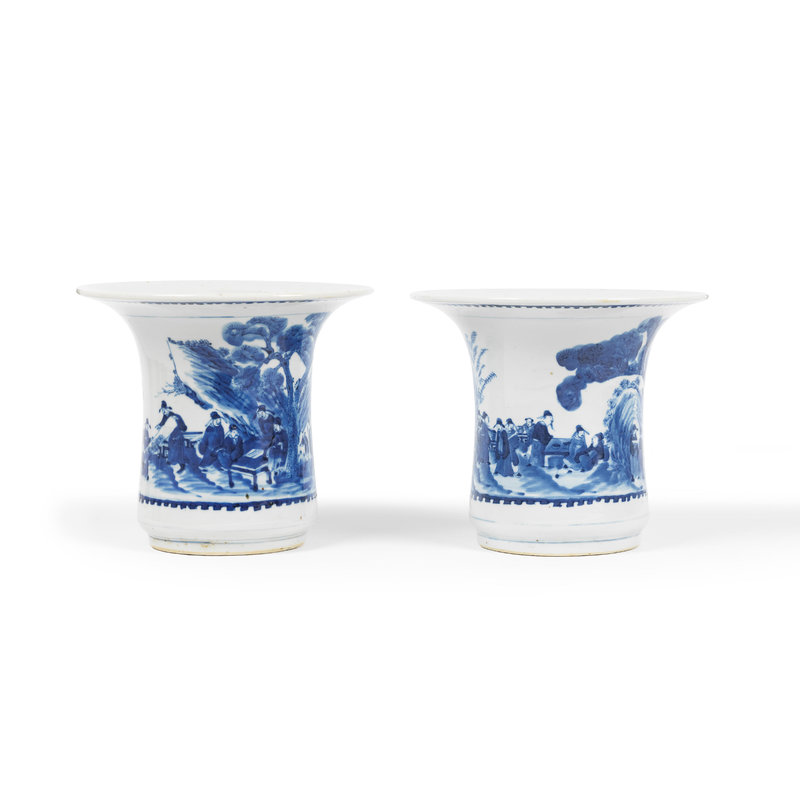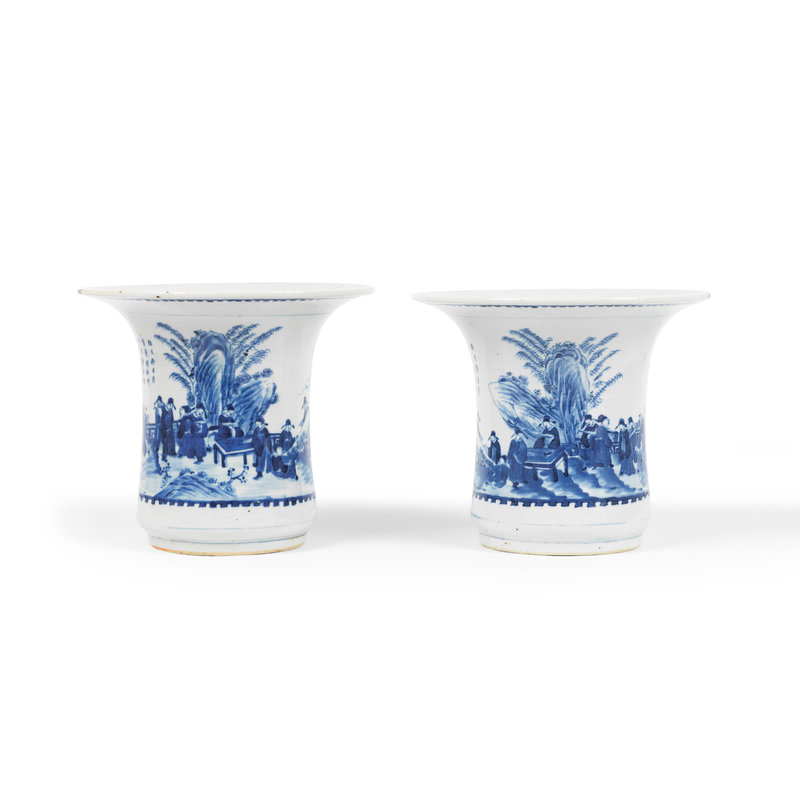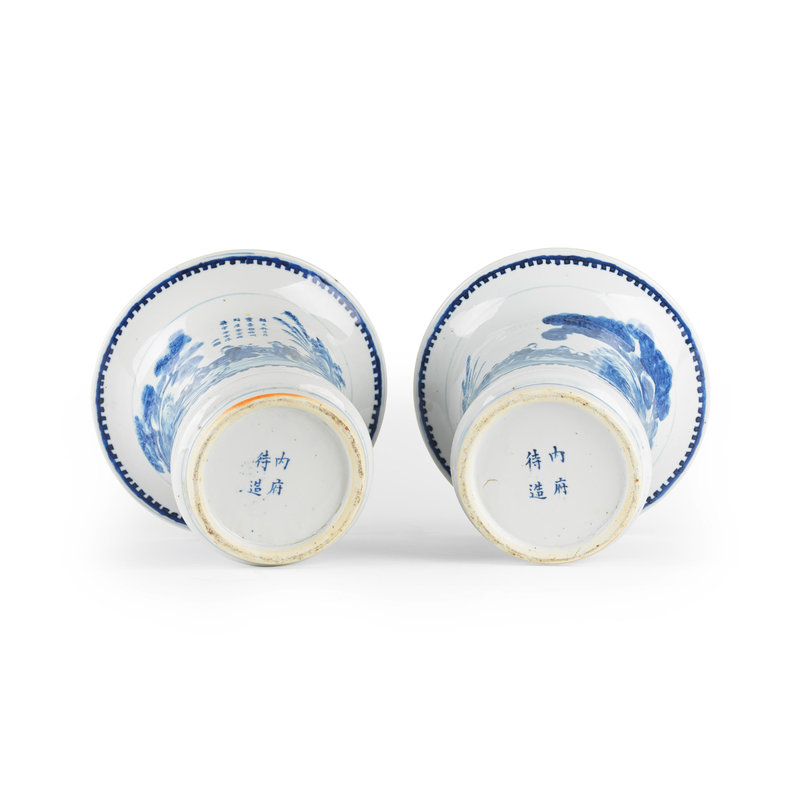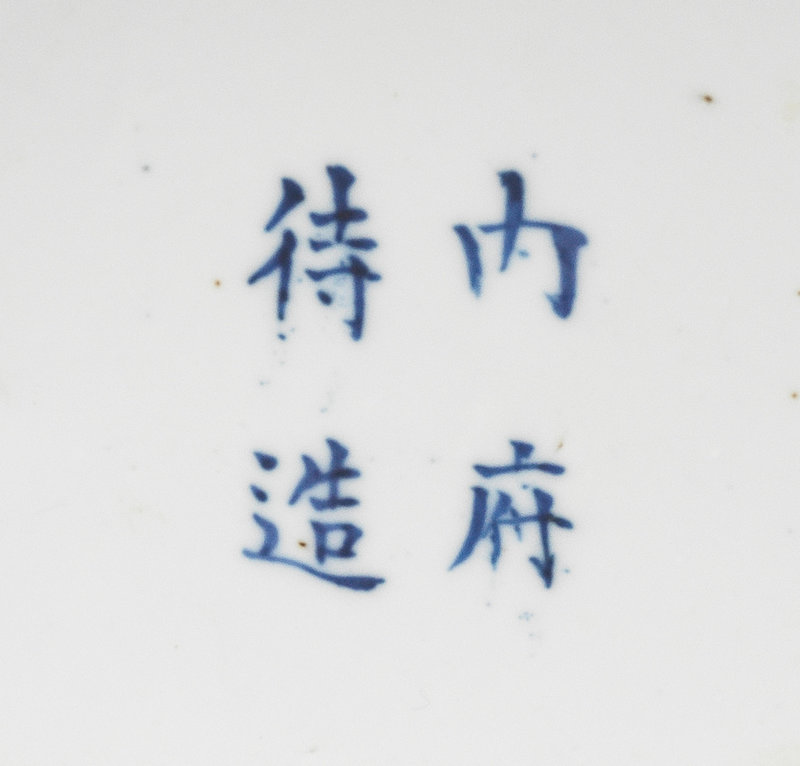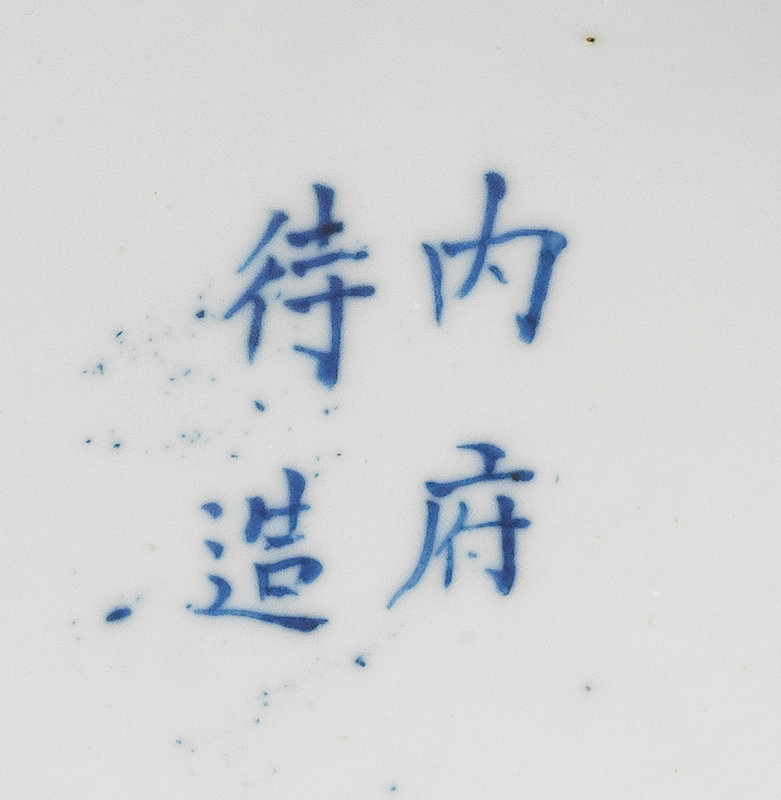 Lot 69. Paire de vases en porcelaine bleu blanc, Chine pour Vietnam, vers 1924, à décor de personnages dans un paysages et poème, marque Nội phủ đãi tạo 内府待造 sous chaque base. H. 20.4 cm; 20.8 cm / A pair of blue and white porcelain 'figural' vases, China for Vietnam, circa 1924. Estimate: €3,000 - €5,000. Sold for €14,080 inc. premium. Photo Bonhams.
Provenance: French noble family, collected in the late 19th century.
Thence in the family by descent.
Note: This pair of rare vases made on royal order for the Vietnamese king Khai Dinh around 1924, for the reception on the occasion of his 40th birthday. Khai Dinh was the last Nguyen king to commission porcelains from China for his palaces.

The marks to the base read: Nội phủ đãi tạo 内府待造, which translate into: Manufactured for reception in the Inner Palace.