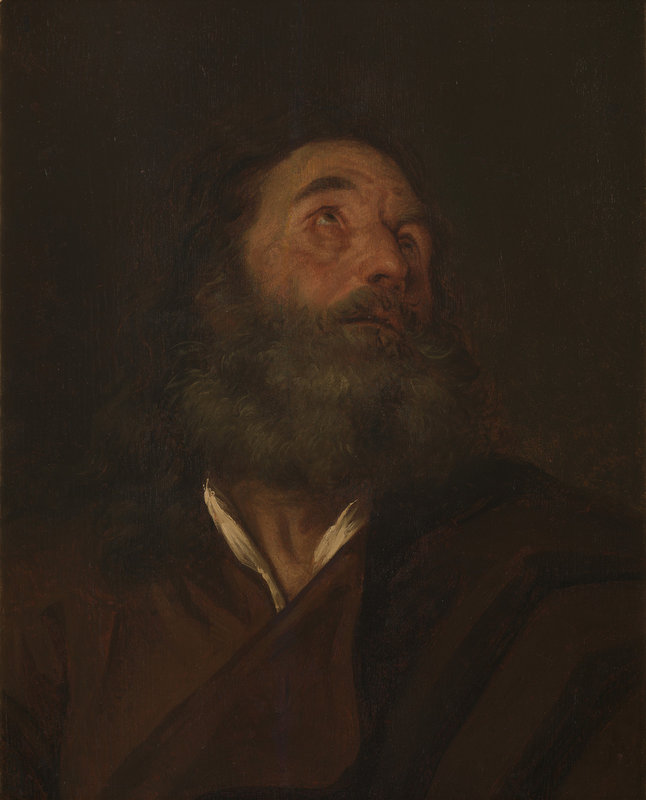 Michaelina Wautier, 'Study of a Head of a Bearded Man', ca. 1655, oil op panel, ca. 76,5 x 26,5 x 5 cm, Collection M Leuven, source: artinflanders.be, photo: Cedric Verhelst.
LEUVEN .- M Leuven welcomes Study of a Head of a Bearded Man into its collection. It is a recently discovered painting from the oeuvre of Michaelina Wautier, who worked in Brussels in the seventeenth-century. This extremely rare study from c. 1655 was authenticated by Wautier expert, Katlijne Van der Stighelen (KU Leuven). The work will be presented in the new collection presentation at M in 2024. Through this display, the museum aims to further redress the balance between female and male artists and to highlight an underexposed area of art history.

Opportunity

"The city's purchase of Study of a Head of a Bearded Man is a huge boon for M Leuven", says Bert Cornillie, Alderman for Culture and Chairman of M's Board of Directors. "The city is investing more and more in the expansion of its art collection. Since the period before 2020, the annual budget for acquisitions and restoration work has increased by over €100,000. The city therefore supports M's ambitions as a leading player in the Flemish museum sector. Moreover, this is an extremely rare work by an artist who has been unjustly overlooked for centuries. Incidentally, this is the second time that M has added work by a female Baroque artist to its collection, following the 2016 acquisition of Maria Faydherbe's signed boxwood sculpture. Both works have made the transition from private ownership to a public museum collection."

Marjan Debaene, Head of Old Masters at M Leuven, is also enthusiastic: "Michaelina Wautier's oeuvre is small: there are less than 40 attributed works worldwide. We could not be more grateful, therefore, that Katlijne Van der Stighelen pointed us in the direction of this recent discovery. Wautier's oeuvre has attracted growing international interest in recent years, thanks in part to the retrospective at MAS in 2018 and the exhibition Michaelina Wautier and The Five Senses that is currently showing at the Museum of Fine Arts in Boston. Her work is also represented in the collections of the Kunsthistorisches Museum Vienna, the KMSKA and the KMSKB, amongst others."

Study of a Head of a Bearded Man

Wautier's study depicts an elderly, bearded man, looking upwards, against a dark background. In terms of composition, the work corresponds to her paintings of Saint Joseph and Saint Joachim, both of which belong to the Kunsthistorisches Museum in Vienna. Like the saints, Wautier's study of the old man is also half-length. Several quick strokes of white pigment, which illuminate the man's shirt in the dark, bear witness to Michaelina's pictorial skills and technical prowess. The principal difference with the works depicting Joseph and Joachim is that this study was not finished in detail, although the fluid brushwork and dashes of brown and ochre are relatively similar, as Van der Stighelen's research proves. These similarities allowed her to date the study, made from life, to around 1655. At that time, only men were allowed to paint from living models. Consequently, the painted study was erroneously attributed to Anthony van Dyck for many years.

Michaelina Wautier was probably born in Mons in 1614, the daughter of a prominent family. One of her older brothers, Charles, was also a painter. A painting by the latter once graced the high altar of St Peter's Church in Leuven but was lost during the First World War. Charles settled in Brussels from about 1638 and Michaelina followed not long afterwards. Later sources confirm that the brother and sister, both unmarried, lived at the same address in Brussels. Charles probably helped Michaelina to progress as a painter, but just as important was the presence in the city of Archduke Leopold Wilhelm of Austria between 1647 and 1656. In the inventory of his collection, drawn up in 1659, we find four paintings by Michaelina Wautier, including the impressive The Triumph of Bacchus, now in the Kunsthistorisches Museum in Vienna.