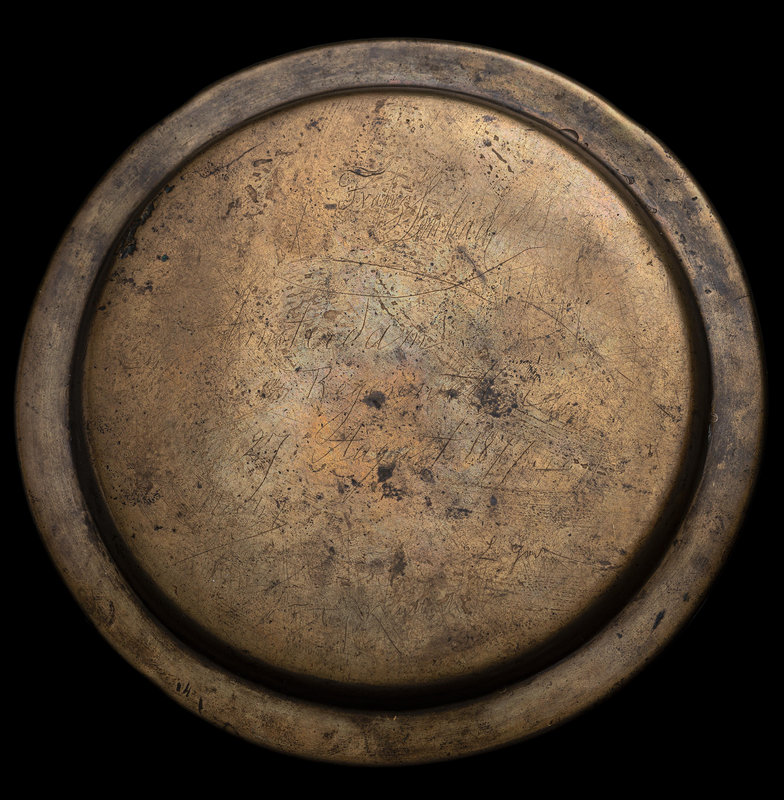 Lot 119. A small cloisonné-enamel "white hare holding a lingzhi" dish, China, 16th century. D. 16,8 cm. Sold: €17 000 (Est: €3 000 - €5 000). Courtesy Nagel.
In the mirror with a central depiction of a white hare, its gaze turned towards the sky, holding a 'lingzhi' mushroom in its mouth, sitting under a blue sky dotted with polychrome stylised clouds and a crescent moon, surrounded by various flora, all elements representing femininity and long life. The rim slightly chipped with few losses to the enamels.
Provenance: Formerly probably collection of the famous German painter Franz von Lenbach (1836 -1904), finely incised at the base "Franz Lenbach, Amsterdam, Regenwetter, 27 August 1877"
- From an old southern German private collection, collected in the 1970s to 1990s.
Note: The hare or rabbit is a symbol of longevity and the East. It is believed that he grinds the ingredients for the elixir of long life on the moon. He is also the fourth animal in the Chinese calendar. According to a Daoist legend, a "jade-white" hare lives on the moon and grinds the elixir of immortality with a pestle and mortar. The elixir is said to have been stolen from the archer Yi by Lady Chang-E, who used it to be fed the moon. A Buddhist story provides another explanation of how the rabbit came to be on the moon. Buddha arrived in a forest, exhausted and hungry after many days of travelling. All the animals came to him and brought him the food they normally gathered for themselves. The rabbit wanted to bring him fresh green grass and leaves, but when he found them, he ate them himself. The rabbit was racked with guilt and went to the Buddha to admit his folly and offer that the Buddha could eat him instead. The Buddha was so moved by this gesture that he gave the rabbit the gift of eternal life on the moon. Rabbits are therefore associated with long life.
Fine Asian Art - Day I by Nagel Auction. Stuttgart, June 12, 2023