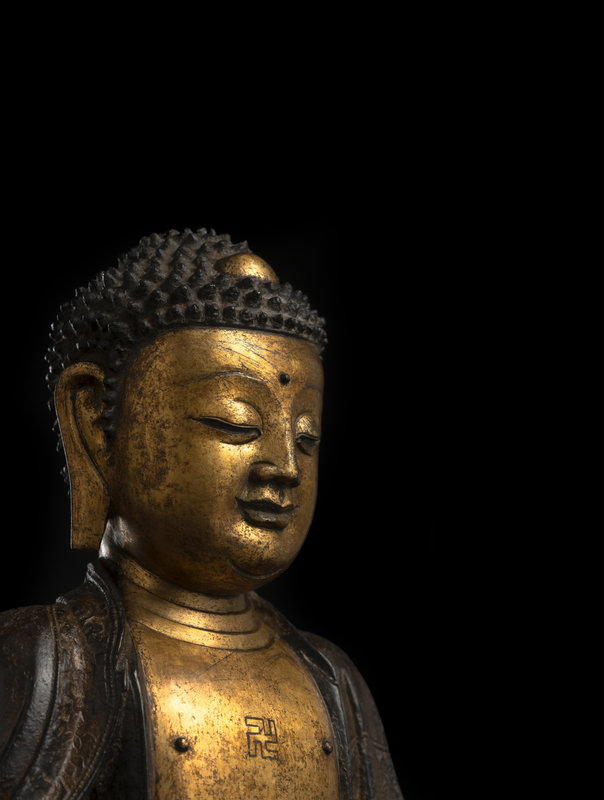 Lot 290. A fine part-gilt bronze figure of Bhaisajyaguru, late Ming dynasty. H. 32,5 cm. Sold: €10 000 (Estimate €10 000- €15 000). Photo Nagel Auction.
The Part-gilt bronze figure of the Medicine Buddha is seated in the meditation pose holds a myrobalan fruit or healing aruna fruit in his right hand. This fruit is native to India, Nepal, Sri Lanka, and southwestern China, and is referred to as a "medicine pill" in oral tradition. Other representations of the Medicine Buddha sometimes show the deity with a medicine pot or bowl in his left hand. Bhaisajyaguru or Medicine Buddha, who is associated with healing and medicine. In the 7th century, the Chinese monk Yijing (635-713), traveled to India and translated into Chinese the Sanskrit scripture Bhaisajyaguru Sutra-a major textual source for understanding the Medicine Buddha. Since that time, worship of Medicine Buddha has expanded enormously in China. Minor wear, very minor rest., fruit chipped.
Provenance: From the estate of Max Freiherr von Stoltzenberg, commander of the Prov. Col.2 East Asian Expeditionary Corps, collected in China before 1905.
Fine Asian Art - Day I by Nagel Auction, June 12, 2023 • Stuttgart, Germany