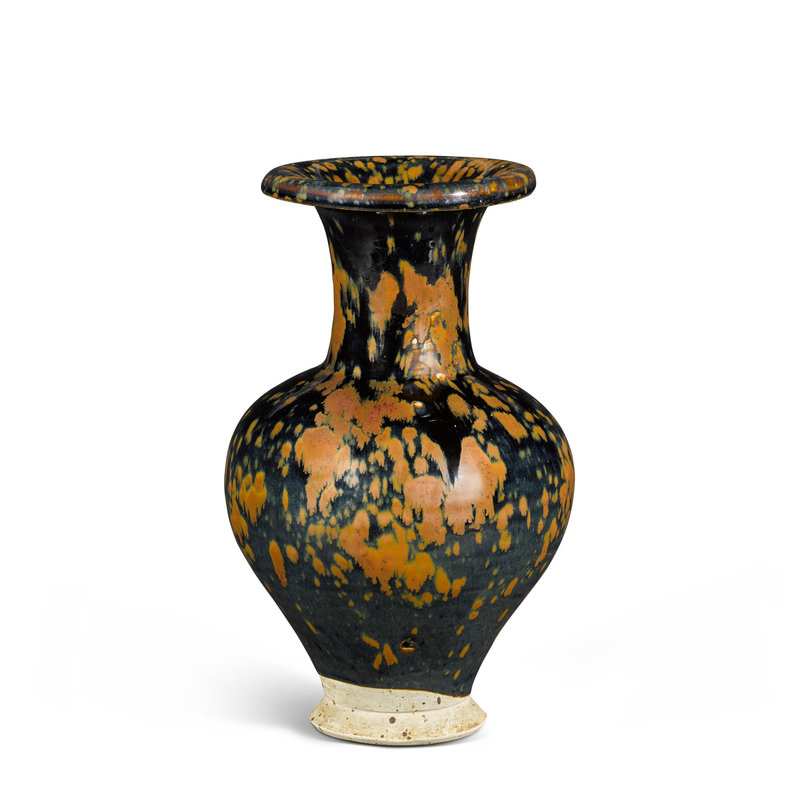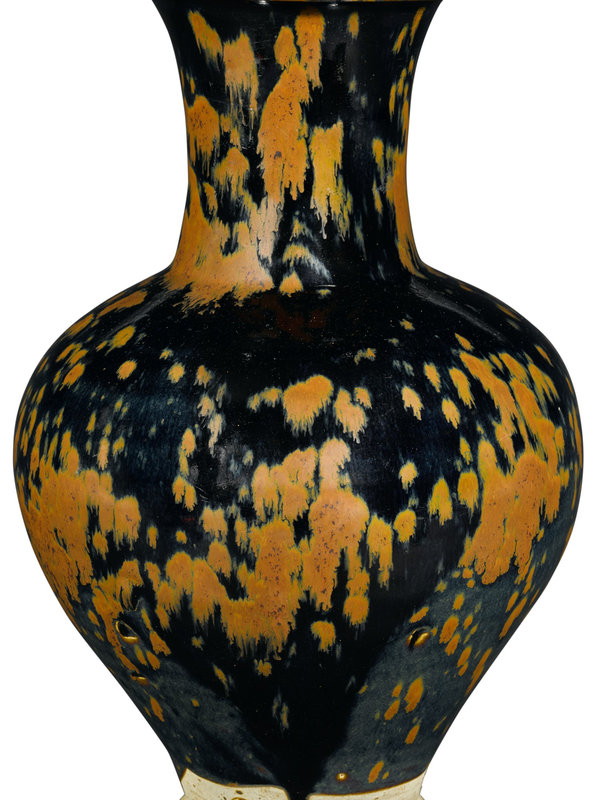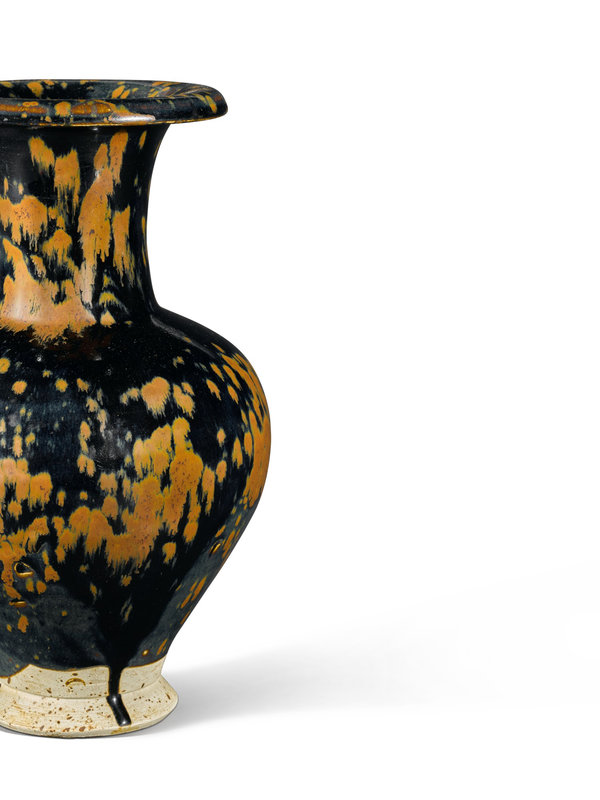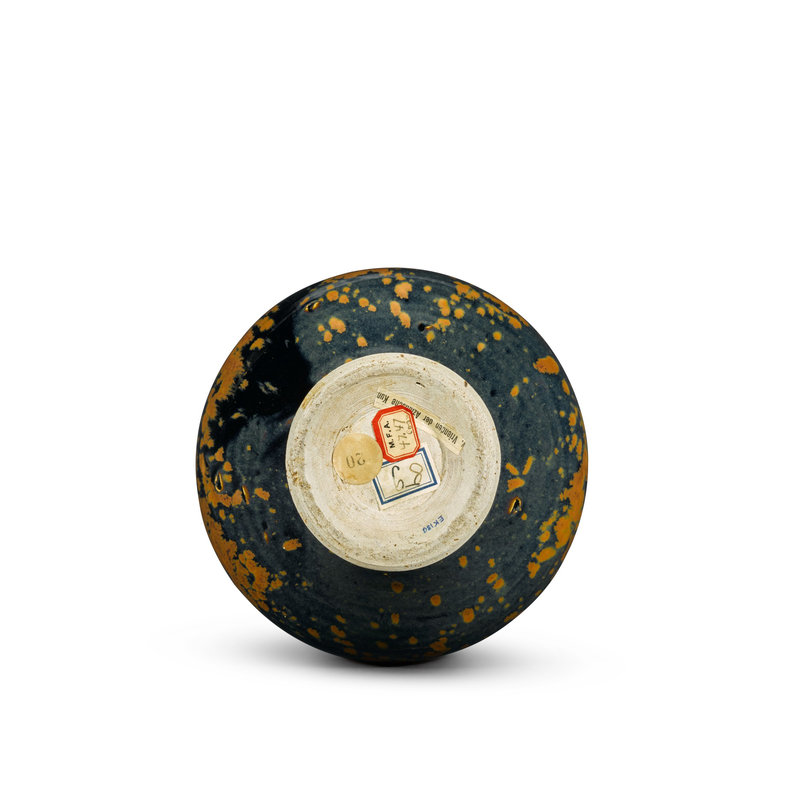 Lot 114. Property from an Important Private Collection. A superb and rare Cizhou russet-splashed black-glazed 'partridge feather' vase, Northern Song dynasty (960-1127). Height 28 cm. Lot Sold 252,000 GBP (Estimate 200,000 - 300,000 GBP). © Sotheby's
of elegant baluster form, the sumptuous ovoid body supported on a spreading pedestal foot and gracefully sweeping up to a wide trumpet neck and rolled rim, the exterior covered with a black glaze of exquisite sheen, liberally splashed with vivid russet streaks resembling the mottled markings of a partridge, the glaze falling short of the foot in an irregular line revealing the pale grey body.
Provenance: Collection of Alfred Karel Schoenlicht (1876-1955), since before 1936.
Sotheby's London, 13th December 1955, lot 20.
Possibly Dr. Erich Cassirer (1881-1963), London.
Collection of Marianne Landau, New York.
Christie's New York, 20th September 2002, lot 288.
Eskenazi Ltd, London, 2003.
Literature: Giuseppe Eskenazi in collaboration with Hajni Elias, A Dealer's Hand. The Chinese Art World Through the Eyes of Giuseppe Eskenazi, London, 2012, pl. 252.
Exhibited: Tentoonstelling van Aziatische Kunst in particuliere en openbare collecties in Nederland [Exhibition of Asiatic art in private and public collections in the Netherlands], Vereeniging van Vrienden der Aziatische Kunst [Society of Friends of Asiatic Art], Stedelijk Museum, Amsterdam, 1936, cat. no. 358.
Museum of Fine Arts, Boston, on loan.
Song. Chinese Ceramics: 10th to 13th Century, Eskenazi Ltd, London, 2003, cat. no. 7.
Principal Wares of the Song Period from a Private Collection, Eskenazi Ltd, London, 2015, cat. no. 24.
The Schoenlicht 'Partridge Feather' Vase
Regina Krahl
Black wares experienced the peak of their popularity in and around the Song dynasty (960-1279) and the Schoenlicht vase is an iconic example of this ceramic type. Large and impressive vases of black-glazed stoneware, as superbly shaped, glazed and decorated as the present piece, are extremely rare. Black-glazed ceramics, little appreciated prior to the Song, became celebrated with the interest in black tea bowls, which from the Northern Song period (960-1127) onwards found favour even with Emperor Huizong (r. 1100-1125), one of China's greatest connoisseurs. While many kilns both in north and south China began to produce black bowls and other minor black-glazed vessels, with or without contrasting markings, very few developed well-made, majestic pieces such as this vase, and the Schoenlicht black vase is a top example of this category.
It may well have been due to this imperial appreciation that black stonewares with their more earthy and rustic style than contemporary white and green wares, suddenly received attention. As Patricia Buckley Ebrey writes about Emperor Huizong (Accumulating Culture. The Collections of Emperor Huizong, Seattle and London, 2008, p. 344), "he came to the throne believing that the court often over-decorated buildings. He complained that one of the last buildings built during Zhezong's [his predecessor's] reigns looked as gaudy as jewelry. Later, when he commissioned buildings himself, he insisted on simpler styles", a predilection that did not remain restricted to architecture.
A taste for ceramic designs in form of seemingly natural markings, reminiscent of feathers or furs, developed early in the Song dynasty. According to Robert D. Mowry (Hare's Fur, Tortoiseshell and Partridge Feathers. Chinese Brown- and Black-Glazed Ceramics, 400-1400, Harvard University Art Museums, Cambridge, Mass., 1996, p. 32), the term zhegu ban, 'partridge-feather mottles', was already in use by the 10th century. While its precise meaning at the time is not known, since it was first used to describe patterns on southern black tea bowls, it is now mainly used to denominate the rust-red speckling on northern black wares, such as seen here.
While closely related vessels are rare, in its grandeur and importance this vase can be compared to a few outstanding meiping vases with similar 'partridge-feather' patterning: see, for example, a vase in the Art Institute of Chicago, included in the exhibition Hare's Fur, Tortoiseshell and Partridge Feathers, op.cit., cat. no. 35, where Mowry attributes it to the 11th or early 12th century; the body of that vase, visible at the foot, appears to be of the same tight grey stoneware with dark iron specks as that of the present piece. Compare also a vase of squat (often called 'truncated') meiping shape in the Itsuō Art Museum, Ikeda, included in the exhibition Sō Gen no bijutsu [The art of Song and Yuan], Osaka Municipal Art Museum, Osaka, 1978, cat. no. 1-202; or two others in private Japanese collections, one of squat, the other of taller meiping form, illustrated in Hasebe Gakuji, ed., Tōki zenshū. 13: Sō no Jishūyō [Complete works on ceramics. 13: Song Cizhou ware], Tokyo, 1966, col. pl. 8 and pl. 63.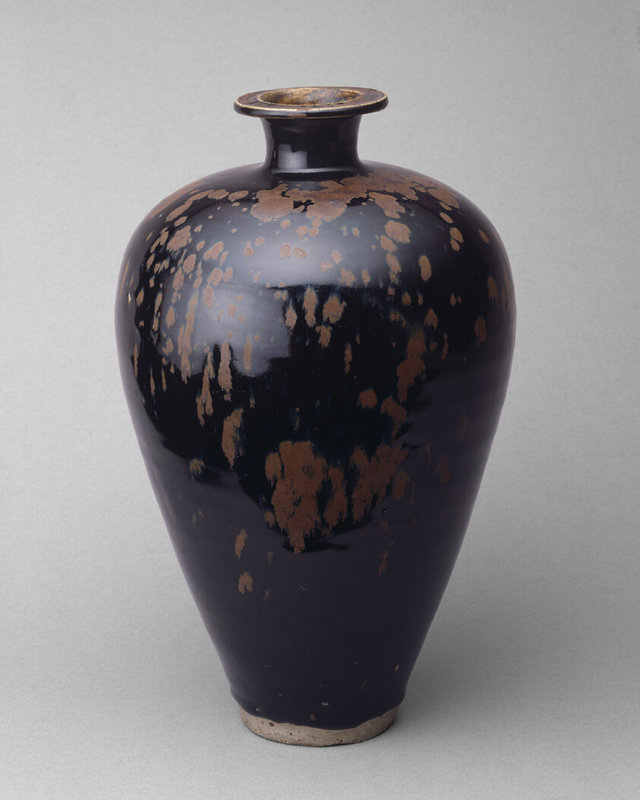 Ovoid Bottle with "Partridge-Feather" Mottles, Northern Song dynasty (960–1127), 11th-early 12th century. Cizhou ware; stoneware with overglaze slip decoration; 28.6 × 19.8 cm. The Art Institute of Chicago, Gift of Russell Tyson, 1950.1635.
The distinguished history of this vase can be traced in the West to the 1930s. Alfred Schoenlicht, (1876-1955) of Nijkerk and The Hague, Holland, and later New York, was a German-born banker, who had worked in China for Blohm & Voss, a German ship building and engineering company, as well as in private banking. He was an important collector of Chinese ceramics and other works of art, who contributed to the Ausstellung chinesischer Kunst, Preußische Akademie der Künste, Berlin, 1929, the International Exhibition of Chinese Art at the Royal Academy of Arts, London, 1935/6, as well as to exhibitions in Paris and Amsterdam, and before World War II lent his collection to the Boston Museum of Fine Arts. Since the mid-1940s he was a member of the Oriental Ceramic Society of London. The Times of London reported about Sotheby's sale of his collection shortly after his death, in 1955: "Invariably any auction of well known Chinese ceramics produces an air of inscrutability among bidders. There was an international atmosphere such as this at Sotheby's yesterday at the sale, conducted by Mr A.J.B. Kiddell, of important Chinese ceramics which had formed the collection of Alfred Schoenlicht. Many of the pieces at this sale were especially well-known, since they are illustrated in H.F.E. Visser's Asiatic Art [in Private Collections in Holland and Belgium] (1948). Mr Visser and Mrs Schoenlicht were both present at the sale, which brought a total of £ 27,400." (Roy Davids and Dominic Jellinek, Provenance. Collectors, Dealers and Scholars: Chinese Ceramics in Britain and America, Great Haseley, 2011, p. 393).
The buyer in the Schoenlicht sale was a person named Cassirer, probably Dr Erich (Eric) Cassirer (1881-1963), a German philosopher and later art dealer, whose gallery in London specialised in Chinese and Egyptian art. He came from a notable Jewish family based in Berlin, that included several famous members, such as the philosopher Ernst Cassirer, the doctor and psychiatrist Richard Cassirer, the musician and writer Fritz Cassirer, and the publishers, art dealers and patrons Bruno and Paul Cassirer. He was a member of the Oriental Ceramic Society of London since the early 1950s.
Sotheby's. Important Chinese Art, London, 3 November 2021