NEW YORK, NY.- Asia Week New York announced that Autumn 2023, will run from September 14th to 22nd with online and in-person exhibitions–including works from nineteen international Asian art galleries and six auction houses–Bonhams, Christie's, Doyle, Heritage, iGavel, and Sotheby's. Ten of the galleries are simultaneously opening their doors to the public in New York, and the sales at the auction houses will be live and online.

To mark the opening of Asia Week New York, a special webinar titled The Celestial City: Newport and China, which explores Newport's deep connections with China from the 18th century through the Gilded Age, is taking place today, September 12 at 5:00 p.m.

Organized by category, here is a round-up of the highlights at the galleries:

Ancient and/or Contemporary Indian, Himalayan and Southeast Asian Art

A large Indian Company School watercolor of a grey heron is one of the outstanding watercolors offered at Oliver Forge and Brendan Lynch, Ltd. When Lady Impey's ornithological albums, commissioned by her in Calcutta in the 1770s, were seen by the scientific community in England following her return around 1808, they caused a sensation. Never had such realistic images been seen and their reception was rightly lauded. Here, perhaps forty years later, the tradition has been perfected by artists responding to decades of British patronage. Online only
Grey Heron (Ardea cinerea), Company School, Calcutta, circa 1820. Opaque watercolor on paper, with pencil, pen and grey ink, watermarked J WHATMAN, inscribed in Persian with the name of the bird, anjan; 50.5 by 68 cm. Credit: Oliver Forge and Brendan Lynch, Ltd.
Kapoor Assets presents Religious Art: Exaltation through Expression, featuring a fine gilt-bronze of Chakrasamvara and Vajrayogini. Their exhibition throws light on the fact that classical and ancient art has often, if not always, been created with the ardent purpose of religious worship. Human self-expression in this realm of art therefore takes the form of religious exaltation and underscores the existence of art as a shrine– not only for religious worship– but for introspection, solitude, and reflection through profound indulgence. 34 East 67th Street
Chakrasamvara and Vajrayogini, Nepal, 15th century. Gilt copper, 22 cm high. Credit: Kapoor Galleries
The showstopper at Thomas Murray is one of the greatest Himalayan masks of all time–a wrathful deity protector of the Buddhist doctrine, most likely Mahakala. Online only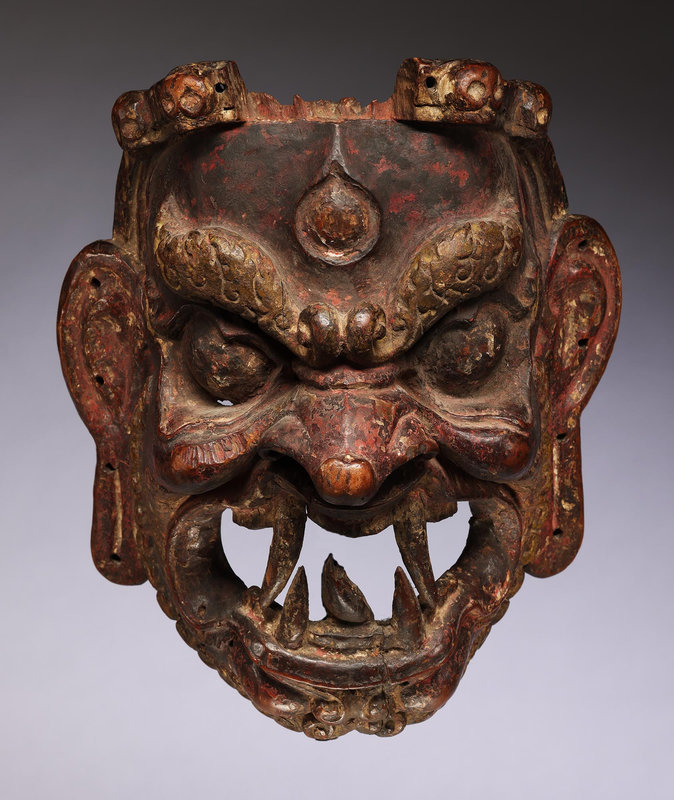 Gonpo Buddhist Mask with Skulls, Nepal, Tibet or Bhutan, 18th / 19th Century. Wood, pigment, 28 x 23.5 x 18.5 cm. Credit: Thomas Murray
Ancient and/or Contemporary Chinese Art

Fu Qiumeng Fine Art presents Whispers of Elegance, which shines a spotlight on the art of Chinese fans. This enchanting group of folding fans from the Republic era showcases joint creations by literati artists, such as Zhang Daqian (Chang Dai-Chien, 1899-1983), Pu Ru (1896-1963), Tao Lengyue (1895-1985), and Wang Fu'an (1879-1960), among many others. This selection offers profound insights into the transformative interpretations, dialogues, and collaborations of traditional Chinese visual culture, deeply influenced by the vibrant intellectual and artistic movements of early 20th century China. 65 East 80th Street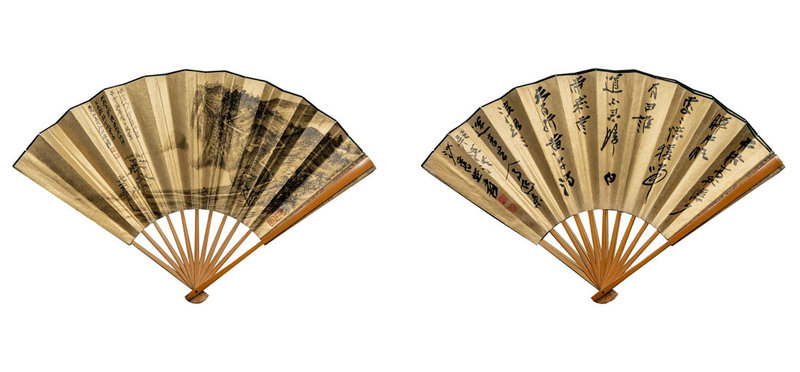 Zhang Daqian (Chang Dai-Chien), Mt. E'Mei amid Cloud and Mist, ink on gold paper, folding fan. Credit: Fu Qiumeng Fine Art
Among the offerings at Ralph M. Chait Galleries, Inc. is this 12th/13th century Fine Chinese Glazed Ribbed Jar with Handles from the Jin dynasty. Glazed overall in a beautiful deep brownish/ black glaze it is carefully delineated with vertical ribs in slip along the exterior. 16 East 52nd Street, 10th floor, for gallery hours, phone 212-397-2818
Fine Chinese Glazed Ribbed Jar with Handles, Jin dynasty, 12th /13th century. Of fine form. Glazed overall in a beautiful deep brownish/ black glaze with carefully delineated vertical ribs in slip along the exterior. Of particularly fine quality. Height: 11.5 cm. Credit: Ralph M. Chait Galleries
INKstudio presents Grand Synthesis: The Extraordinary Flower-Landscape, the debut solo exhibition for the flower and landscape painter Peng Kanglong in Mainland China (b.1962 in Hualien, Taiwan). In Burning Fire, Kanglong paints red blossoms within an ink monochrome scene of leaves, foliage, rocks and flower blooms in shadow. The classically trained Peng Kanglong is the first ink artist to explore the artistic possibilities of integrating these formerly separate genres. Online only
Peng Kanglong, Burning Fire, 2023. Ink and color on paper, 71 x 142 cm. Credit: INKstudio
At Kaikodo LLC Female Ghost with Spider Web a haunting white-shrouded yurei, "faint spirit," or ghost, rises from the skeletal remains of her mortal body, the flames suggesting the cleansing fire of cremation. Her gaunt features, protruding teeth, and unkempt hair produce a chilling image of a spirit bent on vengeance and capable of the unimaginable. Equally striking are the borders of the painting which have been painted to represent the claustrophobic space of an enveloping spider web, suggesting visually that the ghost awaits her prey with the same implacable patience exhibited by the giant arachnid. Online only

Anonymous (2nd half 19th century), Female Ghost with Spider Web. Hanging scroll, ink and color on paper, 86.0 × 26.5 cm. Credit: Kaikodo LLC
Among the twenty objects on view at Zetterquist Galleries' exhibition, Pre-Song Dynasty Chinese Ceramics from American and Japanese Collections is a Tang Dynasty Sancai tripod offering plate with an incised floral pattern of Persian influence and rare cobalt blue detailing. Ranging from Warring States Period (5th century BC) through Five Dynasties (10th century AD) all the artifacts are sourced from American and Japanese collections. 3 East 66th Street, Suite 2B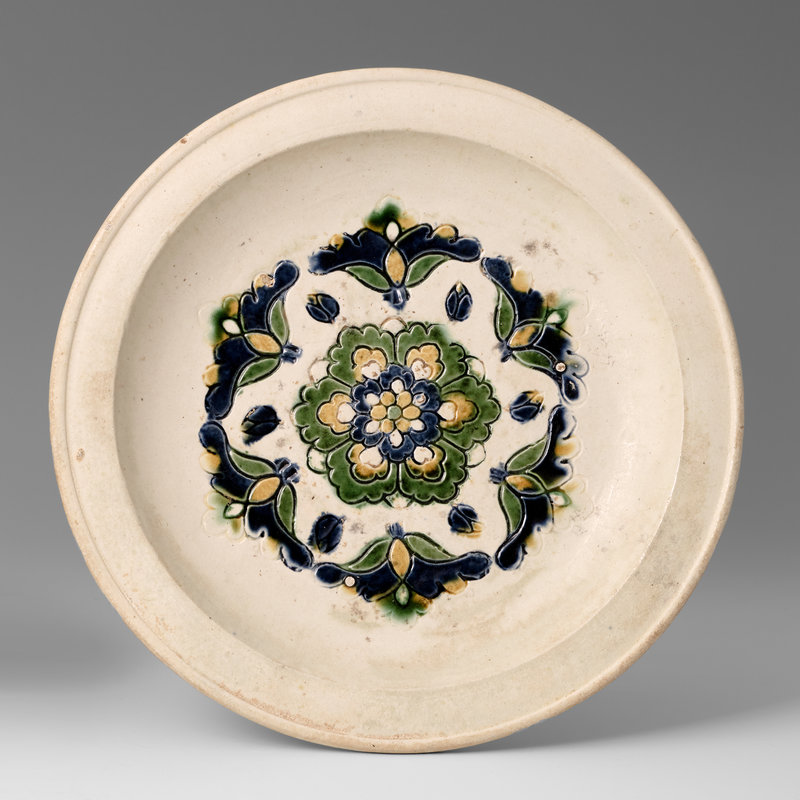 Tang Sancai Tripod Offering Plate, 24 cm. Credit: Zetterquist Galleries
Ancient and/or Contemporary Japanese Art

This provocative print titled, Kiseru at The Art of Japan, is featured in Ten Types in the Physiognomic Study of Women, by Kanso Utamaro. The woman here has paused in the middle of arranging her hair to have a quick smoke from her kiseru (pipe). Smoking was introduced in Japan in the late 1500's, and with expensive tobacco and finely crafted paraphernalia, smoking became a signal of high status. Online only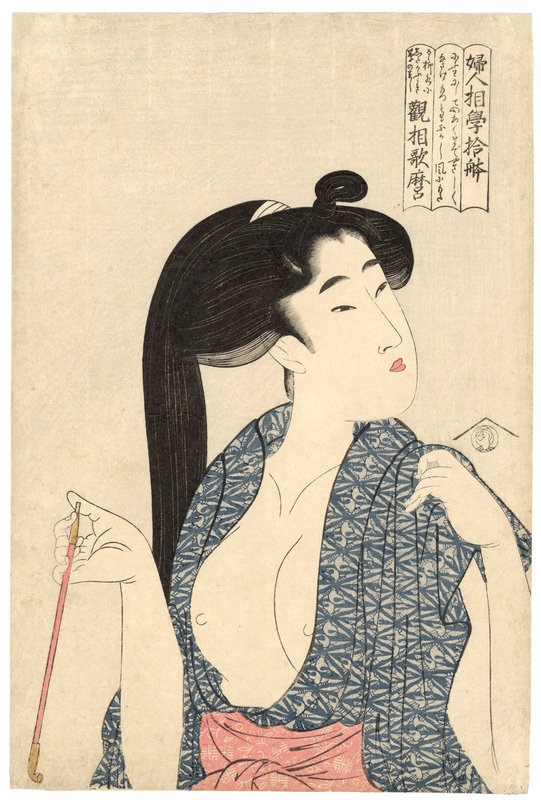 Kanso Utamaro, Kiseru (Pipe). From the series: Ten Types in the Physiognomic Study of Women. Signed Kanso Utamaro (Utamaro the Physiognomist), 1802-03. Publisher Tsuru-ya Kiemon. Credit: The Art of Japan
Dai Ichi Arts, Ltd. presents Object, Vessel: Ikebana Sogetsu, Yasuhara Kimei, and the Art of Japanese Ceramics, an exhibition that focuses on the symbiotic relationship between the ceramic works of Japanese potter Yasuhara Kimei and the Ikebana Sogetsu school in Japan. Little known in the west, Yasuhara Kimei (1906-1980) was one of Japan's most avant-garde ceramic artists of the 20th century. His ceramic work inspired the innovative floral artists of the famous Ikebana Sogetsu school and produced a transcendental impact on modern potters and Ikebana artists alike in Japan that has lasted generations. This exhibition is the first to present an extensive collection of Yasuhara Kimei's profound ceramic vessels alongside his contemporaries in the west. 18 East 64th Street, by appointment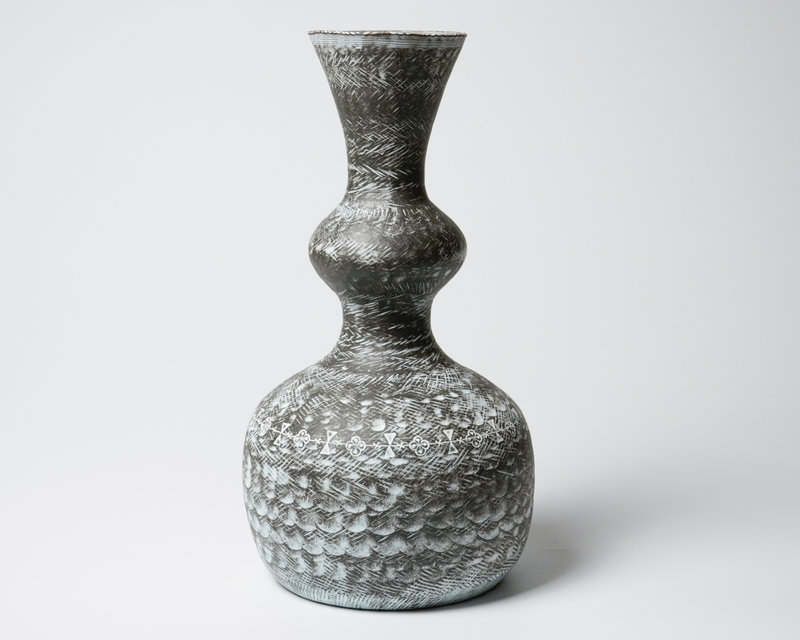 Yasuhara Kimei, Flower Large Vase. With Signed Wood Box. Ceramic with Matte Black Glaze and Incised Motifs. H30.2 x Diameter 31.7 cm. Credit: Dai Ichi Arts, Ltd.
Among the prints offered at Egenolf Gallery Japanese Prints is Kawase Hasui's Small Boat in a Spring Shower. Online only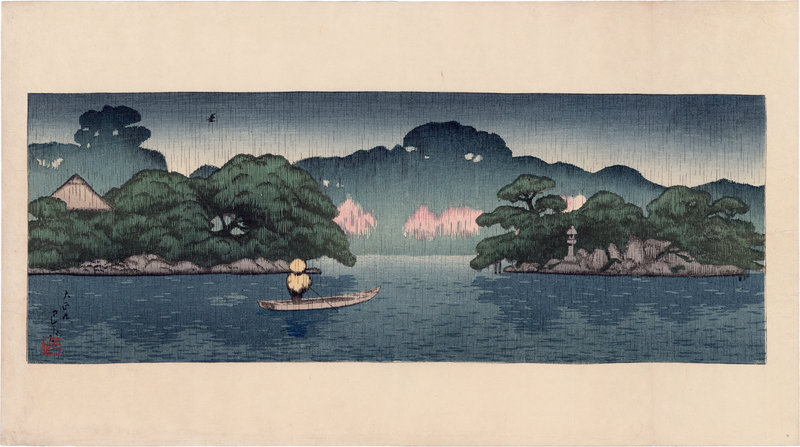 Kawase Hasui (1883-1957), Small Boat in a Spring Shower, 1920. Original nagaban (oversized) version 27.2 x 48 cm. Credit: Egenolf Gallery Japanese Prints
Ippodo Gallery presents Skin and Body: Crazed Vessels by Kodai Ujiie, the avant-garde artist's first solo exhibition in the United States. Each of his 46 most recent ceramics, including large jars, vases, and small vessels relishes in the delight of living, converting clay into an analogy of vital flesh—skin, blood vessels, and scales—with a renewed sense of body image. 32 East 67th Street
Kodai Ujiie, Oribe Lacquer Large Jar, 2023. Ceramic. H45 x W45 x D46 cm. Weight 24.3kg. Credit: Ippodo Gallery
Kumoi Cherry Trees, by Yoshida Hiroshi (1876‒1950) is among the Japanese paintings and prints featured in the fall exhibition–Sebastian Izzard LLC Asian Art–which explores the world of Japanese prints in the first half of the twentieth century. This was an era of energy, new influences, and styles, and a refocusing of the Japanese print world by catering to new tastes. The man at the center of this revival was the entrepreneurial genius Watanabe Shōzuburō (1885–1962), whose publications form the greatest portion of the works in this exhibition. Deeply interested in Edo period ukiyo-e, Watanabe made it his project to rescue the art form, which had fallen somewhat out of fashion. October 4-27, 17 East 76th Street, 3rd floor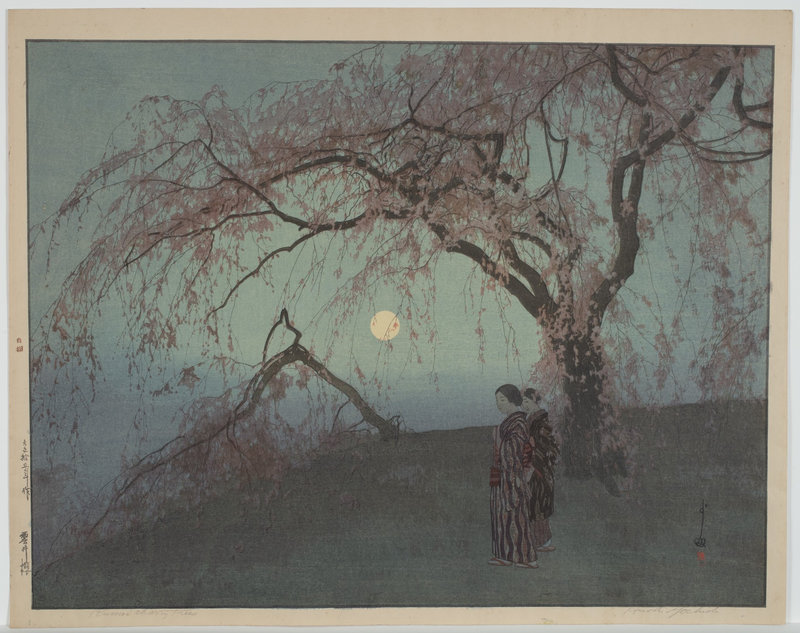 Yoshida Hiroshi (1876‒1950), Kumoi Cherry Trees (Kumoi zakura). Color woodblock print: 23 x 29⅛ in. (58.4 x 74 cm); 1926; signed: Yoshida (in brush), Hiroshi Yoshida (bottom left margin in pencil); sealed: Hiroshi; publisher: self-published (jizuri). Credit: Sebastian Izzard LLC Asian Art
TEMPEST: New Sculpture by Fujikasa Satoko, the latest highly anticipated exhibition of new sculptures by extraordinary artist Fujikasa Satoko, marks her third solo outing at Joan B Mirviss LTD and her first since 2019. Evocative of billowing clouds or crashing waves or just pure movement, Fujikasa Satoko's gravity-defying sculptures are firmly within the realm of not only clay sculpture but of international contemporary art. 39 East 78th Street, 4th floor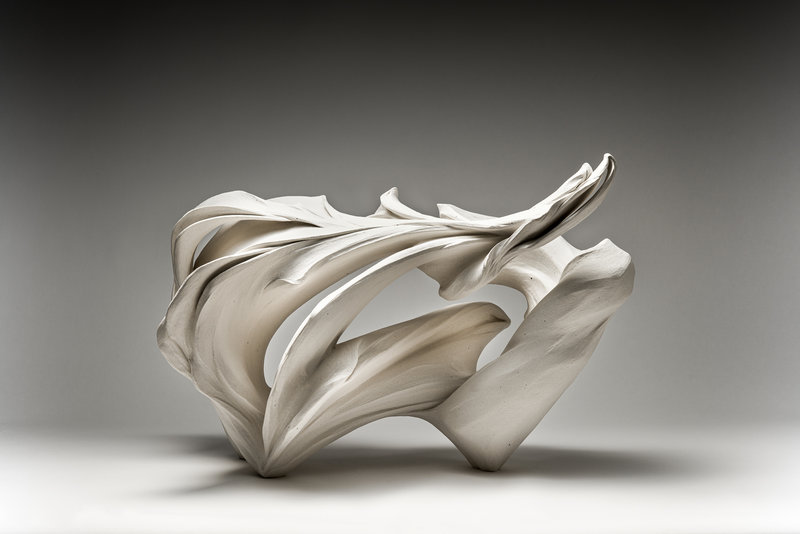 Fujikasa Satoko (b. 1980), Updraft, 2023. Stoneware with white slip glaze, 19 x 28 x 17 3/8 in. Joan B Mirviss LTD. Photo Credit: Richard Goodbody
Onishi Gallery will feature the work of Murose Kazumi, named a "Living National Treasure" in 2008, Kazumi is one of Japan's leading exponents of urushi (lacquer), an art and craft tradition dating back nearly ten millennia. He is admired above all for his mastery of maki-e and raden, two time-honored techniques that he often uses in combination as exemplified in this rectangular wooden document box decorated in lacquer with maki-e (sprinkled metals) and raden (shell inlay). While deeply rooted in tradition, Murose constantly explores fresh ways of expressing the beauty of urushi and shell. 521 West 26th Street, by appointment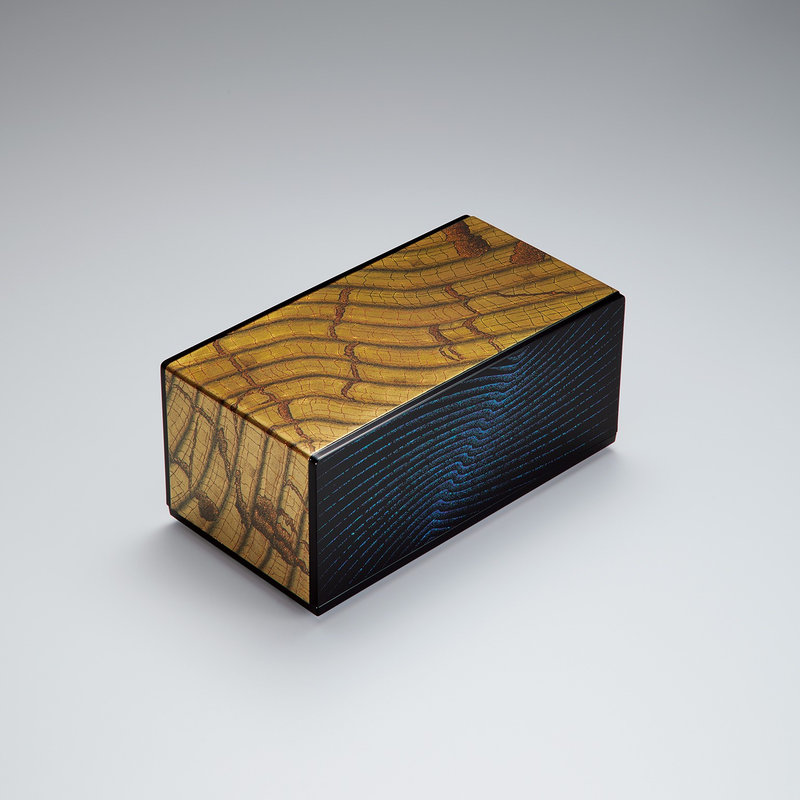 Murose Kazumi (b. 1950), Living National Treasure, Nagatebako (Rectangular Document Box) titled Chidō (Telluric Motion), 2022. Wood decorated in lacquer with maki-e (sprinkled metals) and raden (shell inlay), 12.8 × 14.8 × 28 cm. Credit: Onishi Gallery
Scholten Japanese Art presents KAZUMA/KOIZUMI: Chasing Modernity, which juxtaposes the work of two modern printmakers, Oda Kazuma (1881-1956), and Kishio Koizumi (1893-1945), both prominent members of the sosaku hanga (creative print) movement who shared an interest in depicting daily life in views of modern Japan, particularly the restoration and transformation of Tokyo following the 1923 earthquake. One of the highlights on view will be an oversized richly hued color lithograph by Oda Kazuma illustrating a night view with two musicians standing on a verandah overlooking an inky blue river with glowing lanterns behind them and lights twinkling in the background. 145 West 58th Street, Suite 6D, appointment appreciated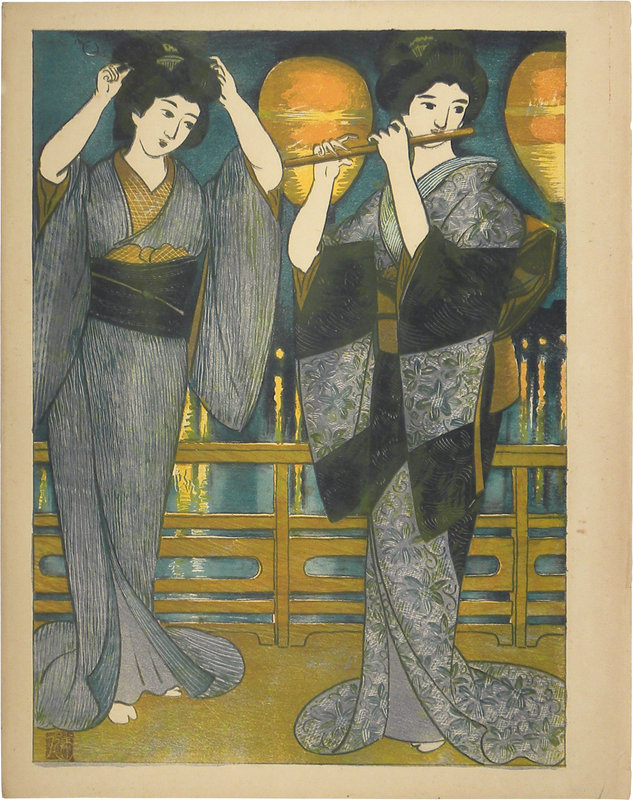 Oda Kazuma (1881-1956), Musicians on a Verandah with Lanterns, ca. 1927. Color lithograph, 23 1/4 by 18 3/8 in., 59.2 by 46.6 in. Credit: Scholten Japanese Art
TAI Modern's exhibition takes a deep dive into the Living National Treasure, Fujinuma Noboru's lacquered bamboo cylinders. These cylinders are an ode to the organic form of the bamboo node itself, taking years from initial harvest to final piece. After a complex process of preparing the bamboo culm and layering urushi lacquer, Fujinuma sands away the upwards of 100 layers to reveal new compositions of color. Online only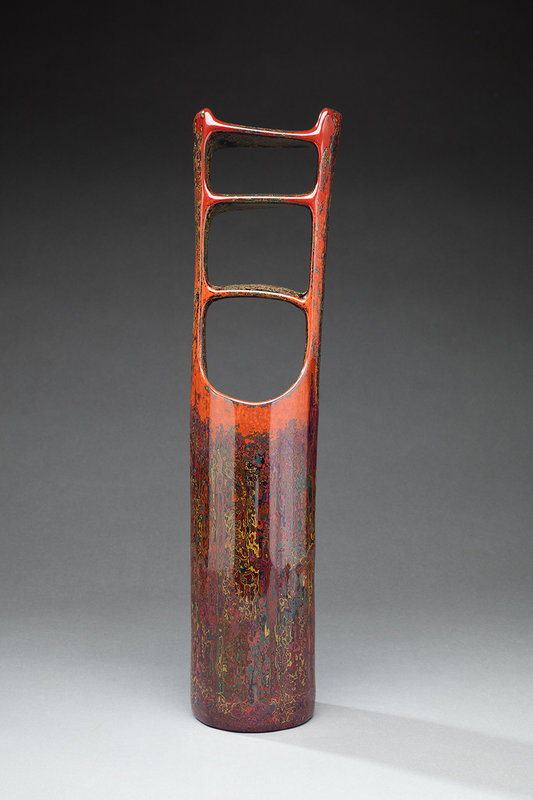 Fujinuma Noboru, Living National Treasure, Lacquered Bamboo Cylinder (312), 2019. Moso bamboo, lacquer, 25 x 6 x 5 in. Credit: TAI Modern
Thomsen Gallery will feature the great avant-garde masters Shiryū Morita (1912-1998) and Yuichi Inoue (1916-1985), in Post War and Contemporary Japanese Art. These two artists' work straddle East and West, combining dramatic, performative gesture and near-abstraction with the rich lexical and graphic heritage of the Chinese script. Morita's Ryu, through abstraction and movement, has virtually assumed the physical shape of a dragon. Alongside calligraphy by these masters, works by the painter Minol Araki, the premier paper artist Kyoko Ibe and by the renowned ceramic artist Sueharu Fukami will be shown. 9 East 63rd Street 2nd floor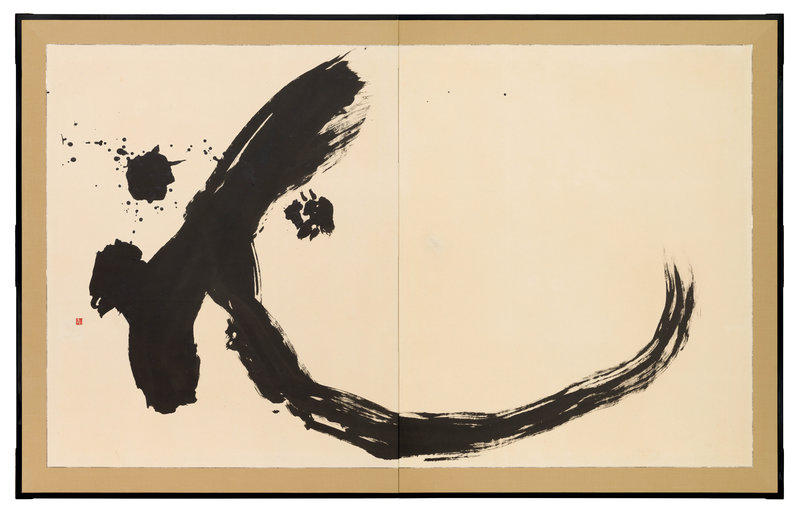 Shiryū Morita (1912-1998), Ryū (Dragon), 1985. Ink on paper, mounted as two-panel folding screen. Size 62¾ x 100 inches (159.7 x 253.7 cm. Credit: Thomsen Gallery
Hiroshi Yanagi Oriental Art. Online only
Ancient and/or Contemporary Korean Art
HK Art and Antiques LLC presents the work of two Korean artists, Tchah Sup Kim and Cho Yong-ik, who were friends for many years, both of whom passed away last year. In the 1960s Korean artists entered a new era. After decades of political and economic turbulence, South Korea found itself a member of an interconnected international landscape, and artists were inundated with new ideas. Western influences made their marks on Korean canvases, while Asian and particularly Korean modernism developed rapidly. It was in these circumstances that Kim and Cho began their artistic careers, and formed a friendship that lasted the rest of their lives. 49 East 78th Street, by appointment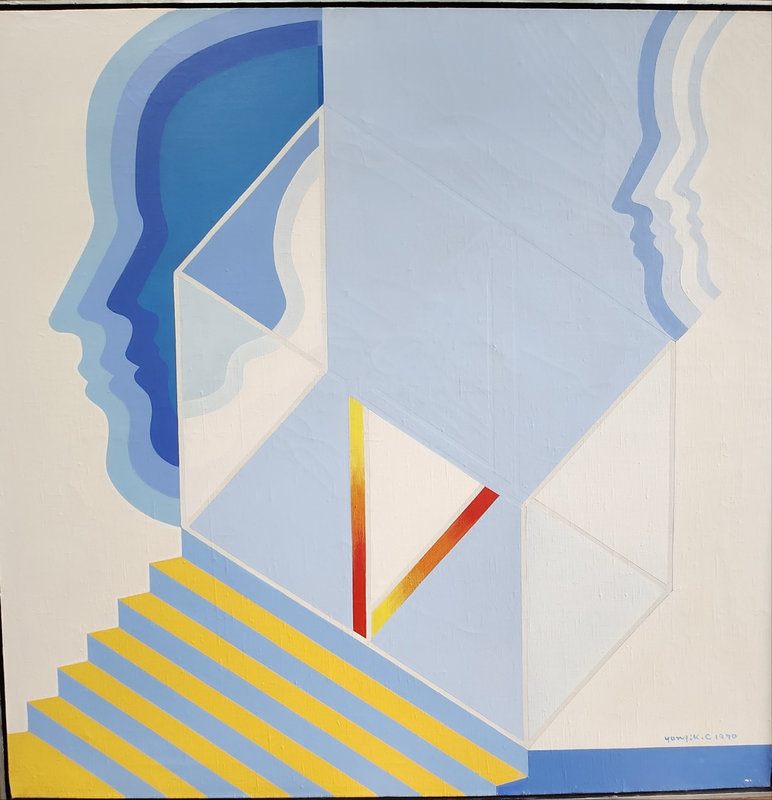 Cho Yong Ik (1934-2023), 70-62, 1970. Oil on canvas, 117 x 117 cm. Credit: HK Art & Antiques Ltd.
About Asia Week New York

The collaboration of top-tier international Asian art galleries, the major auction houses-Bonhams, Christie's, Doyle, Heritage Auctions, iGavel, and Sotheby's–and numerous museums and Asian cultural institutions, Asia Week New York is a week-long celebration filled with simultaneous gallery open houses, Asian art auctions as well as numerous museum exhibitions, lectures, and special events. Participants from the United States and countries abroad unveil an extraordinary selection of museum-quality treasures from China, India, the Himalayas, Southeast Asia, Tibet, Nepal, Japan, and Korea. Asia Week New York Association, Inc. is a 501(c)(6) non-profit trade membership organization registered with the state of New York. For more information visit www.AsiaWeekNewYork.com @asiaweekny #asiaweekny
Fine Chinese Glazed Ribbed Jar with Handles
Jin dynasty, 12th /13th century
Of fine form. Glazed overall in a beautiful deep brownish/ black glaze with carefully delineated vertical ribs in slip along the exterior. Of particularly fine quality.
Height: 4 ½ inches (11.5 cm.)
Credit: Ralph M. Chait Galleries