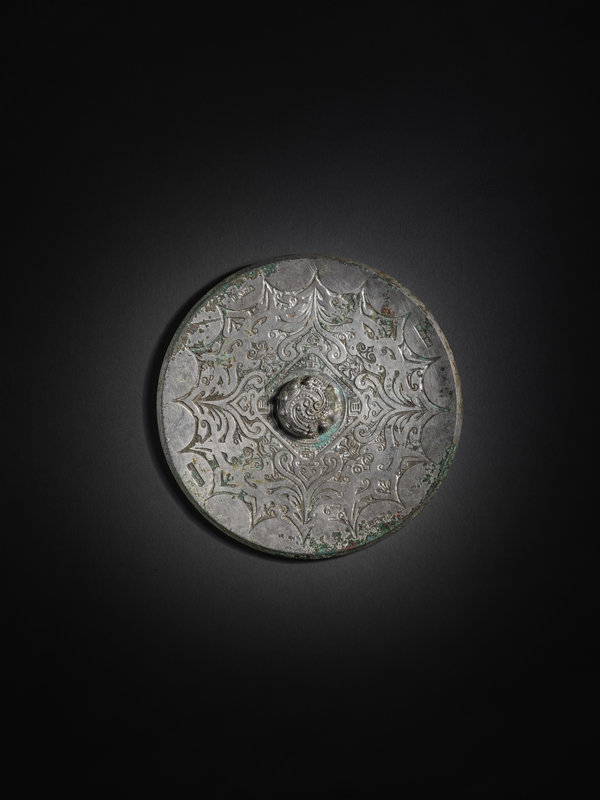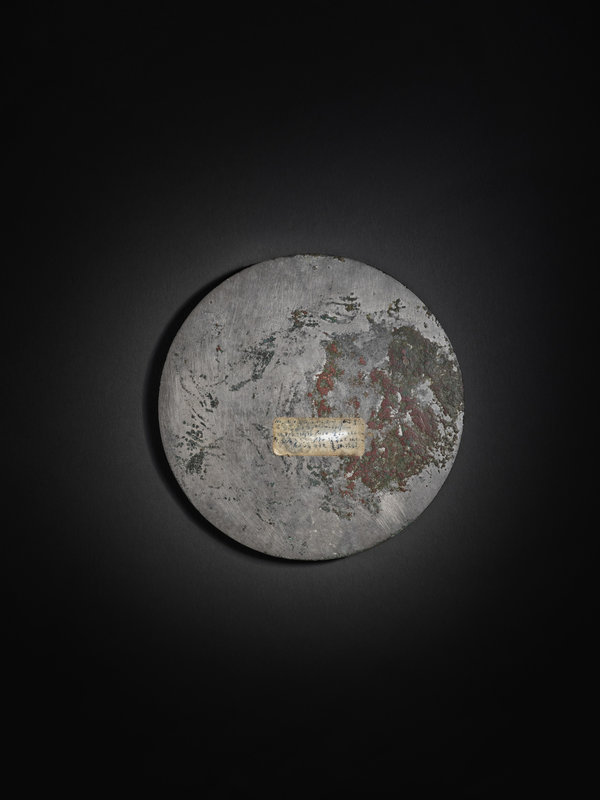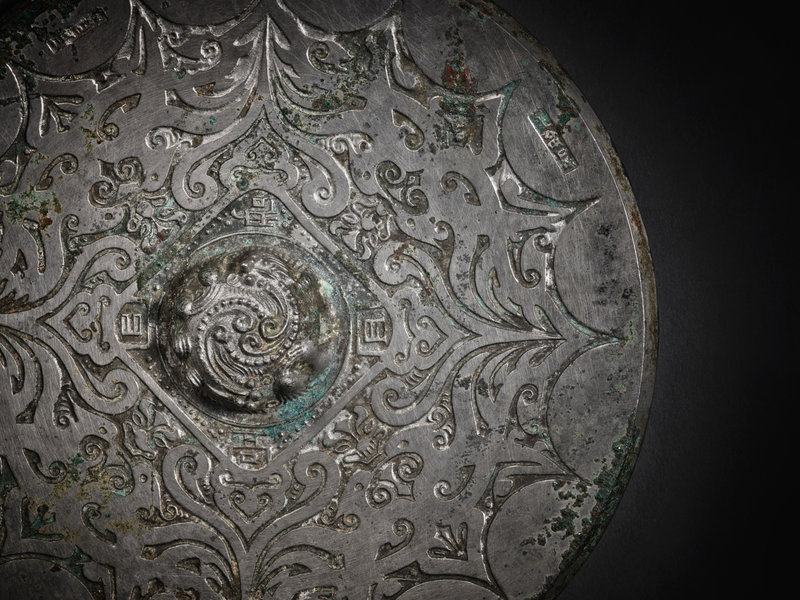 Lot 221. An inscribed bronze 'phoenix' mirror, Eastern Han dynasty (AD 25-220). Diameter 12.8 cm. Estimate 4,000 - 6,000 USD. Lot sold 3,810 USD. © Sotheby's 2023
with a four-character inscription reading jun yi gao guan (wish you achieve success and prosperity).
Provenance: Collection of Dr. Wou Kiuan (1910-1997).
Wou Lien-Pai Museum, coll. no. H.8.13.
Sotheby's New York, 22nd March 2022, lot 108.
Literature: Rose Kerr et al., Chinese Antiquities from the Wou Kiuan Collection. Wou Lien-Pai Museum, Hong Kong, 2011, pl. 45.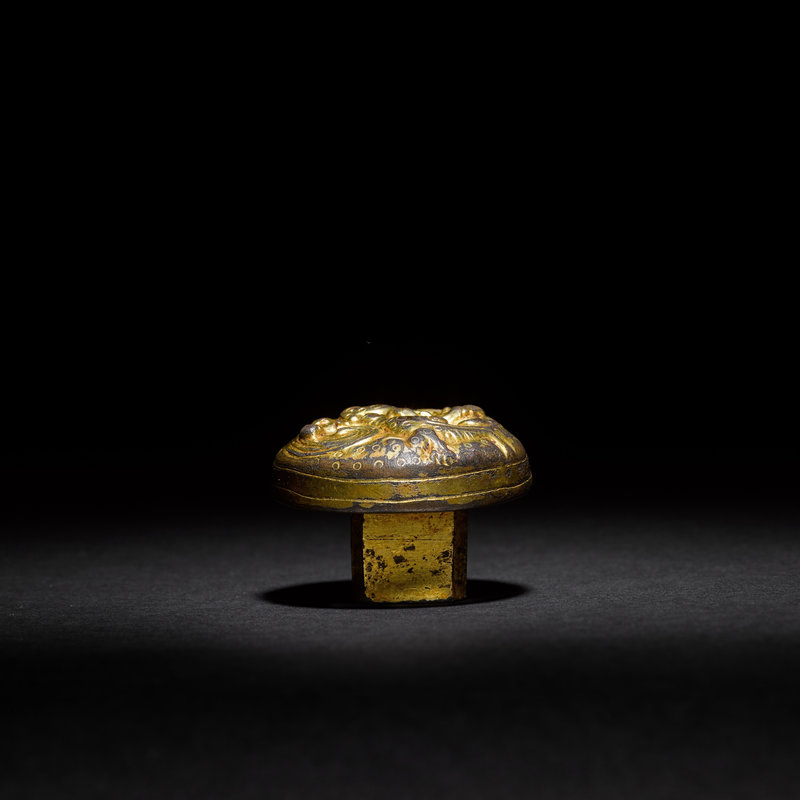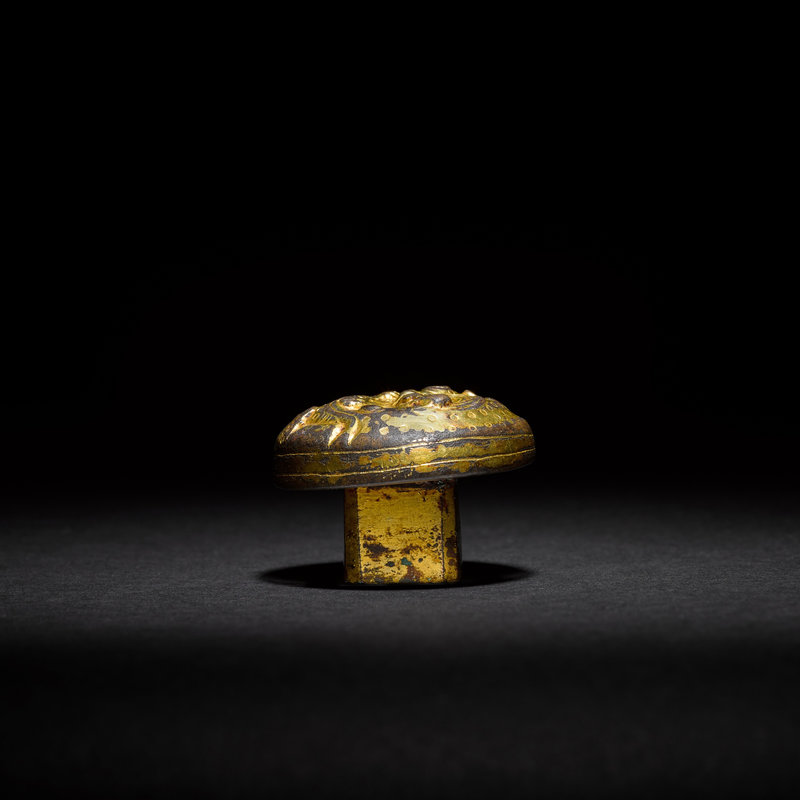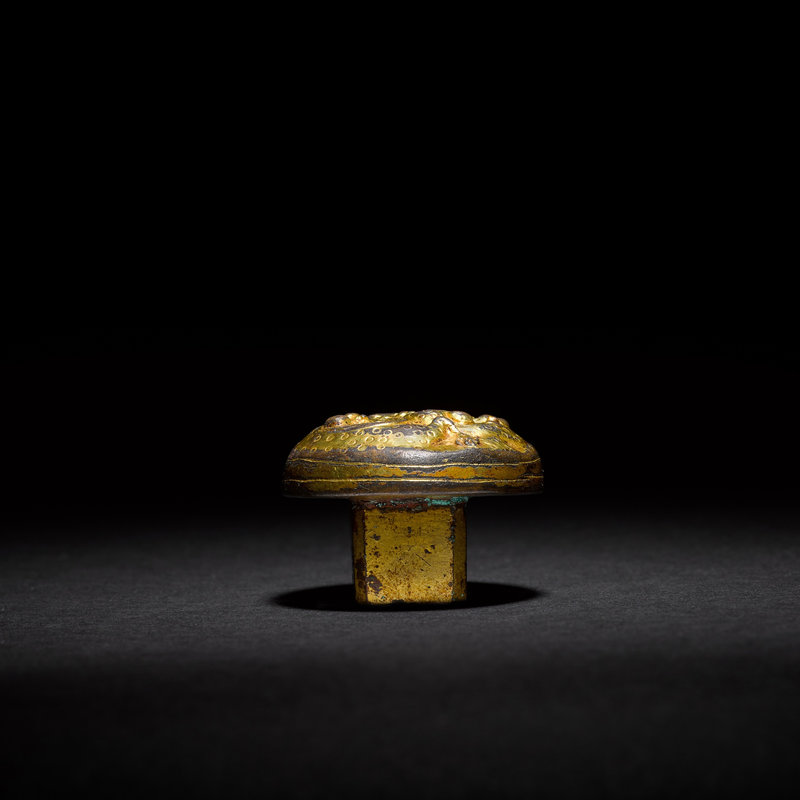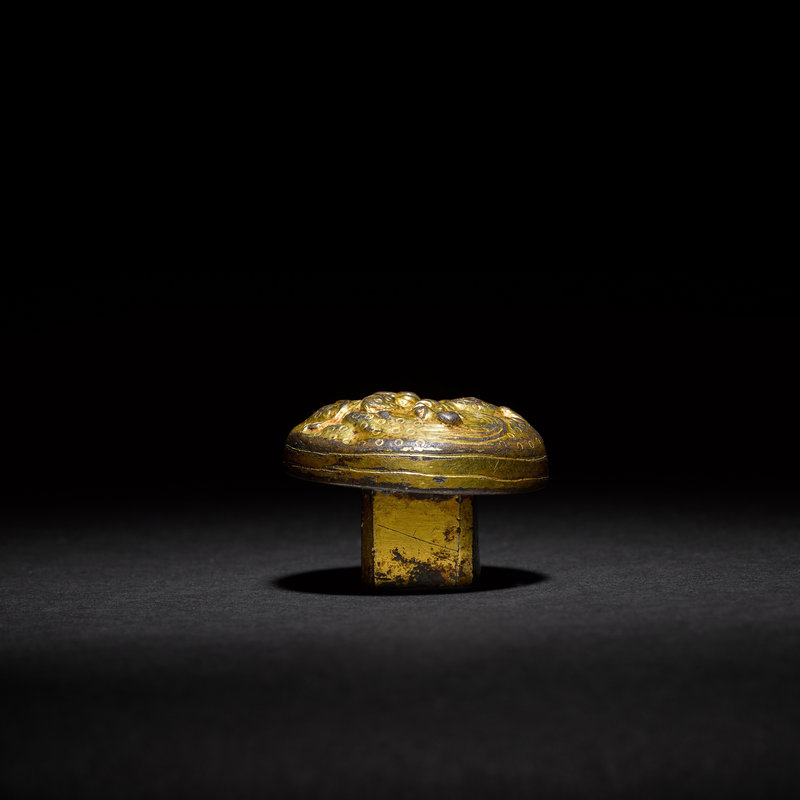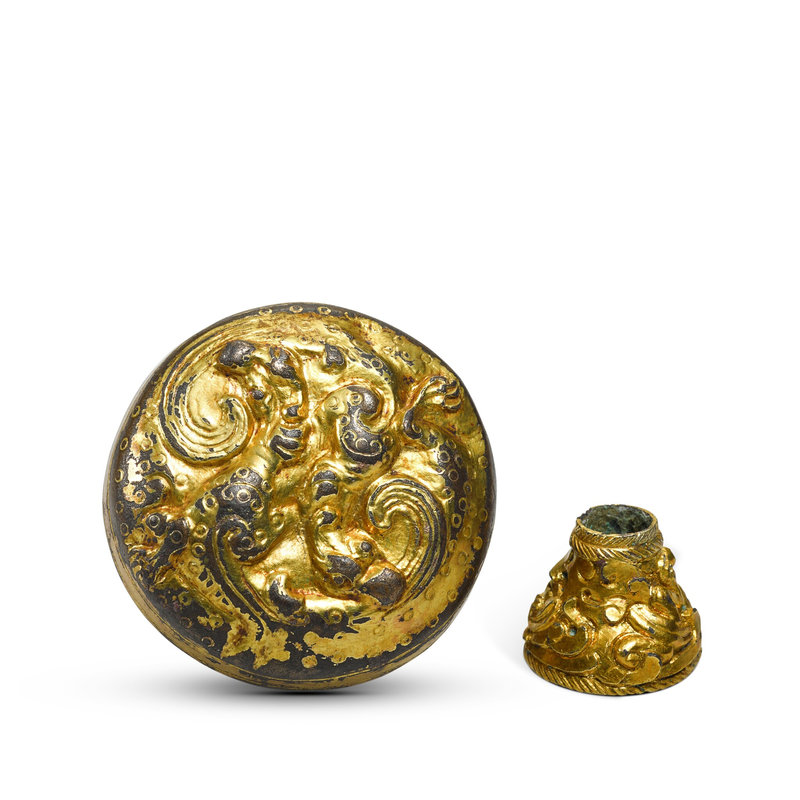 Lot 241. A gilt-bronze finial, Han dynasty (206 BC-220 AD). Diameter 4.8 cm. Estimate 4,000 - 6,000 USD. Lot sold 4,445 USD. © Sotheby's 2023
together with a small gilt-bronze chariot fitting (2)
Provenance: Mengdiexuan Collection, Hong Kong.
Exhibited: Jessica Rawson and Emma Bunker, Ancient Chinese and Ordos Bronzes, Oriental Ceramic Society and Hong Kong Museum of Art, Hong Kong, 1990, cat. no.113.
Note: See a closely related bronze finial excavated from Mancheng Cave Tombs of Han, Baoding, illustrated in China's Social Sciences and Archaeological Research Institute ed., Mancheng hanmu fajue baogao [The excavation report of the tombs in Mancheng], vol. II, Beijing, 1980, pl. 50.1. Compare a few very similar auctioned gilt-bronze finials, a pair sold in our London rooms, 3rd April 1979, lot 40; another from the collection of Mr. and Mrs. Richard C. Bull, sold in these rooms, 6th December 1983, lot 70.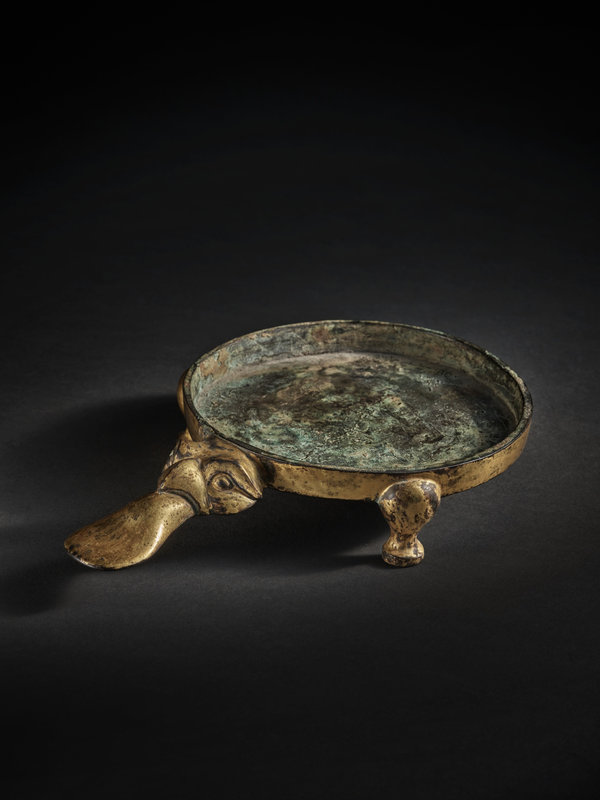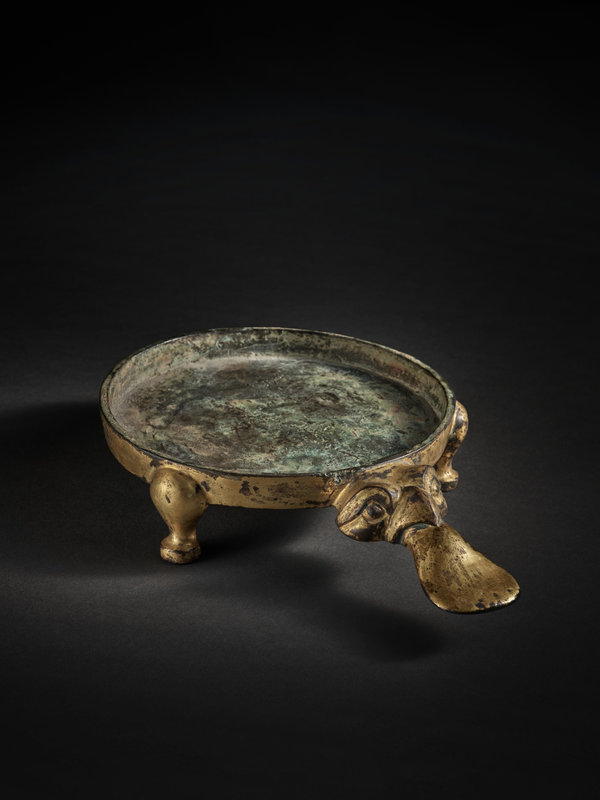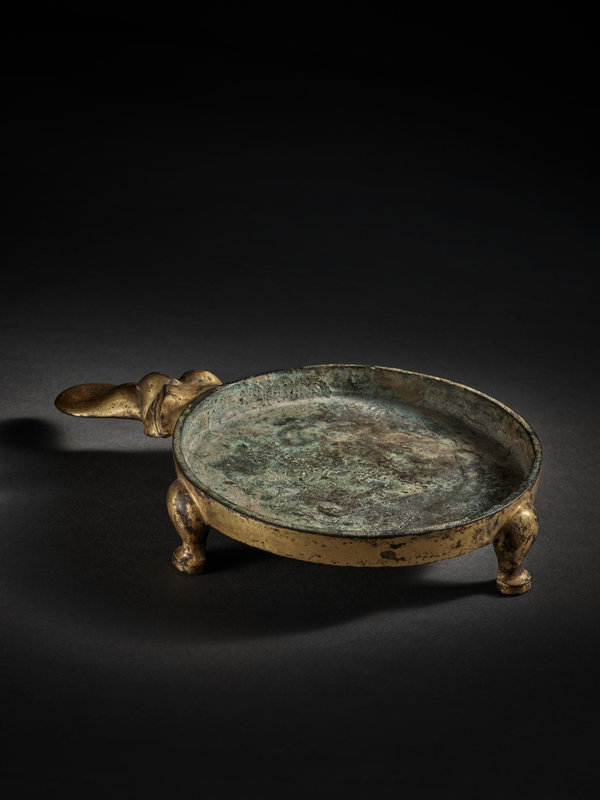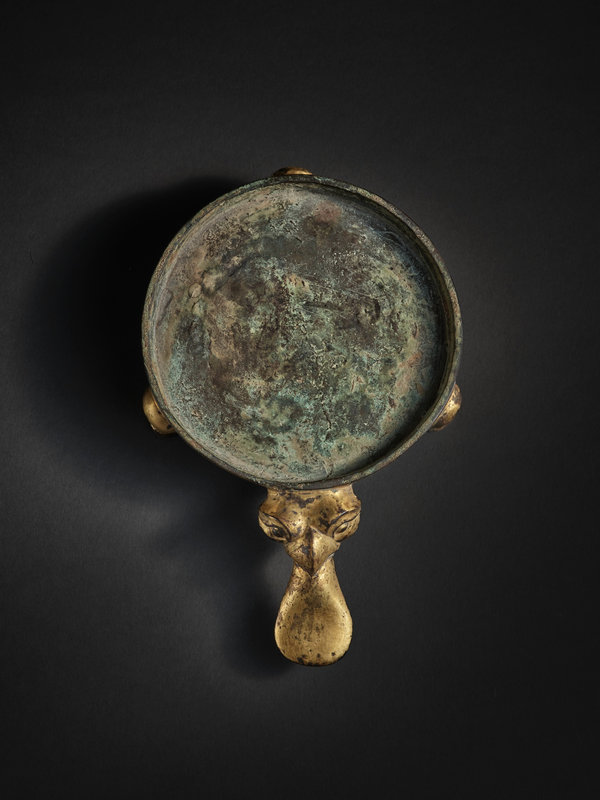 Lot 242. Property from an important New York private collection. A rare gilt-bronze falcon-shaped candlestick holder, Han dynasty (206 BC-220 AD). Width 21 cm. Estimate 5,000 - 7,000 USD. Lot sold 31,750 USD. © Sotheby's 2023
Provenance: Collection of Robert H. Ellsworth (1929-2014).
Sotheby's New York, 19th March 2002, lot 138.
Note: Candlestick holders from the Han dynasty, with animal-shaped handles are particularly rare. See a closely related example of a dragon-head handle and another with a goose-head handle, also previously in the Ellsworth Collection, sold together in these rooms, 19th March 2002, lot 137. Compare three inscribed holders in the Palace Museum, Beijing, illustrated in The Complete Collection of Treasures of the Palace Museum, vol. 28 Bronze Articles for Daily Use, Beijing, 2006, pp 100-101, 104-105 and 106-107: one similarly cast with a dragon-head, with slightly taller feet; the other two with undecorated handles.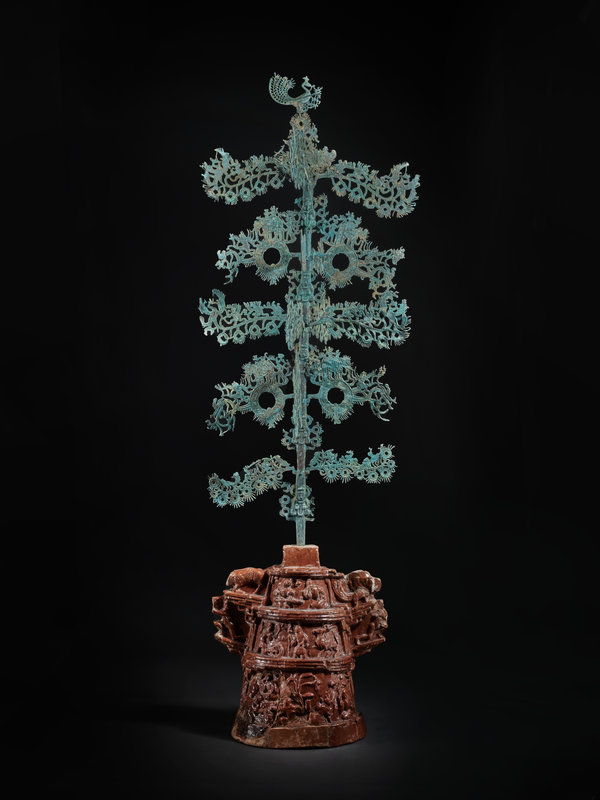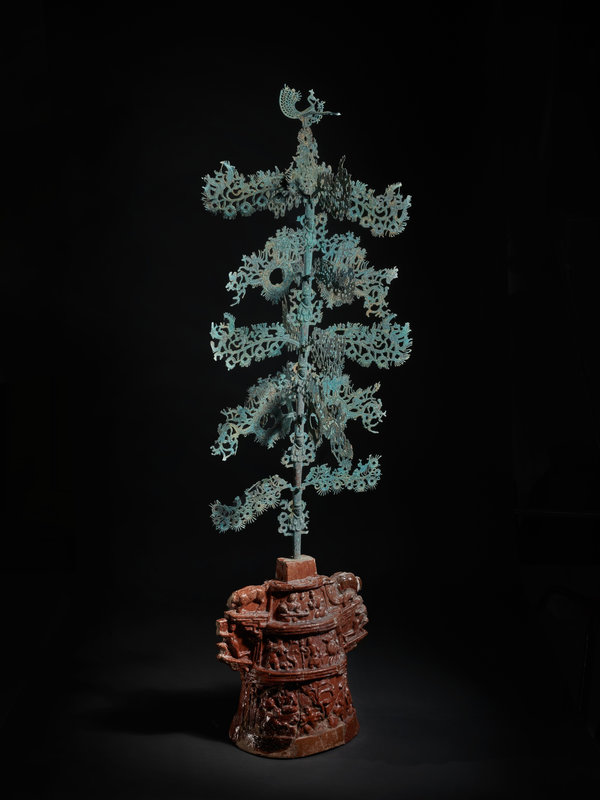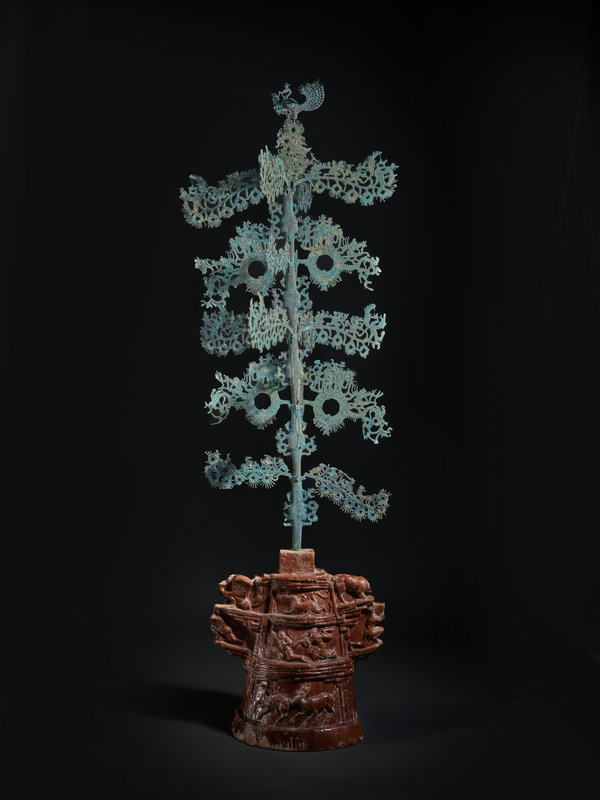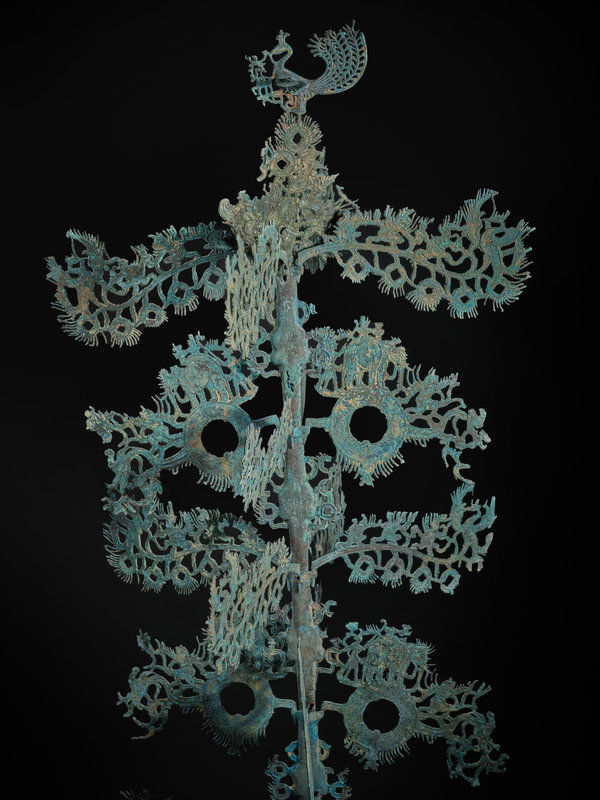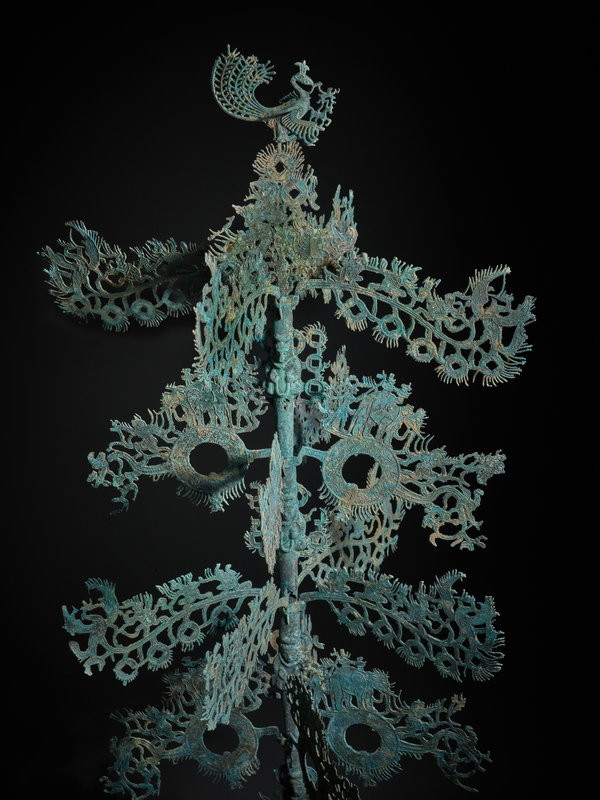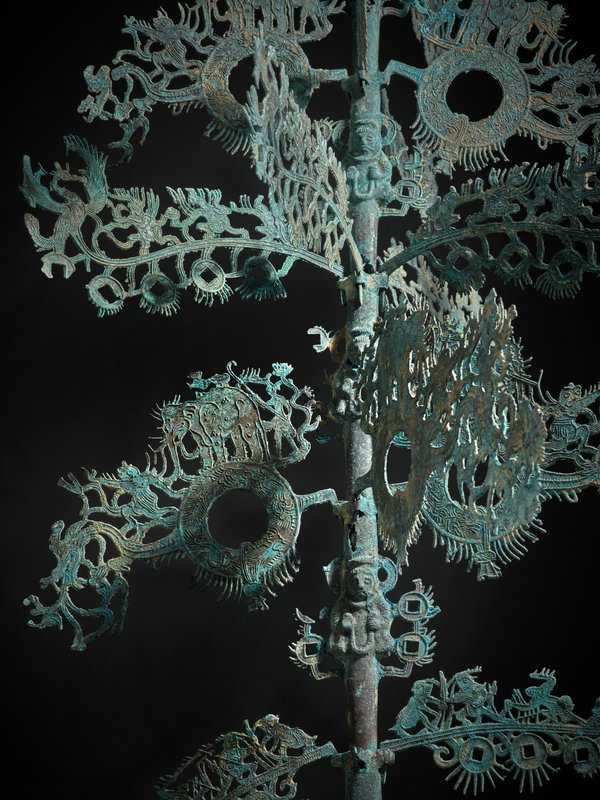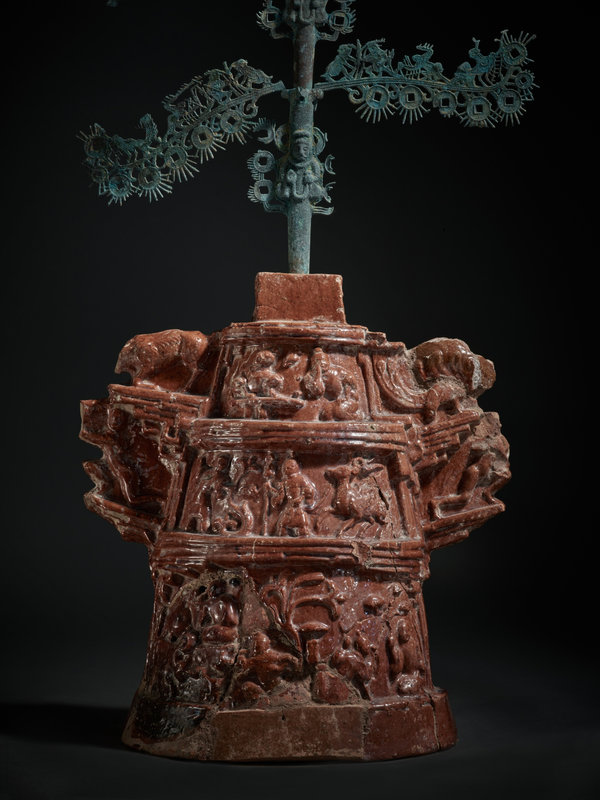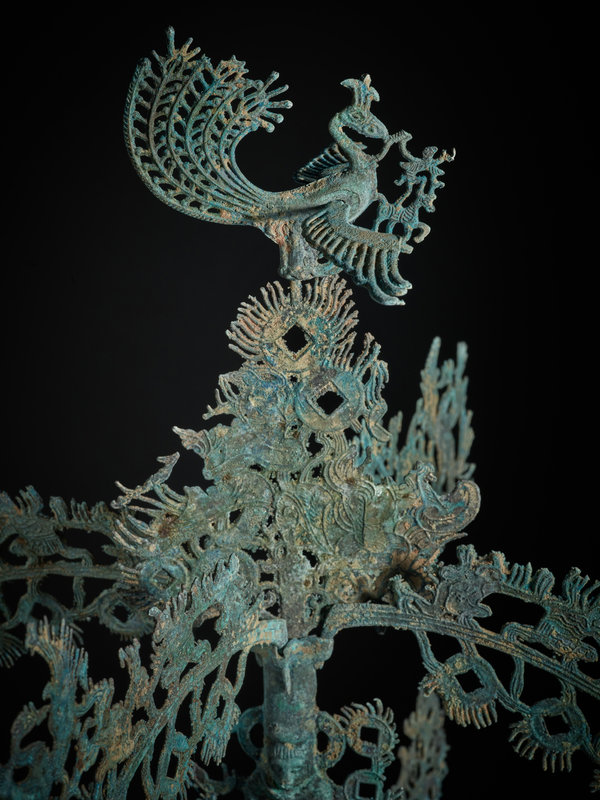 Lot 243. A rare large bronze and amber-glazed pottery 'money tree', Eastern Han dynasty (AD 25-220). Height overall 145 cm. Estimate 50,000 - 70,000 USD. Lot sold 82,550 USD. © Sotheby's 2023
Provenance: Acquired in the 1980s.
Note: Comprised of a tree trunk set into a pottery base with masterfully cast bronze branches and a bird-form finial, the 'money tree' remains one of the most intriguing and unique luxury funerary objects discovered in Eastern Han tombs. The present lot shows different animals and mythical beasts parading along the branches of the tree, while numerous coins with rays projecting around the periphery hang from below. A majestic bird with an elaborate tail is seen perched at the top of the tree and seated mythical figures cast in relief decorate the central tree trunk, terminating at the pottery base, which divides intro three registers depicting figures and other beasts.
This group of funerary objects was given the auspicious name 'money tree' due to the abundance of circular discs hanging from branches, resembling coins. Believed to be a symbol of wealth, the 'money tree' is thought to be a burial object that ensured a glorious and prosperous after-life for the deceased. Furthermore, the bird at the top is sometimes identified as the mythical golden sun-bird, who visits the gigantic fusung tree that grows in the Eastern Sea every morning, bringing light and warmth to the beginning of each day.
However, as the term 'money tree' first appeared only in texts beginning in the eighth century AD, Chen Xiandan in his article 'On the Designation "Money Tree"', Orientations, September 1887, pp 70-71, argues that because of the common imagery of Xiwangmu (Queen Mother of the West) and the depictions of life in the celestial realm on the branches and earthenware base, 'to call these artefacts "money trees" solely on the basis of the coins cast onto the branches is clearly inconsistent with the subject matter of both the tree bases and the trees as a whole.' He argues that these objects in fact symbolized the riches of a divine paradise, and was thus more appropriate to be seen as the 'tree of life' or 'divine tree'.
See a few closely related examples in important museum collections: one gifted by Ruth and Bruce Dayton to the Minneapolis Institute of Art (accession no. 2002.47a-rrr); one from the Arlene and Harold Schnitzer Collection, in the Portland Art Museum (accession no. 2004.114.9A–C); and a third, in the Detroit Institute of Arts (accession no. 1996.29.A). For examples sold at auction, compare one with a green-glazed base, sold at Christie's New York, 22nd March 2019, lot 1605.
Sotheby's. Vestiges of Ancient China, New York, 19 September 2023