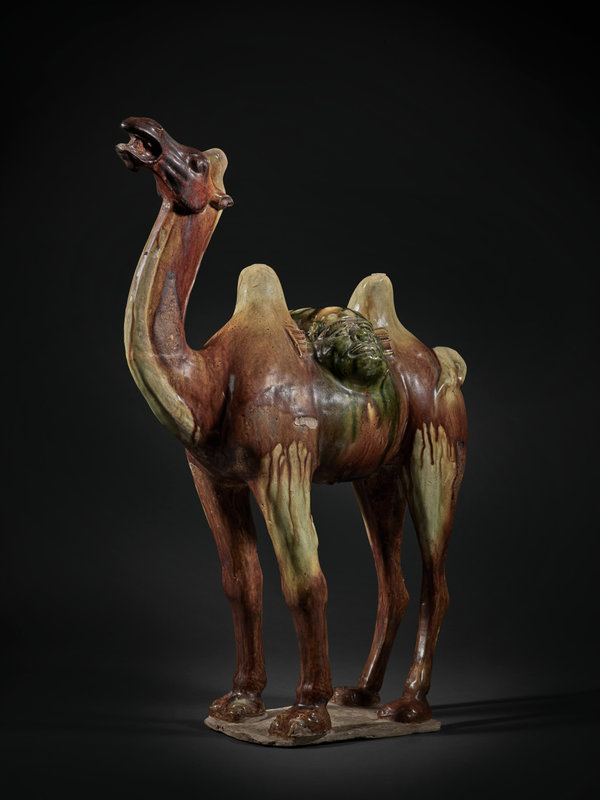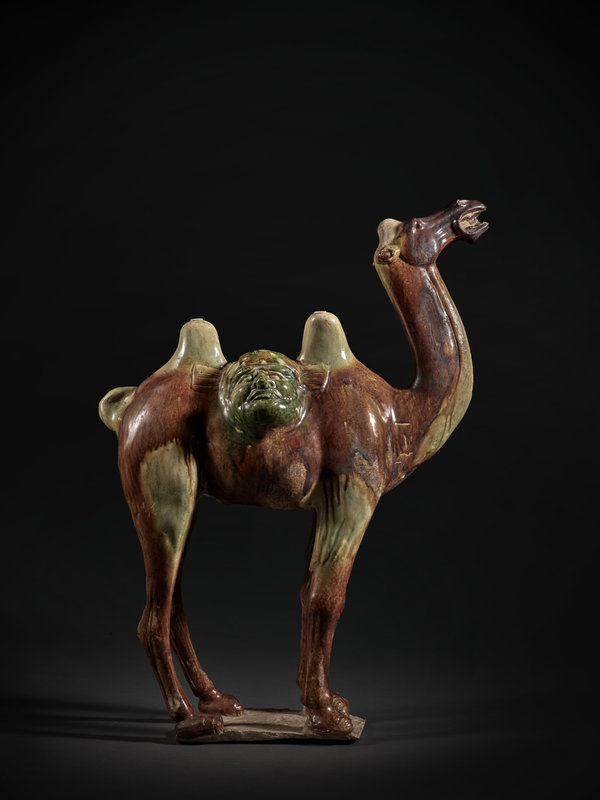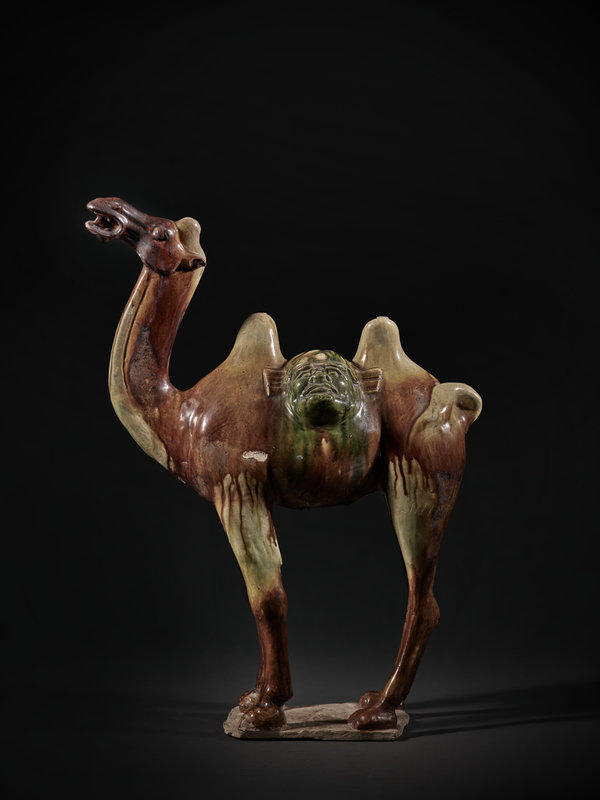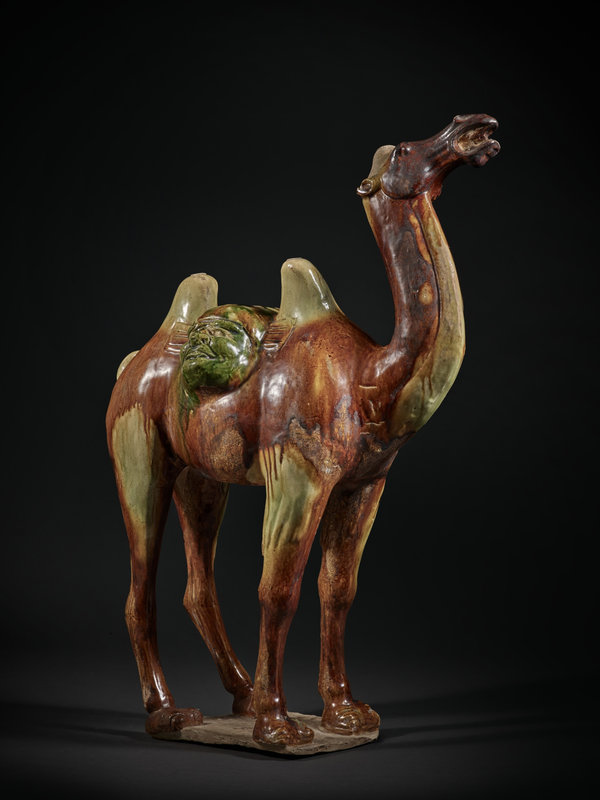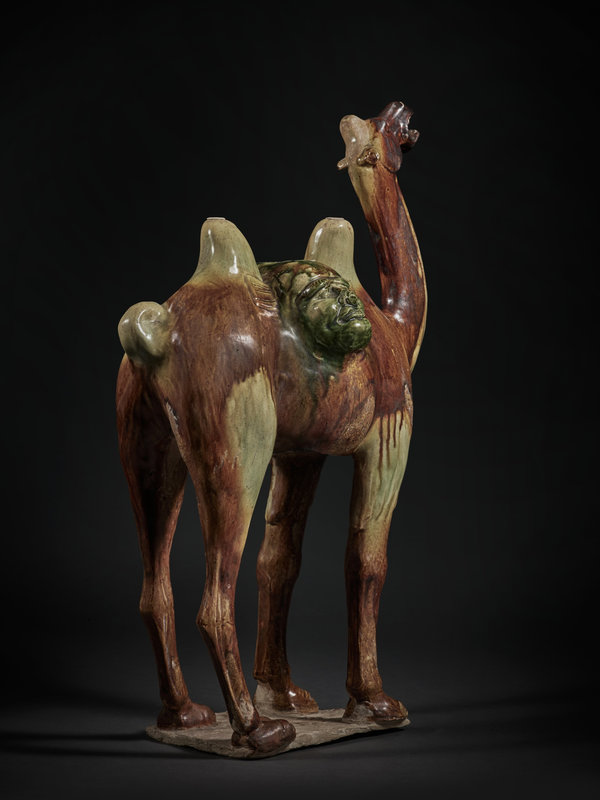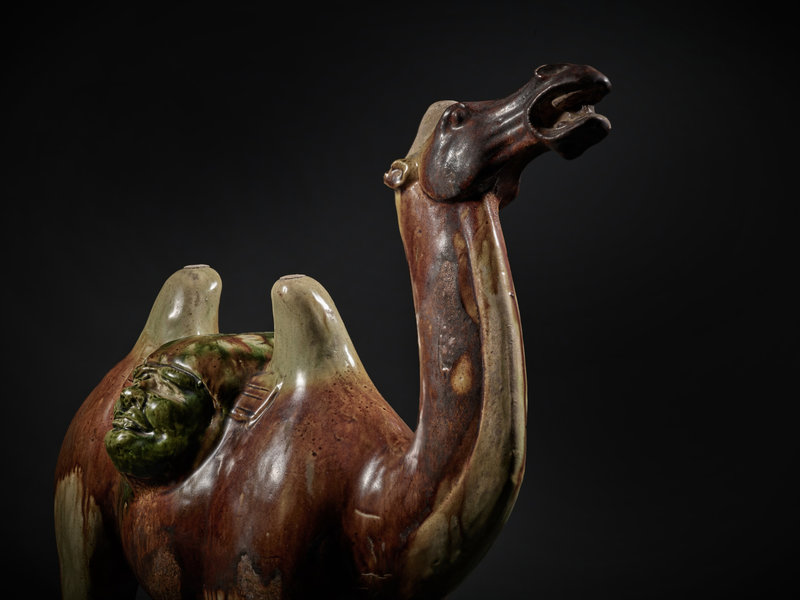 Lot 239. A sancai-glazed pottery figure of a camel, Tang dynasty (618-907). Height 55.4 cm. Lot sold 15,240 USD (Estimate 40,000 - 60,000 USD). © Sotheby's 2023
with a four-character inscription reading jun yi gao guan (wish you achieve success and prosperity).
Provenance: Hartman Rare Art, New York, 1980-81.
Note: The Tang dynasty, a glorious chapter in China's history, marked a period when the country embraced and admired influences from beyond its borders. The Silk Route facilitated the importation of new impulses and visual stimuli. Indicative of the trade route's incredible breadth, the two-hump Bactrian camel, as portrayed in the present lot, was the preferred means of transport for traders as they were capable of travelling further distances than the single-hump Arabian camels. Thus during the Sui and Tang dynasties, camels gradually became a common subject for artists and craftsmen to portray.
Compare examples held in museum collections include one very similar pottery camel of larger size, in the Palace Museum, Beijing (accession no. 新00142689); another excavated at Luoyang, currently in the British Museum, London (accession no. 1936,1012.228). There is also a similar sancai-glazed camel illustrated in Seiichi Mizuno, Toji taikei [Complete collection of Far Eastern Ceramics], vol. 35, To sansai [Tang Sancai], Tokyo, 1977. pl. 46. For auctioned examples, see one sold at Christie's New York, 21st March 2002, lot 102; another sold in our Hong Kong rooms, 2nd July 2021, lot 5032.
The dating of this lot is consistent with the results of Oxford Authentication Ltd. thermoluminescence test no. C123k53.
Sotheby's. Vestiges of Ancient China, New York, 19 September 2023